Let's talk about Royal Icing Consistency. Learn how to get it right and how to use different consistencies for different decorating projects. Any cookie decorator will tell you that getting the thickness of royal icing right is a game changer. It's a single most important thing in the world of cookie decorating.
Today I'm going to show you how to thin royal icing and in my video you can see real examples of when different consistencies are being used in the cookie decorating.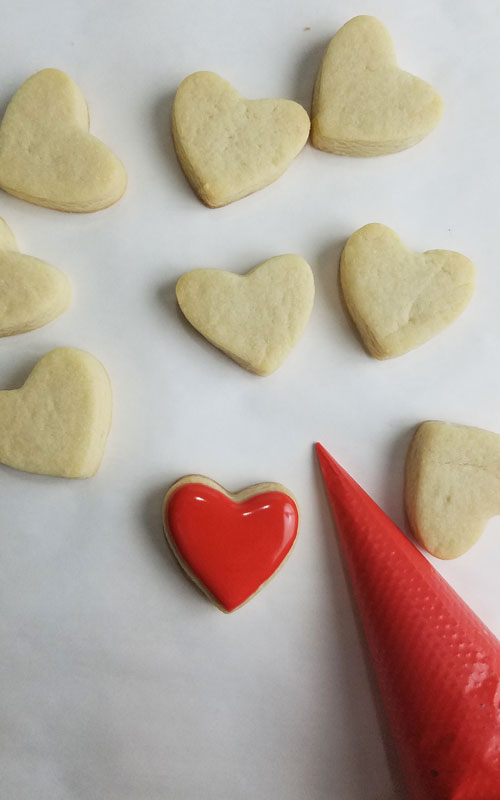 This updated post from 2013 post includes step by step instructions how thin royal icing to different consistencies. And when to use them.
All you need to know about Royal Icing Consistency :
ROYAL ICING CONSISTENCY DEMYSTIFIED
In this post you'll also find several examples of consistencies used in real cookie projects. In my video you can see the fluidity of icing from stiff to 4 second consistency.
This post also include a video tutorial showing variety of cookie decorating projects and consistencies being used.
1. HOW TO THIN ROYAL ICING?
But how do decorators create smooth royal icing finish on their cookies?
To create a smooth finish royal icing we have to thin stiff royal icing with water to more fluid consistency.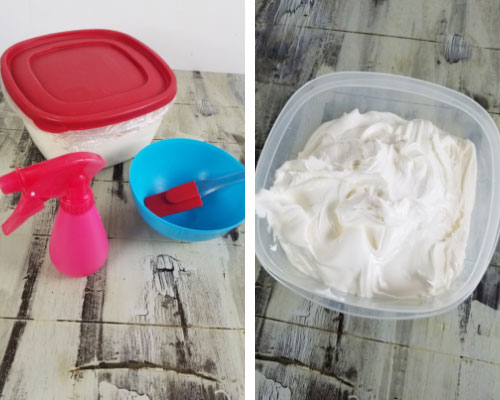 To create a smooth, satin like royal icing finish we have to use icing that is fluid enough to cover surface of the cookies with a thin, smooth layer of icing.
To thin royal icing I use water at room temperature. Tap water is fine. Avoid using chilled or hot water.
Though you can use a spoon or a dropper to add water to icing I recommend using a Spray Bottle.
I learned this tip from a seasoned decorator One Tough Cookie. Gail is no longer decorating cookies but her clever spray bottle spritz method is still going strong, being used by hundreds of cookie decorators.
Why Spray Bottle Works?
Spray bottle allows you to easily control the amount of water you add. Too much water added at once can yield to icing that is too runny. And runny icing can be difficult to work with.
When thinning royal icing with water add small amounts of water at a time. Whisk well, check the consistency and repeat if necessary. Little water goes a long way.
2. STIFF ROYAL ICING
When you first make royal icing you'll notice that icing is thick. Most likely with a stiff peak.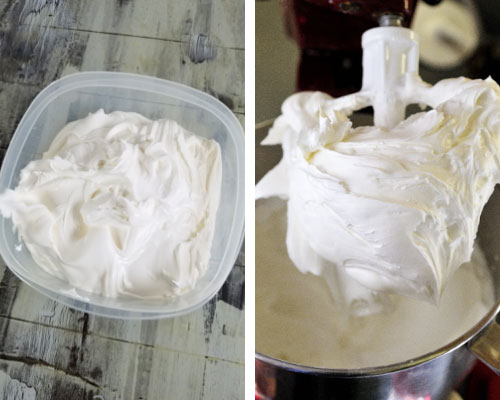 Stiff royal icing is suitable for making piped flowers such as roses, succulents.
It also works great as glue/cement for building gingerbread houses. Or you can use it to create different textures, for example brick, wood grain, scales. It's also great for beaded borders or brushed embroidery.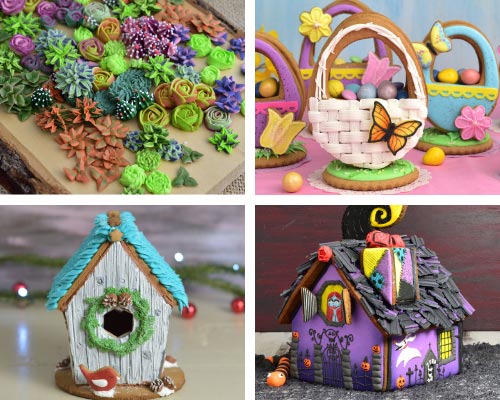 Royal icing with a stiff peak doesn't spread. It stays in the shape you pipe it, or shape it with decorating tools like a decorating comb, fork, palette knife or pipe with piping tips.
Roses
Sea Shell
Tassel
Roof on the gingerbread house
3. PIPING CONSISTENCY
What does this consistency look like?
Icing when pulled up with a spatula it forms a peak that slowly falls down. It's flexible and soft but doesn't become blended with the rest of the icing.
Outlines
White piped designs on snowflakes
Piping / Outline consistency is used to create piped details on cookies. Such as writing, fine details, outlines and so on.
4. FLOOD ROYAL ICING CONSISTENCY
Flood consistency refers to consistency that when used it results in a royal icing with a smooth, satin like finish.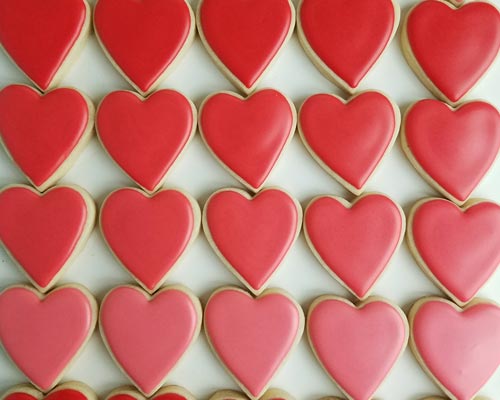 Flood consistency royal icing is often referred to as 5, 10, 15 or 20, 25 seconds icing.
Seconds refer to the time it takes for the icing to become smooth after you run a spatula through it.
For example when you run a spatula through icing, it may take 20 seconds for the line to disappear. If you only need 15 second consistency this simply means you need to add little more water. And vice versa.
Depending on the project, size of the cookies, your skill, different flood consistencies can be used to achieve desired look of smoothly iced cookies.
4 SECOND ROYAL ICING CONSISTENCY
I use it to brush a thin layer of icing on cookies. This is especially useful when creating depth.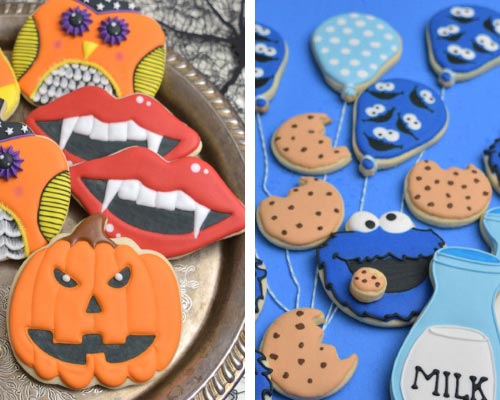 Pumpkin, Vampire : black sections
Cookie Monster : mouth
Notice black sections are sitting lower than the rest of the icing around it. For example this technique can also be used to create eyes, window etc.
10 SECOND ROYAL ICING CONSISTENCY
Works great for Dipping Icing Method, general flooding, and icing larger cookies, for example gingerbread house panels.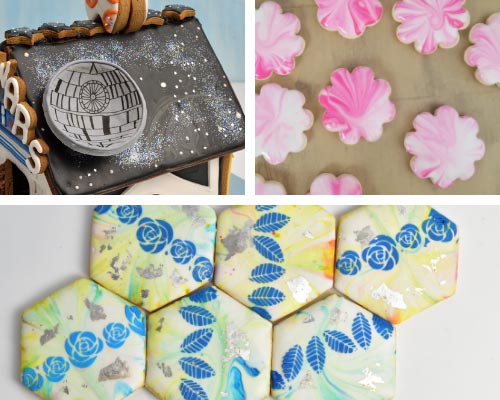 Star Wars Gingerbread House : roof
Gluten Free Pink Marbled Sugar Cookies
15 SECOND ROYAL ICING CONSISTENCY
In my YouTube instructional cookie decorating videos you may have heard me say "use 15 Second Consistency Royal Icing" more times than I care to count.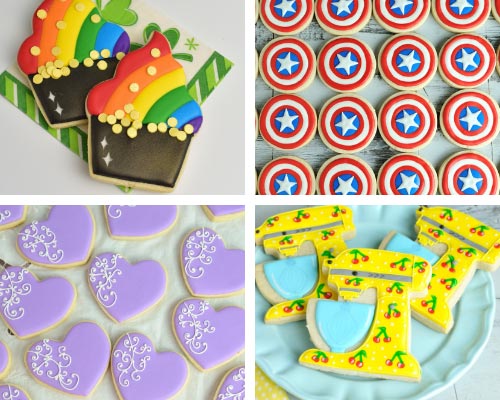 Personally, I mostly use 15 second royal icing consistency to flood the cookies.
Slightly thicker than 10 second, it doesn't spread too fast and works great for both : outlining and flooding the cookies.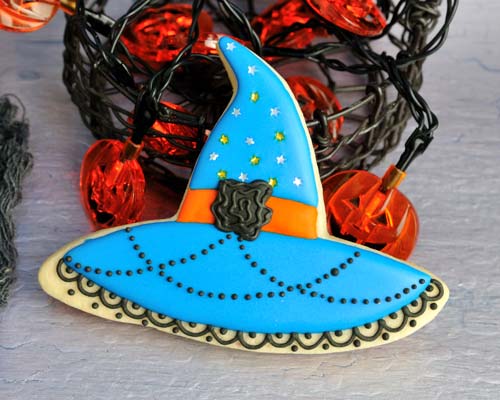 20 SECOND ROYAL ICING CONSISTENCY
I use this consistency to create tufted, puffy designs. It's ideal for flooding of smaller sections. And it's also great for adding dimension to a design.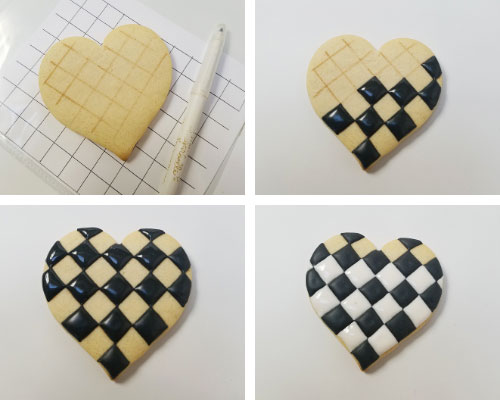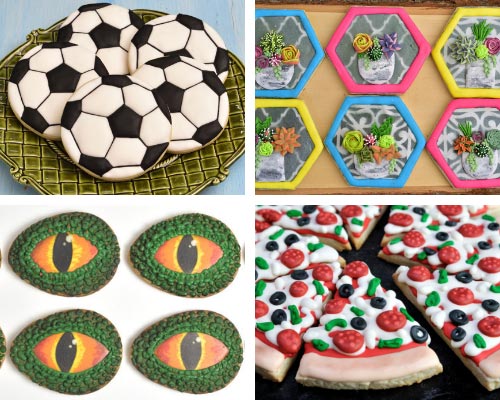 5. WET ON WET DESIGNS
10 and 15 second royal icing consistencies, both are great for creating fun wet on wet designs. For example marbling, wet on wet roses, polka dots, bubbles, animal prints and so much more.
I will be covering wet on wet designs more in depth in a near future.
6. SHOULD I USE PIPING BAGS, DECORATING BOTTLES, PARCHMENT CONES OR SANDWICH BAGS TO DECORATE?
To apply royal icing onto cookies you can use sandwich bags, piping bags, decorating bottles or parchment cones. These all can be used to pipe the royal icing.
Which you use is entirely up to you. I used sandwich bags for years before switching to disposable tipless piping bags. I think most people use piping bags.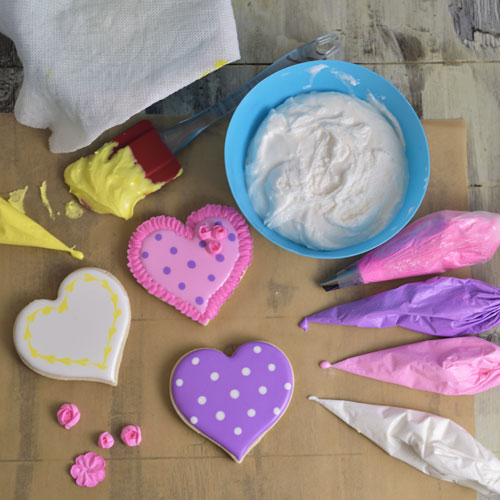 When using a piping tip it's definitely a good idea to use a piping bag.
There are quite a few decorators using piping bottles, too. During one of the classes, student told me that she prefers to use bottles as they cause less strain on her wrists. So, it's definitely something to consider.
Use what feels the most comfortable for you. Be mindful of your body and if something is causing you pain try to modify either consistency or tools you use.
7. IT'S SO CONFUSING, I HAVE NO IDEA WHAT ROYAL ICING CONSISTENCY TO USE?
If you are beginner then this all can seem overwhelming. No need to panic.
Start with one or 2 consistencies : 15 Second consistency to flood and Piping consistency to add some piped details.
If you don't want to invest into piping bags right away or don't have any on hand try using sandwich bags.
Start by flooding cookies with 15 second consistency.
Let the icing dry.
Then use a piping consistency royal icing to add some details.
Or have fun with wet on wet designs : make polka dots, flowers, hearts, leopard print.
As you learn some basics about how royal icing behaves it will be much easier to determine what royal icing consistency to use for a project.
8. FLOOD CONSISTENCY ISSUES
My royal icing is too thin? Add more stiff royal icing. Or you can also add little bit of sifted powdered sugar : 2tbsp per cup of icing.
Icing starts to crust too fast. This can be caused by : ambient temperature (if you work by a heat source) or accelerated air circulation (fan running close by). Or perhaps your icing is too thick, or you haven't yet developed a skill to flood quickly. It's normal.
Craters
9. ROYAL ICING RECIPES
TOOLS YOU NEED TO THIN ROYAL ICING
TOOLS
RELATED TUTORIALS
Royal Icing Transfers – types of transfers, how to make them and use them in cookie and cake decorating
PIN IT for later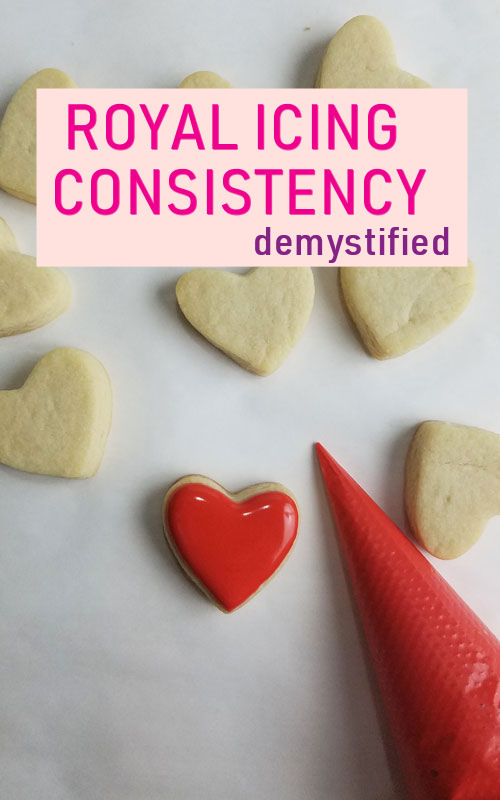 This post contains amazon affiliate links that earn me a small commission, at no cost to you. I only recommend products that I use and love. Learn more about my affiliate policy here.