Homemade Red Pepper Paste
Homemade Pepper Paste is absolutely delicious and worth the effort. I started making pepper paste in 2012 and it's become a staple in my kitchen.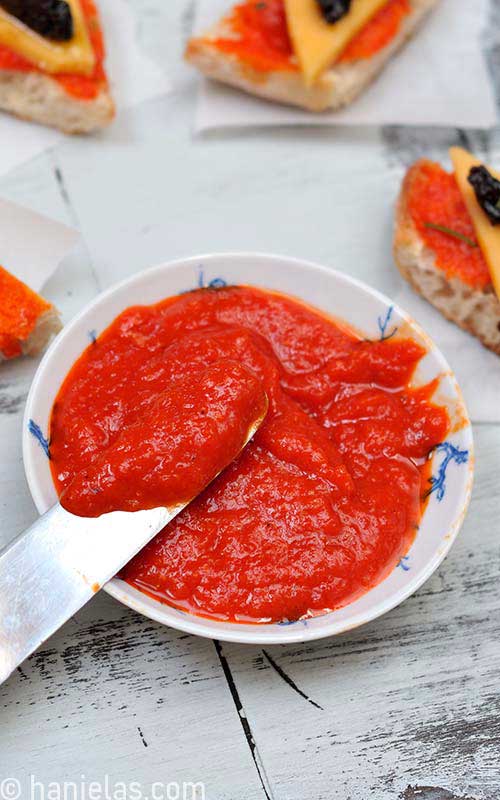 updated recipe from 2012
HOW TO MAKE PEPPER PASTE FROM SCRATCH
This concentrated paste is great for a variety of dishes. Use small cubes to season sauces, soups or spreads. I like to use it Hungarian Goulash, Crostini Appetizers, Red Pepper Split Pea Soup and even in Chicken Paprikash in place of red paprika.
You can freeze it or can it. When I first started making it I would can it but after testing it out I freeze it now instead. It keeps for well over a year in the freezer. I love having small cubes of it ready to go whenever I need to add an extra flavor to a dish I'm making.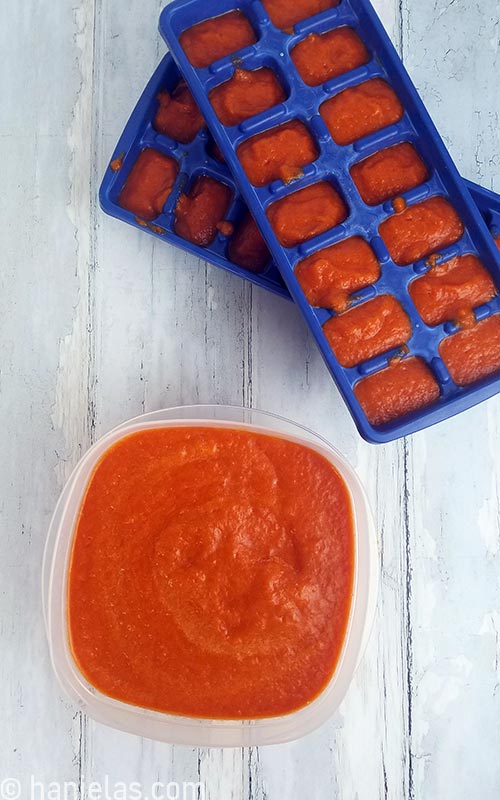 RED PEPPERS
To make red pepper paste I use red peppers. Use mature, red peppers if possible. Green peppers produce brownish looking pepper paste. Red peppers produce bright red paste.
I've made homemade pepper paste using 2 kinds of peppers :
Aruba Peppers – these are our favorite peppers to grow in our vegetable garden. They are not as meaty as bell peppers, however we love them for their taste and a high yield. And so since we always have tons of them I often use these to make the paste.
Bell Peppers – I use these off season or when I don't have Aruba Peppers. These "meaty" peppers are excellent for pepper paste making. Bell peppers are available all year round. When in season try to source them out locally at farmer's markets.
Use hot peppers to make hot pepper paste.
TIP : If possible use Red Bell Peppers. They are meatier, produce more paste and they are slightly easier to work with as they don't shrink as much during roasting as Aruba Peppers.
Aruba Peppers from the garden.
Red Bell Peppers.
WASH PEPPERS
Wash the peppers well, trim off any blemishes.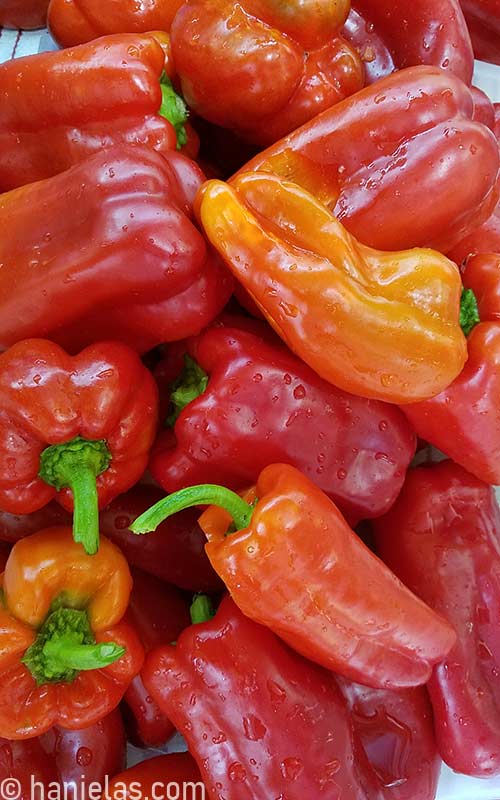 Cut the peppers lengthwise. Remove the seeds. Wash again well. Drain the water.
Layer washed peppers, skin up onto a baking sheet or into a large oven safe pot. Season each layer with salt. Cover loosely with a kitchen towel and allow peppers to drain for 2 hours. Drain the liquid released by peppers.
SLOW ROASTING
To make the smooth, delicious pepper paste I like to remove skin from the peppers. And I only use meaty flesh to make the paste. Why would I want to remove skin from peppers? It's simple, really. No matter how long you cook the peppers their skin never gets soft. And also, fibrous skin makes peppers harder to digest.
HOW TO REMOVE SKIN FROM PEPPERS ?
Slow Roasting – my preferred method – great for a large amount of peppers, very effective. I often make a large batch of pepper paste, from 30 peppers.
Fast Roasting – this is my less favorite way to skin the peppers. I use this method on occasion when I need to skin 1-2 peppers. I find this method is not always as effective as slow roasting.
Roast peppers in the preheated oven at 240F (115C). Slow roasting takes about 4-5 hours, depends on the peppers you are using.
As peppers roast they release more juice and they also loose their shape.
PEEL THE PEPPERS
Before you turn off the oven test couple of peppers. When skin peels right off you can remove roasted peppers from the oven, otherwise continue slow roasting for a bit longer. Allow them to cool slightly before peeling the skin from all of the peppers.
Skin should come of easily. Watch the video!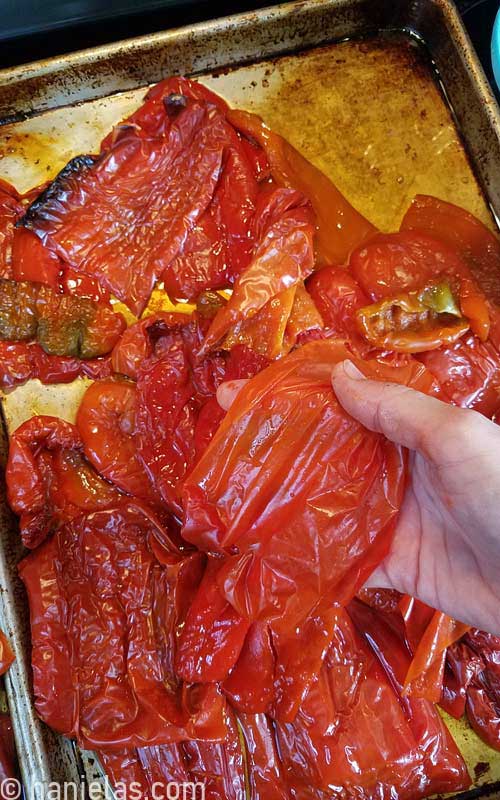 Discard the skins.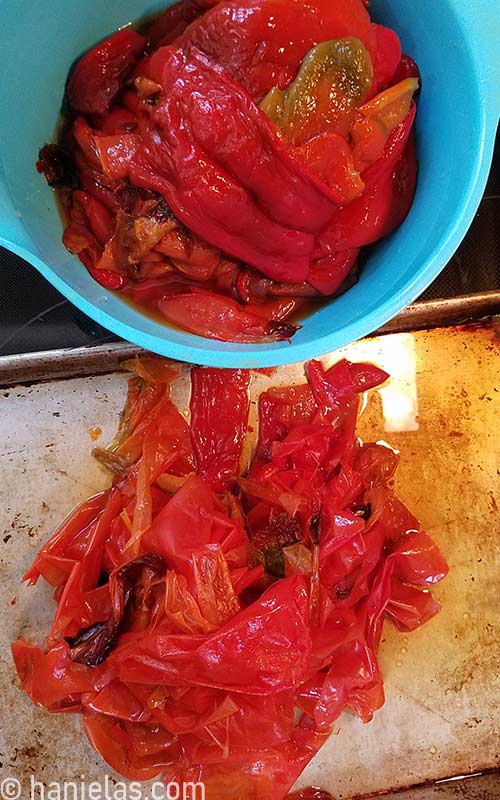 Roasted peppers are wonderful. You can use them on sandwiches, pizzas, appetizers and so much more.
MAKE PEPPER PUREE
To make a smooth paste process peeled roasted peppers with some of the juices in a food processor or a chopper.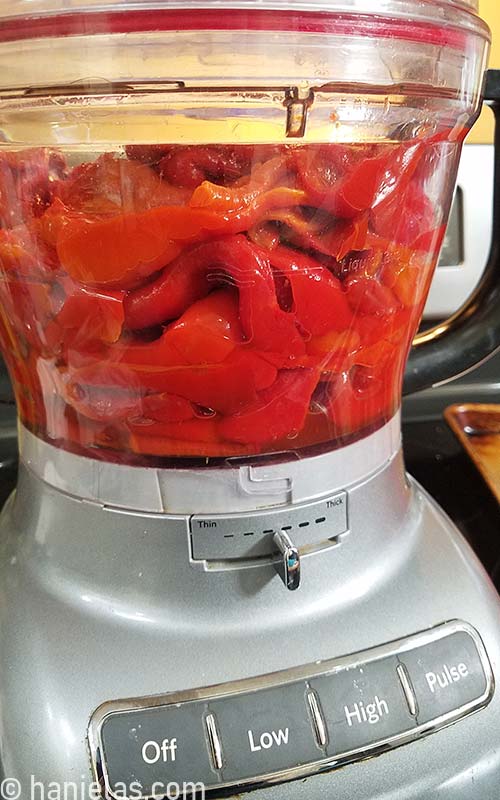 This plain unseasoned homemade red pepper paste can be used as a seasoning for stews, soups, sauces etc.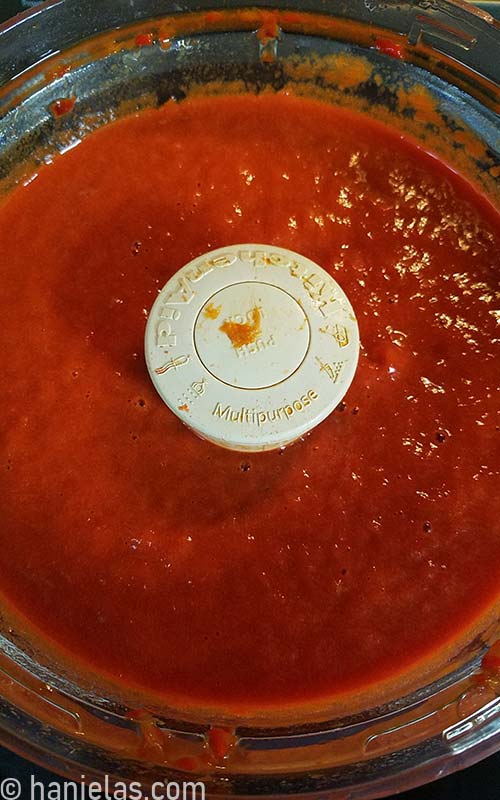 SEASON PEPPER PASTE
To make seasoned and more flavor balanced paste you can enhance the taste of a plain pepper paste with addition of other flavors.
I like to combine plain paste with a simple roasted vegetable paste, vinegar and spices. Check the recipe card for details on how to make a seasoned pepper paste.
FREEZE
I like to freeze pepper paste in ice cube trays. Once frozen I store cubes in a freezer safe container. Small ice cubes are a perfect size of couple of tablespoons. Just enough to season sauces, soups or make a quick cream cheese spread, or you can swirl it into a freshly made hummus.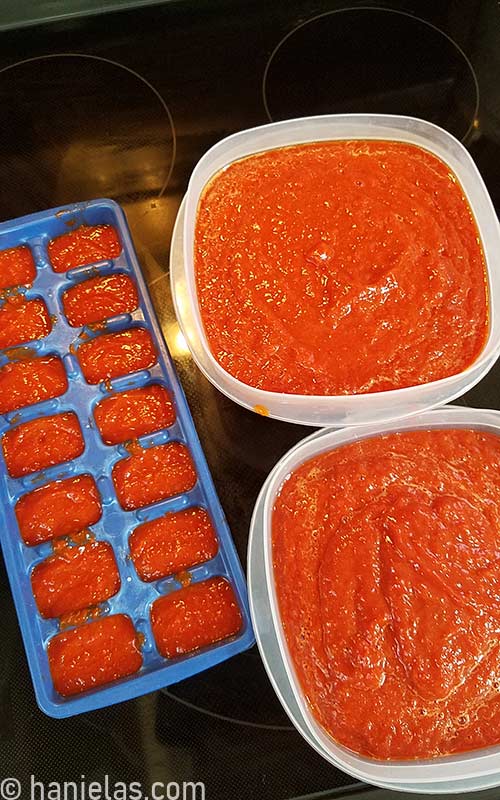 CAN JARS
You can also can pepper paste to preserve it. Be sure to use a pressure canner.
TO MAKE RED PEPPER PASTE YOU NEED
TOOLS
Get all the tools in Amazon Shop
Baking Sheet
Food Processor or Choppers (great for smaller portions)
Bowls
MORE PEPPER DISHES :
Homemade Pepper Paste
How to make red pepper paste from scratch.
Serving size depends on the dish. Use 1 to 2 tablespoon per sauces and soup. You can use more when making meat stews.
Ingredients
HOMEMADE RED PEPPER PASTE
Basic Plain Red Pepper Paste
10

large red peppers ( bell pepper or aruba)

1

tbsp

salt
Seasoned Red Pepper Paste
1

large onion, diced

4

garlic cloves, unpeeled

1

large size carrot, peeled and diced

1

celery stalk, washed and diced

1/4

cup

apple cider vinegar or red wine vinegar, or rice vinegar( I'm using vinegar with 5% acidity)

small bay leaf

1

tsp

mustard

1/8

tsp

cayenne pepper (optional)

salt to season, kosher or table salt is fine

1/4

tsp

black pepper

1 1/2

tbsp

olive oil
Instructions
Wash Peppers
Wash peppers (10 large red peppers), cut them in half, remove the inside, discard seeds. If there are any blemishes or spots on the skin remove those as well. Wash well.
Slow Roasting
Layer peppers skin side up into a all stainless steel pot or onto a baking sheet. Season each layer with salt (1 tablespoon). Cover with a kitchen towel and allow to sit for 2-3 hours. Then drain the liquid from a pot/baking sheet into a kitchen sink.

Preheat oven to 220F,(105C)

Place a baking sheet/large pot with peppers into the oven, uncovered.

Slow roast for 5 hours. Stirring the peppers occasionally, once a hour or so. Longer you roast the peppers easier it will be to remove the skin. 

I usually test one pepper just after a 4 hour mark. If the skin is easy to peel off then I take the pot out of the oven. If not I'll leave it slow roasting for longer. This also depends on the thickness of the pepper, thicker the pepper longer it has to roast in order for the skin to become loose for easy peeling.

Once it's easy to peel the skin off the peppers take the pot out of the oven and let the peppers cool slightly for easier handling. Using your hands or a a small knife pull away the skin from the pepper's "meaty" part. Skin should peel off easily. Peel off all the peppers, discard the skins.
Puree Peppers
Once you have removed all the skin, process all of the peppers' "meat" in the food processor until smooth. This is your basic plain pepper paste, without seasonings. You should have about 1 1/2 to 2 cups plain red pepper paste.
SEASONED RED PEPPER PASTE
Roast Vegetables – vegetable paste
Preheat the oven or grill, to about 400F.

Pour diced onion (1 large onion), carrot (1 large carrot), celery (1 stalk) onto a baking sheet or heavy duty aluminum baking tray. Season with salt (1/4 teaspoon) and ground black pepper (1/4 teaspoon). Drizzle over olive oil (1 tablespoon). Toss together.

Place unpeeled garlic cloves onto a piece of aluminum foil, sprinkle with remaining olive oil (1/2 tablespoon), season with little bit of salt and ground pepper. Wrap garlic cloves into the foil. Place wrapped garlic onto a baking sheet with all the vegetables. Once roasted, push the roasted garlic cloves out of the shells.

Roast vegetable either in the oven or on the grill if you can. Roast vegetables, until soft and caramelized. Once vegetable as done, let them cool slightly, then process roasted vegetables along with roasted garlic cloves (without the shell) in the food processor until you have a thick paste. It will be slightly chunky but that's okay.

Into a pot add plain red pepper paste, pour in vegetable paste and stir well. Pour in vinegar (1/4 cup), dijon mustard (1 teaspoon), season with salt and ground black pepper. Add cayenne pepper (1/8 teaspoon), if using and a small bay leaf. Bring mixture to boil, then lower to simmer and cook on low heat for 30 minutes and up to an hour. Paste is thick, it's important that you stir it frequently so it doesn't burn on the bottom of the pot. Taste and season as needed.

TIP : Cover the pot with a splatter shield to prevent pepper paste splattering all over.

Mixture will appear chunky, remove small bay leaf. To make is smooth again, process mixture in a food processor or a small chopper until smooth.
RED PEPPER PASTE STORAGE
I freeze my pepper paste into ice cube trays and once frozen I unload the cubes into a freezer safe container and freeze for long term. Frozen pepper paste cubes keep for at least a year in the freezer.

You can also can the red pepper paste, use a presser canner.
Notes
WHAT TO DO WITH RED PEPPER PASTE?
 Paste can be used for variety of dishes, from spreads, dips,marinades, pasta sauces, soups, meat stews, variety of sauces, fish, steak, chicken.
HOW LONG DOES PEPPER PAST LAST?
Paste can be stored in the fridge for up to a month.
Frozen for up to a year,
Or canned ( in a pressure canner).
IS RED PEPPER PASTE SPICY?
It depends on the peppers you use or how much cayenne pepper you use. If you'd like to make spicy pepper paste use spicy pepper in addition to sweet peppers.
DO I HAVE TO USE VINEGAR?
You can skip vinegar if you don't like to use it. Flavor of the paste will be slightly different if you don't use vinegar. Vinegar also acts as a preservative.
This post was originally published on September 11th, 2012. On June 10th, 2020 I updated this post with new photos and written text.
This post containsThis post contains Amazon affiliate links that earn me a small commission, at no cost to you. I only recommend products that I use and love. Learn more about my affiliate policy here.