I realize not everyone has royal icing laying around in their kitchen 24/7. What if you only need a little bit of icing but don't want make the whole big batch? Here is a recipe for a Small Batch Royal Icing.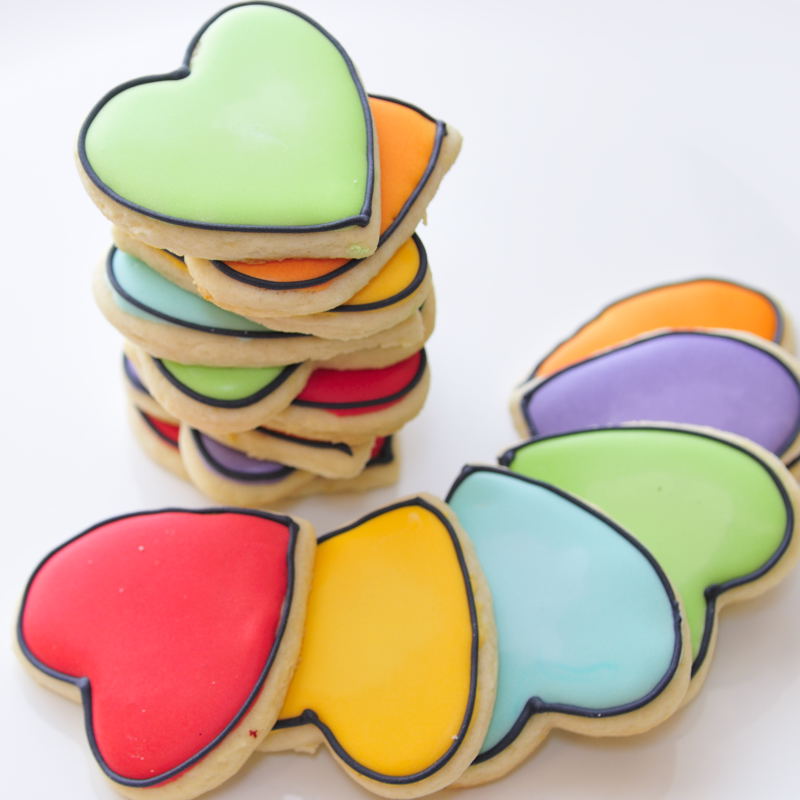 This recipe for Small Batch Royal Icing makes only 1 1/2 cups of royal icing so in case you are in the need of a bigger batch you can hop over to my Fresh Lemon Royal Icing Recipe.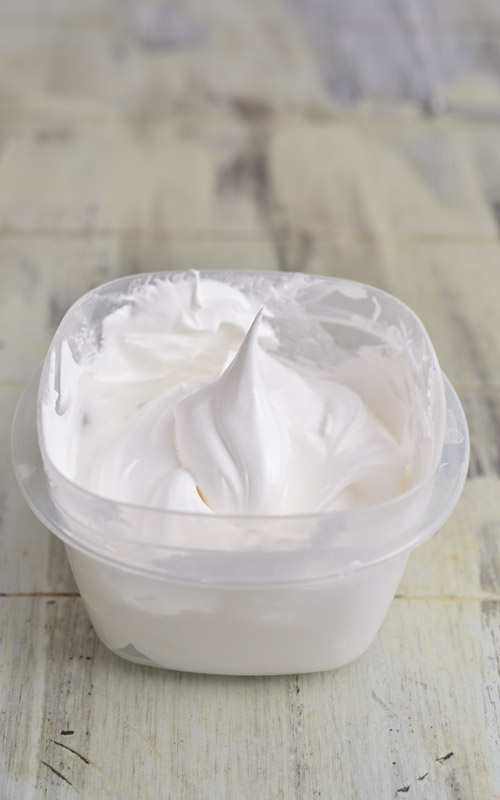 SMALL BATCH ROYAL ICING INGREDIENTS
Powdered Sugar
Meringue Powder
Liquid – I'm using water in this recipe.
Vanilla, Almond and Lemon Extract
Note : I often substitute some of the water for a freshly squeezed and strained lemon juice. When using lemon juice I don't add lemon extract. I explain more in the printable recipe below.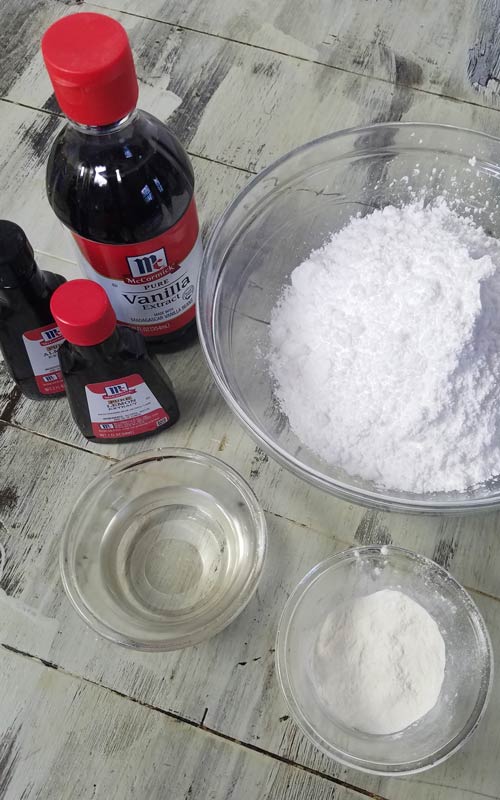 DRY INGREDIENTS
This icing is really easy to make. I combined together powdered sugar and meringue powder. You can use a whisk or a hand held mixer works great, too.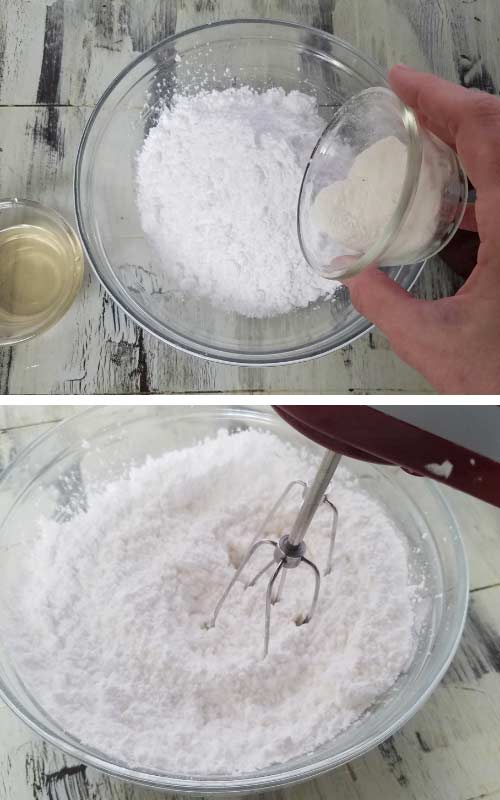 WET INGREDIENTS
Stir Vanilla, Almond and Lemon extract into lukewarm water.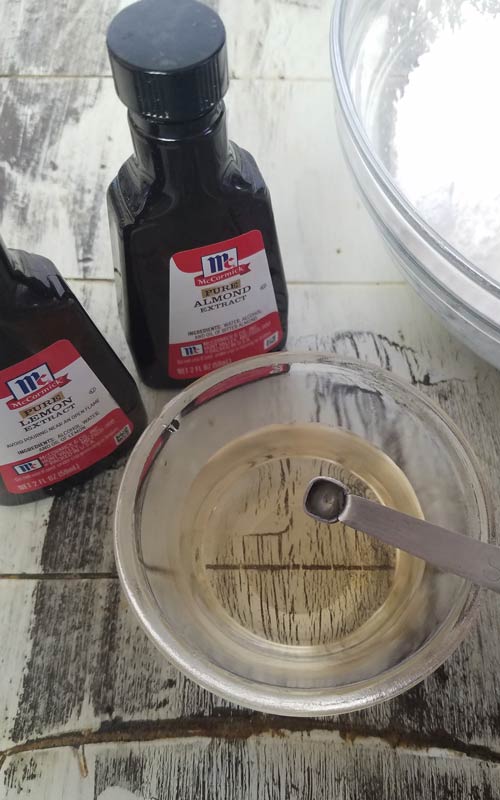 MIXING
Pour wet ingredients into the dry and beat with hand held mixer. Start on low speed. At first mixture will be thin. Continue beating and increase speed to medium. Beat for about 5-8 minutes. Mixture will thicken gradually and once royal icing holds a stiff peak it's ready.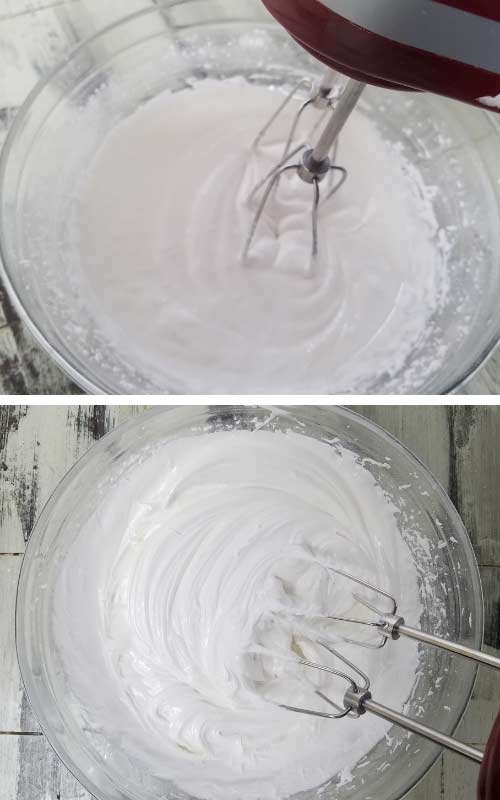 STORING ROYAL ICING
If you haven't made royal icing before you maybe not familiar with the fact that this icing crusts quickly. When exposed to air icing forms a crust on the surface within 5-10 minutes.
To prevent this from happening you need to cover royal icing. For a short term you can cover the bowl with royal icing with a damp kitchen towel or damp paper towel.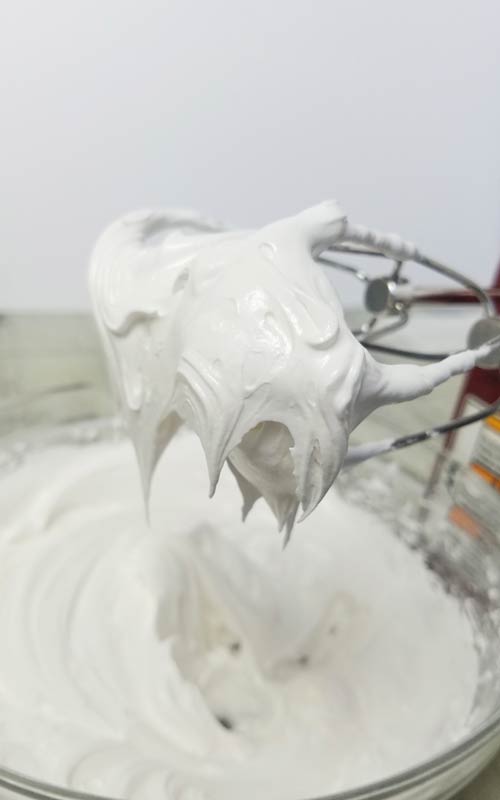 Crusting time highly depends on the consistency of icing and also on your ambient temperature and/or humidity. I answer a lot of common icing questions in my post Royal Icing FAQ.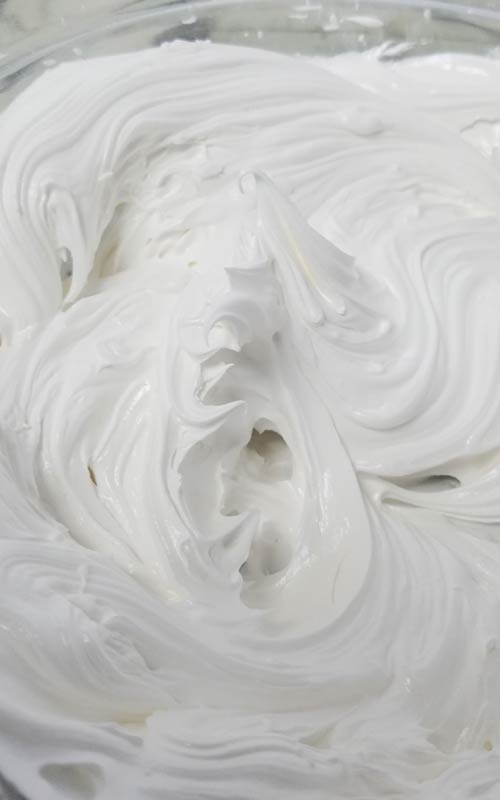 Problem with crusting is that while it doesn't affect taste it can make for an unpleasant decorating experience.
This is especially true when crusted icing gets mixed into soft icing and then all the little hardened particles get spooned into a piping bag. Later they clog up your piping tip while you try to decorate and have fun.
HOW LONG DOES MERINGUE ROYAL ICING LAST?
I store royal icing in a food safe plastic containers or glass containers work, too. I cover icing tightly with a plastic wrap and then I secure a lid on. Icing is good for up to 4 weeks, either stored in the fridge or on the counter.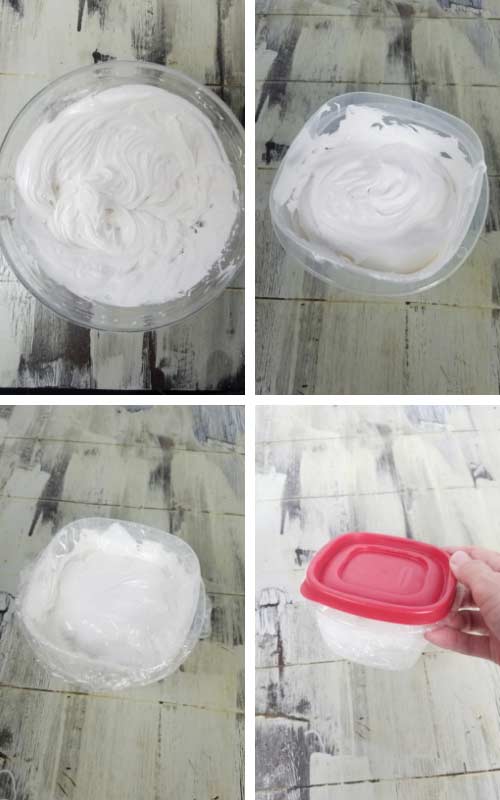 Over time royal icing separates and it has to be mixed again.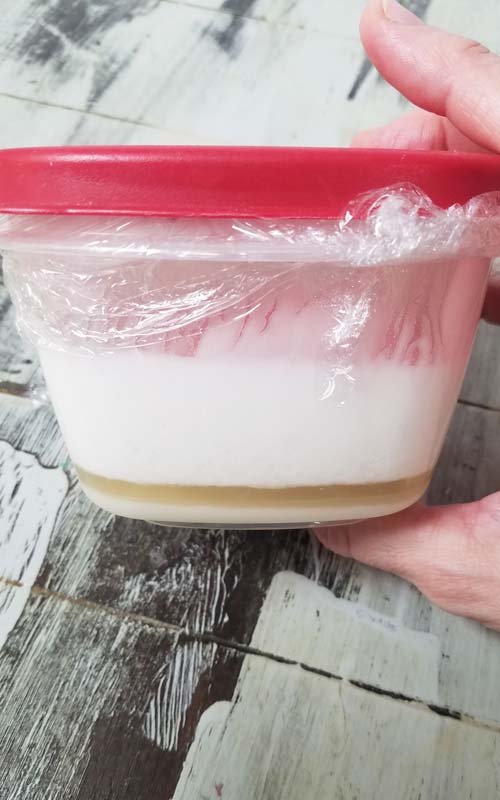 For a long term storage you can Freeze Royal Icing.  
USEFUL ROYAL ICING TIPS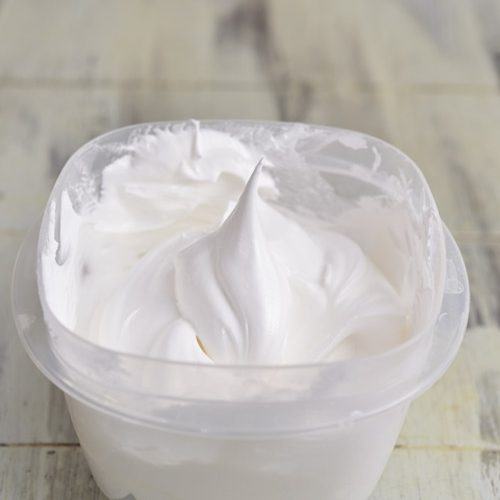 Small Batch Royal Icing
Makes  1 and 1/2 cups of royal icing. This icing is suitable for cookie decorating, making royal icing transfers and more.
Course:
Cookies, Dessert, Frosting
Cuisine:
American, French
Keyword:
royal icing recipe, small batch royal icing
Ingredients
SMALL BATCH ROYAL ICING
2 1/4

cup

powdered sugar

1

tbsp

meringue powder

3

tbsp

lukewarm water

1/2

tsp

vanilla extract

1/8

tsp

almond extract

1/8

tsp

lemon extract (optional)
Instructions
Make sure all your tools are grease free! I wipe my tools with a piece of paper towel and vinegar. Wipe dry with a clean towel.

Into a clean bowl add powdered sugar (2 cups and 1/4 cup). If you see lot of large clumps in the sugar, make sure to sift it first.

Into the powdered sugar add meringue powder (1 tablespoon). Whisk well or use your hand held mixer with clean beaters to combine dry powders well.

Measure water (3 tablespoons) into a small bowl. Add vanilla (1/2 teaspoon), almond (1/8 teaspoon) and lemon (1/8 teaspoon-optional) extracts into the water.

Pour liquid into the powdered sugar mixture and beat on low speed using a hand held mixer. Mixture will be thin at first. Keep mixing, increase the speed to medium and beat until royal icing thickens and holds its peak. About 3 minutes.

TIP : This recipe makes thick icing. This icing can be then used to create piped decorations or icing can be thinned down with water to decorate cookies.
COLOR AND THIN ICING WITH WATER
At this point you can use your icing for your project. Color it with gel food color. And thin it with water as needed to desired consistency. Fill piping bags and decorate.
ROYAL ICING STORAGE
Leftover icing can be stored in plastic container, covered well with a plastic wrap to prevent it from crusting. Use a lid to close the container. 
Recipe Notes
HOW TO MAKE FRESH LEMON ROYAL ICING? – Substitute 1 tbl water for 1 tbl freshly squeezed and strained lemon juice. If you like stronger lemon flavor substitute more lemon juice for water or use lemon extract in addition to lemon juice.
HOW LONG DOES ROYAL ICING KEEP? – meringue based royal icing keeps for up to 4 weeks. It can be stored at room temperature but I prefer storing it in the fridge.
DO YOU HAVE A VEGAN VERSION OF ROYAL ICING? – Yes, I do. Vegan/Eggless Royal Icing Recipe
CAN I ADD CORN SYRUP TO MAKE ICING DRY WITH A SOFTER BITE? – yes you can. I have done so many times. Add  tablespoon of corn syrup.
PIN IT for later