Easy Glaze Icing for Cookies
With only three main ingredients, my easy glaze icing for cookies comes together in under three minutes. This simple icing recipe dries firm with a shiny, smooth finish and a soft bite.
A GUIDE TO DECORATING COOKIES WITH GLAZE ICING
What is the difference between glaze icing and royal icing?
Royal Icing – has egg whites, and glaze icing doesn't. Royal icing dries hard.
Glaze Icing – doesn't have egg whites, dries hard with a softer bite than royal icing.
STEP-BY-STEP GLAZE SUGAR ICING
This decorating icing comes together quickly; you can use a spoon, whisk, handheld, or stand mixer to combine the ingredients. It is important to keep the icing covered as it will start crusting, though not as quickly as royal icing.
ICING RECIPE INGREDIENTS
Powdered Sugar
Corn Syrup or Glucose Syrup
Water or Milk
Extracts – I like to use Vanilla, almond and lemon
White Gel Food Coloring – to avoid translucency – recommended
Salt
HOW TO FLAVOR ICING
To flavor icing, you can use alcohol-based extracts, oil-based flavorings, or baking emulsions. If you don't have any flavorings on hand, you can substitute some of the water in the recipe for freshly squeezed and strained lemon juice.
I like to use a combination of 3 flavors – Vanilla, Lemon, and Almond. But that's just my personal preference. You can use any flavor you prefer. Also, one thing to remember, if you want your icing to be pure white, it's better to use clear vanilla flavoring (via Baking Bites).
To make the glaze, pour all the ingredients into a bowl (steps 1-6).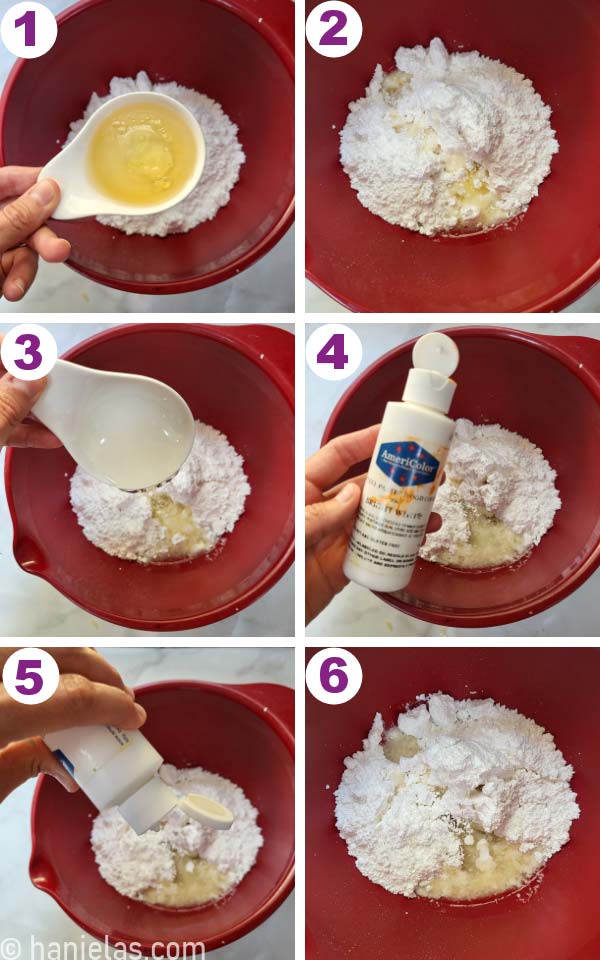 This easy glaze icing can be mixed by hand, but I like to speed things up using a stand mixer or handheld. Make sure you don't turn up the speed to high setting so you don't incorporate too many air bubbles into the icing. Mix it at low speed until well combined, about 2 minutes. When using a stand mixer, use a paddle attachment.
ICING CONSISTENCY
My icing, straight off the mixer is thick. And then, I add water to it to thin it down as I need. To make it more fluid, you need to add water. Add only drops of water at a time so you don't make the icing too runny. If your icing is too runny, add a little more sifted powdered sugar to thicken it.
I like to keep the icing for flooding and outlining cookies above 10-second consistency, around 10-15 second consistency.
HOW TO STORE ICING
Glaze icing keeps well at room temperature for up to 2 week. Cover it with food wrap and close the lid.
DECORATING COOKIES USING GLAZE ICING
Prepare the icing. Thin icing with a few drops of water as needed, and thin it to about 10-15 seconds consistency; I like to keep the flood icing above 10 seconds count under 10 seconds icing is too runny. Divide icing into bowls and color it with gel food colors.
Pour icing into piping bags.
To decorate, I used a simple marbling wet-on-wet decorating technique. You can use same consistency for flooding and for piping details on top of dry icing.
STORING AND PACKAGING COOKIES DECORATED WITH GLAZE ICING
Before you can store or package cookies icing has to dry. Allow 12 to 24 hours for the icing to dry before packaging cookies. Cookie
GLAZE ICING FOR COOKIES SUCCES TIPS
Air Bubbles are, without a doubt, the nemesis of sugar icing, but don't despair. Letting the thinned-down icing rest for several hours and even overnight and for up to 1-2 days allows air bubbles to float to the top of the icing, and you can then gently stir the icing to pop unwanted air bubbles.
Cookies decorated with icing, need 12 + hours to fully dry before they can be packaged.
Can I stencil on top of glaze icing? Yes, you can. Allow the icing to fully dry before stenciling.
Little piped details can be added as soon as glaze crusts, then allow it to fully dry before storing and packaging.
What's great about glaze icing is that to flavor it you can use alcohol extract, emulsions and even oil-based flavorings and even freshly squeezed lemon juice.
Glaze icing is less finicky than royal icing, it's easier to fix accidental dents in freshly flooded cookies.
Is it okay to use royal icing for small details on top of the glaze icing? You can use royal icing on top of the dry glaze for small details.
If you are short on corn syrup you can use glucose syrup in place of corn syrup.
You can't use glaze to make piped flowers. Use fondant, gum paste, modeling chocolate or small batch royal icing to make piped flowers.
To make smaller amounts of icing, use 1 cup powdered sugar, 1 tablespoon corn syrup/glucose syrup, and 1 tablespoon water or milk.
MORE COOKIE DECORATING IDEAS
Best Glaze Icing
This is a simple Glaze Recipe that is perfect for decorating cookies.
It makes 1 ½ cups to decorate about 25-30 cookies.
The recipe makes about 24 tablespoons.
Equipment
1 mixer, handheld or stand, or a spoon

bowls to mix and color icing

sieve

measuring spoons and cups
Ingredients
4

cup

powdered sugar, sifted (500grams)

4

tbsp

corn syrup (80grams)

3

tbsp

water or milk, plus more for thinning of icing (30-45grams)

6

drops

white gel food coloring (Americolor)

pinch of salt

1/4

tsp

Vanilla Extract

1/4

tsp

Almond Extract (optional)

1/4

tsp

Lemon Extract (optional)
Instructions
Glaze Icing for Cookie Decorating
Into a bowl, sift powdered sugar (4cups, 500grams), pour in corn syrup (4 tablespoons, 80 grams), water (2-3 tablespoons, 30-45 grams), white food coloring (6 drops), and a pinch of salt.

Beat at low speed for about 2 minutes until all the ingredients are combined. Icing should be of toothpaste consistency.

Add a few more drops of water to make the icing thinner for flooding cookies.
Notes
How long does glaze icing keep? – Corn syrup glaze icing keeps well for two weeks, covered at room temperature.
How many cookies can I decorate with this icing? This recipe will ice 20-30 medium-sized cookies (2.5 to 3 inches across).
Is it possible to cut down on the sweetness of icing? Use freshly squeezed and strained lemon juice instead of half of the water in the recipe.
Can I package cookies decorated with glaze icing? Absolutely. Ensure you let the icing dry for 12-24 hours before packaging.
How can I make glaze icing for cookies without corn syrup? Use glucose syrup in place of corn syrup.