Did you know you can make Vegan Royal Icing from chickpeas? I finally tried it and it works.
Who would have thought that chickpeas, an annual legume can be used to make something sweet? I like chickpeas, I use them in salads or eat them plain with apples. They are the main ingredient in hummus. Little did I know that brine from chickpeas can be used to make Vegan Royal Icing and Vegan Sugar Cookies. Isn't that awesome?! So next time you drain chickpeas be sure save the brine. You can also freeze it for later.
VEGAN ROYAL ICING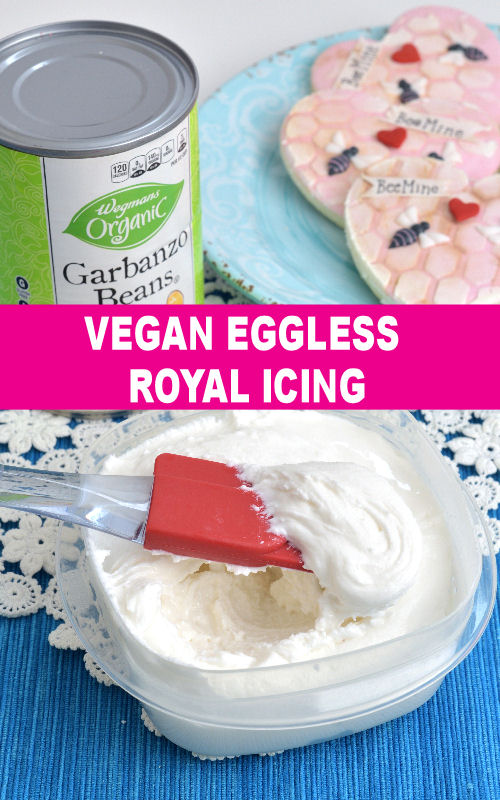 Make sure to drain the chickpea brine through a fine mesh sieve. Just in case there are some bits in the aquafaba. You don't want those in your vegan royal icing.
Into the aquafaba add cream of tartar and whip until foamy. Then you can add all of the powdered sugar all at once. Using a wire attachment beat on low speed until thick. I also add little bit of white food coloring while it's mixing.
To flavor my royal icing I like to add with Vanilla, Lemon and Almond extracts. I know it seems like an odd combination of flavors but it really works. Of course, nothing is set in stone and you can experiments with other flavors. However I'd recommend that you stick with Vanilla Extract. You can then add other flavors of your choice.
I use gel food coloring to color royal icing. To bag the the icing I mostly use disposable piping bags bags and a tape sealer to seal them. Make sure to get the tape too, as the sealer doesn't come with it.
Vegan Royal Icing
Royal icing made from canned chickpeas brine. Great for cookie decorating.
Store in the fridge, for up to 5 days.
Ingredients
6

tbsp

strained canned chickpeas brine

4-5

cups

powdered sugar

1/2

tsp

cream of tartar

substitute 1/2 tsp lemon juice

1/2

tsp

vanille extract

1/2

tsp

almond extract

1/2

tsp

lemon extract

3

drops

white food coloring
Instructions
Open a can of chickpeas, drain and strain the brine though a fine mesh sieve.

Using a wire attachment, using a stand mixer, beat with cream of tartar until foamy. Add all powdered sugar and beat on low speed until thick. Beat in extracts and white food coloring. Beat until thick. 5-10 minutes

Store in an airtight container, covered with plastic wrap and closed with a lid in the fridge for up to 5 days. Let come to room temperature before adding water to thin icing for decorating as desired.

Icing can be colored with gel food colorings.
Here is my post about Vegan Sugar Cookies in case you missed it.
I used Vegan royal icing to make these pretty Bee Mine Valentine's Day Cookies.