Colorful Monarch Butterfly Cookies
I made beautiful and super easy to make Colorful Monarch Butterfly Cookies decorated with royal icing. Cookie decorating doesn't have to be time consuming and difficult. I used a simple stenciling decorating technique to create these pretty butterfly cookies in just a few minutes.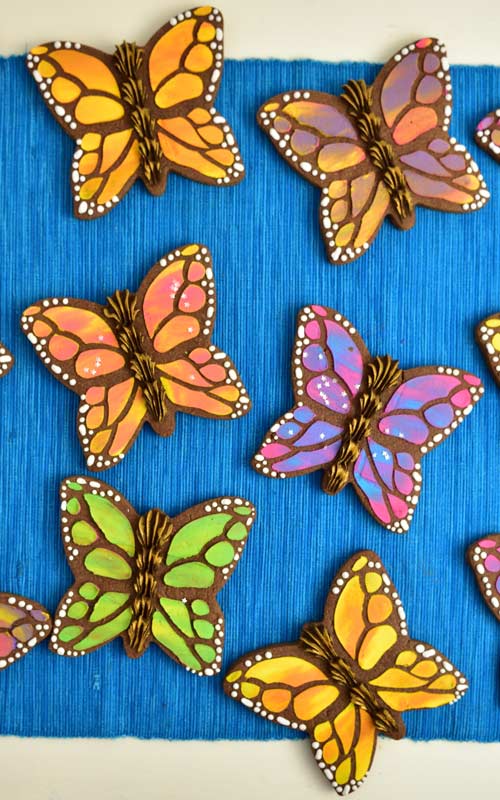 If you remember I used this exact stenciling technique to create my celebration buttercream Monarch Butterfly Cake. It's such a fun decorating method. And I hope you'll give it a try, too.
COLORFUL MONARCH BUTTERFLY COOKIES
BAKE COOKIES
To eliminate the use of black food coloring when decorating these butterfly cookies I decided to use chocolate cookie dough. Chocolate canvas creates a great contrast with vibrant colors I used for stenciled wings. I used a simple cutter from Ann Clark to cut the cookies.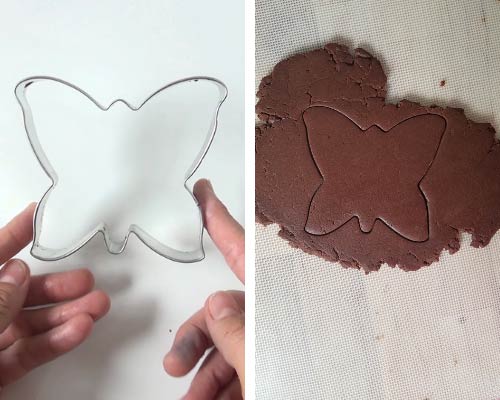 BUTTERFLY STENCIL
I hand cut stencils all the time. However if this is your first time let me cover few basics.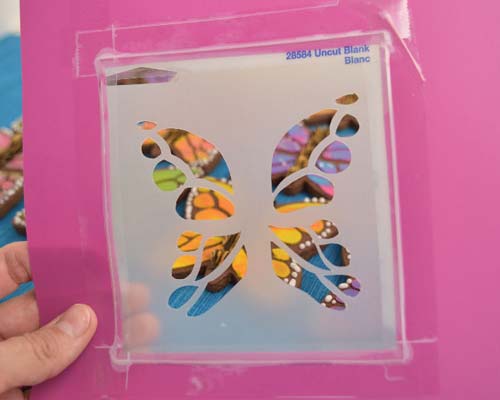 Trace the cookie cutter shape (the one you are using to make the cookies) on a piece of paper.
Create design by drawing inside of the shape. It is important that the stencil design fits nicely inside of the cutter you are using.
When cutting a stencil with an exacto knife always make sure your surface is protected. You don't want to ruin your desk or antique dinning room table. I use an old cutting board underneath.
Tape the template on the cutting board and then tape the stencil black on top of the template. This way nothing will be shifting while you are cutting it out with the knife.
Also, make sure the blade is sharp with the tip of the blade intact. Be patient and cut the stencil in sections.
Slower, precision cutting is better.
Stencil blanks are not paper thin and some pressure has to be applied to cut through them.
For those of you who'd like to learn how to make stencils using a machine. Check out How to Cut Your Own Stencil with Stencil Silhouette Studio.
HOW TO STENCIL WITH ROYAL ICING
To hold a stencil in place I use a Stencil Snap Holder.
When stenciling with royal icing make sure to use stiff to medium stiff royal icing. You can learn more about stiff royal icing and its applications in cookie decorating in my post Royal Icing Consistency.
Secure stencil in place using Stencil Holder.
If you don't have a stencil holder use magnets instead.
Place magnets in the corners of the stencil, and between. Secure stencil with magnets onto a baking sheet.
There should be no gap between a cookie and a stencil.
Use stiff to medium stiff royal icing.
Use a spatula or a sugar smoother to spread royal icing over the stencil in a thin layer.
Carefully lift up stencil. There maybe some residue icing on the stencil. If needed wipe the stencil with a damp towel.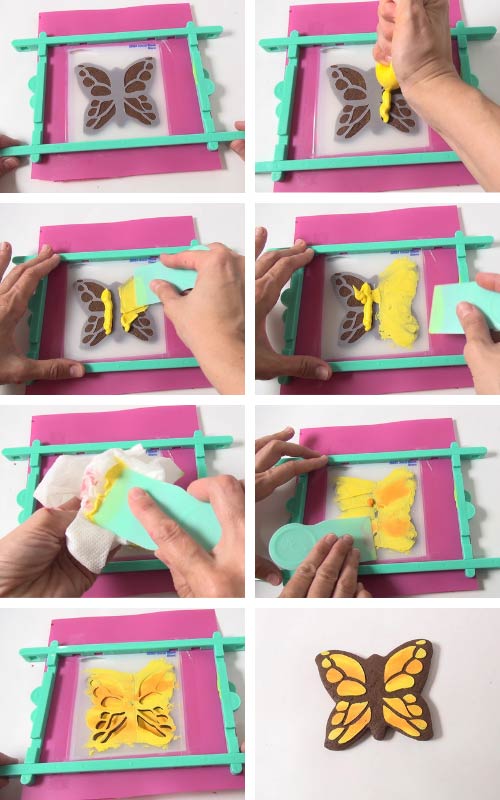 To make monarch butterfly cookies I stenciled on 2 colors : yellow and orange. First I stenciled with yellow royal icing and then I used little bit of orange. This gives the design a marbled effect.
You can play with different color variations. Don't be afraid to experiment with different colors.
I really like how purple/pink galaxy inspired butterflies turned out. While icing is still soft you can use sprinkles or edible jewel dust to add some interest to your designs. Sprinkles and other edible dry dust will stick to wet royal icing. I used silver star sprinkles on galaxy inspired butterflies.
PIPE THE BODY AND PAINT WITH LUSTER DUST
After I stenciled wings onto chocolate cookies I piped the body. I used a Star Piping Tip and stiff royal icing colored with a little bit of cocoa powder and brown food coloring.
HOW MUCH COCOA POWDER CAN I ADD TO ROYAL ICING? I usually add 1 tablespoon per one cup or royal icing.
Then with white royal icing, about 20 second consistency pipe white dots around the edges. Let the icing dry, for about 4 hours.
PAINT WITH EDIBLE LUSTER DUST
Before you can paint the butterfly body with an edible luster dust royal icing has to dry.
Make edible gold luster paint :
In a small dish mix a little bit of dry edible gold luster dust with a few drops of lemon extract (use a dropper). Using food only paint brush paint dry royal icing. Let dry for 5 minutes.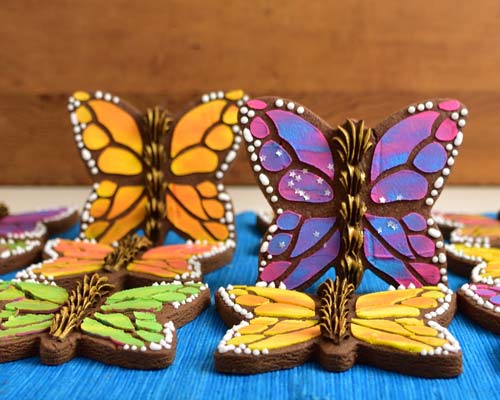 MORE COOKIE DECORATING IDEAS :
There are number of ways you can package cookies. I individually heat sealed my decorated butterfly cookies in clear poly bags. Then I nested them into treat boxes.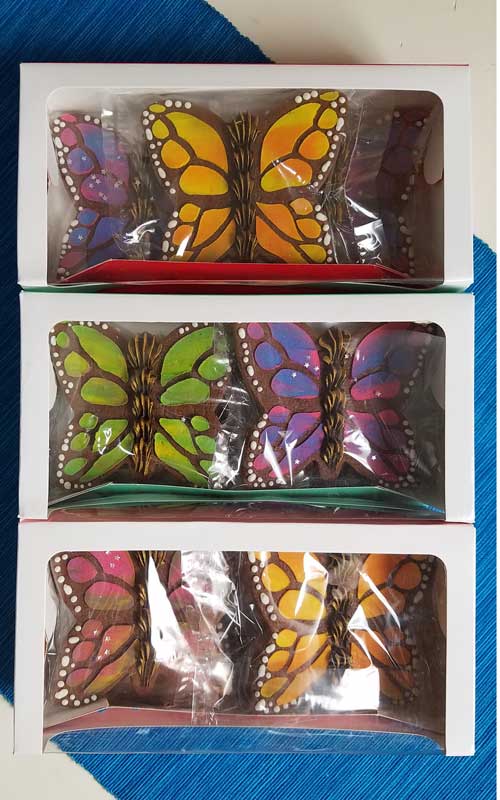 TO MAKE COLORFUL MONARCH BUTTERFLY COOKIES YOU NEED
RECIPES
TOOLS
Favorite Decorating Tools – all the tools for this project can be found here, or otherwise linked below
Butterfly Cookie Cutter
Stencil Holder (comes with the green spreader)
Silver Stars – used on galaxy buterflies
Lemon Extract
Dropper
Food Paint Brush
Clear Poly Bags
Heat Sealer
MAKE BUTTERFLY STENCIL
Exacto Knife
PIN IT for later
COLLABORATION WITH SWEETAMBS
I enjoy sweet collaborations and today I teamed with Amber from Sweet Ambs. Amber and I , we both made Butterfly Cookies. Amber decorated these showstopper Monarch Cookies. You can find out how to make them and all the little details on SweetAmbs Blog.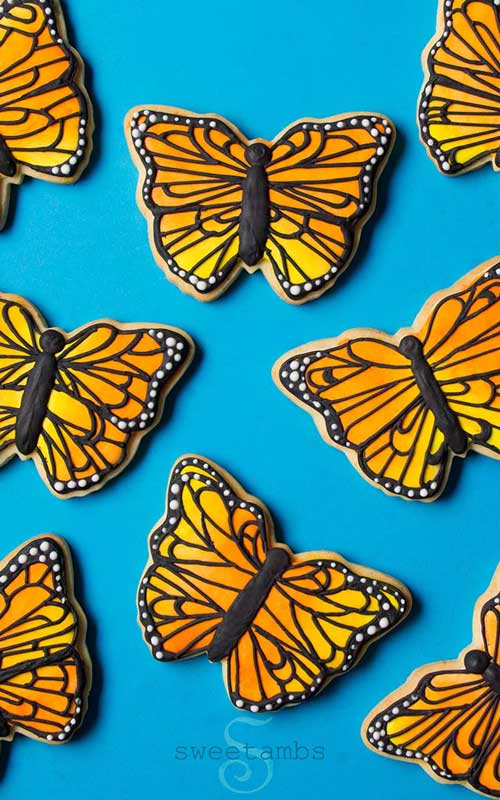 I also wanted to share some exciting news. Amber of Sweet Ambs has designed Cookie decorating kits for your to have fun with.
Each kit contains all the ingredients and decorating tools you need to bake and decorate 24 cookies. I think they make for beautiful gifts for friends or yourself. Get your cookie decorating kit today. FYI, this is not a sponsored post. I admire Amber's decorating style and I just wanted to share this with you.
There are 2 Cookie Decorating Kits available :
This post was originally published in 2018. In 2019 I updated this post with new step by step photos, written text and a video.
This post contains Amazon affiliate links that earn me a small commission, at no cost to you. I only recommend products that I use and love. Learn more about my affiliate policy here.