Cranberry Pistachio Cookies
Cranberry orange pistachio cookies offer a delightful contrast of textures and complimenting flavors. And with their visual allure of beautiful festive colors, they shine as homemade edible gifts.
CRANBERRY ORANGE PISTACHIO COOKIES
I love how this buttery tender, mildly orange zested cookie dough is mingled with chewy, slightly tangy cranberries, paired with crunchy, nutty pistachios. Baking fuses all these delicious flavors together in super scrumptious cranberry pistachio cookies.
THINGS YOU NEED
Mixing Bowls
Mixer, hand held or stand mixer
Spatula
Cutting Board
Chopping Knife
Food Wrap
Baking Sheet
Parchment Paper Sheets
COOKIE DOUGH INGREDIENTS
Pistachios
Dried Cranberries
Orange Zest (optional but highly recommended)
Unsalted Butter
Powdered Sugar
Eggs
Vanilla Extract
All-Purpose Flour
Salt
Cardamom or Cinnamon (optional)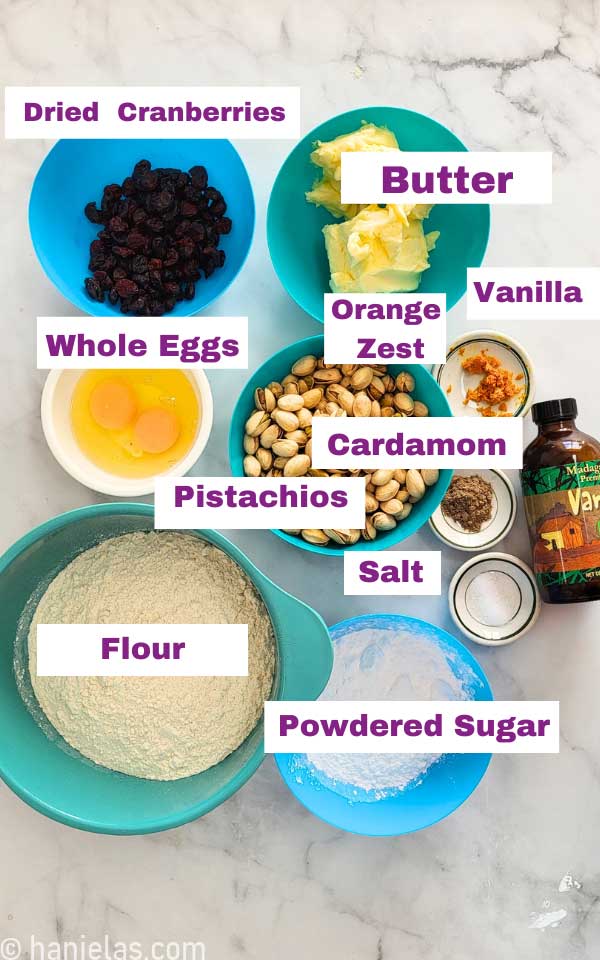 PISTACHIOS, DRIED CRANBERRIES, ORANZE ZEST
I like using pistachios, dried cranberries and orange zest to make biscotti (instead of walnuts I often use pistachios and it's fantastic)
PREPARE PISTACHIOS
Pistachios are mostly easy to shell, but if you find a stubborn one with only slightly opened shell it can be harder to crack it open. If you come across a shell that is tight, use half of the previous shell, slide the tip of it into the crack and push it down to open a stubborn shell (steps 1-6).
Before adding shelled pistachios to the cookie dough, roughly chop them with a knife.
CRANBERRIES
Dried cranberries can be easily sourced out, especially during the holiday season. They can be purchased already chopped or whole. If you get them whole, chop them up roughly, before adding them to the cookie dough.
PISTACHIO CRANBERRY COOKIE DOUGH
This flavorful cookie dough produces melt in your mouth buttery tender cookies. First, you need to prepare cookie dough base by creaming butter and powdered sugar, adding room temperature eggs, orange zest, Vanilla Extract, and flour seasoned with salt and cardamom. Though cardamom is optional, I encourage you try it. It adds a wonderful flavor and warmth to the cookies. Add the flour mixture to the butter mixture gradually, on low to medium speed. Mix only until roughly combined. Then add the fillings (steps 1-8).
On low speed, mix in roughly chopped cranberries and shelled pistachios (steps 1-3). Gather dough into a ball and shape it into a large cylinder (steps 4-5).
SHAPE COOKIE DOUGH INTO LOGS
Divide cookie dough into 4 pieces and shape each piece into a log. Wrap each cookie dough log into a food wrap. Place logs into a ziploc bag and chill the logs for 2 hours, or freeze for 1 hour, until firm but still sliceable. Logs should be firm but not frozen thru when slicing.
BAKE SLICE COOKIES
If you are starting with a previously frozen cookie log, allow it to soften in the fridge for several hours or at room temperature for 10-20 minutes. Until it's easier to cut thru.
Slice the chilled cookie log into about 1/4 inch rounds. Place pistachio cranberry cookies onto a baking sheet lined with parchment. Cookies will not spread much during baking, so it's okay to space them out about 3/4 inch apart (steps 1-6).
Preheat the oven to 350F (180C) and bake the cookie just until the edges are slightly golden brown, about 10-12 minutes.
SLICE COOKIES BAKING SUCCESS TIPS
Is your cookie dough falling apart? It sounds like the dough is too dry. Add 1 teaspoon of milk, water, extract or coffee to crumbled dough to bind it together.
Chill the dough before slicing. It's very important, don's skip this step.
Use a sharp knife to slice the logs into even rounds, about 1/4 inch thick.
Can I use this cookie dough to make cut-out cookies? Yes, absolutely. Make sure to finely chop cranberries and pistachios.
Would you like to coat the sides with sprinkles? It's easy to do. Right after you shape cookie dough into logs, roll each cookie log in sprinkles. Pour sprinkles into a shallow tray or small rimmed baking sheet and roll the freshly shaped logs in sprinkles or sanding sugar. Cover and chill until firm.
Are some of the edges of your cookies flat? How to make perfectly round icebox cookies? First, to keep cylindrical log shape, chill cookie log in a paper towel carboard tube. Cut the tube lengthwise and slide the wrapped cookie dough log into the tube. Chill or freeze for later. Then when slicing the chilled cookie dough log, rotate the log quarter turn with each slice to prevent one side of the dough flattening.
Is the cookie log too hard to slice? This can happen with frozen logs. They are hard to slice frozen. Let them soften slightly at room temperature or in the fridge.
For how long can I freeze unbaked cookie logs? Cookie logs can be frozen for up to 3-4 months.
How long do baked cookies keep? Cookies keep for up to 10 days.
Can I freeze baked cookies? Yes, you can freeze baked slice cookies for up to 3 months.
Baking these cookies from scratch allows for customization. Use different filling such as variety of chopped nuts, toffee, chocolates, dried fruits or bits of candied fruits. Try lemon zest, or seasonal spices, too.
Make several batches to give as presents during the holiday season.
TRY THESE DELICIOUS COOKIE RECIPES
Cranberry Pistachio Cookies
This recipe makes about 8 dozen cranberry pistachio cookies (the amount depends on the size of the logs and how thick you slice the logs). Cookie dough is shaped into longs and chilled until firm enough to slice. The cookie logs can be frozen for later.
Ingredients
CRANBERRY PISTACHIO COOKIES
3¼

cups

all-purpose flour (465 grams)

¾

tsp

cardamom or cinnamon

1/8

tsp

salt

1

cup

unsalted, room temperature butter (2 sticks, 226grams)

1

cup

powdered sugar (130grams)

or 1/2cup to 2/3cup granulated (100grams to 130 grams)

2

large room temperature eggs

1 ½

tsp

vanilla bean paste or vanilla extract

1

tbsp

orange zest from one large orange

¾

cup

dried cranberries (105 grams)

¾

cup

pistachio without shell, chopped roughly (95grams)
Instructions
CRANBERRY PISTACHIO COOKIE DOUGH
Into a bowl, sift flour (3¼cup,465grams), salt (1/8teaspoon), cinnamon, or cardamom (¾ teaspoon) and set aside.

In a mixing bowl, on medium-high speed, cream room-temperature butter (2 sticks, 226 grams) and powdered sugar (1 cup,130grams) or granulated sugar (2/3 cup,130grams). Beat until pale in color and fluffy, about 5 minutes.

Beat in eggs (2 large eggs), one egg at a time, and scrape down the bowl. Add orange zest (1 tablespoon) and Vanilla Extract (1 ½ teaspoon).

On low speed, add the flour mixture in 3 additions. Lastly, stir in dried cranberries (3/4 cup, 105grams) and roughly chopped pistachios (3/4cup, 95 grams).

Divide cookie dough into four portions. Shape each piece of cookie dough into a log, about 1½inches to 1¾ inches in diameter. Wrap each cookie log in food wrap. Place cookie logs into a freezer-safe container or a Ziploc bag. Chill logs for about 2 hours, or until firm, or freeze them for about 1 hour, until firm.

Preheat oven to 350F.

Take cookie logs out of the food wrap. With a sharp knife slice cookie logs into about ¼-inch thick rounds. Transfer cookies onto a baking sheet lined with parchment and bake for 10-12 minutes, just until the edges get slightly golden.

Let cookies cool on a baking sheet for a couple of minutes, then transfer them onto a cooling rack to cool completely. Store cookies in an airtight container at room temperature for up to 10 days or freeze for up to 3 months.
Notes
Why do you use powdered sugar? Powder sugar produces tenderer cookies.