Today I'm going to share with you the secret behind the crispiest roasted potatoes. And of course it doesn't hurt they are heart shaped. Roasted Heart Potatoes are so cute and perfect for Valentines' Day, Mother's Day, Father's Day or just because.
updated post from 2012
HOW TO MAKE ROASTED HEART POTATOES FOR VALENTINE'S DAY
I first made these crispy Roasted Heart Potatoes years ago, in 2012. Ever since I make an effort to make them every Valentine's Day. Even if it's just one or 2 potato hearts on a plate. Sometime less is more.
POTATOES FOR ROASTING
I love small red, fingerling or Baby Dutch potatoes for roasting. To make roasted heart potatoes it's best to use medium to large potatoes. It's easier to to cut out shapes from larger potatoes.
Yellow, Yukon Gold potatoes are great all-purpose potatoes. Or you can use Russet potatoes to make these dainty oven roasted heart potatoes. I usually get medium to large potatoes.
Learn more about kinds of potatoes for roasting, frying or salads.
PREPARE MARINADE
Prepare marinade to your taste. I usually keep it super simple with 4 ingredients : oil, salt, black pepper and caraway seeds. On occasion I add a little bit of paprika, too. Whisk all the ingredients for the marinade and set it aside.
To make the marinade whisk all the ingredients in a small dish and set it aside. I'm a big caraway seeds fan so if you are not a fan you can skip them and use herbs instead.
Rosemary works great or bay leaves along with garlic. It is best to add garlic at last minute, about 5 minutes before the time is up. Toss the potatoes with pressed garlic and return to the oven and bake for additional 5 minutes.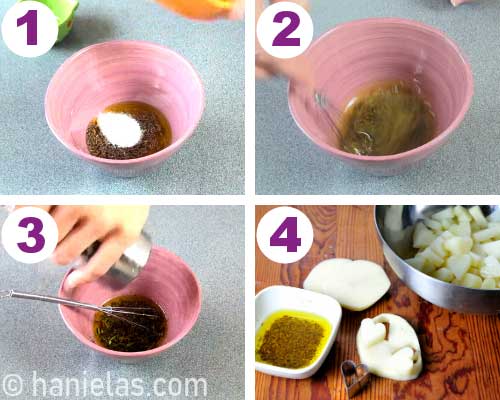 CUT OUT HEART POTATOES
To cut out heart shaped potatoes I used my small metal cutters. It is best to use a metal cutter for the job. It's easier to cut through the potato with a metal cutter than it is with a plastic one (step 1). At the bottom of the post you can find some resources where to get metal heart cookie cutters
Peel and slice potatoes to about 1/4 inch thick (step 2). Then cut out small hearts out of potatoes using metal cutters (step 3-6).
Place scraps and potato heart cut-outs into bowl with water to prevent them from browning. (step 7-8).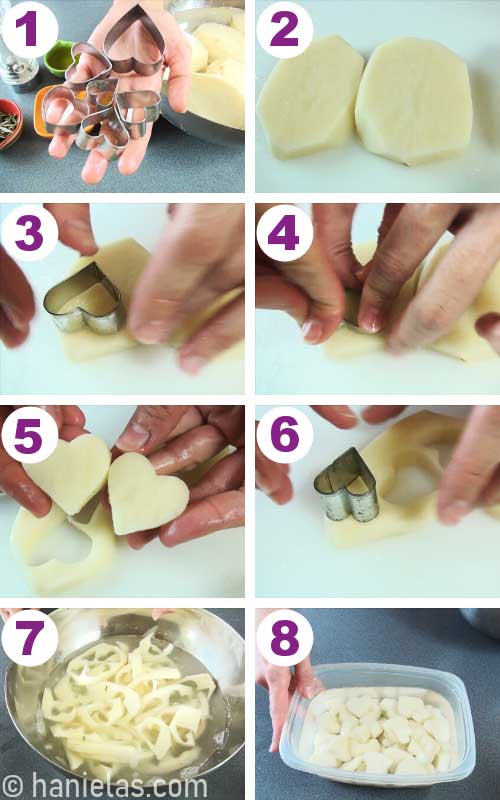 PAR COOKING FOR CRISPIER POTATOES AND WHY IT WORKS
Par-cooking speeds up the cooking process and it also contributes to crispier exterior of roasted potatoes.
Here is how it works : while you simmer potatoes in the salty water, starch and sugar from potatoes are drawn to the surface of the potatoes. Starch and sugar coats the potatoes. Then in the oven, while potatoes are roasting sugar and starch layer turns into a super crispy shell.
Bring water and salt to boil, reduce to simmer. Add prepared cut up potatoes and cook for 3 minutes. Drain and let cool for 3-5 minutes. Pour par-cooked potatoes into a mixing bowl (step 1-4).
MARINADE AND BAKE POTATOES
Pour marinade over warm par-cooked potatoes. Stir to coat the potatoes. Marinade potatoes for 5 minutes (step 1-2).
Line a baking sheet with foil, apply a thin layer of oil on the foil (step 3-5). Spread marinated heart potatoes in one layer onto the baking shees. Bake in the preheated oven at 415F for 20-30 minutes. Flip potatoes halfway through with a spatula. Bake until golden and crispy.
Or use ceramic or glass baking dish.
WHY I LOVE PAR-COOKING METHOD
Roasted potatoes are a great side dish but they often take forever to bake. I love par-cooking method because it speeds up the baking/roasting and it produces super crispy potatoes every time.
Whether you are making heart shaped potatoes, cubes or if you are using fingering potatoes, baby Dutch you can use this easy par-cooking method to make crispy potatoes fast. And what's great it also works on a grill!
MARINADE SUGGESTIONS
I like to keep it simple using oil, salt, caraway seed and ground pepper. But that doesn't mean you can't experiment and try different herbs and flavors. Be sure to think of the dish you are serving the potatoes with and try to compliment the flavors. However I often find that simple is the way to go.
HOW TO ROAST POTATOES WITHOUT OIL?
Mix all the dry ingredients to make a dry marinade seasoning. Line a baking sheet with a parchment paper. Season par-boiled potatoes with dry seasoning and bake as directed. If you are okay with using a little bit of oil you can spray oil over the potatoes and toss them to coat. Bake as directed.
CAN ROASTED POTATOES BE MADE AHEAD OF TIME?
I often have leftovers and I just heat them up or you can broil them for couple of minute to crisp them up again. I do prefer freshly made roasted potatoes.
HOW TO MAKE ROASTED POTATEOS AND CARROTS IN THE OVEN?
It's super simple roast them together. Toss washed carrots with par-boiled potatoes and roast until fork tender and crispy. You can use your favorite marinade or try my Honey Glazed Roasted Carrots.
ROASTED POTATOES AND OTHER VEGETABLES?
Yes, you can roast other vegetable with potatoes. My favorites are cauliflower, sliced onions, broccoli. Toss all vegetables with par-cooked potatoes and marinade, if using, and bake until fork tender and crispy.
WHAT GOES WELL WITH ROASTED POTATOES?
TO MAKE ROASTED POTATOES YOU NEED
TOOLS
Check out my Amazon Shop for my favorite Kitchen, Baking Tools and more
SOME OF MY FAVORITE POTATO RECIPES :
Roasted Heart Potatoes
6 large potatoes (about 2 pounds for 4 servings)
Ingredients
ROASTED HEART POTATOES
6

large potato (Idado, Maris Pipers), all-purpose

1-2

quarts

water

1/2

tbsp

salt
Marinade
1/4

cup

olive oil

1

tsp 

kosher salt

1/8

tsp

freshly ground pepper

1 1/2

tsp

caraway seeds

1/2

tsp

paprika

optional

1/2

tsp

dry rosemary

(1 tbsp fresh if using, optional)

1/2

tbsp

salt – to season water
Instructions
ROASTED HEART POTATOES
Line the baking sheet with aluminum foil, spray with non-stick spray, or brush with oil.
Par-Cooking
Fill a pot with about 1 quart – 2 quarts of water, and add 1/2 tablespoon salt. Bring to a boil, then reduce to a gentle simmer.

In the meantime, peel potatoes (6 large potatoes), and slice them to about 1/4 inch thick. Using a small metal cookie cutter cut out as many hearts as possible. Reserve scraps in water; you can also par-cook scraps or make mashed potatoes.

Cook heart potatoes in the simmering water for 3 minutes, drain potatoes, pour them into a bowl, or keep them in the pot.
Marinade
In a small dish combine all the ingredients for the marinade : olive oil (1/4 cup), salt( 1 teaspoon kosher salt), whole caraway seed (1 teaspoon and 1/2 teaspoon), pepper (1/8 teaspoon), paprika(1/2 teaspoon). Whisk well.

Pour marinade over warm potatoes, stir gently and let sit for 5 minutes.
Roasting
Spread marinaded potatoes evenly onto the baking sheet. Or use a ceramic/glass baking dish.

Roast potatoes at 415F for 20-30 minutes. Halfway through, flip the potatoes and continue baking until they are golden yellow, crispy, and fork-tender.

Tips : If your oven has a broiler, broil potatoes for additional 5 minutes or until they are golden brown.
Notes
I DON'T LIKE CARAWAY SEEDS. CAN I USE SOMETHING ELSE? – You can omit caraway seeds and use rosemary or other herbs. You can also add garlic; make sure you add the garlic no more than 1 minute before you take the potatoes out of the oven. Otherwise, garlic can burn, and it will become bitter. I also like to roast potatoes with a couple of bay leaves and peppercorn, adding garlic at the end. That is my dad's recipe.
This post was originally published on January 26th, 2012. On January 7th, 2020 I updated this post with step by step photos, written text and a video.
This post containsThis post contains Amazon affiliate links that earn me a small commission, at no cost to you. I only recommend products that I use and love. Learn more about my affiliate policy here.