Pot Of Gold and Leprechaun Cookies
To make Pot Of Gold and Leprechaun cookies I used a cutter that is easily obtainable. Cupcake Cookie Cutter. I'm sure you have it in your cutter collection. Cupcake shape is versatile and is super popular with cookie decorators all over the world.
HOW TO DECORATE POT OF GOLD AND LEPRECHAUN COOKIES
DECORATE POT OF GOLD COOKIES
As you know, I love using cutters that serve more than one purpose. Cupcake shapes, seemingly ordinary, can be used for so many designs. It's a must-have, for sure. What do you think? Which one is your favorite? Pot Of Gold or Leprechaun?
PREPARE ROYAL ICING
Coloring icing is my least favorite part of the cookie decorating process. This is when having some frozen icing comes handy. If you have frozen royal icing you can utilize it to make your rainbow colors. Find out more about how to reuse frozen royal icing for cookie decorating in my post How to freeze and reuse frozen royal icing.
MAKE A RAINBOW
Pot Of Gold Cookies
Rainbow Colors, Black, White : 15 second consistency
Ivory/Yellow : piping consistency or stiff is fine, too – to glue the coins
Using edible marker divide the top(swirl) portion of the cupcake cutter into 6 sections.
Ice every other section with 15-second consistency icing. Let is crust for 10 minutes
Flood the remaining sections. Let crust for 30 minutes
Then with 15-second consistency, black royal icing flood the bottom of the cupcake.
While black icing is wet, pipe white dots into the black with 15-second white icing. Use a scribe tool to create star shapes in the icing. Refer to the video below on how to make those.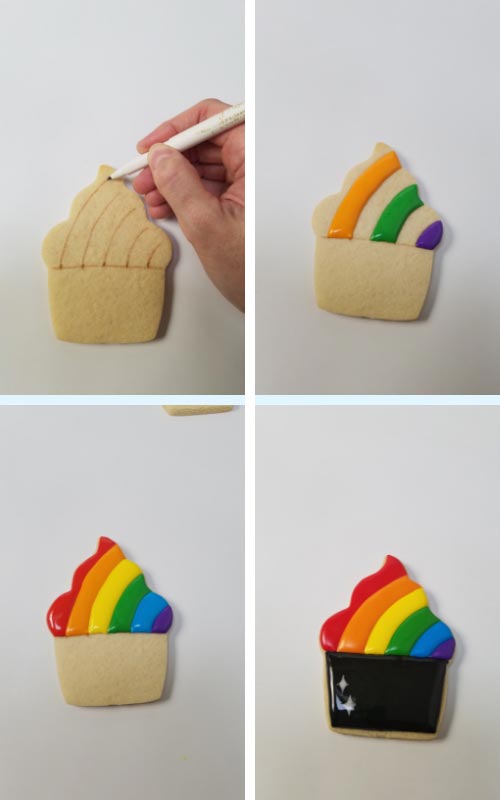 ROYAL ICING COINS
To make the gold coins use a stencil and stiff royal icing colored with ivory, light brown, or yellow gel colors.
Place the stencil on a wax paper sheet or parchment. Spread stiff icing over the stencil and smooth it out. Lift the stencil and let the coins dry.
Using an airbrush and gold shimmer airbrush paint spray the coins. Let dry.
Remove coins from the wax paper. Store in an airtight container.
DECORATE WITH GOLD COINS SPRINKLES
Pipe dots of icing onto the dry icing and then glue gold coins onto the cookie.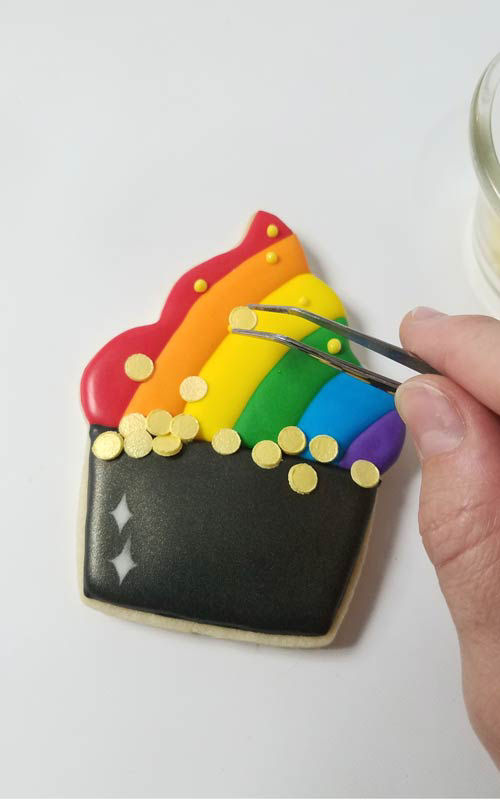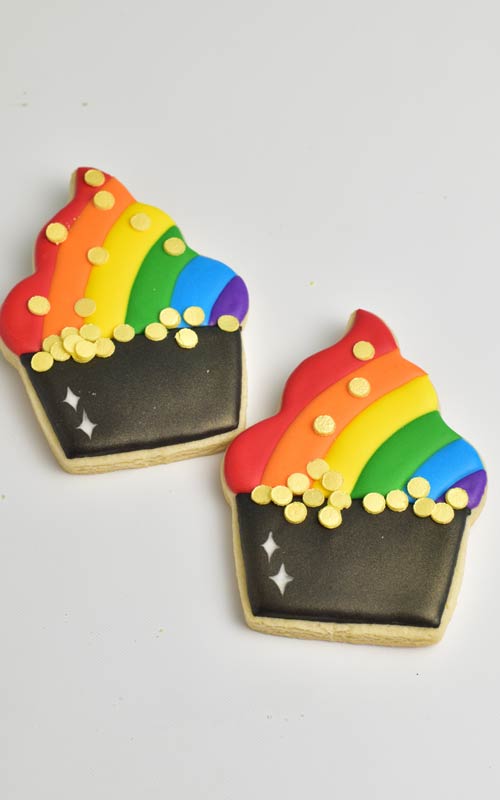 HOW TO MAKE LEPRECHAUN COOKIES FOR SAINT PATRICK'S DAY
Leprechaun Cookies
Green, Orange, Black, White : 15 second consistency
Skin Tone (Ivory and a touch of Pink) : 20 second consistency – face, ears, nose
Skin Tone : piping consistency – ear detail
Orange, Black : piping consistency – beard outline, eyebrows, mouth
Green : piping consistency – outline the hat
Yellow : 20 second – hat buckle
Turn the cupcake cutter upside down. Draw the design with an edible marker.
Flood the face with a skin tone 20-second royal icing (ivory and a touch of pink food coloring).
Make the eyes with 15-second black and white icing while skin tone icing is till well. Refer to the video tutorial below.
Ice ears with 20-second skin tone icing.
Flood the black section with 15-second icing. Let crust.
Pipe the nose with 20-second skin tone icing.
Use orange and green 15-second royal icing to flood the remaining sections. Use white 15-second icing to make the stars on the top of the green hat while green is still wet. Let crust for an hour.
Then make the buckle with yellow 20-second royal icing. Let dry completely.
After the buckle has dried, you can paint it with edible gold luster dust mixed with a little lemon extract or Everclear.
Next, outline the beard, hat, and ear with green and orange piping consistency royal icing.
Wait for the icing to dry, then use pink petal dust to add color to the cheeks and ears.
Pipe eyebrows and a mouth with piping consistency orange and black icing.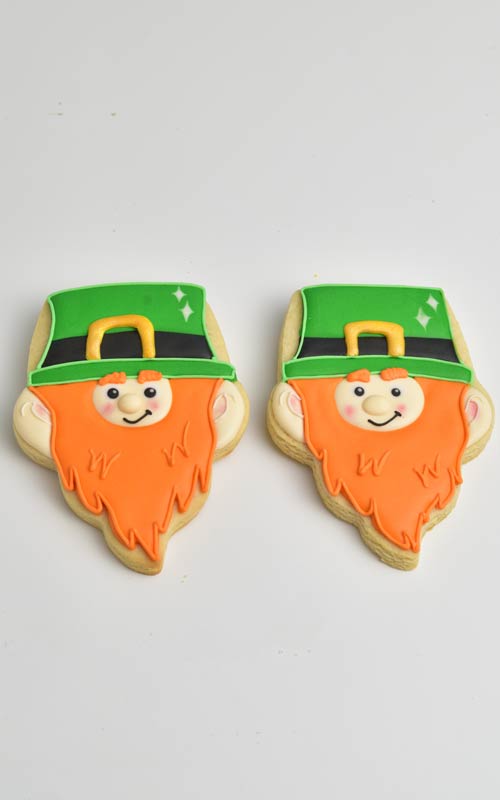 TO MAKE POT OF GOLD AND LEPRECHAUN COOKIES YOU NEED
This post containsThis post contains Amazon affiliate links that earn me a small commission, at no cost to you. I only recommend products that I use and love. Learn more about my affiliate policy here.