Caramelized Onion Pizza Dough Recipe
Have you tried making pizza dough from scratch? Today I'll show how to make the basic pizza recipe with a twist. Delicious caramelized onion pizza dough is awaiting to be shaped, crowned with your favorite toppings, and baked to perfection using an easy oven-baking method resembling results of baking in a wood-fired oven.
updated from 2013
EASY CARAMELIZED ONION PIZZA DOUGH RECIPE
I started making this pizza dough (without the onions) a little over ten years ago. It's a basic no-fuss recipe. We love it so much. My husband is an avid eater of thick-crust pizza, and I prefer a thinner crust. Using this recipe, I can make pizzas that can be both thick and thin.
Many moons ago, inspired by Onion Rosemary Breadsticks I volunteered to try and add caramelized onion to the pizza dough. Seriously what could go wrong? I'm a caramelized onion devotee and I don't hold back when it comes to caramelized onions. I use them as much as I can. Results where amazing.
CARAMELIZED ONION
To get rich, intense and truly unforgettable flavor you need to saute dices onion in olive oil, until it turns translucent and then little more until it caramelizes. You can prepare onion beforehand and store in the in fridge. Bring it to room temperature or heat it slightly in the microwave before using in this recipe.
EASY PIZZA DOUGH
Another reason I love this dough is because you can use all-purpose flour, bread flour, or a combination of both.
Bread Flour – crispier, chewier pizza
All-Purpose Flour – softer pizza
You can use a stand mixer fitted with a hook attachment, or if you need a good arm workout, go ahead and make the dough by hand. If using the onion, caramelized and cooled onion goes in with the wet ingredients (see the recipe card for details).
FIRST PROOF
Shape the dough into a ball, grease the food wrap with olive oil and cover the bowl. Let the the dough rise in a warm, draft-free spot for 90 minutes or in the fridge for 8-48 hours. Take it out of the fridge 45 minutes before you plan on shaping the dough.
How to Create a Warm, Moist and Draft-Free Spot? Bring 3 cups of water to boil. Pour it into a shallow dish. Place the dish with boiling hot water on the bottom rack of your oven. Place bowl with the yeast dough either above it or next to it. Depending on how much room you have in the oven. Close the oven door and let the yeast dough proof for the recommended time.
This is how my grandmother did it – use a blanket and wrap the bowl with yeast dough in a kitchen towel and then in warm blanket.
Another popular method is to use a dryer. Run the dryer for several minutes, until it's nice and warm inside. Turn it off and place the bowl with the dough inside. Wait for the dough to rise.
The last option is the steam oven; if you are lucky enough to have one, there is an option for dough-proofing. Try it; it's fantastic.
SHAPE PIZZAS
This recipe makes four medium size pizzas. Shape each piece into a ball, cover it with a towel for 5 minutes, and then shape pizzas. I'm no pizza tosser, so I usually use a small rolling pin and my hands to shape the pizzas. For easier handling, I like to place shaped pizzas on parchment paper. I can quickly transfer it onto a baking sheet or lift it with no problem. Before I add toppings I brush each pizza with olive oil. And you can season the crust with dry herbs like oregano or basil. Sprinkle some on top of the shaped pizza and gently press it into the dough.
MOST POPULAR PIZZA TOPPINGS & SECOND PROOF
I love pizza parties and often have friends over, and we make pizzas together. It's a fun activity. We frequently end up with these no-shape pizzas. They are so good!
After you add your toppings, let the pizzas proof for 30 minutes.
POPULAR PIZZA TOPPINGS
There are no limits when it comes to pizza toppings. Remember, if you don't like it off the pizza, you will most likely not like it on the pizza.
Tomato sauce, fresh tomatoes, roasted tomatoes.
Cheese – by far, mozzarella cheese is the most popular topping, my husband's pizza has only 2 toppings – cheese and ham.
Pepperoni
Ham
Mushrooms – I like to cook mushrooms before using as pizza topping.
Sausage
Onions – caramelized onions are excellent as pizza topping.
Peppers – I like roasted red peppers with the skin peeled.
Pineapple – I don't want to argue with anyone; I actually like pineapple on my pizza.
Olives
Bacon
Fresh Basil – so good, try it!
Feta Cheese
Brie Cheese
Broccoli / Cauliflower – when visiting Atlantic City, there was a small pizza shop that had the best broccoli feta pizza.
Spinach – fresh or cooked.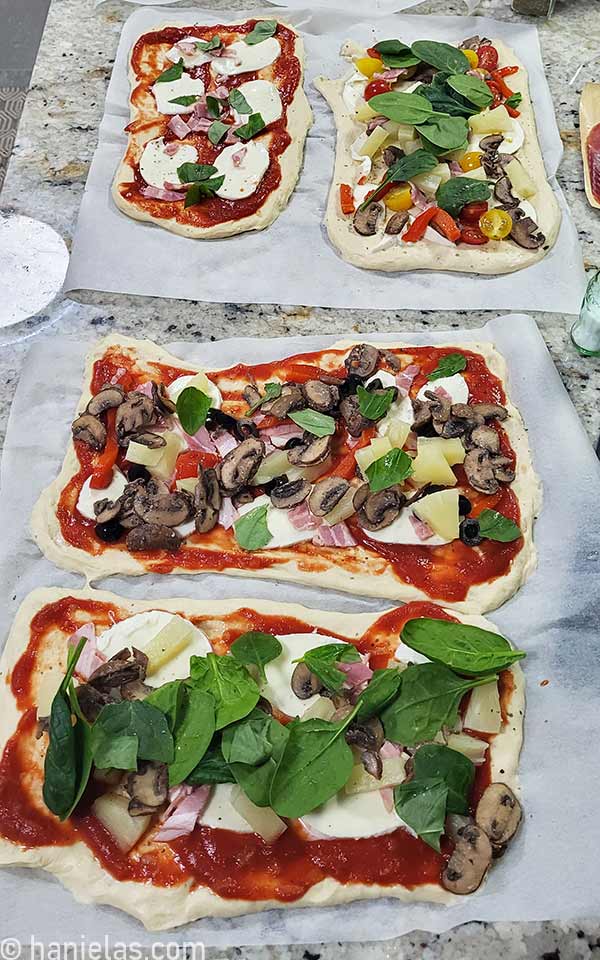 HOW TO BAKE PIZZA IN THE OVEN
I use a simple oven-baking technique to mimic the heat of a wood-fired oven. I preheat an old baking sheet in the oven before I bake the pizzas. Yes, you can also use a pizza stone or cast iron pan. I like to use a baking sheet because it's large enough to fit two pizzas.
Preheat the oven to 425F with the baking sheet inside for at least 15-20 minutes. Wearing the oven gloves, remove the hot baking sheet from the oven and immediately place the pizzas onto the baking sheet. With the parchment underneath, slide the pizzas onto the baking sheet – super easy. Just remember, it's hot, so don't touch the baking sheet with your bare hands. Return the baking sheet with pizzas into the oven and bake until golden around the edges. Baking time can vary. Depending on the oven, the size and thickness of your pizza, amount of toppings, it can take anywhere from 15-20. minutes.
Golden brown, crispy, and chewy inside. Do you want a slice? Bellow, is a recipe card with all the ingredients and recipe instructions to get you started.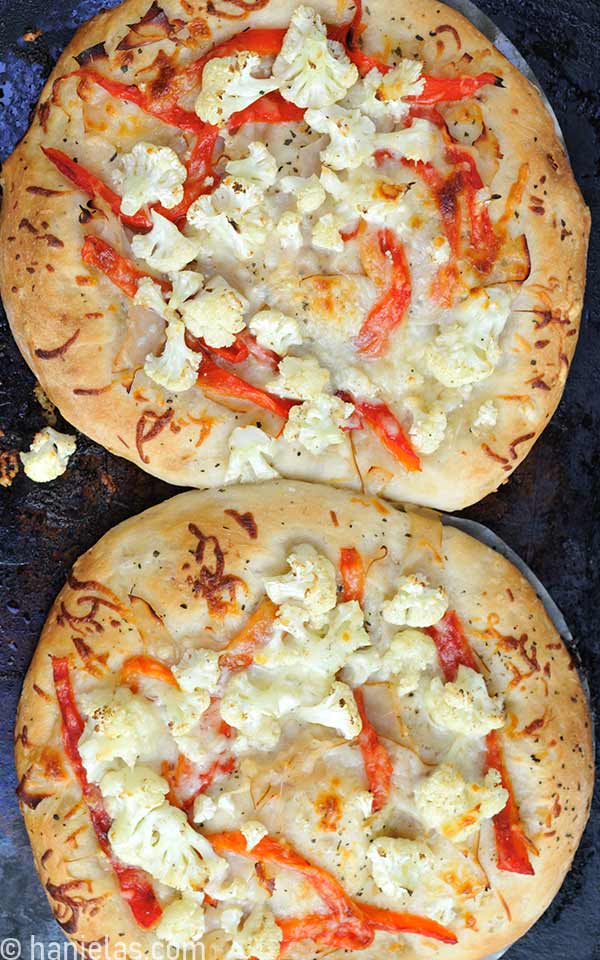 MORE DELICIOUS BREAD RECIPES TO TRY
Caramelized Onion Pizza Crust Recipe
The recipe makes four medium size pizzas.
Ingredients
Caramelized Onion
1

cup

finely diced yellow onion

optional, omit if you don't want to use onions

1

tbsp

olive oil

omit if you are not using onions
Basic Pizza Dough
1

cup

warm water (240ml)

1/3

cup

warm milk (80ml)

1/2

tbsp

honey

2 ¼

tsp

dry yeast

2

tbsp

olive oil

4

cups

All-purpose flour (560 grams), bread flour, or half all-purpose and half-bread flour.

1

tsp

salt
Toppings – optional
2

tbsp

olive oil

1 1/2

tsp

dry basil

3 to 4

cups

fresh cauliflower, broken into small florets or sliced

broken into small florets, or sliced

2

medium-sized red Bell Peppers (roasted, skin peeled and sliced

8 to 10

rounds of ham, or shreds of chicken, pork

1/4

cup

parmesan cheese

3/4

cup

mozzarella cheese

1/2

tsp

fresh ground nutmeg

ground pepper and salt to taste
Instructions
Yeast Pizza Dough
Heat one tablespoon of olive oil in a skillet, add diced onions (1 cup), and saute until golden brown, about 5-8 minutes. Remove from the heat and let cool to room temperature.

In a small bowl, stir together warm water (1 cup, 240 ml), warm milk (1/3 cup, 80 ml), and honey (1/2 tablespoon). Whisk in dry yeast (one packet, or 2¼ teaspoons) and one tablespoon of flour. Let sit for 5 minutes until foamy on the top.

Pour flour (4 cups, 560 grams) into the bowl of your stand mixer, add salt, and stir. Make a well in the center, and pour in olive oil (2 tablespoons), and foamy yeast sponge. Add cooled caramelized onion. Stir to combine. If the mixture appears very dry add a little more warm water (1 to 2 tablespoons)

Use a hook attachment, and knead the dough until it comes together and slightly pulls away from the sides of the bowl. Doesn't have to form a ball in the mixer.

Dump the dough onto a flour-dusted work surface. Knead the dough for 30 seconds to one minute until you form a nice ball.
First Proof
Oil the inside of a large clean bowl. Place the dough inside. Cover the bowl with plastic wrap and a kitchen towel. Let rise at the warm spot for 1 1/2 to 2 hours until doubled in volume, or 8-48 hours in the fridge. Remove it from the fridge 45 minutes before shaping the pizza.

Invert the risen dough onto a lightly floured work surface. Divide the dough into four equal pieces.

Knead each piece to form a ball. Cover and let sit for 5 minutes to relax the gluten before shaping.
Shape Pizza
Flatten each ball using your hands and fingertips, about 1/2 inch thick or thinner.

Place each pizza round on parchment paper brushed with olive oil.
Toppings – optional, use your own toppings
Brush each pizza with little olive oil and sprinkle dry basil all over. Press the basil into the dough with your fingers. Add your favorite toppings.

In a bowl, stir cauliflower florets (3-4 cups) and Parmesan cheese (1/4 cup), season with salt, fresh pepper, and freshly grated nutmeg.

Layer toppings: ham or other meat, cauliflower cheese mixture, and roasted red pepper slices. Sprinkle with mozzarella.
Second Proof
Preheat the oven to 425F (220C). Also, place one large baking sheet into the oven while the oven is preheating. If you have a cast iron pan or pizza stone, you can use that.
Bake
Once the oven is preheated remove the hot baking sheet from the oven and transfer pizza onto the sheet. Be careful to handle the baking sheet it will be hot! You should be able to fit two pizzas per baking sheet.

Bake pizzas for 15-20 minutes, or until the crust is golden brown and cheese is all melted.

Remove from the oven, transfer baked pizzas to a plate or a cutting board, and transfer unbaked pizzas onto the baking sheet and bake off the remaining pizzas.
Notes
Can I use any all-purpose flour? I like King Arthur All-Purpose Flour (11.7% protein). Use flour with a protein content above 10%.
This post was originally published on October 3rd, 2013. On May 2nd, 2023 I updated this recipe with step-by-step pictures, written text and recipe card.