How to make an easy Baileys Tiramisu dessert without eggs.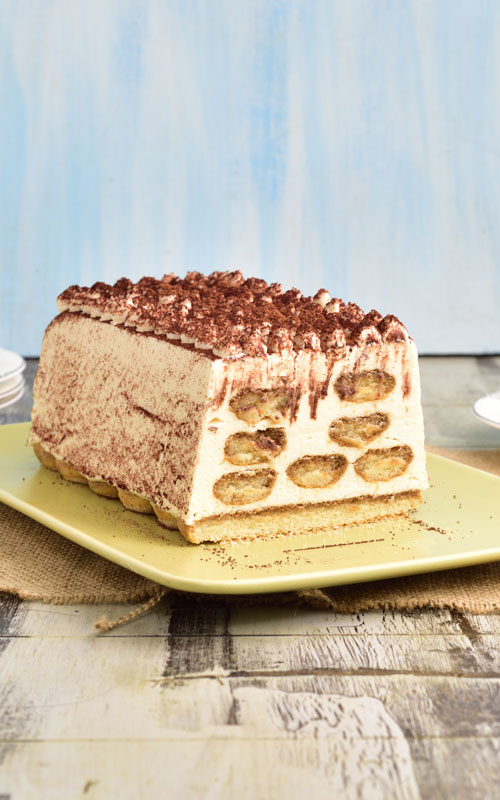 Layered desserts are one of my favorites to make and to dig in to. Tiramisu is one of them.
Layer Irish Cream mascarpone filling with coffee dipped ladyfingers. Let it rest to perfection and enjoy dusted with a dark cocoa powder.
BAILEYS TIRAMISU
To make Baileys Tiramisu  you can use homemade ladyfingers, as I have done many times in the past. Today however, I used store bought Savoiardi Ladyfingers. Hard and crunchy cookies with a sugar topping.
There are no fresh egg in this Baileys Tiramisu.
I also prepared strong coffee using a French Press. Let the coffee cool to room temperature before dipping the cookies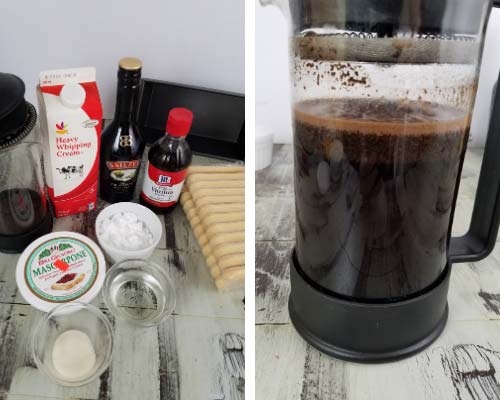 IRISH CREAM FILLING
Filling is made with sweetened stabilized whipped cream, mascarpone cheese and spiked with a generous dose of Baileys Irish Cream.
Reserve about 1 cup of the filling.
TIRAMISU DESSERT LAYERS
I decided to make a molded Tiramisu using a loaf pan.
Line the loaf pan with food safe plastic wrap.
Pipe a layer of Baileys Cream Filling on the bottom of the loaf pan.
Layer fully coffee dipped cookies onto the cream filling. Repeat.
Firmly bang the loaf pan few times on your work surface. This helps to remove any bubbles and set the cookies and cream in the pan well.
Cover with a plastic wrap and refrigerate overnight, along with the reserved 1 cup of the filling.
The very last layer is made using ladyfingers.
Rather than submerging the hole cookie into the coffee, only dip the ladyfingers halfway through. Keeping the unsoaked part of the cookie facing out as you arrange them on the cream.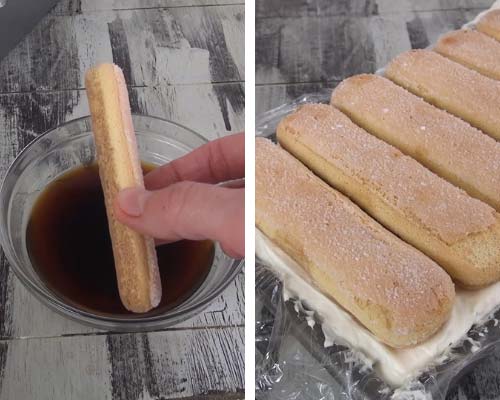 DECORATE
Remove the plastic wrap cover. Place a serving dish on the top and flip the loaf pan over. Carefully unmold the dessert from the pan. If needed shake it gently to loosen it.
Peel of the plastic wrap. Smooth out the edges with a spatula.
Fit a piping bag with a round piping tip and fill it with a remaining 1 cup of the cream filling. Let it warm up on the counter for 10 if it appears too stiff.
Then pipe small mounds onto the top of the tiramisu.
Finally, dust the top with a generous amount of dark cocoa powder.
This spiked no bake dessert can be prepared up to 4 days ahead. Store it in the fridge.
TO MAKE BAILEYS TIRAMISU DESSERT YOU NEED
Though traditional Italian Tiramisu is made with coffee I often substitute coffee for a fruit based dipping mixture like I did in this Strawberry Tiramisu.
MORE COFFEE DESSERTS :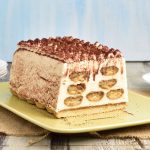 Baileys Tiramisu
How to make a Baileys Tiramisu
Keyword:
no bake desserts, tiramisu
Ingredients
2

packages

Ladyfingers (24 long cookies)

3/4 to 1

cup

Powdered Sugar

1

cup

Mascarpone Cheese

2

cups

Whipping Cream

1

tsp

Vanilla Extract

2

tsp

Gelatin

1/4

cup

Cold Water

2

cup

Strong Coffee, cooled

1/4

cup

Baileys Irish Cream

2

tbsp

Dark Cocoa Powder
Instructions
Make a strong coffee (2cups), let it cool.

In a small dish sprinkled gelatin (2tsp) over cold water (1/4cup). Whisk well. Let bloom for 5 minutes. Then microwave on high for 5 seconds, whisk. Rub the mixture between your fingers, if it is still grainy, microwave again for 5 seconds. Once gelatin is completely dissolved, let it cool to room temperature.

Line a baking loaf pan with a plastic wrap. Set aside.
Make Baileys Cream Filling
In a mixing bowl beat whipping cream (2cups), until soft peak is reached. Beat in powdered sugar (3/4 cup to 1 cup). Then on high beat in dissolved and cooled gelatin mixture.

Gradually beat in room temperature Mascarpone cheese (1cup). Beat in Baileys Irish Cream and Vanilla Extract.

Reserve about 1 cup of the filling. Rest spoon into a piping bag. Cut the piping bag tip to make a round opening.
Layering Tiramisu
On the bottom of the loaf pan lined with plastic wrap pipe the filling. Dip cookies fully in the cooled coffee. Layer coffee dipped ladyfingers onto the cream filling.

Then spread another layer of cream filling onto the cookies. Repeat with ladyfingers and cream until you reach the top edge of the loaf pan.

Last layer are ladyfingers. Dip last layer of ladyfingers only half way. Arrange them on the top of the cream layer so the unsaturated side is facing out.

Cover with a plastic food wrap. Refrigerate for 6 to 8 hours.
Unmold and Decorate
Remove the top plastic wrap. Turn the loaf pan with Tiramisu onto a serving plate.

Peel of the plastic wrap.

Smooth the edges with a spatula if needed.

Place reserved Baileys Cream Filling into a piping bag fitted with a #12 round piping tip. Pipe small mounds on the the top.

Dust it with dark cocoa powder.

Refrigerate until ready to serve.

Can be made 4 days ahead. Store in the fridge.
Recipe Notes
This Baileys Tiramisu can be made ahead of time. Store in the fridge until ready to serve.
Can I omit Alcohol?
Sure you can. 
I don't have Mascarpone Cheese can I use Cream Cheese?
Yes, you may use cream cheese. Flavor will be slightly different with cream cheese.
PIN IT for later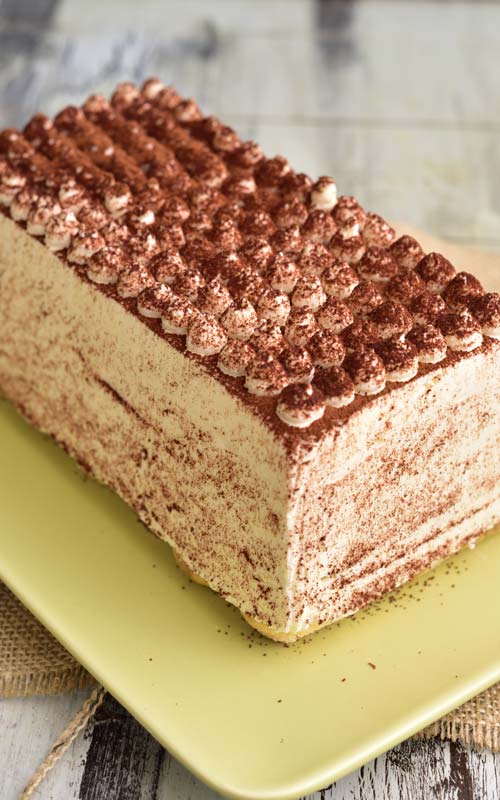 This post contains Amazon affiliate links that earn me a small commission, at no cost to you. I only recommend products that I use and love. Learn more about my affiliate policy here.