Spider-Man Cookies [Templates]
In this tutorial I'm going to show you how to make simple Spider-Man Cookies. These decorated superhero cookies are perfect for birthday parties. And today we have yet another reason to celebrate : New Marvel Movie Spider-Man : Far From Home.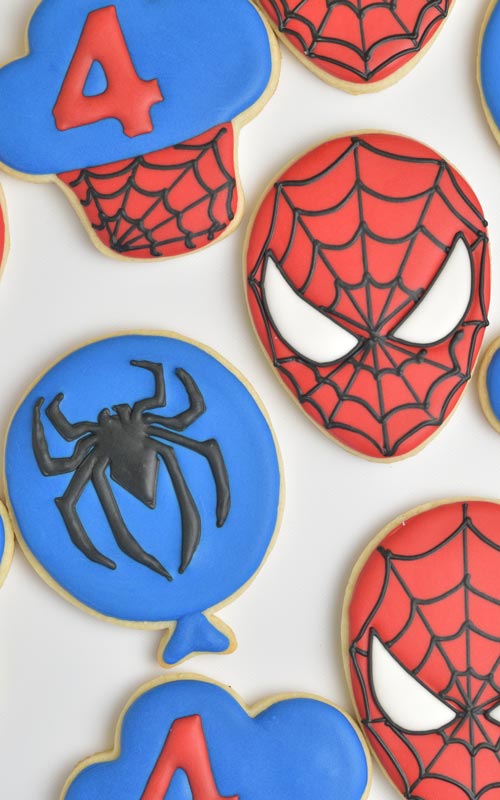 JUMP TO TOOLS AND RECIPES | PIN IT for later
SPIDER-MAN SUGAR COOKIES
I'm going to show you how to make 2 Spider-Man inspired decorated cookies. Both designs are pretty simple and easy to make. I used Royal Icing to decorate.
SPIDER COOKIES
This is the not 1st time I decided to make Spider Cookies. Today however I made a flat royal icing transfer instead of a 3D one.
I first made spiders as royal icing transfers. Not my favorite creature in the word but the only spider I'd eat for sure.
Place acetate sheet over the template and pipe the outline with black 20 second consistency royal icing. Then immediately flood the spider with the same icing. Use a needle tool to shape the icing and accentuate the legs. Let spiders dry overnight. When dry, peel off the acetate and use spiders as desired.
Flood the cookie with blue 15 second consistency royal icing. Carefully place royal icing spider onto a wet icing. With a needle tool gently press down onto the spider to make it stick to the wet icing. Let crust and then finish flooding rest of the balloon cookies. Let dry.
SPIDER-MAN FACE COOKIES
Spider-Man mask design is adaptable to pretty much any cookie shape. I used an egg cookie cutter to make this shape but you can use a round cutter, too. I also used the same egg cookie cutter to make Dinosaur Eye Cookies.
With a paper template and edible marker trace the eye outlines on a cookies. Then with white royal icing 20 second consistency flood the eyes. Use needle tool to accentuate the corners. After let the icing crust.
Take red royal icing 15 second consistency outline the cookie and eyes. Then flood the whole cookie. Use a needle to distribute and shape icing while still wet.
In the next step I made a cobweb pattern using wet on wet technique. Meaning I piped the black lines onto the wet red royal icing.
WET ON WET PIPING TIP :
When creating wet on wet designs it is best to use flood consistency icing to ice the cookies and also for the wet on wet design. When you pipe onto the wet base contrasting icing will sink into the base layer.
For designs that require precision it is best to cut a small opening on a disposable piping bag. If using a piping tip use a tip #1. Flood consistency icing comes out of the piping bag faster then piping consistency. Remember that is it also spreads faster. Smaller opening gives you more control of how much icing is coming out. Don't squeeze the piping bag too much when piping the cobweb design.
First pipe straight lines across with black 15 second consistency royal icing. Then continue piping curved lines between the straight lines. Let crust well and with black piping consistency royal icing outline the eyes. Let the icing dry. For tips on how to promote faster drying check out my Royal Icing FAQ.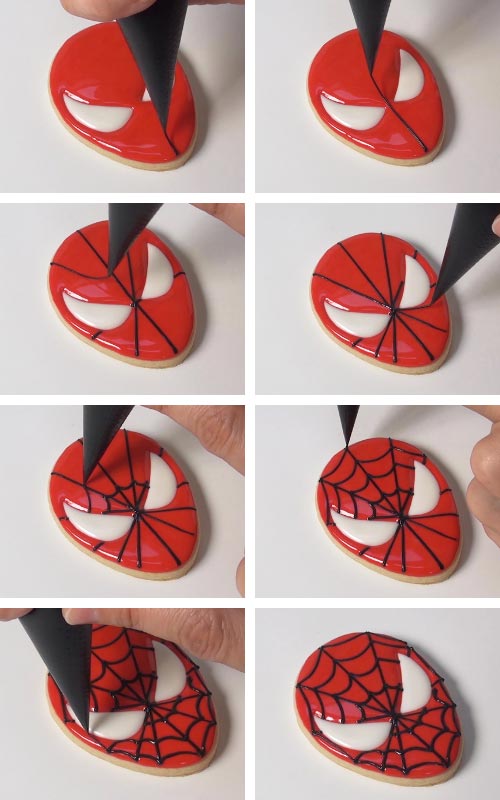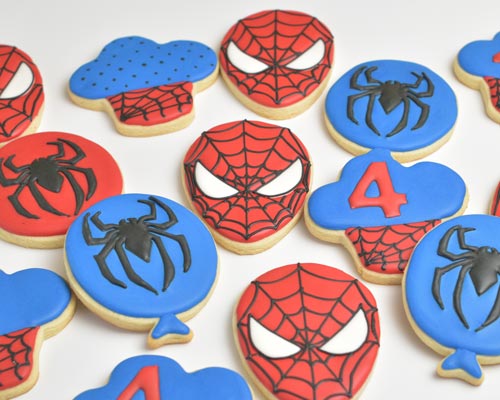 MORE FUN CHARACTER COOKIES & CAKES :
TO MAKE SPIDER-MAN COOKIES YOU NEED
PIN IT for later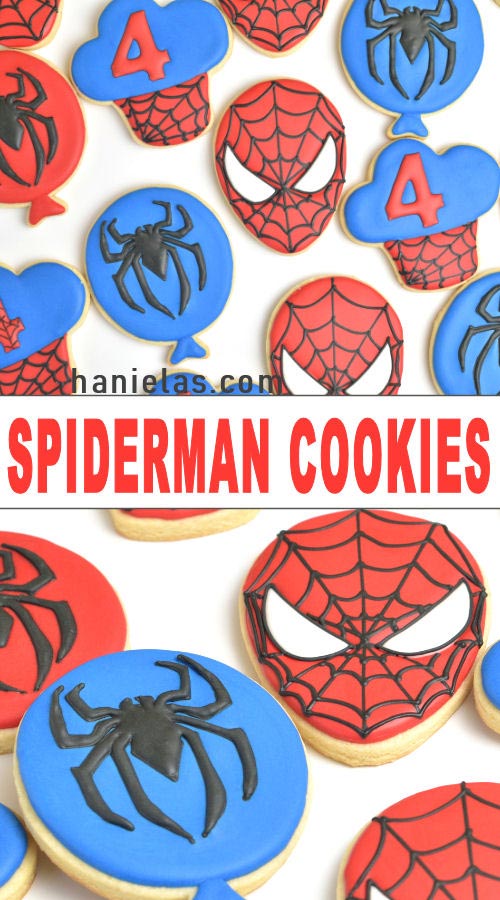 This post contains Amazon affiliate links that earn me a small commission, at no cost to you. I only recommend products that I use and love. Learn more about my affiliate policy here.