How to make Cookie Cutter Templates
Despite my sizeable cookie cutter collection, I still occasionally come across shapes that I don't own but want to use for a project. When that happens, I usually make a simple cookie-cutter template. I've been making my own templates since 2009. And so, next time when you find yourself in a pinch, you can use a homemade cookie-cutter template to cut out your cookies.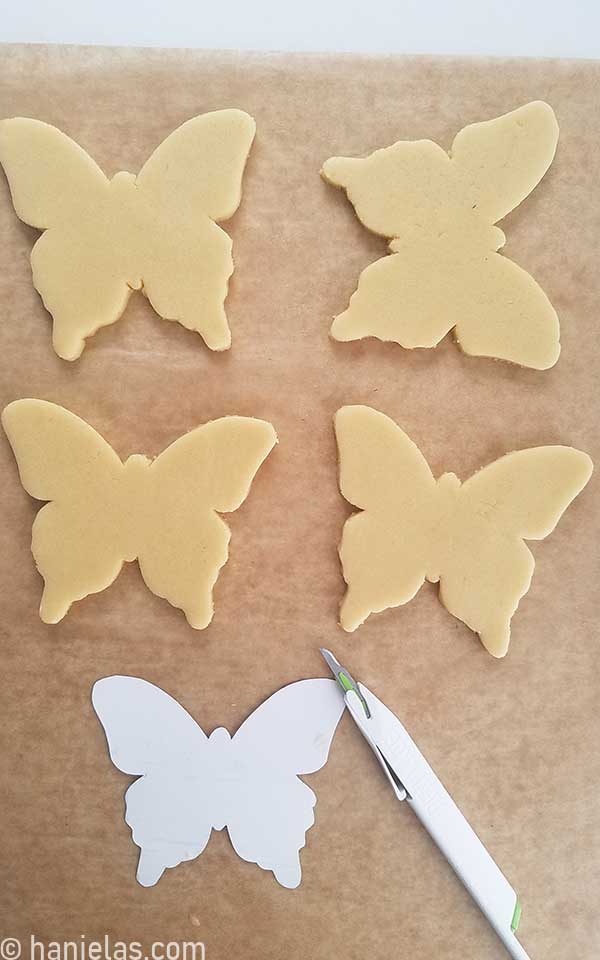 updated from 2010
HOW TO MAKE A COOKIE-CUTTER TEMPLATE
WHAT IS A COOKIE-CUTTER TEMPLATE?
It's a shape template you can use to cut out cookies. Most commonly, you've probably seen Gingerbread House Templates. These are not cookie cutters. They are flat pieces of cardstock, or some plastic, and in some cases cardboard. Depending on the cookie-cutter template shape's complexity, you can cut out shapes from the rolled-out cookie dough with: a knife, paring knife, Exacto knife, a retractable pen blade, and even a bench scrapper.
SHAPE SHIFTER
Before you start working on your cookie-cutter template, look in your cookie-cutter stash to see if you could use other cutters for your project. Sometimes, all it takes is trimming one side of the cookie or using 2 cutters to construct the shape you need. Cookies made up of 2 or more cutters, are affectionately called "frankie" cookies.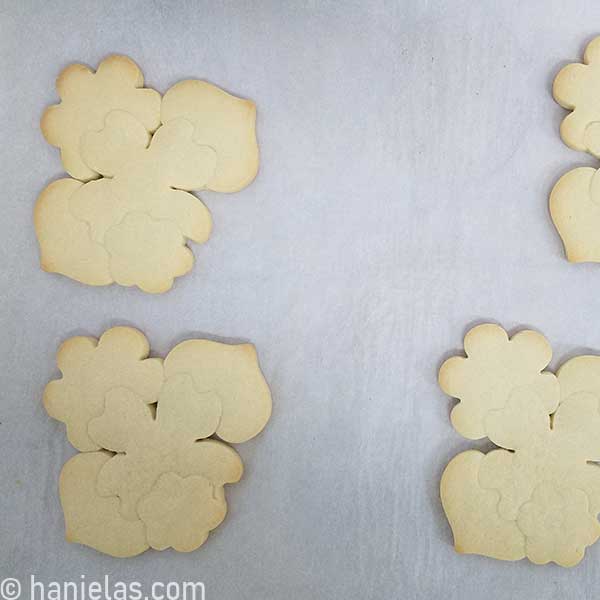 WHAT MATERIALS CAN I USE TO MAKE COOKIE-CUTTER TEMPLATES?
Mylar sheet (picture 1).
Piece of paper, cardstock (picture 2).
And for sturdier templates use:
Cardstock will also work but it's harder to cut out.
A heavy-duty quilting template sheet or a thicker binder divider sheet. These are very durable.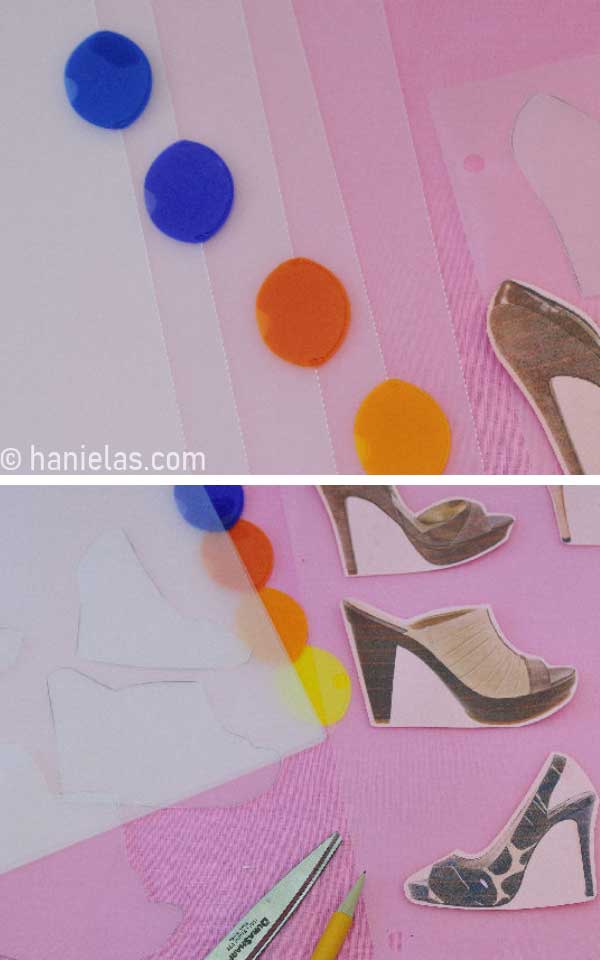 CARDSTOCK AND PAPER TEMPLATE
The following method works for both paper and cardstock. For a mylar sheet/ plastic sheet, you don't need to "laminate" the template.
Print or draw the template onto cardstock (step 1). Tape a clear tape onto the paper, from both sides (step 2-6).
Then cut out the template with scissors (steps 7-8).
TIP: I prefer to use cardstock over the paper. But if the paper is all you have it will work, too.
WHAT IF I DON'T HAVE A CLEAR PACKAGING TAPE TO LAMINATE?
You can use the template without it but it won't be as durable. And it might stick to the cookie dough more. If this problem arises dust a template with a little bit o0f flour.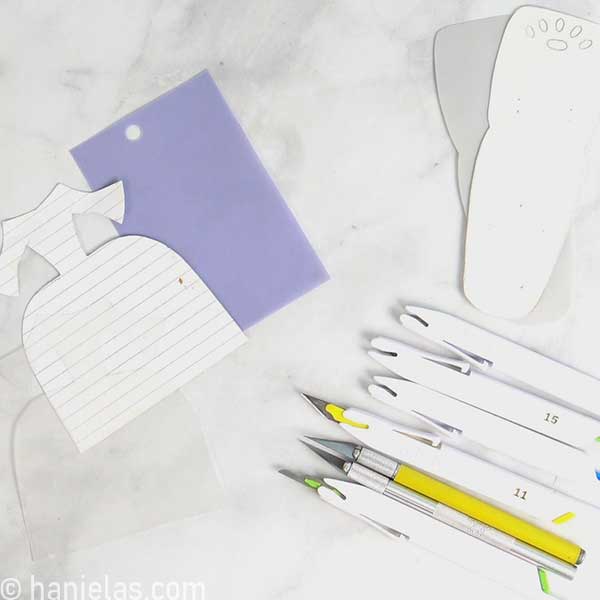 HOW TO HAND CUT COOKIES WITH DIY COOKIE CUTTER TEMPLATES
Roll the cookie dough between parchment sheets or silicone mats and flip it onto the parchment sheet. Don't use sharp knives on a silicone mat; you'll ruin it.
Chill the rolled-out cookie dough until firm but not frozen.
Protect your work surface. I like to slide parchment with rolled-out cookie dough onto a cutting board before I cut the cookies.
Use a sharp knife. I prefer an Exacto knife or a pen blade to cut out cookies using templates.
Try not to drag the knife thru the cookie dough; instead, move the knife up and down around the edge of the template.
Cut out as many cookies as you can. Then remove the scraps.
If the template sticks to the dough, dust it lightly with flour.
Carefully lift cut-outs and transfer them onto a prepared baking sheet.
Smooth any rough edges with your finger.
Bake as usual.
After cookies cool, you can attend to any left behind imperfections. Use a fine zester to shave off any bits that look odd.
COOKIES CREATED WITH TEMPLATES
MORE COOKIE DECORATING TIPS AND TUTORIALS
TO MAKE COOKIE CUTTER TEMPLATES YOU NEED
Find all the tool in my Amazon Shop (shop Cookie and Cake Stenciling Tools section)
Cardstock
Mylar Sheets
Heavy Duty Quilting Sheet
Exacto knife
Pen Blade (I really like using Pen Blade Number 10)
Clear Packaging Tape
Scissors
This post containsThis post contains Amazon affiliate links that earn me a small commission, at no cost to you. I only recommend products that I use and love. Learn more about my affiliate policy here.
This post was originally published on March 25th, 2010. On June 24th, 2021 I updated this post with new pictures and step-by-step instructions.