Swiss Meringue Buttercream
Swiss Buttercream is popular among cake decorators for its versatility. Smooth, silky texture, piping capabilities, and flavor adaptability. Use it as filling and frosting, on cakes, cupcakes, in layered desserts, and so much more. If you haven't tried silky-smooth Swiss Meringue Buttercream. It's time to change that. Let me show you how I make it.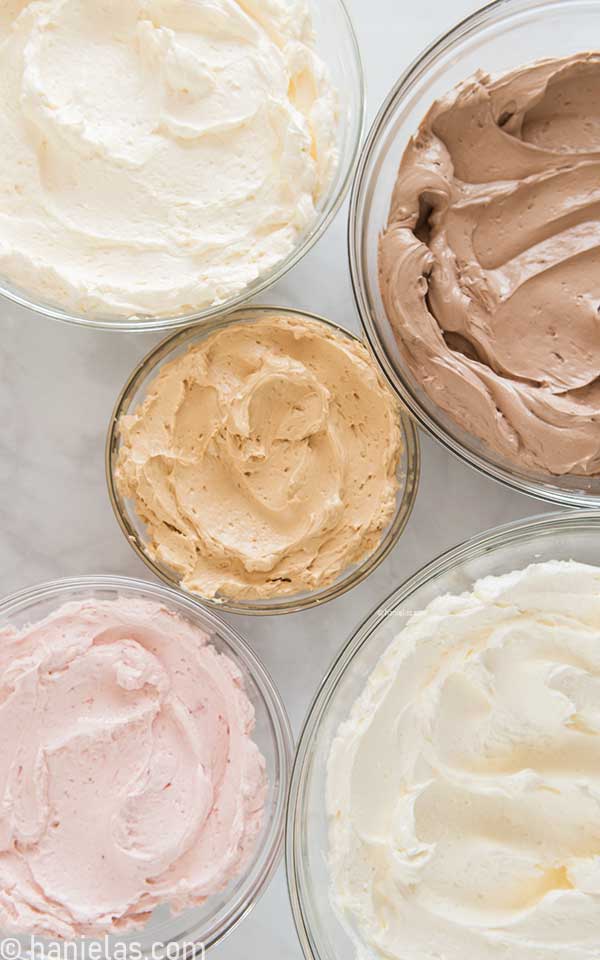 updated from 2010
HOW TO MAKE SWISS BUTTERCREAM
Swiss Buttercream is a meringue-based buttercream. Egg whites are stirred with sugar and heated to a safe temperature over a pot of simmering water. Then the hot mixture is whipped into a meringue. Room temperature unsalted butter is beaten into a meringue, producing a luscious Swiss Meringue Buttercream.
WIPE BOWLS AND TOOLS
Before we jump into the process, I'd like to remind you to wipe down the bowl and your beaters with a little bit of lemon juice or vinegar. It helps to remove any traces of grease that might be left behind.
INGREDIENTS
Egg Whites from large eggs
Granulated Sugar
Unsalted Butter at room temperature
Cream of Tartar (optional) or Lemon Juice
Salt
Vanilla Extract
UNSALTED BUTTER
Just like egg whites, butter is equally important in making meringue-based buttercream, for the best results, use room temperature butter.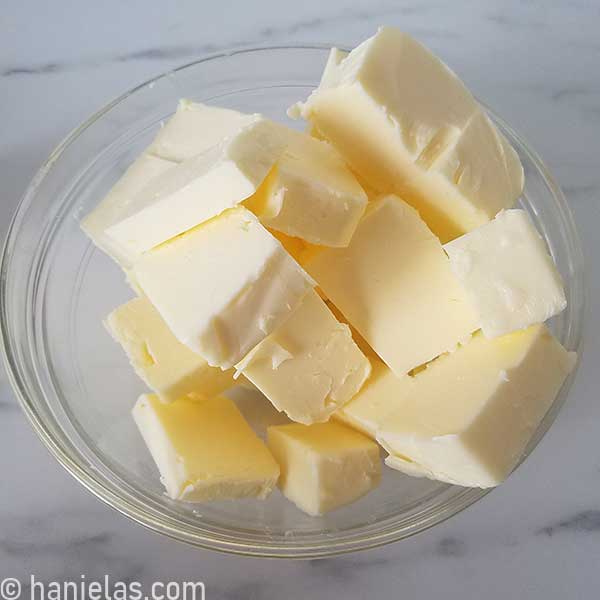 HOW CAN YOU TELL IF BUTTER IS AT ROOM TEMPERATURE?
When butter is at room temperature, it should bend easily, but it shouldn't be overly soft and greasy that your fingers sink into it without any resistance.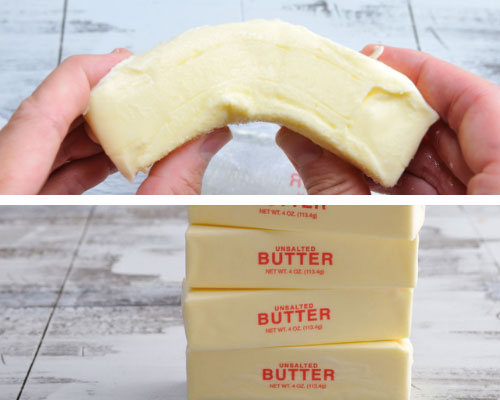 If you are starting with a fridge-cold better, be sure to cut up butter into smaller chunks. And let it sit at room temperature for 20-30 minutes. Frozen butter may take a little longer.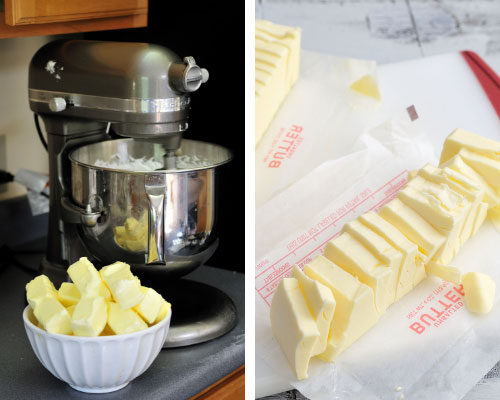 And if you are in a pinch you can try one of these methods to soften your butter faster.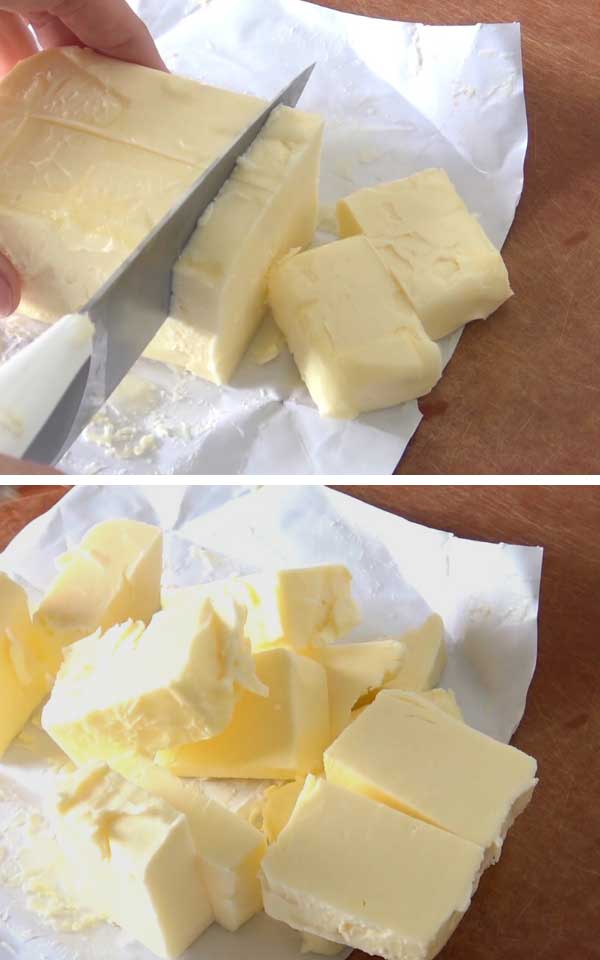 SUGAR
Along with sugar, I also use cream of tartar or 1tsp lemon juice or vinegar. I use it to stabilize my meringue. Into a safe heat bowl, pour sugar, cream of tartar, and salt (steps 1-5).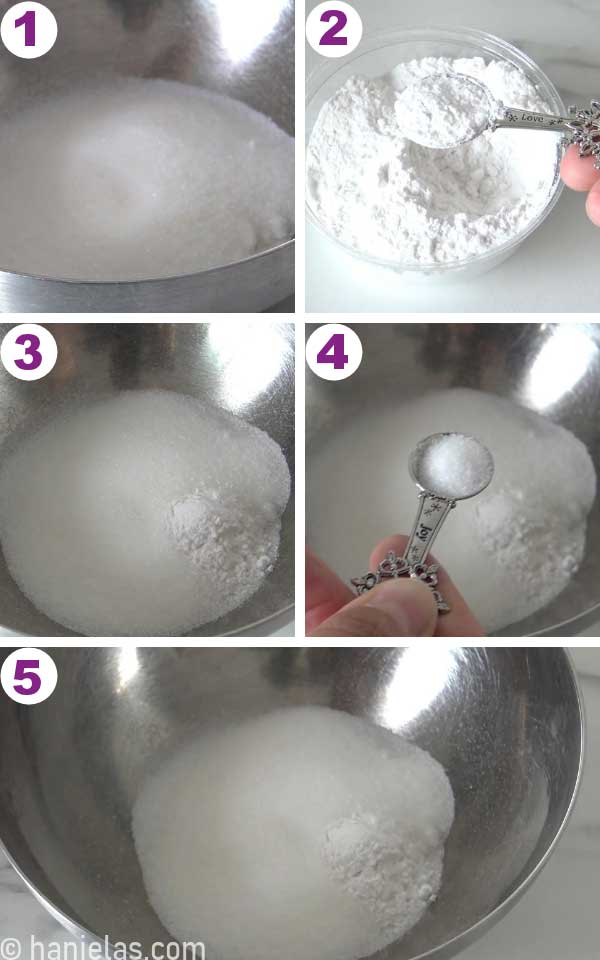 EGG WHITES
One large egg white weighs about 30grams. If you are using egg inconsistent in size, it's best to weigh the egg whites with a kitchen scale before adding them to the sugar.
Pour room temperature egg whites into the bowl with sugar and whisk till well combined. I prefer stainless steel bowl as it heats up quickly over the steam.
The goal is to dissolve all the sugar granules and bring egg whites to a safe temperature. Place a bowl with egg whites and sugar over a pot with simmering water. Whisking continuously, heat the egg white mixture until all of the sugar dissolves. Rub the mixture between your fingers to test if sugar is completely dissolved.
The mixture will be white and soapy; this is normal. Continue whisking until the temperature on the candy thermometer is 160-170F.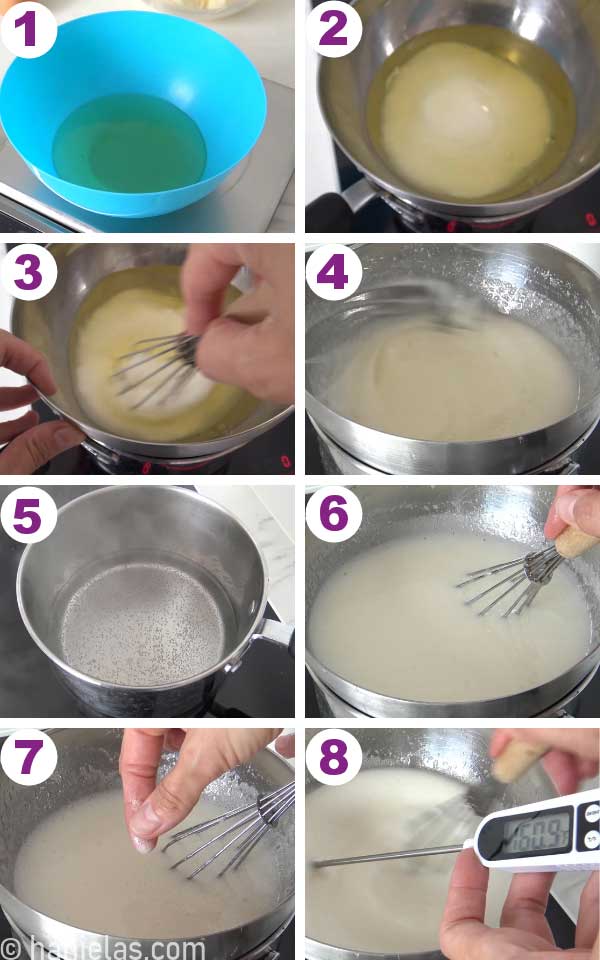 SWISS MERINGUE
Swiss Meringue Buttercream is easiest to make using a stand mixer. But, if you don't own one, you can still make it with a handheld mixer. Let's give those arms a good workout!
Pour hot egg white-sugar mixture into a large bowl. Start beating on low speed, gradually increasing to medium-high speed. Continue beating until stiff peaks are formed, and the side of the bowl is lukewarm to the touch.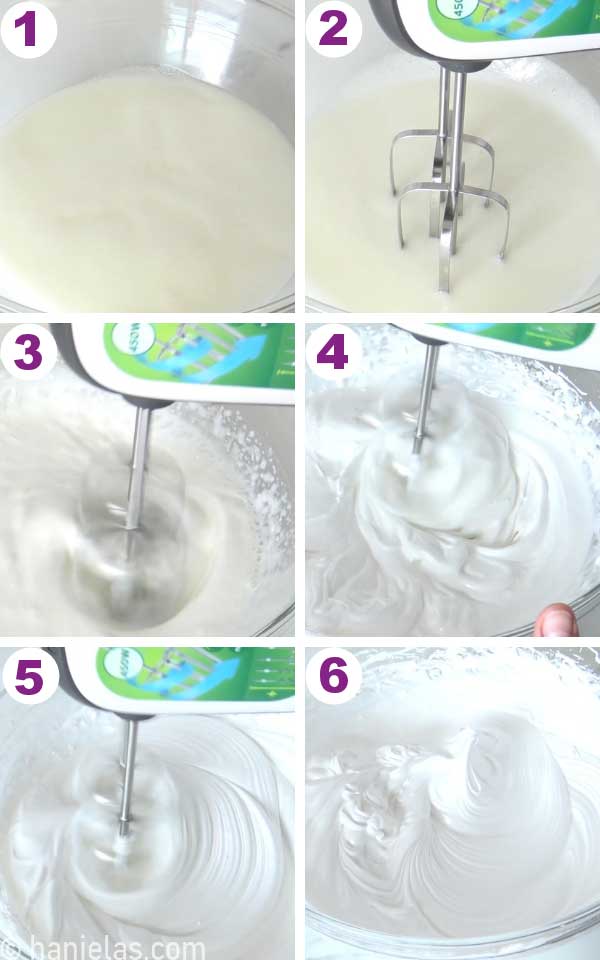 BUTTER AND MERINGUE
Now it's time to add unsalted room temperature butter to the meringue gradually.
It is important that butter is at room temperature. Beat butter in gradually, adding 1-3 butter slices at a time. Beating well, after each addition.
CURDLED BUTTERCREAM
Sometimes, once you add butter, Swiss buttercream will look separated and curdled. This is totally normal, no need to panic. Continue beating until it comes together.
TIP: Due to inconsistent temperatures, for example butter that is too cold or meringue that is too warm, or ambient room temperature, buttercream mixture can become soapy and liquefy. If this happens, place the bowl into the fridge for 20 minutes of the freezer for 5-10 minutes. Beat the mixture and if it's not improving, chill it again, beating well between cooling periods.
VANILLA SWISS BUTTERCREAM
Vanilla is the most popular buttercream flavor. It pairs nicely with everything. So let's start with Vanilla. Pour Vanilla Extract or Vanilla Bean Paste into the buttercream and beat well till combined, 30 seconds to a minute.
VANILLA FLAVORINGS TYPES
Quality Vanilla Extract – it's usually dark ivory color, and so it will, very slightly, change the color of buttercream.
Vanilla Bean Paste – I exclusively reserve Vanilla Bean Paste for buttercreams and frozen desserts.
Vanilla Imitation – this is a clear extract, and I'd recommend this if you are looking for a pure white buttercream. This clear flavoring won't tint the buttercream the way real Vanilla Exctract does.
Your Vanilla Swiss Buttercream is ready and you can use to fill or frost your cakes, cupcake, etc.
HOW TO FLAVOR SWISS BUTTERCREAM?
If you get bored of Vanilla Buttercream, don't be afraid to kick it up a notch. Use extracts, fruit purees, pulverized freeze-dried fruit, thick caramel sauce, dulce de leche, coffee, liqueurs, or melted chocolate.
To flavor Swiss Buttercream, you can use different flavorings, extracts, and baking emulsions. Personally, I like to start with a good dose of high-quality Vanilla Extract. And then, I add other flavors to make flavored Swiss Buttercream.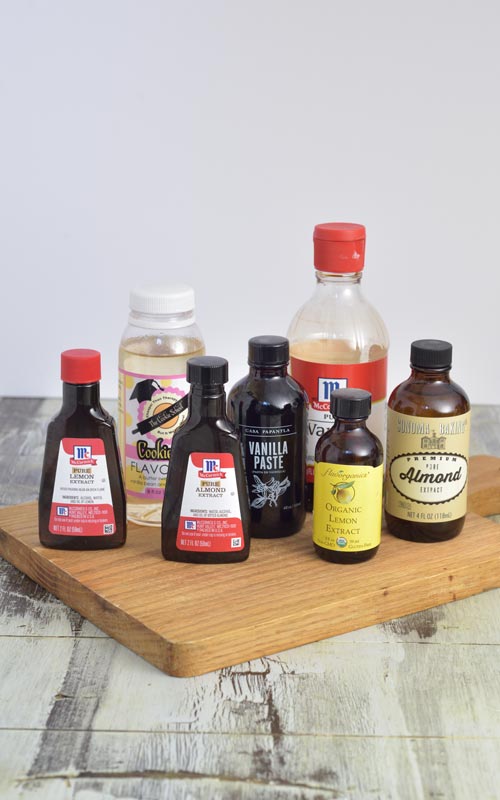 TIP: When adding additional flavorings in the form of puree or liqueurs and other liquids, it's best to do so gradually. Any fruit puree should be reduced, so it's on a thicker side. This way, it won't weaken and dilute Swiss buttercream.
For example, to make Baileys Buttercream, I gradually add 1/4 cup to 1/3 cup of liqueur to 4 cups of buttercream.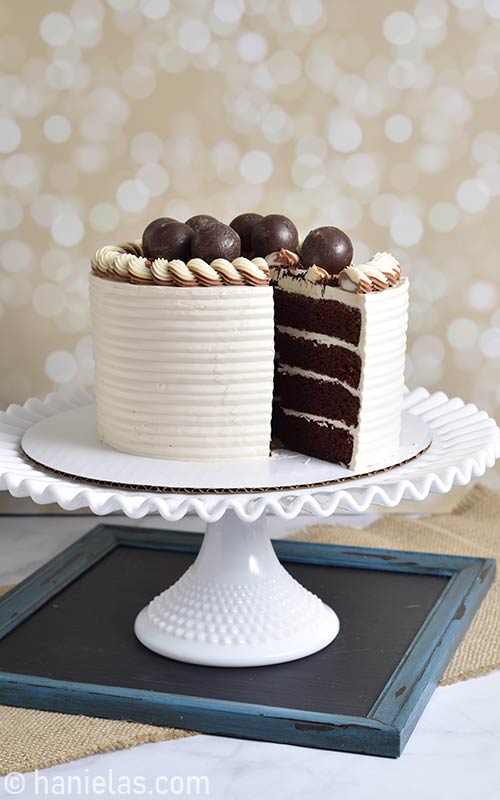 CHOCOLATE SWISS BUTTERCREAM
Start by melting chocolate over the pot of simmering water. Let it cool to room temperature and then beat it into the buttercream. Be sure not to add it before it cools or it will melt your buttercream. Find the measurements in the recipe card.
I used this Chocolate Buttercream to frost Rice Krispie Ice Cream Cone Cake.
CARAMEL SWISS BUTTERCREAM
To make caramel buttercream you can use my recipe for Thick Caramel Sauce, or homemade or store-bought dulce de leche.
This is the buttercream I used to make my Twix Cake.
LEMON SWISS BUTTERCREAM
I'm partial to lemon flavor when it comes to desserts. And to make lemon buttercream, I like to add Lemon Curd to Vanilla Swiss Buttercream. Lemon curd can be homemade, and I have a lovely, easy recipe here on my blog, or you can also use a good quality store-bought lemon curd instead.
Lemon Buttercream pairs nicely with Vanilla, Chocolate, Coconut, or Blueberry.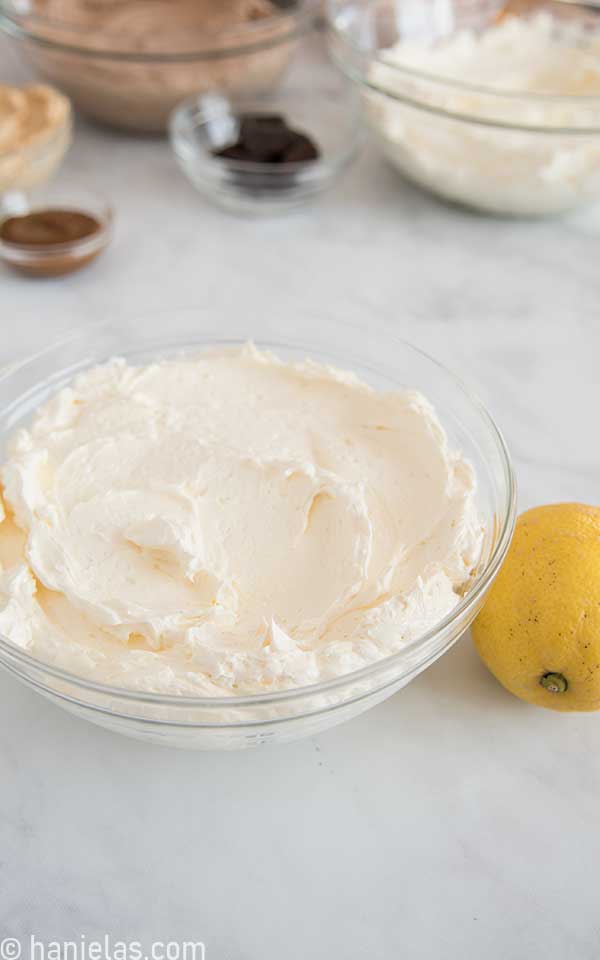 STRAWBERRY SWISS BUTTERCREAM
Fruit buttercream is delicious. For easy preparation, you can use good quality jam and add it to vanilla buttercream, or you can prepare fruit cake filling using my Raspberry Cake Filling Recipe and add that instead of jam. Fruit puree will also work, just make sure it's thickened and lightly sweetened.
I used this strawberry buttercream to frost my Rice Krispies Ice Cream Cone Cake.
IS SWISS BUTTERCREAM GOOD FOR PIPING?
Swiss Buttercream pipes beautifully on cakes and cupcakes. And it's a joy to work with. You can use it to pipe flowers, borders, swirls, ruffles. Use it with your favorite piping tips.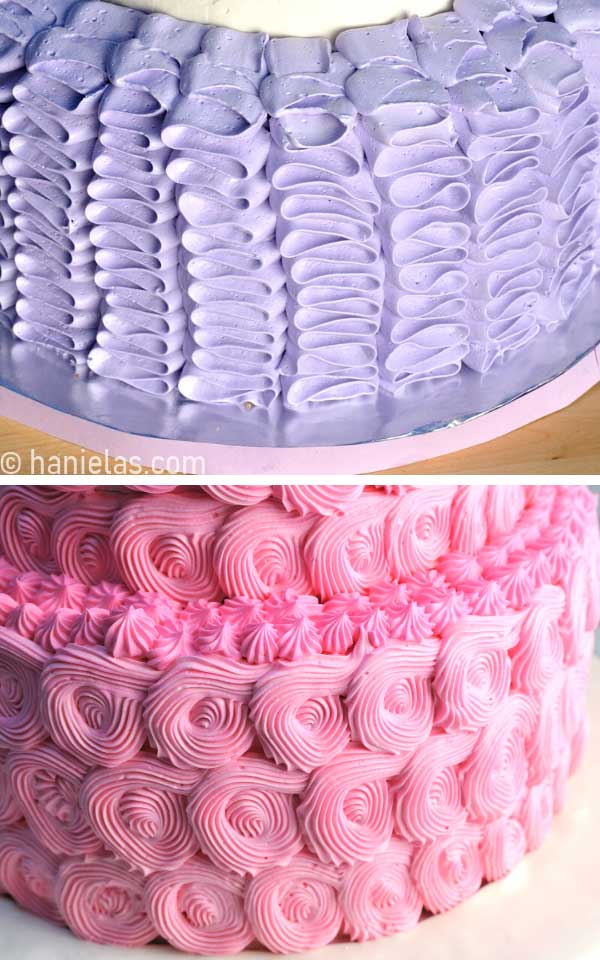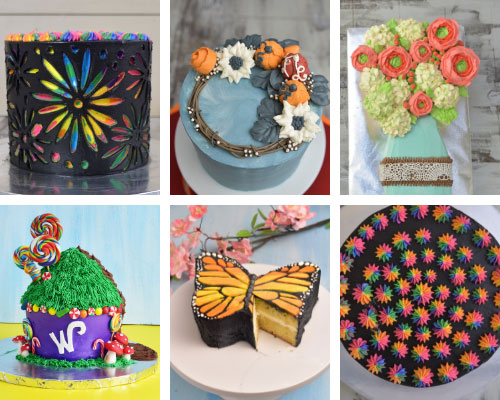 HOW MUCH BUTTERCREAM DO I NEED TO FOR A CAKE?
These are approximate amounts I use. I prefer less buttercream for the filling. If you plan on making additional decorations such as flowers, and piping borders, and such, calculate that you'll need a little more buttercream for decorations.
| | | | |
| --- | --- | --- | --- |
| Cake Size | Filling | Frosting | Cake Layers |
| 6-inch cake | 2 1/2cups | 3 to 3 1/2 cups | 3 |
| 8-9 inch cake | 3 1/2 cups | 5 cups | 2 |
IS SWISS BUTTERCREAM STABLE?
After refrigerating or freezing, allow buttercream to soften, and re-beat if needed. Store buttercream well covered, and away from fish, or other smelly foods.
Room temperature: Swiss Buttercream can sit out at room temperature for 1-2 days.
Fridge: Store Swiss Buttercream in the fridge in an airtight container, for up to 2 weeks.
Freezer: Butterceram can be frozen for up 3 months.
HOW TO MAKE SWISS BUTTERCREAM MORE HEAT STABLE?
Butter starts to melt around 89-95F. To increase this temperature you can substitute some of the butter in the recipe for shortening. I personally try to avoid using shortening in the buttercream but if there is no way around I'd use a 2:1 or 3:1 ratio or 1:1 ratio, butter to shortening.
CAN SWISS BUTTERCREAM BE FROZEN?
Yes, absolutely. Freeze it in a freezer-safe container for up to 3 months. Let it thaw and re-beat. Store it away from smelly foods like fish.
HOW TO COLOR BUTTERCREAM?
Swiss Buttercream is a bit tricky to color, but with my easy method, it can be done with concentrated gel food colors. I discuss this subject in depth in my How To Color Swiss Buttercream tutorial. Or, you can use oil-based food colors if you have them.
HOW TO USE SWISS BUTTERCREAM
It pipes beautifully onto cakes.
Makes for a delicious cake filling.
It's great for frosting the outside of the cakes.
And I love using it to make pretty piped flowers, borders and ruffles.
SWISS BUTTERCREAM TROUBLESHOOTING
Meringue is not whipping up to stiff peaks? This can be caused by traces of grease left behind on your beaters, whisk, or bowl. Wipe the bowl and tools with little bit of vinegar before you make the meringue.
Buttercream is too buttery. If you find buttercream tasting too buttery, you can substitute some of the butter for shortening.
My buttercream has a consistency of soup. This can happen when butter is too cold when added to lukewarm meringue, or vice versa. And on occasion there are bad buttercream days and this can happen without you doing anything wrong. What I suggest when buttercream is watery is to stick it into the fridge (20 minutes) or freezer (5-10 minutes). Take it out and re-beat. You'll notice butter butter will firm up on the sides of the bowl, use a spatula and scrape down the bowl. Beat and if needed repeat the cooling step.
My buttercream is not taking my gel food colors, color is muted and not bright. This is normal. Follow my tutorial on How to Color Swiss Buttercream.
I don't have a candy thermometer, how to gage temperature of egg whites and sugar mixture without it? This is what I do: heat the mixture until all of the sugar is dissolved, you can test it by rubbing the mixture between your fingers. If it's no longer grainy it means sugar is dissolved. But, be sure to check the sides of the bowl too, sometimes sugar gets on the sides, too. Continue heating egg whites mixture until it gets too hot to touch, and then continue heating and whisking for 4-5 minutes longer just to be sure. I have tested this with a thermometer and it gave me over 160F and up to 170F each time.
CAN I DOUBLE OR TRIPLE THIS RECIPE?
Yes, you can. Be sure to use a stand mixer.
Swiss Meringue Buttercream
Makes delicious silky smooth buttercream, suitable as a cake filling, frosting and piped flowers.
Ingredients
4

egg whites

1egg white is approximately 30 grams

1

cup

granulated sugar

pinch

of salt

1/2

tsp

cream of tartar(optional), or use 1tsp vinegar or strained lemon juice

4

sticks

unsalted butter at room temperature

1 stick of butter is 113grams

1

tbsp

Vanilla Extract

Candy Thermometer
Instructions
Swiss Meringue
Place egg whites (4egg whites/120grams) and the sugar (1cup granulated sugar) a pinch of salt, and cream of tartar (1/2tsp, optional) into a clean bowl of your mixer. Place the bowl over a pot of simmering water, whisking gently continuously.

Heat will gradually dissolve all of the sugar. To check if all of the sugar is dissolved rub the mixture between your fingers. It no more graininess is present sugar is dissolved.

Mixture will take on a soapy appearance. Goal is to dissolve the sugar and bring the egg whites to a safe temperature for use.

Attach a candy thermometer and stir with a whisk until the thermometer reads 160-170F.

Remove the bowl from the pot.

Place the bowl on a stand mixer and beat start beating on medium and gradually increase to mediun high. Beat till stiff and shiny peaks are formed and sides of the bowl are lukewarm to the touch.
Swiss Meringue Buttercream
Gradually add room temperature butter, beating well after each addition.

Don't worry if the mixture curdles a little, turn the mixer on medium high and beat until you have a silky buttercream.

Add Vanilla Extract (1 tbsp) and beat the buttercream for a few more minutes, until well combined.
Notes
Storage
This buttercream can be stored at room temperature for up to 1-2 days.

Refrigerate for 2 weeks.
Frozen for up to 3 months.
Can I use this Buttercream in the Summer? – If using in the heat of the summer, you can substitute some of the butter for shortening. This buttercream can hold up to better in hotter temperatures. I try to avoid using traditional shortening. You can try using other better for your shortenings that are available. Use 1:1, 1:2, or 1:3 ratios of shortening to butter.
Remember butter starts to melt at 89F, so if you are planning to make this buttercream in the summer heat, consider cake, or cupcake display inside, in the air-conditioned area.
Swiss Buttercream Flavors
Chocolate Swiss Buttercream: add 1/2 cup melted and cooled chocolate and 1/2 cup sifted dark cocoa powder.
Chocolate Swiss Buttercream: add 1 cup melted and cooled chocolate. 1/2lb (228grams) of chocolate yields about 1 cup of melted chocolate
Caramel Swiss Buttercream: add 3/4 cup to 1 cup thick caramel sauce or dulce de leche.
Coffee Swiss Buttercream: dissolve 2tbl espresso powder in 2tbl warm water. Let cool and beat into the buttercream.
Lemon Swiss Buttercream: beat in 3/4 cup to 1 cup thick lemon curd, homemade or store-bought.
Strawberry Swiss Buttercream: beat in 3/4 cup to 1 cup thick sweetened strawberry puree, strawberry jam, or fruit cake filling.
TO MAKE SWISS BUTTERCREAM YOU NEED
Shop tools in my Amazon Shop
Stand Mixer or Handheld
Heat safe bowl
Whisk
Kitchen Scale
Measuring Spoons
Vanilla Extract
Cream of Tartar
Glass Bowls
Stainless Bowls
This post contains Amazon affiliate links that earn me a small commission, at no cost to you. I only recommend products that I use and love. Learn more about my affiliate policy here.
I originally published this post on December 3rd, 2010. On July 21st, 2021 I updated this recipe post with new step-by-step photos, text, and a video.