Today we are going to talk about: Freezing Royal Icing.
PIN IT for later
HOW TO FREEZE ROYAL ICING
Freezing leftover royal icing is practical and economical. I've been decorating cookies for the last 10 years and on numerous occasions, I'd wished I had some extra colored icing ready. But I didn't.
3-4 years ago I started freezing my leftover royal icing. It's been extremely useful. I'm not sure why I didn't do it before. It saves me time and money on food colors, too.
Freezing Royal Icing in Piping Bags
When freezing smaller quantities of icing that is colored and already in the piping bags I generally leave the icing in the piping bags.
Put the piping bags into either a gallon size freezer bag or a plastic container. I do this mainly when I have a bunch of different colors. Remove as much air as possible from the freezer bag before you close the bag.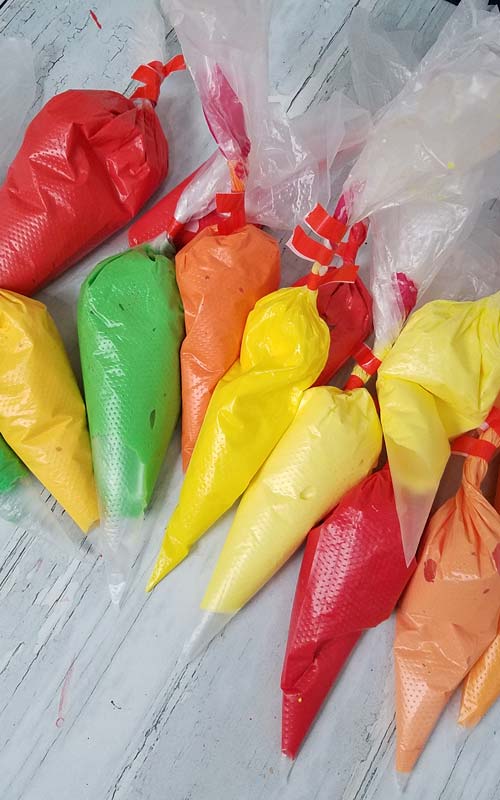 Freezing Royal Icing in the Ziploc Bags and Containers
For larger quantities of royal icing, I use small sandwich bags. And freezer containers for very larger quantities. Usually, I throw the sandwich bags with icing into a larger freezer bag or a container.
If you are short on freezer space, freeze the sandwich bags flat on a baking sheet first. Then layer them into a larger freezer bag and stack them up in the freezer.
How Long Can You Freeze the Icing For?
These are the bags I use. If you've been following me for a while you probably recognize these. I used to decorate my cookies with these exact bags. Basically, they are sandwich bags. I get them at Walmart. Once you freeze them flat, stick them into a larger freezer bag or a container and freeze the royal icing for up to 3 months.
Defrosting Royal Icing
To thaw the frozen icing leave it on the counter. Smaller quantities defrost faster. It is important to let the thawed icing come to room temperature. Don't skip this step. Give it at least a couple of hours.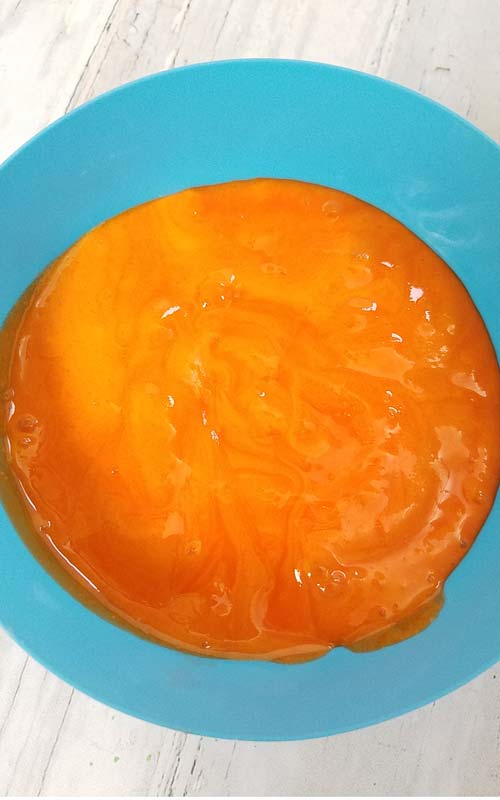 Royal Icing Separates
Once the icing is thawed and at room temperature, you may notice darker and what appears like more fluid/liquid areas in the icing. For example deeper red area (see the picture below). This deeper red spot is basically liquid (water, lemon juice-I use Fresh Lemon Royal Icing recipe) that has separated from the solids(powdered sugar/meringue powder).
No worries this is absolutely normal and very frequent. I'm sure you've seen this happen before. If you didn't, no worries, like I said it's normal. When separation occurs you just need to reconstitute icing. I often massage the bag with my fingers. If that doesn't help I pour it into a bowl and stir well till combined.
Why Is My Icing So Runny?
This is another thing that happens when you freeze royal icing. When royal icing freezes water in the icing expands(approximately by 9%) and so when the frozen icing thaws it is a bit runnier.
For instance, frozen 15-second consistency royal icing will be more like 10-second consistency when you defrost it. Icing that you used to pipe leaves(see the video) will be more like 20-25 second consistency.
How To Make Icing Thicker
To make thin icing thicker we need to add stiff icing to thin icing. Though I'm not a mind reader I bet you are now questing the whole freezing thing. Why do I have to add stiff royal icing to my frozen icing??
Why I Add Stiff Royal Icing To Previously Frozen Icing
To remedy a frozen royal icing consistency issue I always add some stiff royal icing to my frozen and thawed icings. You really don't need to add a lot of icing. A spoon or two is usually plenty to fix the consistency.
It helps to restore texture and/or build up the consistency I need for a project.
Frozen and already colored icing even with added white icing to fix the consistency doesn't require as much food coloring as a brand new uncolored batch of icing does.
Generally, the color of frozen icing becomes more intense. After I fix the consistency by adding some stiff icing I usually add just a tiny bit of gel food coloring if needed.
Often I don't have to use any food colors. If working with multiple frozen icing colors you can mix royal icing colors without having to use additional food colors.
How Many Times Can You Re-Freeze Royal Icing?
There is such a thing as frozen too many times. Not everyone may have this experience but I've noticed that after the same icing has been frozen 3 times or more it starts to develop a coarse texture. Sandiness like feel when you rub the icing between your fingers.
You can somewhat amend it by adding some fresh royal icing to thawed icing. I wouldn't recommend using this icing for piping swirls and other delicate details as icing seems to lose some of its elasticity. However, you can still use it to flood your cookies.
Favorite Colors To Freeze
We all know certain colors are easier to attain than others. For this reason, I always freeze my leftover reds, pinks, black, purple, brown, royal blue, and dark green.
How Do You Seal Piping Bags?
I love using tape sealer to seal my piping bags. It's really easy to use and it saves me a lot of time when preparing for decorating. If you decide to get one yourself be sure to get the tape as well, it doesn't come with the sealer. I use disposable piping bags.
PIN IT for later
This post contains Amazon affiliate links that earn me a small commission, at no cost to you. I only recommend products that I use and love. Learn more about my affiliate policy here.