This Easy Sponge Cake recipe is delicious and quick to make. My light and moist vanilla sponge cake is super versatile. It can be used to make layered birthday cakes, strawberry shortcakes, trifles, icebox cakes, mini desserts, and more.
Updated post from 2011.
FEATURED COMMENT
"My 6th attempt on making a sponge cake and my first success thanks to this awesome recipe." Ashley
STEP BY STEP HOW TO MAKE EASY SPONGE CAKE
This simple Vanilla Sponge Cake is a favorite with kids and adults alike.
Fill it with Whipped Cream, Swiss Buttercream, German Buttercream, Ganache, Chocolate Mousse, Cream Cheese Frosting, Chocolate Ganache Frosting or jam. Or enjoy it dusted with powdered sugar with a dollop of sweetened whipped cream.
WHAT ARE SPONGE CAKE INGREDIENTS
This recipe uses the basic ingredients and what's great about this sponge cake recipe is that you can use plain flour.
Flour – all-purpose, for super tender crumb use cake flour
Granulated Sugar
Salt
Baking Powder
Eggs – separated, at room temperature
Oil
Warm Water or Milk
Vanilla Extract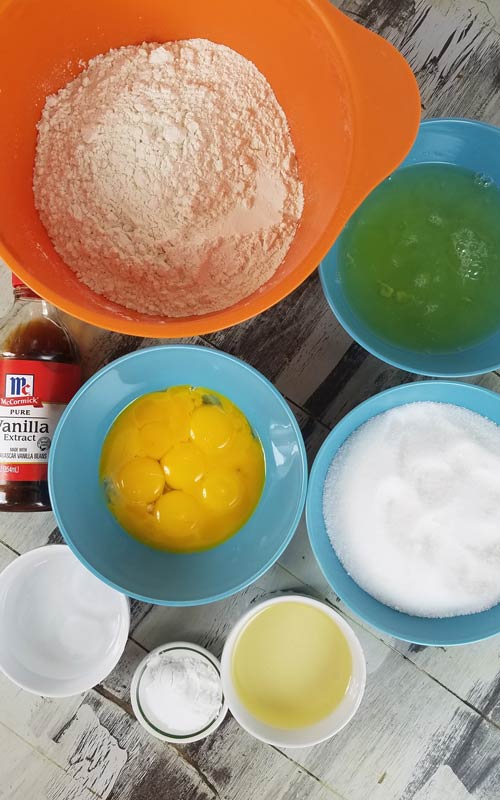 PREPARE A BAKING PAN
Preheat the oven to 350F/180C and prepare a baking pan. Spray the pan with a nonstick spray and line it with parchment and either spray parchment with nonstick spray or use melted butter and brush it with melted butter and dust with flour.

I often double my my sponge cake recipe and when I do I either use a 9×13-inch pan or a round 10-inch cake pan. To make sure my 10 inch cake bakes evenly I use a heating core/flower nail that I spray with a nonstick spray and coat if flour.
MIX DRY INGREDIENTS
What I love about this recipe is that I don't need any special flour. Plain, all-purpose flour gives fantastic results; for a super-fine crumb you can use cake flour. In a large bowl whisk together all-purpose flour, baking powder, and salt (steps 1-3). Set aside.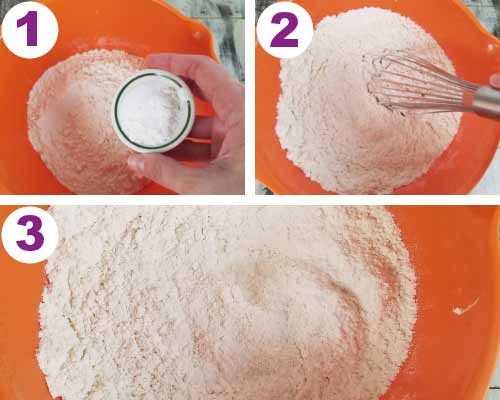 WHAT IS RIBBON STAGE – EGG YOLKS AND SUGAR
Ribbon stage is a baking term that refers to batter consistency. It is reached when batter lifted up with a whisk, spoon, or spatula falls back down into a bowl slowly forming a ribbon. It should hold its shape for a few moments, slowly disappearing, blending into the mixture.
Into a bowl add egg yolks and remaining granulated sugar. Beat on medium-high speed till pale in color and doubled in volume. Scrapping the bowl a few times to ensure egg yolks are thoroughly blended in. Beat until mixture reaches the ribbon stage (steps 1-2).
BEAT IN OIL
After you reach the ribbon stage it's time to add oil. Slowly in one continuous pour beat in oil on low to medium speed. Blend well (steps 3-4). Then pour warm water into a measuring cup. And gradually, slowly in one continuous pour beat in warm water. Scrape the bowl a few times to ensure the mixture is homogeneous. I'm using warm water to make sure all of the sugar crystals are completely dissolved. With the addition of water, the mixture will become thinner (step 5).
Next, you can beat in Vanilla Extract and continue beating for 2 minutes, until the mixture becomes very light in color and aerated (steps 6-8).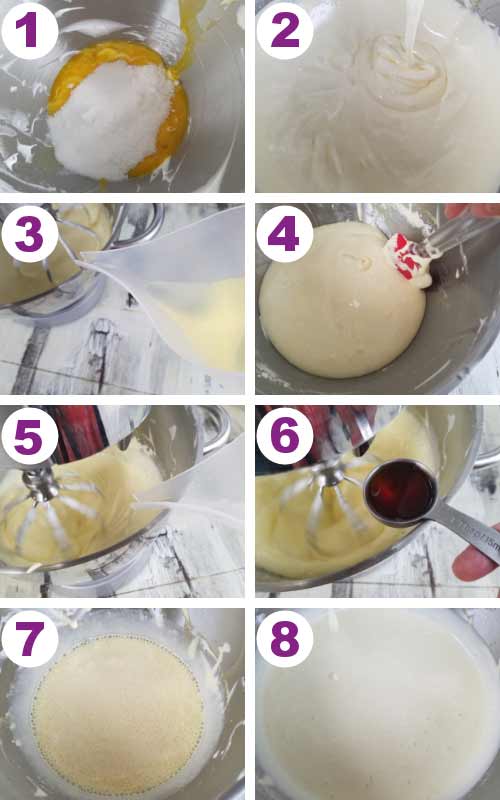 HOW TO MAKE A MERINGUE
Start by bringing eggs to room temperature. Leave eggs on the counter for about 30 minutes. Or you can place eggs into warm water. They will be at room temperature in about 5 minutes or so.
Next, separate egg yolks and egg whites. Pour egg whites into a clean, grease-free bowl. With a wire attachment, beat egg whites with a pinch of cream of tartar (or use 1/2 tsp lemon juice or vinegar) until foamy (steps 1-2). Then gradually beat in about half of the granulated sugar listed in the recipe. Beat egg whites until a stiff and glossy peak is formed (steps 3-4).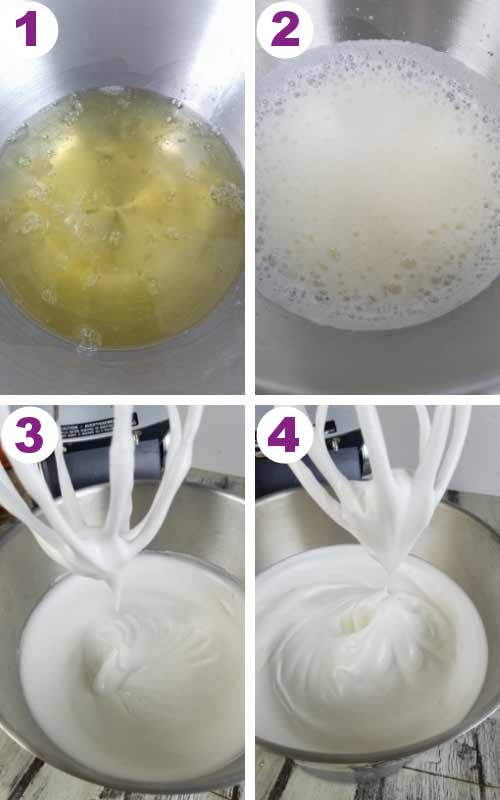 MIX CAKE BATTER: FOLD SPONGE CAKE BATTER
Gradually fold sifted flour alternating with meringue into the egg yolk mixture. Do not stir. It is important to fold the ingredients into the yellow egg yolk mixture. Stirring will deflate the cake batter significantly resulting in a dense cake batter.
Once no more flour streaks are visible in the cake batter give it 3 more folding strokes. Focus on getting all the way to the bottom of the bowl to ensure the batter is thoroughly mixed.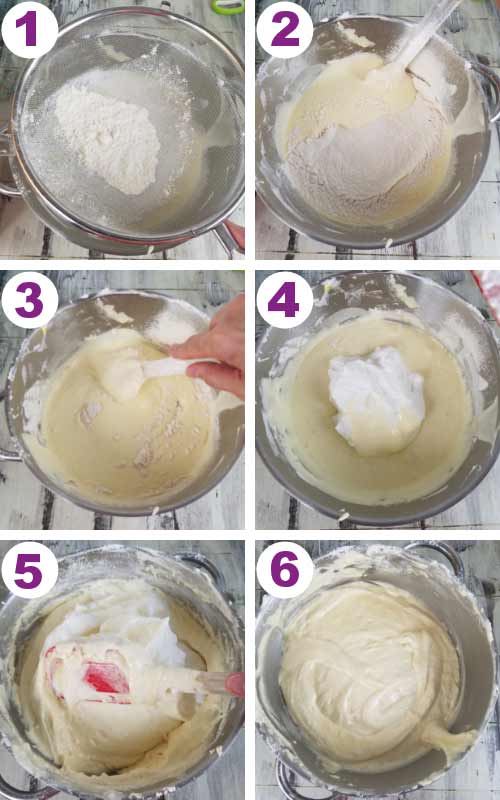 BAKE SPONGE CAKE
Pour sponge cake batter into a prepared cake pan(I doubled the batch and baked 10-inch cake today). Bake at 350F for 30-35 minutes. Check the cake after 30 minutes, if the top is browning too much quickly place foil over it to prevent over-browning. (This is usually not an issue with 8 or 9-inch cakes.) And continue baking for additional 5 minutes. The cake is done when a skewer inserted into the cake comes out clean, without any crumbs attached to it.
Let the cake cool in the pan for 5 minutes then invert the cake onto a cooling rack. Use a kitchen towel to handle a hot baking pan. Remove the flower nail.
Let the cake cool till lukewarm then wrap it in a plastic wrap and let cool completely at on the kitchen counter.
CAN I USE 2 EGGS TO MAKE A SPONGE CAKE?
You can make this simple sponge cake recipe with two eggs and oil. Cake batter made with two eggs will produce a small. Use small baking pans. Find the ingredient measurements in the recipe card notes.
WHAT BAKING PANS SIZE CAN I USE
You can use round, square, rectangle baking pans to make your sponge cake. I've used this cake to make my very tall Holiday Peppermint Cake using 4-6 inch cake layers. This cake can be stacked with proper supports, too.
| EASY SPONGE CAKE | PAN SIZE |
| --- | --- |
| 1 batch | 9-inch round or square pan, line the sides, cake bakes tall |
| 1 batch | two 8-inch round pans, cake are not very tall and they bake faster |
| double batch | 10 – inch round cake pan, line the sides, use a heating core, cake bakes tall |
| double batch | 9×13-inch pan, cake bakes tall, if possible use a heating core |
| 1 and 1/2 batch | four 6-inch cake pans |
I often make a double batch of my sponge cake recipe and bake it in a 9x13x2 (33 x 23 x 5 cm) inch cake pan.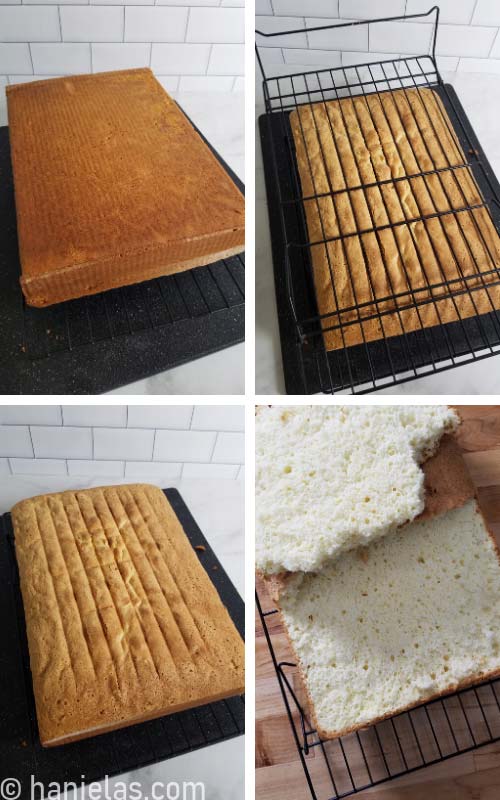 WHAT IT THE BEST ICING FOR SPONGE CAKE?
There is a great variety of icing/frostings that work well with a sponge cake. My personal favorites are Whipped Cream, German Buttercream, Lemon or Raspberry Curd, Chocolate Ganache Frosting (especially white chocolate frosting is delicious with raspberries), jam, or any fruit filling such as Strawberry Mousse.
I used this quick sponge cake recipe to make:
Striped Holiday Cake
EASY SPONGE CAKE SUCCESS TIPS
How long does sponge cake last? Store cake in an airtight container, in the fridge for 5 – 6 days. And unfilled sponge cake keeps at room temperature for 2-3 days.
Can I freeze sponge cake? Freeze sponge cake right after it cools, tightly wrapped in a food plastic wrap. You can freeze a sponge cake up to 3 months. Let it thaw on the counter.
Why is my sponge cake dense? Sugar crystals were not completely dissolved. Also, under-mixing can be an issue. Stirring instead of folding the batter at the last stage of mixing.
My sponge cake didn't rise, what happened? Check the raising agent expiration date. It can also mean that cake wasn't baked long enough.
My sponge cake is dry, why? Over-beaten egg whites. Over baking. To amend a dry sponge, use simple syrup. Stop the mixer a few times while whipping meringue and test if a stiff peak is formed. When meringue is overmixed it becomes grainy. The grainy meringue will make your cake dry.
Why do I have giant holes and tunnels in a cake? This is usually caused by over-mixing. Quick solution, fill the holes with buttercream.
Cake sank in the middle, why?

Opening the oven door in the early stages of baking can cause the cake to sink in the middle.
Closing the oven door too abruptly.

Cooling the cake too quickly. Don't move freshly out of the oven-baked sponge cake to a cool, drafty room.
The batter sits too long before it goes into the oven
Over-beating of the batter at the last stage.

Can I make a 2 tier cake using this recipe? Yes, you can. Use a proper stacking method. Don't stack a heavy cake (pound cake) on top of a sponge cake.
MORE DELICIOUS CAKE RECIPES
Easy Sponge Cake
This recipe makes one tall 9-inch inch cake.
If using an 8-inch cake pan, line the sides of the pan as the cake will be a little taller than a 9-inch cake.
You can double this recipe to make a 10-inch cake or a 9×13 rectangular cake. Be sure to use a heating core if using a 10-inch round cake pan.
1 and 1/2 batch fills 4-6-inch cakes.
Ingredients
EASY SPONGE CAKE
1 1/2

cup

all-purpose flour (200grams)

1

tsp

baking powder

1/4

tsp

salt

4

eggs

egg white ang egg yolks separated, at room temperature

1

cup

granulated sugar (200-210grams), divided

4

tbsp

oil

4

tbsp

warm water or milk

1

tsp

vanilla extract

pinch of cream of tartar (or use 1/2tsp lemon juice vinegar)

– it helps to beat the egg whites into their full volume and helps to delay overbeating of meringue.
Instructions
EASY SPONGE CAKE
Preheat oven 350F. Butter and flour your baking pan, line the bottom with parchment. Or use nonstick spray and line the bottom with parchment.

In a large bowl, whisk together flour (1 cup and 1/2cup, 200grams), salt (1/4tsp), and baking powder (1tsp), set aside.
Meringue
In a clean bowl or your stand mixer, whip egg whites ( 4 egg whites) with a pinch of cream of tartar or 1/2tsp lemon juice/white distilled vinegar(optional). Beat until foamy. Then gradually add 1/2 of the granulated sugar (1/2cup,100grams). Beat until stiff, shiny, and moist peaks are formed. Don't overbeat, or meringue will be dry.

Gently scrape the meringue into another bowl. Set aside. Now we are going to prepare egg yolk mixture, no need to clean the mixer bowl. Yay. If you are using a hand-held mixer, you'll need to use 2 bowls to prepare meringue and egg yolk mixture.
Egg Yolks and Sugar – Ribbon Stage
Place egg yolks (4 egg yolks) into the mixing bowl. Bowl doesn't have to be spotless. Add remaining granulated sugar (1/2cup,100grams) to the egg yolks. Beat using wire whip attachment. Beat the egg yolks at medium-high speed. Scrapping the bowl once or twice to ensure all egg yolks are well blended in. Beat until the ribbon stage is reached. About 5 to 6 minutes. The mixture will be thick, doubled in volume and pale in color.

Gradually in one continuous pour add oil (4 tablespoons), mix well. Then gradually add warm water (4 tablespoons). Scrape the bowl in between. Beat in Vanilla Extract (1 teaspoon) and beat for 2 more minutes. Turn off the mixer.
Sponge Cake Batter
Using a fine mesh strainer,  sift about 1/3 of the flour mixture into the egg yolk mixture and carefully fold the flour in with a spatula, then add about 1/3 of meringue and fold it in. Continue with the rest of the flour and meringue until no streaks are visible. Then make the last 3 folds, making sure you go with the spatula all the way to the bottom of the bowl. Be gentle and don't over mix. You are looking for a light and airy batter.
Bake
Fill your prepared baking pan(s) and bake until toothpick inserted in the center comes out clean, about 25-30 minutes. 10-inch can take up to 35 minutes to bake.

Let the cake cool in the pan for 5 minutes. Then invert it on a cooling rack and let cool completely. Wrap the cake in a food safe plastic wrap.
Storage
Store undecorated/unfilled cake covered in the fridge for up to 5 days until ready to use. Or fill the cake with your favorite frosting. Store in the fridge for 5 days. If using whipped cream make sure to use some gelatin to stabilize it so whipped cream doesn't weep.

Unfilled cake keeps at room temperatuer for 3-4 days.
Notes
I only have 2 eggs; can I make a small sponge cake? Yes, you can make a sponge cake with 2 eggs. Use the same technique listed in the recipe card above. Here are the measurements of the ingredients:
2/3 cup(100 grams) of all-purpose flour,
1/2 teaspoon baking powder
1/8 tsp salt
2 eggs, separated egg whites and egg yolks
1/2 cup (100 grams) granulated sugar
2 tablespoons oil
2 tablespoons warm water
1/2 teaspoon Vanilla Extract
Bake the cake at 350F in a small pan. For example, I bake a two-egg sponge cake in a rectangular cake pan (7.5 inches by 5 inches) buttered and floured – the cake bakes in 14 minutes.
What would be the best way to color the batter if you want to use multiple colors? To avoid overmixing, I would add food gel to the proportioned egg yolk mixture and then fold in proportioned flour and meringue.
My sponge cake is dry; why? Over-whipped egg whites. Over baking. To amend a dry sponge, use simple syrup.
I'm making 9×13 inch cake; should I double the recipe? Yes, double the recipe, bake the cake for 25-30, check it, and bake for 5-10 minutes longer, then check again. If the cake is browning too much on the top, loosely cover the top with a foil dome.
Did you make this recipe? Tag @hanielas on Instagram and hashtag it #hanielas
TO MAKE EASY SPONGE CAKE WITH OIL YOU NEED
Baking Pan
Bowl
Hand-Held or Stand Mixer
Spatula
Cooling Rack
Mixing Bowls
Mesh Sieve – to sift dry ingredients
PIN IT for later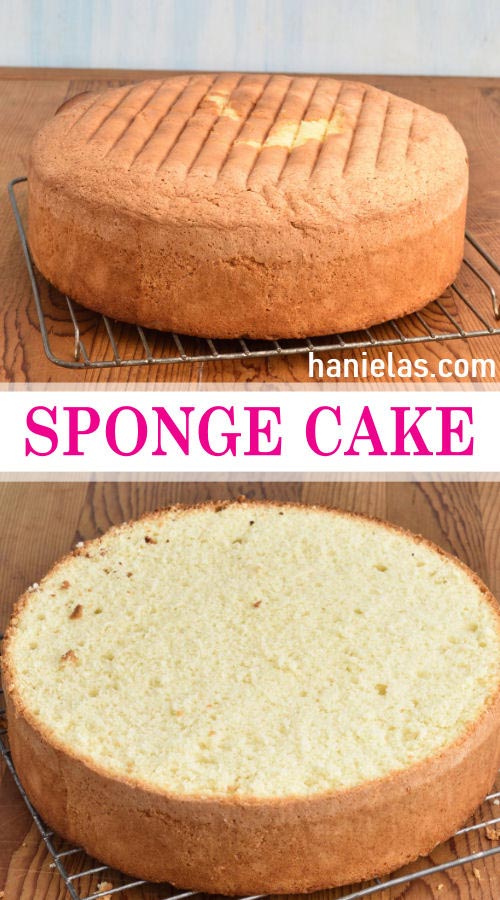 I updated this post from 2011 with brand new process pictures and written text.
This post containsThis post contains Amazon affiliate links that earn me a small commission, at no cost to you. I only recommend products that I use and love. Learn more about my affiliate policy here.