Butternut Squash and Apple Casserole
We harvested lots of butternut squash this year, and today I thought it would be fun to make something new. Apples with butternut squash.I don't really like cooked onion so I first sauteed sliced onion until brown. If you don't have honey, you could also use maple syrup if you have some.
I have to say I was pleasantly surprised how all these flavors worked well together.
I enjoyed it alone, but white or brown rice would be nice on a side as well.
Refreshing and a healthy meal.
Butternut Squash and Apple Casserole


1 small butternut squash, peeled, quartered and thinly sliced
1 large apple, quartered and thinly sliced
1 small red onion, thinly sliced
1/4 raisins or dry sour cherries
1 tbl butter
1/3 cup lemon water ( juice of 1/2 lemon + water)
2tbl olive oil
1 to 2 tbl honey
1/2 tsp herbs of provence
salt & pepper to season
2 cloves of pressed garlic
1/4 cup almonds
2 tbl parmesan
Preheat oven to 350 F
Combine sliced squash, apple and dry cherries or raisins in a large bowl.
In a small bowl combine lemon water, oil, honey,add salt, pepper to taste, add herbs and pressed garlic and combine. Set aside.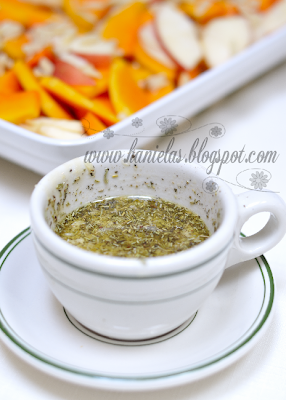 Heat 1tbl butter in the skillet, add sliced onion and sautee until browned. Remove from heat and set aside.
Pour half of the marinade into the squash apple mixture and combine well.
Pour all the squash apple mixture into a baking dish, add browned sauteed onion, sprinkle with almonds and pour the remaining marinade over the squash.
Cover with foil, bake for 40 minutes, or until tender. Turn on the broiler, remove foil and let the top brown a little. ( In case your oven doesn't have a broiler, cook covered for 20 minutes, remove foil and cook for another 20 minutes or until soft.) Remove from the oven, sprinkle 2 tbl parmesan on the top.
Serve.