Gluten Free Sugar Cookies
These soft melt-in-your mouth Gluten Free Sugar Cookies are perfect for making cut-out cookies.
GLUTEN FREE CUT OUT SUGAR COOKIES
This Gluten Free Sugar Cookie recipe is perfect for cutting out cookies. Cookies don't spread during baking. They have a delicious melt in your mouth texture and are perfect for cookie decorating with royal icing.
INGREDIENTS
Potato Starch or Gluten-Free Corn Starch
Baking Powder
Salt
Unsalted Butter
Granulated Sugar
Large Egg
Honey or us Agave/Invert Sugar
Vanilla Extract
Almond Extract
Why do you add extra starch?
Gluten-free cookies made with starch bake with a softer, fluffier texture. I find it also eliminates the gritty texture of most gluten-free cookies.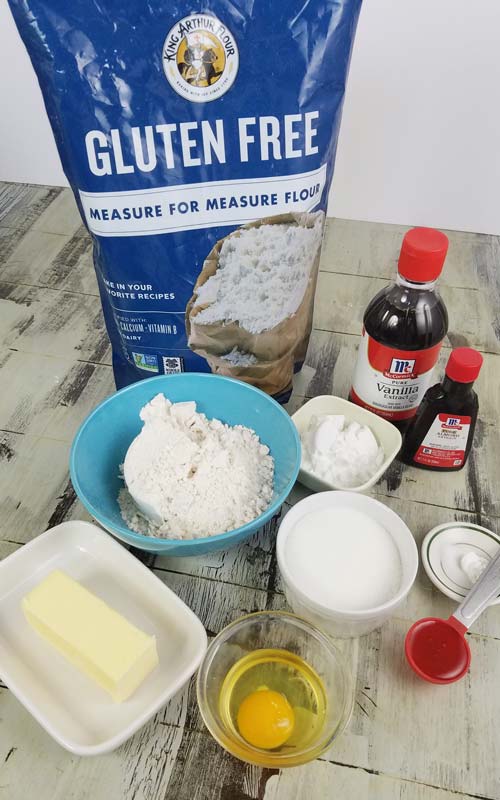 MAKE THE GLUTEN FREE COOKIE DOUGH
Gather all the ingredients. In a small bowl whisk together egg, honey, vanilla extract and almond extract. If you don't have almond extract or you don't like it, use vanilla or lemon extract instead.
Sift or whisk well Gluten Free Flour, starch, baking powder and salt.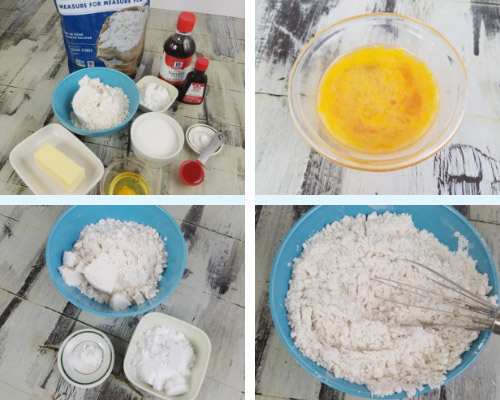 Cream room temperature butter with sugar until fluffy. About 2-3 minutes. Gradually beat in egg mixture. Sometimes honey sinks to the bottom of the bowl, make sure to add all of the honey. Beat until well combined, another 1-2 minutes.
Gradually on low speed, in 3 additions, beat in flour mixture. Once the dough is moist throughout, continue beating for 20 seconds.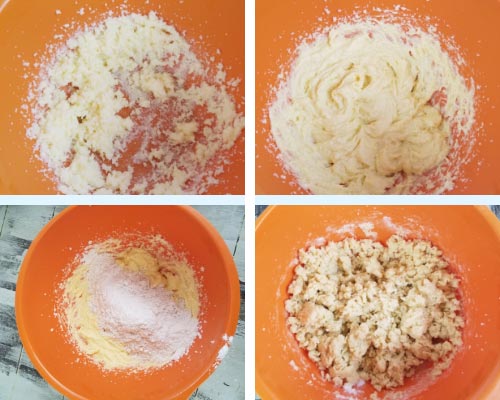 Gather dough into a ball. Flatten it into a disk and wrap it in a clear plastic wrap. Be sure to chill the dough for at least 4 hours. I prefer to let it rest overnight and even for up to 2 days. Resting gluten-free cookie dough is very important.
Why do I need to chill the cookie dough?
As you know, gluten-free cookies are known for their gritty, sand-like texture. Chilling and resting the dough is essential for developing a soft, smooth texture. During this resting period, flour gets adequately hydrated, resulting in a soft, melt-in-your-mouth cookie texture. Don't skip this step.
ROLL THE COOKIE DOUGH
Lightly dust your work surface with potato starch. Roll the cookie dough ¼ inch thick and cut out desired shapes. Transfer cookies onto a baking sheet and chill for 10 minutes.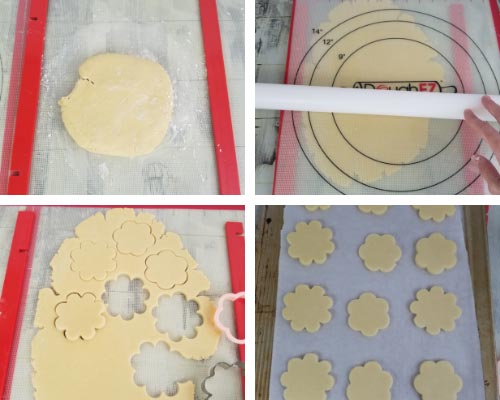 HOW BIG CAN I MAKE GLUTEN-FREE COOKIES?
For the best results use cutters 3.25-inch across or smaller.
BAKE COOKIES
Bake cookies in the preheated oven at 335F for 10 minutes. Bottoms should be lightly brown and edge a little crispy. Let cool for 5 minutes on a baking sheet. Then transfer cookies onto a cooling rack to cool completely.
EASY COOKIE DECORATING WITH A ROYAL ICING
To decorate gluten-free flowers cookies I used an easy and fast dipping method. . However, this fast decorating technique, comes with a culprit – air bubbles. This decorating technique is known for excessive amount air bubbles. Bellow you'll find my tips on how to battle air bubbles.
Thin Royal Icing to 10-Second Consistency
Thin royal icing to 10-second consistency royal icing. Divide icing into bowls.
Color icing with gel food colors. I mixed two shades of pink and white icing.
Cover icing with a damp kitchen towel and let sit for 10 minutes. This time allows air bubbles formed during mixing, float to the surface.
Use a toothpick to pop the air bubbles.
Or bang the bowl with the icing on the counter and watch the bubbles pop.
Be sure to cover the bowl with icing with a damp towel to prevent icing from crusting.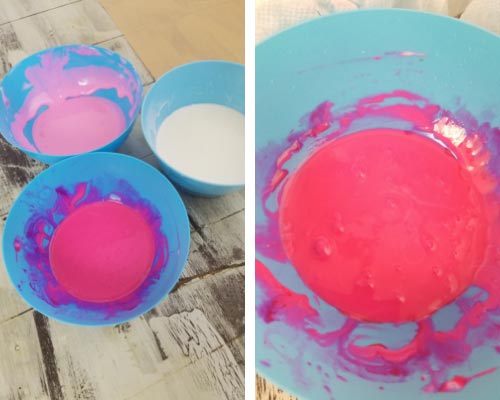 To white 10-second consistency royal icing, add contrasting colors. I used light and deep pink.
Use a toothpick to swirl the colors.
DIPPING ICING METHOD
Hold the cookie by the edges, place it on top of the icing.
Gently wobble the cookie or turn it gently. This ensures that icing touches the edges and covers the whole surface of the cookie.
Carefully lift the cookie from the icing. At first, there is a slight resistance, this is normal.
Move the cookie above the icing surface, let the icing drip off the cookie for a few moments.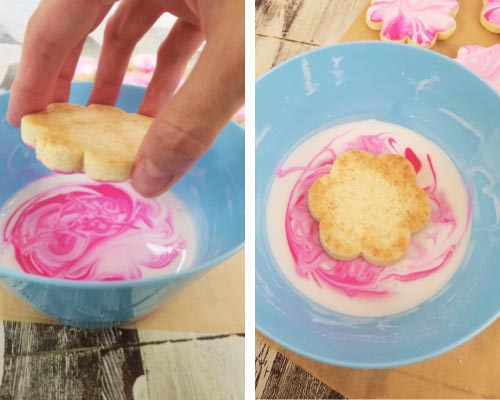 Then, turn it carefully, place it on a flat, firm surface, and give it a little shake to smooth the icing.
If you see any bubbles on the surface, pop them with a needle tool.
Let the icing dry.
TO MAKE MARBLED GLUTEN FREE SUGAR COOKIES YOU NEED
RECIPES
TOOLS
Spray Bottle – to thin royal icing
This post contains Amazon affiliate links that earn me a small commission, at no cost to you. I only recommend products that I use and love. Learn more about my affiliate policy here.
MORE RECIPES
Gluten Free Sugar Cookies
Makes about 30 cookies (using a 2.5 inch cutter)
Ingredients
6

tbsp

room temperature unsalted butter

½

cup

sugar

1 ¼

cup

Gluten Free Flour

I used King Arthur Measure for Measure Gluten Free Flour

¼

cup

potato starch

Substitute : gluten free cornstarch

1/4

tsp

baking powder

1/8

tsp

salt

1

egg

1

tbsp

honey

1 1/2

tsp

vanilla extract

1/2

tsp

almond extract

Susbtitute : vanilla, lemon
Instructions
Whisk together GF flour(1 1/4 cup ), potato starch(1/4cup), baking powder(1/4tsp) and salt(1/8tsp). Set aside.

In a small dish whisk together egg (1), honey(1tbsp), vanilla extract(1 1/2tsp) and almond extract(1/2tsp).

In a bowl cream room temperature butter(6tbl) and sugar(1/2cup) until pale in color and fluffy, about 3-4 minutes.

Gradually beat wet ingredients into the butter mixture. Beat well. About 2 minutes.

In 3 additions beat in dry ingredients. Once dough is moisten through, beat for additional 20 seconds. Gather dough into ball and flatten it into a disk. Wrap in a plastic wrap. Refrigerate for 8 hours. (minimum 4 hours)

Preheat oven to 335F. Roll the dough between 2 sheets of parchment or use a Silicone Mat. (I use DoughEZ rolling mat). Dust your work surface with little bit of potato starch. Using ¼inch rolling guides, roll out the dough. Cut out shapes and transfer them onto a baking sheet lined with parchment paper.

Chill the cookies for 10 minutes. Bake at 335F for 10 minutes.

Remove from the oven, let cool for 5 minutes and then transfer cookies onto a cooling rack.

Store in an airtight container for up to a week. Decorate with icing as desired.
PIN IT for later