These fun Dinosaur Eye Cookies are perfect for Jurassic Park or Dragon inspired Game of Thrones birthday party. Let's get a little closer and look these scary reptiles in the eyes!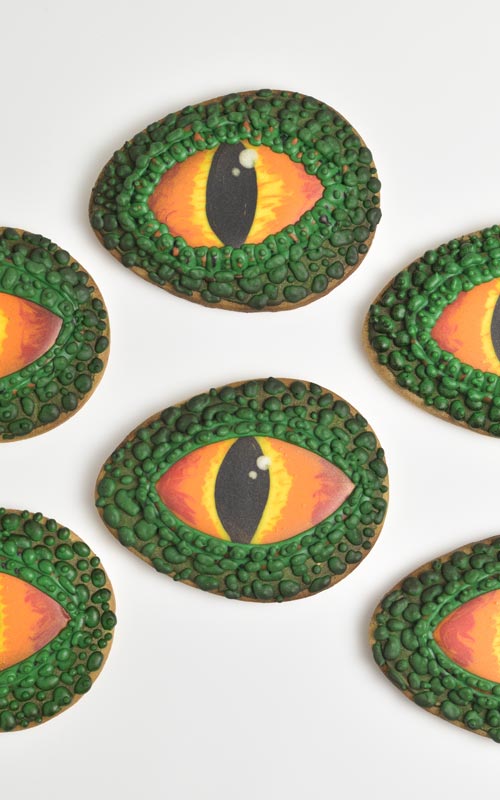 JUMP TO A TUTORIAL | JUMP TO RECIPES AND TOOLS | PIN IT for later
Since the early 19th century when the 1st Dinosaur fossils were discovered dinosaurs have gained world wide attention. From mounted dinosaur skeletons at museums, plush dinosaur toys to decorated cookies and cakes. But dinosaur eyes remain a mystery to this day.
DINOSAUR EYE COOKIES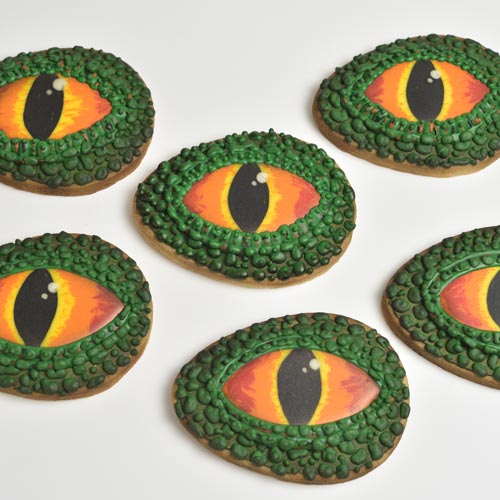 COOKIE CUTTER
To make dinosaur eye cookies I used an Easter Egg Cookies cutter. You can also use an oval or round cutter if you don't have an egg cutter.
ROYAL ICING TRANSFERS
I made eyes as royal icing transfers (RIT).
WHAT ARE ROYAL ICING TRANSFERS?
RIT stands for royal icing transfer. These are decorations made from royal icing. They can be made ahead of time. Most common royal icing transfers are piped royal icing flowers. These are usually 3 dimensional.
They are piped on a piece of wax paper, parchment or if preferred food grade acetate. They need to dry overnight and sometimes even longer. When icing dries, backing sheet is removed and royal icing transfer is ready to be used.
WAX PAPER, PARCHMENT PAPER, ACETATE SHEET
You can use any of these materials to create royal icing transfers. Here are their cons and pros :
WAX PAPER, PARCHMENT
Pros:
Available everywhere.
Cheap.
Royal icing dries faster on paper than acetate sheet.
Cons:
Moisture from royal icing causes paper to warp slightly. As royal icing dries on the paper it conforms to the shape of the paper. And the underside of royal icing may be slightly warped.
Though this is not a big issue when working with small to medium transfers. Though it can be an issue when making larger royal icing transfers and applying them onto a dry flat surface. There maybe a small gap between the surface of the cookie and royal icing transfer.
FOOD GRADE ACETATE SHEETS
Pros:
Sheets don't warp. Transfers have even underside.
Easy to clean, and can be reused.
Cons:
More expensive
Not available everywhere. I purchase mine online.
It can take longer for icing to dry.
Today we are making flat royal icing transfers.
EYES
I used wet on wet technique to create royal icing eye transfers. Transfers can be made ahead of time. To make the eyes I used orange, red, yellow, black and white 15 second consistency royal icing.
Place acetate sheet or wax paper over the template and start piping with orange icing Then immediately follow with piping red in the corners and blend it in with a needle tool.
Pipe yellow center and blend yellow into the orange.
Pipe pupil with black and add white dots for the reflection. Let transfers dry overnight. Then airbrush the edges with black airbrush food coloring.
Color icing with moss gel food coloring and thin it down so it's easy to spread. Brush a thin layer of icing on the cookies and let dry. Then airbrush with metallic bronze airbrush food coloring.
Prepare brown, black and green (leaf green mixed with little bit of moss) 15 second consistency royal icing.
Pipe the top eyelid with green and make the spots with brown and black royal icing. Dip the needle tool into the black and transfer icing into the green eyelid. Let crust and make the bottom lid. Let crust again. Then repeat the lids and let crust.
Then pipe the scales. Let dry and airbrush the edges with brown airbrush food coloring.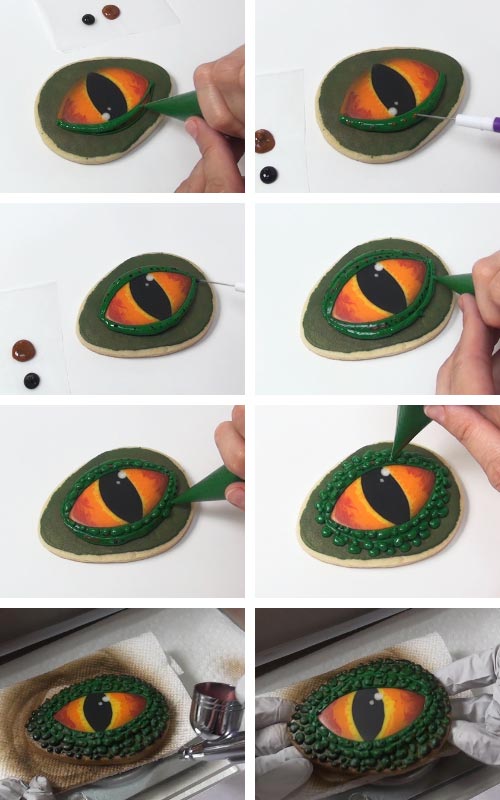 Bellow is another variation of the eyelid section.
TO MAKE DINOSAUR EYE COOKIES YOU NEED
RECIPES
Cut Out Cookie Recipes : Classic Sugar Cookies, Vegan Cookies, Gluten Free, Honey Cookies, Chocolate Cookies
TOOLS
Template
Egg Cookie Cutter – I used a cutter from Sugarbelle Cookie Cutter Set
Parchment, Wax paper or Food Grade Acetate Sheets
Gel Food Colors – orange, yellow, red, moss and leaf green, super black
Food Only Paint Brush – to brush icing on the cookie
Airbrush Food Colors – metallic bronze, black, brown
USEFUL TUTORIALS
PIN IT for later
This post was 1st published in 2018, I updated it with a video, more detailed written instructions and instructional photos.
This post contains Amazon affiliate links that earn me a small commission, at no cost to you. I only recommend products that I use and love. Learn more about my affiliate policy here.