Easter Chicks Coloring Pages Cookies
How about edible coloring pages therapy? Today I'll show how I made adorable decorated Easter chicks coloring pages cookies.
updated from 2014
HOW TO MAKE EASTER CHICKS COLORING PAGES COOKIES
I made these cookies in 2014, shortly after I first saw this fun decorating technique over at my friend Marlyn's YouTube Channel-Montreal Confections.
It is so fun. And even though coloring pages are considered mainly a child's affair, I think adults could use a little childhood therapy, don't you think?
Royal Icing Consistency
Making coloring pages cookies using royal icing is pretty straightforward. Basically, we need to create a design we can then color on white icing. And to do that I used dark icing that I piped onto the wet white icing. To help me achieve this I'm going to employ the wet-on-wet technique.
First, I flooded the cookie with white icing, immediately after I used dark-colored icing to pipe the design onto the wet white icing. The dark outlines should sink into the white base, forming a seamless layer of icing. Here are a few examples of such wet-on-wet designs: Floral Bunny Cookies, Cherry Stand Mixer Cookies.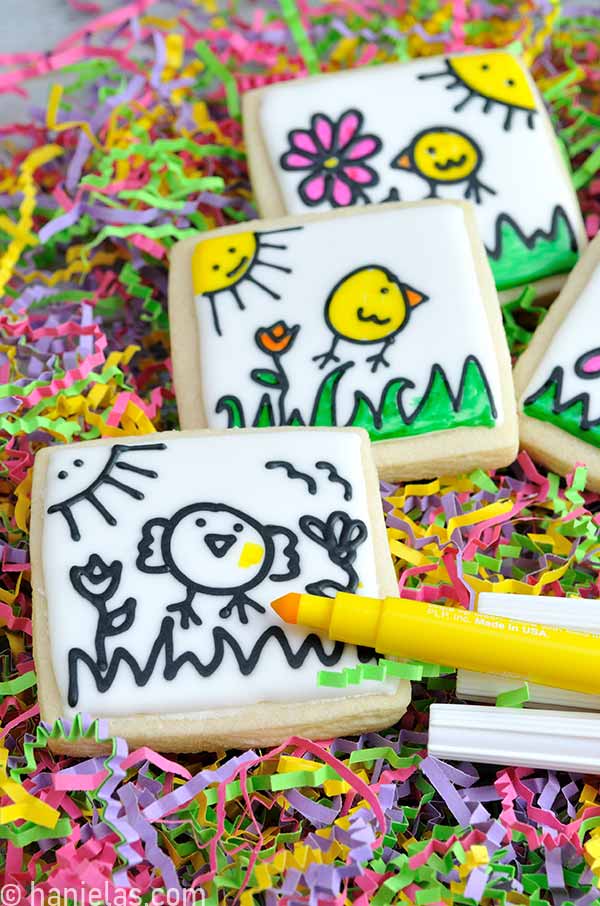 For Easter chicks coloring pages cookies I used:
15-second consistency white icing for the base.
And 10-second consistency black icing for the outlines. 10-second consistency icing sinks into the white base quickly, without a problem.
If you find 10-second icing is coming out of the piping bag too quickly, you can also use 15-second consistency. Just be sure to pipe black outlines quickly, so the dark lines sink into the white icing properly.
Flood the Cookies
Outline and flood the cookies with 15-second consistency royal icing. Use a scribe to smooth the icing (steps 1-8). Don't let the icing crust. Work with one cookie at a time.
Piping Easter Chicks Designs with Black Royal Icing
I suggest you draw your designs onto a piece of paper first.
If you watch the video from 2014 you'll see I used sandwich bags to decorate these cookies. I use tipless piping bags now.
Make the opening on the piping bag small.
When doing wet-on-wet piping like this, it's better to have a small opening on a piping bag. The line you pipe with dark icing onto the wet white base will spread a little as it sinks. So, if your opening on the piping bag is too big icing will come out fast and your lines will be thick.
Work with one cookie at a time.
Let the icing dry overnight before coloring cookies with edible markers.
TIP: Don't put too much pressure onto the piping bag when piping the grass, chick, rainbow, flowers, sun.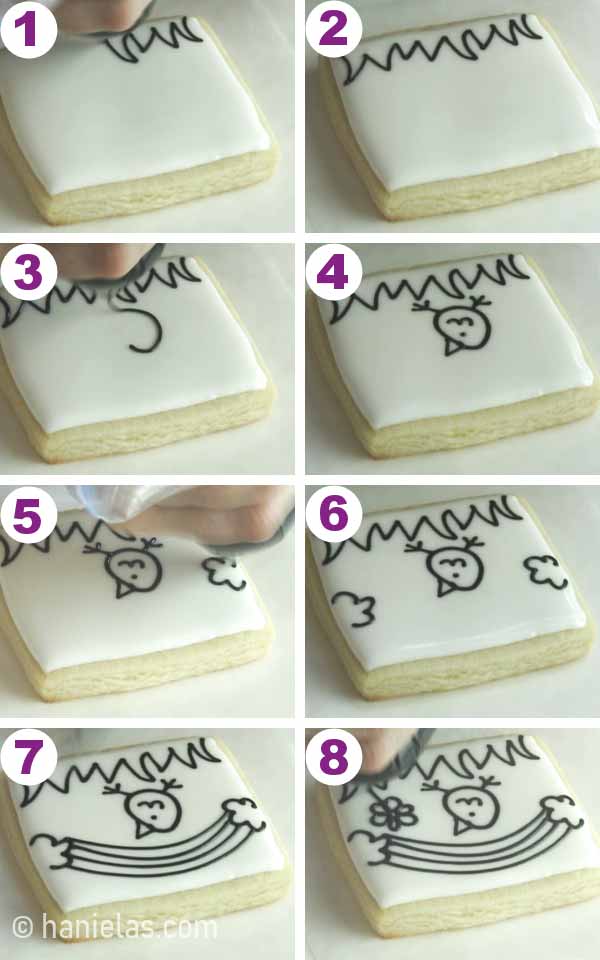 Create several coloring pages designs. Try to keep your designs simple.
I created several similar designs, using chicks, flowers, rainbows, and grass outlines.
Decorate with Food Coloring Markers
Before drawing on cookies decorated with royal icing, you need to let the icing dry. It's best to let it dry overnight.
There are many different edible markers on the market (step 1). For royal icing surface coloring like I'm doing today I like to use FooDoodlers and Americolor brand markers.
Americolor brand markers (step 2)- these have a paintbrush-like tip and provide good coverage quickly.
FooDoodlers – thick tip markers, they also provide great coverage (step 3).
Color inside of the shapes you piped with black icing.
Packaging
Allow colored areas to dry. If the colored area feels a bit tacky, dust the surface of the icing lightly with a little bit of corn starch. Use a fat round food-only paintbrush. Package cookies as usual.
To Make Easter Chicks Coloring Pages Cookies You Need
RECIPES
TOOLS
Shop all the supplies in my Amazon Shop
Square Cookie Cutter
Edible Markers: Americolor Brand, FooDoodlers Thick Markers
Scribe
Concentrated Gel Food Color: Super Black by Americolor Brand
This post was originally published on March 26th, 2014. On March 21th, 2022 I updated this post with new step-by-step pictures and written text.