These royal icing decorated Witch Hat Cookies are the perfect addition to your Halloween party dessert spread. Let me show you how to make them.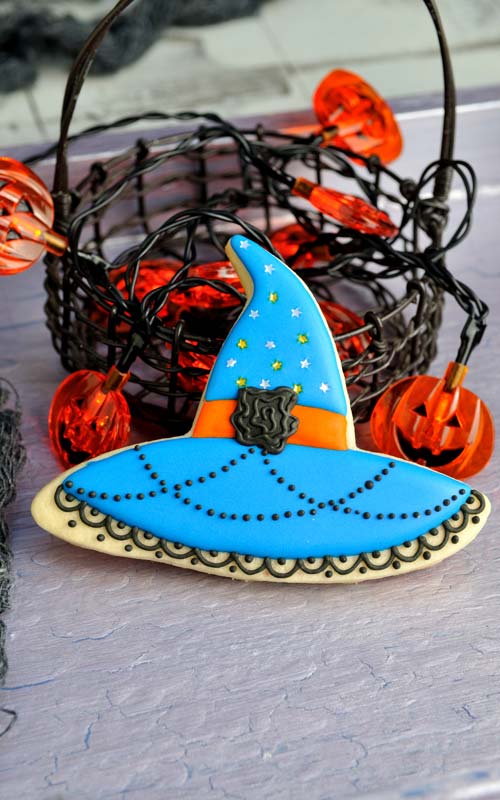 JUMP TO VIDEO |JUMP TO RECIPES AND TOOLS | PIN IT for later
Updated post from 2014.
HOW TO MAKE DECORATED WITCH HAT COOKIES FOR HALLOWEEN
To make these cute decorated Witch Hat Cookies I used my Cut-Out Sugar Cookies and Fresh Lemon Royal Icing to decorate. And to cut out cookies I found this Witch Hat Cookie Cutter. If you are in need of delicious Vegan or Gluten Free Cut-Out Cookie Recipes you can find both recipes in my Cut-Out Cookie Recipe Collection.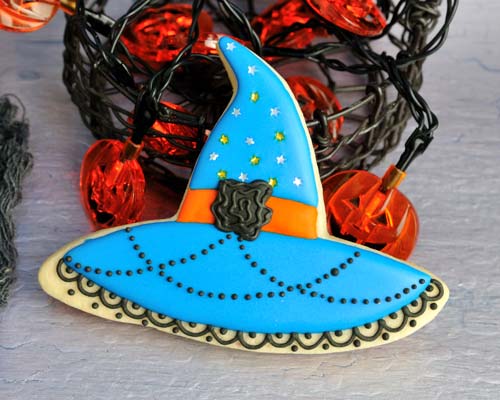 Let's get started with today's Halloween Witch Hat Cookie Decorating Tutorial.
ROYAL ICING COLORS AND CONSISTENCIES :
Blue, Orange – 15 second consistency, to make blue I used Royal blue and Sky Blue gel color
Black – 20 to 25 second consistency
DECORATING STEPS :
With blue royal icing (15sec) outline and flood the bottom of the hat cookie, brim section. Leaving about 2/8 of an inch of a cookie undecorated, see the section at the very bottom. I will be piping black lace on this section later on. Use a needle tool to smooth the icing.
In the next step outline and flood the top of the hat, crown section. Be sure to leave about 2/8 to 3/8 of an inch gap between the brim and the crown sections.
SILVER AND GOLD SPRINKLES
While blue icing is wet use Silver and Gold Star Sprinkles and apply them onto the icing. If you haven't used these types of sprinkles before there are 2 ways you decorate a cookie with them.
You can either carefully shake them out of the container so they fall randomly onto the icing. Or you can use a needle tool to clasp one star at a time. And one by one place them onto the icing. To make sure that star sticks to the needle tool or a toothpick you need to press on it. After this step let the icing crust for about 20 minutes.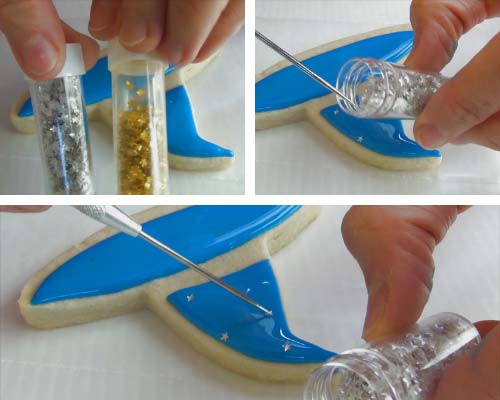 With orange icing (15sec) outline and flood the middle, band section. Use a needle tool to smooth out the icing and accentuate the corners.
PIPING BLACK LACE
With black icing (25sec) pipe a scalloped edge on the bottom of the hat, brim section. Be sure to cut the opening on a piping bag small, or use round piping tip #1.
If this is your first time making fine lines with royal icing I would recommend that you practice a little bit before you pipe directly on the cookies. You can use my Royal Icing Practice Sheets.
After you pipe the scalloped edge then pipe small dots into each scalloped section and also under the scalloped edge. Finish by piping dotted lines across the brim.
HAT BAND DECORATION – HOW TO MAKE A SIMPLE FLAT ROSE FLOWER WITH ROYAL ICING
Instead of a buckle I decided to make a rose flower. To make the flower first pipe an uneven circular shape on the hat band with black icing (20sec). Let it crust and then with black icing (25sec) pipe a spiral wiggly line. Starting in the middle of a black irregular circular shape and finishing on the edge.
TO MAKE HALLOWEEN WITCH HAT COOKIES YOU NEED
MORE HALLOWEEN WITCH INSPIRED TREATS :
PIN IT for later
I updated this post from 2014 with new step by step photos, written text and a video.
This post containsThis post contains Amazon affiliate links that earn me a small commission, at no cost to you. I only recommend products that I use and love. Learn more about my affiliate policy here.