Dragon Fruit is a colorful tropical fruit of a unique climbing vine cactus. Inspired by its striking exterior I decided to make decorated Dragon Fruit Cookies.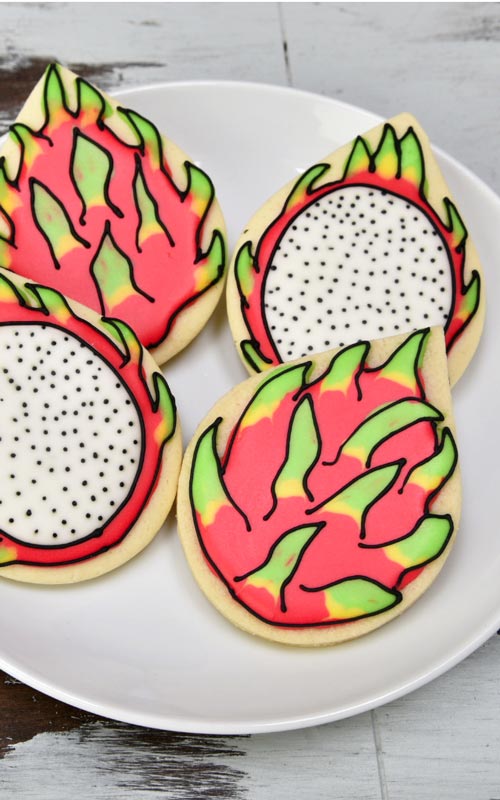 JUMP TO TUTORIAL | PIN IT for later
I have to admit I became a little obsessed with this exotic juicy fruit. Pitaya or Pitahaya is believed to be native to Central and South America.
And if lived in a warmer climate I'd try growing it myself. It's suppose to be fairly easy to propagate from cuttings. What fascinates me is the way how it grows on long green stems that can grow up to 33 feet. And color of flesh is not limited to just white. It can also grow red or magenta.
COOKIE CUTTER
For today's tutorial I used a Tear Drop Cookie Cutter. It works great for the fruit's shape.
TO MAKE DECORATED DRAGON FRUIT COOKIES YOU NEED
MORE FOOD INSPIRED DECORATED COOKIES :
Yield: 15
Decorated Dragon Fruit Cookies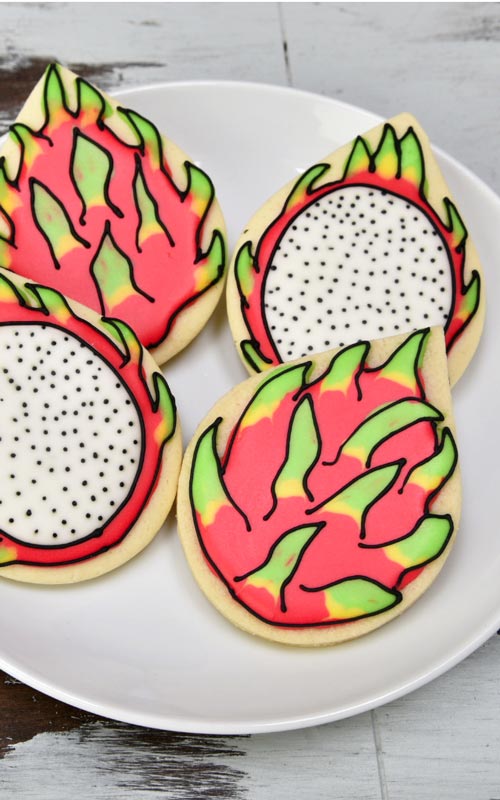 How to decorate Dragon Fruit Cookies with royal icing
Total Time
7 hours
25 minutes
Materials
Sugar Cookies (my recipes makes 15 cookies)
Royal Icing
Pinkish Red, Yellow, Green, White, Black - 15 second consistency
Black - piping consistency - to pipe outlines
Tools
Cookie Cutter : Tear Shape Cutter
Needle Tool
Piping Bags
Edible Marker
Food Colors : pink, red, yellow, green, black
Instructions
First design shows the fruit from the outside. If needed draw a guide outline on a cookies. With pinkish red 15 second consistency outline an flood the cookie. Use a needle tool to distribute the icing.
Immediately after pipe green and yellow sections with 15 second consistency royal icing.
With a needle tool shape green sections/scales accentuating the points. Then shape the bottom of the scale on both sides, running a needle tool through green, yellow into the pinkish red icing. Let icing dry.
Then outline scales with black piping consistency royal icing.
Second design shows fruit cut in half and what it looks like inside. With edible marker trace the oval shape on a cookie. Flood the section with white 15 second consistency royal icing. Using wet on wet technique pipe small polka dots with black 15 second consistency icing. Let crust.
After use pinkish red 15 second consistency to create the border around the white oval. Using wet on wet technique pipe the spikes. With green and yellow 15 second consistency pipe the scales. Shape scales with a needle tool. Let dry.
Outline inside white oval and scales with black piping consistency royal icing. Let dry.
Notes
RECIPES
Sugar Cookies (makes about 15 cookies, 1/4 inch thick)
Fresh Lemon Royal Icing
Vegan Royal Icing
Check the Recipe and Tools Section for all recipes and tools used in this tutorial
PIN IT for later
I updated this post from 2016 with step by step picture tutorial, written text and a video.
This post contains Amazon affiliate links that earn me a small commission, at no cost to you. I only recommend products that I use and love. Learn more about my affiliate policy here.