Cookie Decorating Tools[Updated]
Do you want to make decorated cookies but don't know what cookie decorating tools you need to get started? I put together an ultimate list of Cookie Decorating Tools I use to make decorated cookies.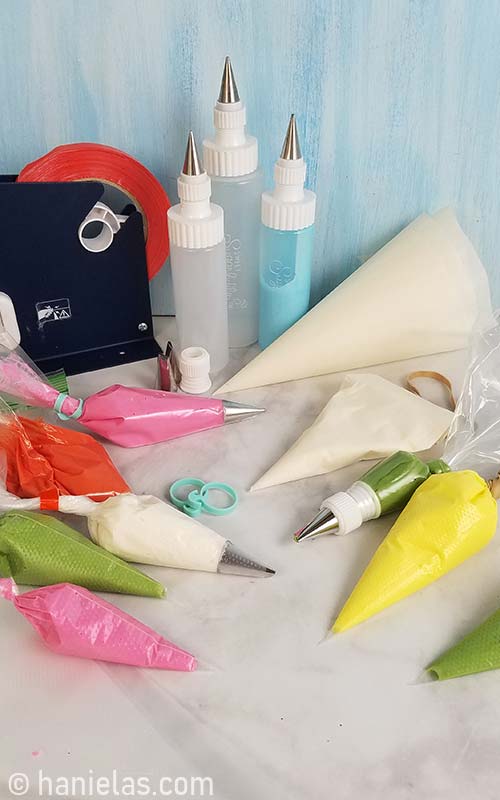 updated post from 2013
ULTIMATE GUIDE TO COOKIE DECORATING TOOLS
To make simple decorated cookies you really don't need a whole arsenal of cookie decorating tools. When I first started my cookie decorating journey 12 years ago all I had were piping bag/sandwich bags, toothpicks, food colors handful of cookie cutters.
And so, if you're just starting out with cookie decorating no need to get it all at once. Check out my favorite BASIC COOKIE DECORATING TOOLS.
1. CUT OUT COOKIES RECIPES
Let's start with cut out cookies. To make decorated cookies you need to make cookies for decorating. Use your trusted recipe for roll out cookies. Here are some of my favorites :
2. ROLLING GUIDES
With decorated cookies it's important that cookies are of even thickness. To ensure even thickness throughout use rolling guides. you need to use rolling guides to roll your cookie dough.
HOW THICK DO YOU ROLL OUT YOUR COOKIES?
Generally I roll out cookies for decorating to about ¼ inch thick.
TIP : Make your own rolling guides. You'll need 4 (depending on the thickness) never used standard size paint sticks. Glue 2 never used paint sticks together ( guide should be about ¼ inch thick). Wrap it in a cling wrap and you are ready to go. Place one guide on each side of the cookie dough and roll the rolling pin on top of the guides while pressing onto the cookie dough placed between the guides.
3. COOKIE CUTTERS
Cookie cutters can be made from bare metal, coated metal or plastic. Look for cutters with a sharp cutting edge. This will ensure that you can easily and cleanly cut rolled out cookie dough into desired shapes.
HOW DO YOU STORE COOKIE CUTTERS?
I store all my cutters categorized in plastic bins either food grade silica gel packets or raw rice. Both can absorbing moisture, keeping rusting of metal cutters at bay.
WHAT ARE YOUR FAVORITE COOKIE CUTTER SHAPES?
4. COOKIE DECORATING ICING RECIPES
To decorate cookies you can use number of icing mediums from royal icing, glaze, buttercream, fondant, modeling chocolate and even chocolate (Chocolate Lace Cookies).
WHAT ROYAL ICING RECIPE DO YOU USE?
I like to use Fresh Lemon Royal Icing (meringue based). Learn more about Royal Icing.
5. PIPING TOOLS
To pipe royal icing onto cookies you need piping tools.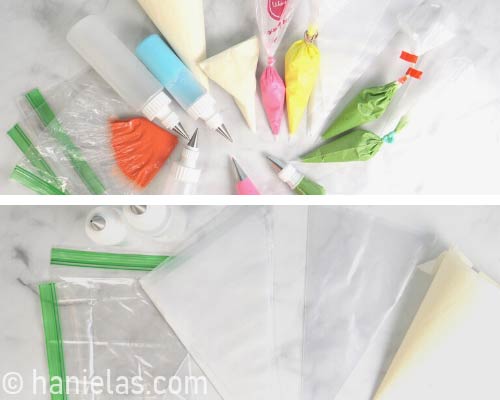 To pipe icing onto cookies you can use :
1. Sandwich Bags
2. Parchment Bags
3. Thick Plastic Piping Bags
4-5.Disposable/Tipless
6. Icing Bottles
SANDWICH BAGS
You don't need fancy cookie decorating tools to make royal icing decorated cookies. Years ago I started decorating with sandwich bags. Sandwich bags cheap and they are available at most grocery stores. I don't recommend using these with piping tips.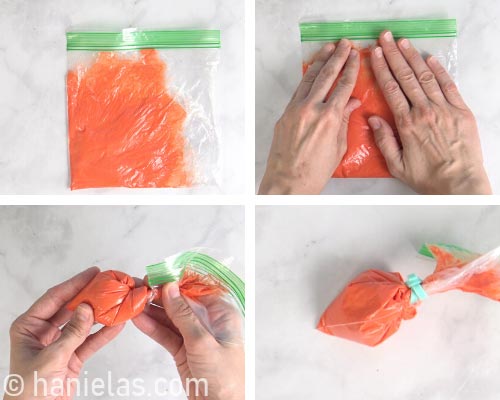 PARCHMENT PIPING BAGS
Another option are parchment piping bags. They can be easily made at home from a parchment paper. They are not as durable as plastic piping bags. And they are also not as convenient as plastic bags but are more eco-friendly. They can be used with a piping tip or without. Don't use parchment piping bags to store royal icing, icing dries out.
THICK PLASTIC PIPING BAGS
For many years thick plastic piping bags have been the most popular choice for cookie decorating. They are very durable and can be rewashed many times. However with these bags you also need to use a piping tip.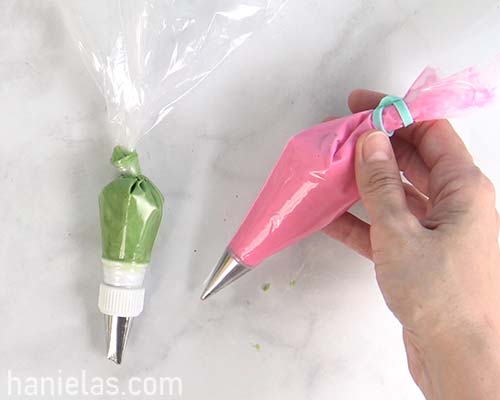 DISPOSABLE PIPING BAGS
In the recent years disposable/tipless piping bags have been come increasingly popular among cookie decorators. They can be used without and also with a piping tip.
This type of bags can vary in quality. Sometimes bags are very thin and can burst easily. Or they have an undesirable seam flap. Be sure to purchase them from a trusted source. I list shops that sell good quality tipless bag at the bottom of this post.
Thicker ones are nearly as durable as traditional plastic piping bags. They can be washed and re-used.
TIP : If you plan on using disposable piping bags without a piping tip it is important that bag doesn't have a flap at the seam. If using with a piping tip flap doesn't matter.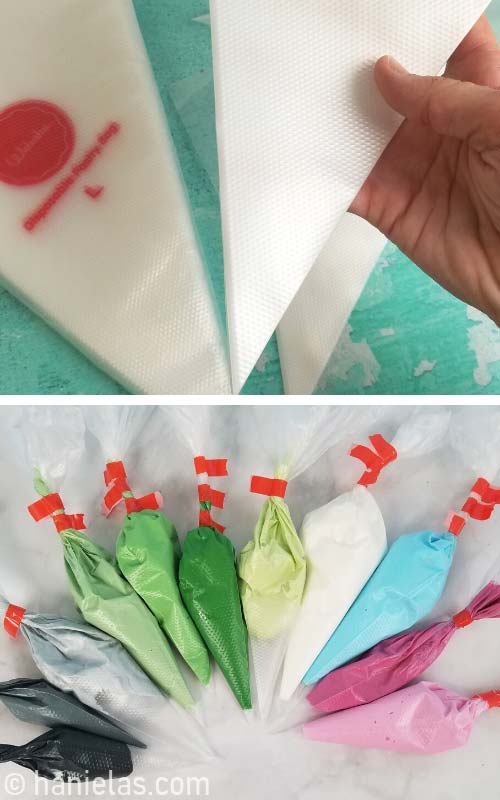 COOKIE DECORATING ICING/PIPING BOTTLES
Some decorators prefer to use Icing Bottles to decorate cookies. To use an icing bottle you need to use a coupler and a piping tip. Mike from Semi Sweet uses piping bottles to decorate. I personally don't have a lot of experience using bottles. I was told that piping with bottles puts less pressure on wrists.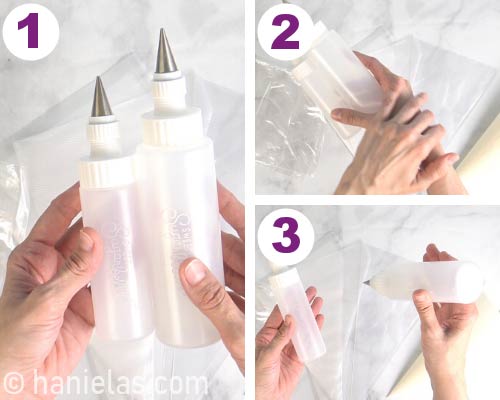 6. HOW TO CLOSE A PIPING BAG
Most commonly you can use rubber bands, piping bag rubber ties, piping bag clips or a tape sealer. And if the piping bag is long enough you can simply tie a knot and trim the excess bag.
WHAT IS YOUR FAVORITE WAY TO CLOSE A PIPING BAG?
I've been using all the methods above, however it became a habit of mine to just tie a knot. And in the recent years I also started to use a tape sealer. And I love it.
Tape Sealer is a handy gadget that can be used to close the piping bag and other poly bags, too.
TIP : I like using a tape sealer because it's fast and I can differentiate consistencies using stripes. For example, in the picture below white icing in the piping bags ranges from thick to flood (from left to right). Number of stripes indicates fluidity of icing. More stripes more fluid the icing. In this case icing with 3 stripes is the flood icing, 15 second consistency royal icing.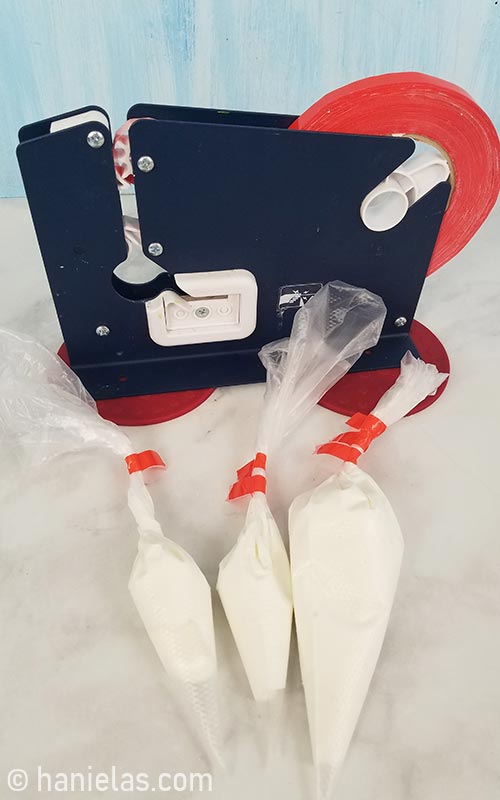 7. HOW TO USE A TAPE SEALER TO SEAL A PIPING BAG
Fill a piping bag with royal icing. Push royal icing down into the piping bag, (step 1-3). Then twist the end well, (step 4). Thread the twisted part of the piping bag through the tape sealer gadget. Trim the bag if needed using a blade at the bottom of the tape sealer.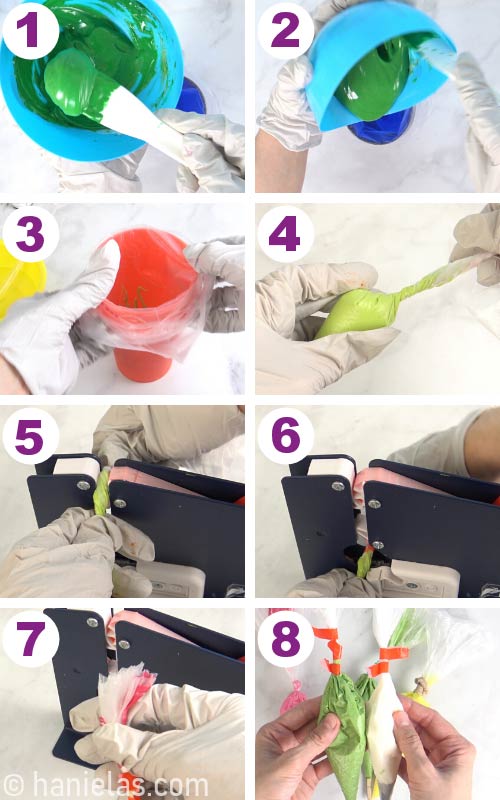 8. CONCENTRATED FOOD COLORS
To color icing or cookie dough use concentrated gel or powder food colors. Avoid using liquid food coloring.
Here are the brands I use :
Americolor – I primarily use Americolor
Chefmaster
Wilton
Progel
Master Elite
HOW TO REMOVE FOOD COLOR STAINS FROM MY HANDS?
Use an old fashion shaving cream (barbasol). It helps to lift the food color stains from the skin.
TIP : Wear gloves to protect your hands from getting stained with food colors.
9. MIXING SPATULA, SPREADERS AND TEXTURE TOOLS
I spend a good amount of time mixing royal icing colors. Having a good mixing spatulas is super important.
MIXING SPATULAS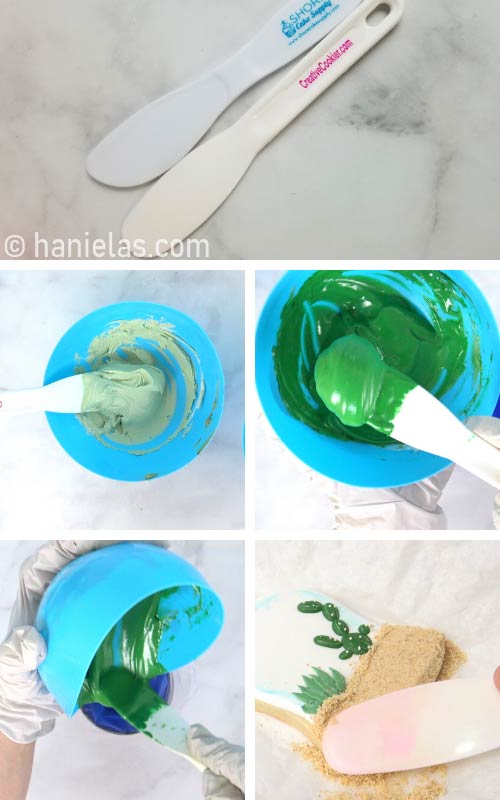 DECORATING SPATULAS, ICING COMBS, TEXTURE TOOLS
Piping tips are not the only tools you can use to shape royal icing. You can use spatulas, toothbrush, icing combs, toothpicks and even a fork to create textured royal icing. Use thick icing to create textured designs.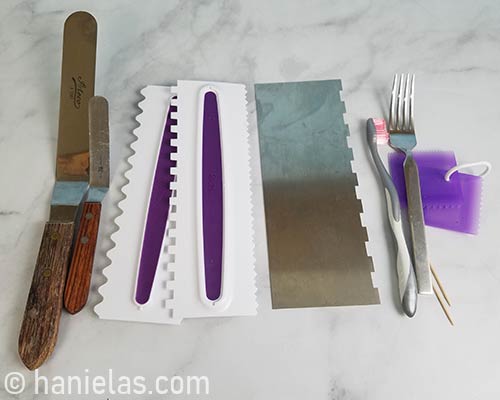 FLEXIBLE ICING SPREADERS
These flexible spreaders are great for applying thin layer of royal icing onto cookies. And I also like to use them when I stencil with royal icing.
10. MIXING BOWLS
Mixing bowls are an essential part of cookie decorating preparation. Red bowls pictures bellow are flexible and are one of my favorites to use. I purchased them at Dollar Store.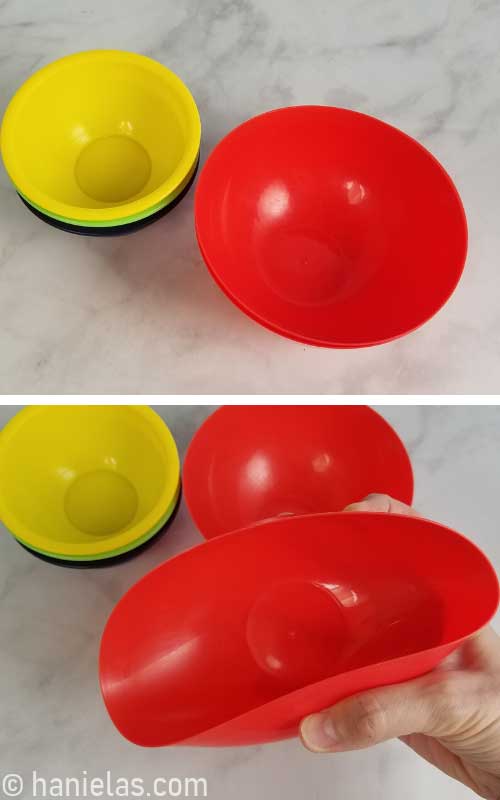 I use bowls to mix royal icing into different colors.
11. SPRAY BOTTLE/DROPPER
To create smooth royal icing finish we have to thin stiff royal icing with room temperature water to fluid/flood consistency. Then icing is piped onto a cookie and smoothed out with a scribe tool.
When adding water to royal icing it's very easy to add too much water if you are using a spoon. It's best to use tools that allow you to control the amount of water you are adding to icing. Use a spray bottle or a dropper.
LEARN MORE ABOUT ROYAL ICING CONSISTENCY
TIP : Use a spray bottle or a dropper to effectively control the amount of water added to royal icing.
12. PIPING TIPS AND COUPLERS
Despite having tipless piping bags that don't require a piping tip a lot of decorators still prefer to use small round piping tips to flood cookies and to pipe small details on cookies.
WHAT SIZE PIPING TIPS ARE GOOD FOR COOKIE DECORATING?
My personal favorites are #4, #3, #2 #1.5 #1
Round Piping Tips #4 and #3 can be used to outline and flood larger areas, like gingerbread house panels (7-8 inch cookies for example).
Piping Tips #2 and #3 can be used to outline and flood the cookies of medium size cookies (about 3 inch)
Round Piping Tips #2 – #1 – these are great for adding small piped details. Most popular is 1.5 PME tip. It's also great for writing letters on cookies.
Round Piping Tip #0- #00 – these are used for very fine details
TIP : Larger the piping tip more icing comes out. Thicker the icing more pressure you need to apply onto a piping bag for the icing to come out. Thinner the icing easier it come out thru the piping tip.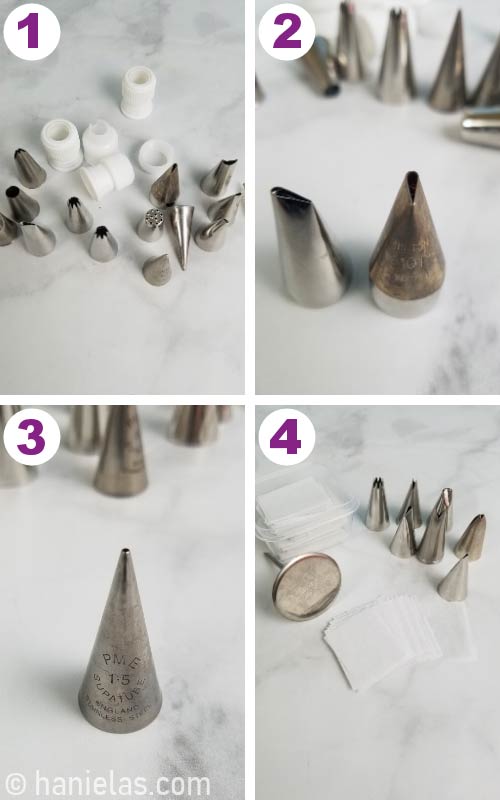 SPECIALTY PIPING TIPS
Specialty tips include, for example, petal tips, star tips, leaf tips. These can be used to create piped flowers, leaves and other decorations. For example these Royal Icing Succulents.
COUPLERS
Coupler consist of 2 parts. Why would want to use a coupler? Coupler allows you to change a piping tip on a piping bag without having to empty a piping bag.
HOW ARE PIPING TIPS USED?
Piping tips can be used to pipe directly onto cookies. Or you can use a flower nail and pipe beautiful roses and other flowers. Flowers are then left to dry and stored for later used. Royal icing decoration can be prepared days, weeks even month in advance. Learn more about different types of Royal Icing Transfers and how to use them in cookie decorating.
13. PIPING TIP COVERS
To prevent royal icing from leaking out of the bag and/or drying out in a piping tip it's best to cover the piping tip.
To close the tip on a disposable piping bag you can use small clothespins or specialty piping bag tip clips.
When using a piping tip you can utilize plastic piping tip covers or wrap the tips in a plastic food wrap. Alternatively you can cover tips with a damp kitchen towel/paper towel.
14. SCRIBE NEEDLE TOOLS
Scribes are essential cookie decorating tools. There are different types of scribes. Most popular is PME Scribe Needle Tool and Boo Boo Stick (yellow and pink tool).
Toothpick/Skewers – this is a very basic tool you can use to distribute flood icing. Icing tends to cling to a toothpick little more than it does to smooth scribe needles.
Boo-Boo Stick (Cookie Scraper) – pink and yellow tool has 2 purposes. Pointy side can be used to distribute the icing and a flat side can be used to scrape off icing or pick up small amount of dry decorating dusts out of the bottle.
Scribe Needle Tools – tools with a metal needle with a sharp point, these tools come with different level of sharpness.
Turkey Lacers
Custom Scribe Tools with fashionable beads
Scribe tools can be used for number of things.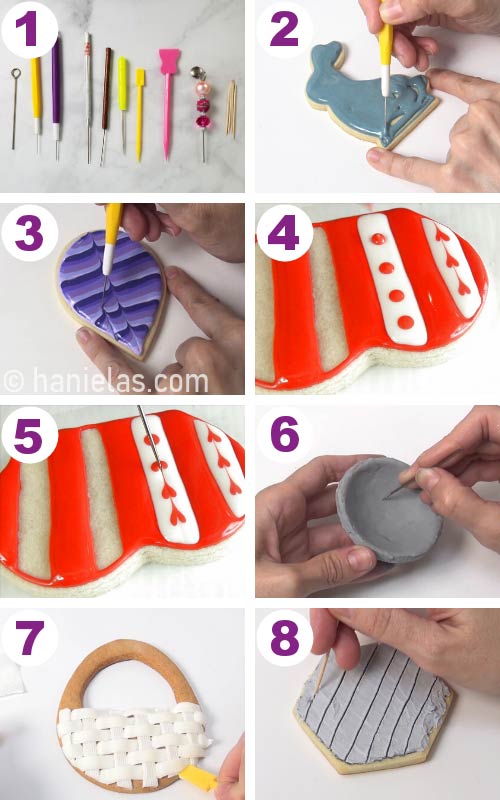 I use a toothpick to pick up small amount of food coloring.
15. PARCHMENT, WAX PAPER FOOD WRAP, ACETATE
Wax paper, parchment paper, acetate sheets and cling wrap (food wrap) are also used in cookie decorating.
Wax Paper – use to cover your work surface, royal icing transfers, design testing
Parchment Paper – cover and protect your surface, royal icing transfers, piping bags, baking
Acetate Sheets – royal icing transfers
Food Wrap – use it to layer royal icing and make pouches/royal icing bullets
WAX PAPER AND PARCHMENT PAPER
Use parchment or wax paper to test your designs.
Cut parchment or wax paper into squares. Use it with a flower nail to make piped flowers.
FOOD WRAP
Layer colored royal icing onto food wrap. Make a pouch/bulett.
Trim one end of the pouch and insert pouch into a piping bag fitted with a piping tip. Use a flower nail and pipe royal icing decorations onto a wax/parchment paper square. Allow to dry. Remove from the wax paper.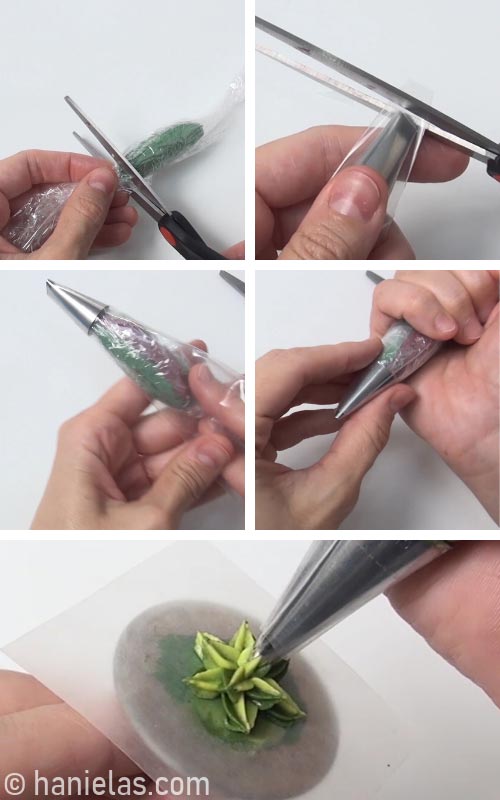 16. PAINT BRUSHES
Paint brushes can be used for :
Brushed Embroidery
Creating Textured Royal Icing
Brushing Icing onto cookies
Applying dry dusts onto cookies and royal icing
Painting with edible paints and luster dusts
TIP : Never paint on cookies with paint brushes previously used with oil, acrylic paints.
Use a paint palette to hold edible paint or mixed edible dusts' paint.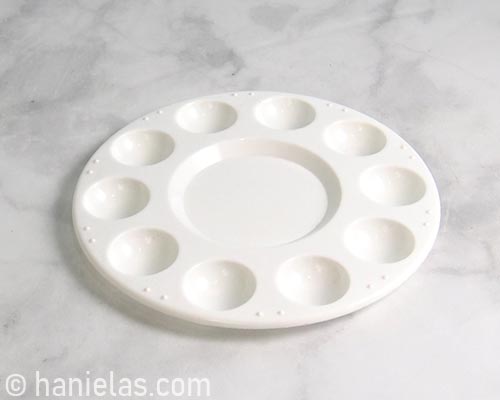 17. EDIBLE MARKERS
Edible markers are specialty markers designed to be used in food applications. Pens are filled with food ink. They can be used do draw on cookies, royal icing, marshmallows, frosting sheets.
Use edible markers to :
To trace outlines onto cookies
Draw on dry royal icing to make outlines or designs.
To trace outlines onto cookies I prefer to use brown, or yellow marker. If I don't have brown or yellow marker I then use a black one.
WHAT EDIBLE MARKERS DO YOU USE?
I use FooDoodlers, Rainbow Dust and on occasion Americolor Brand Markers.
HOW LONG DO EDIBLE MARKERS LAST?
Edible markers when stored properly can last for years. I've had some for several years.
HOW SHOULD I STORE EDIBLE MARKERS?
Store markers upside down.
WHERE CAN I GET AN EDIBLE MAKER WITH A FINE TIP?
This dual tip edible marker is made by Rainbow Dust.
18. TWEEZERS
Tweezers are great for handling small decorations. I use them to apply small decorations onto cookies, for example pearls.
19. TEMPLATES AND STENCILS
To make templates and stencils you can use cardstock, thick plastic and stencil sheets (mylar, 6MIL or 4MIL).
I use cardstock and plastic sheets to make :
Cookie Cutter Templates
Cookie Decorating Templates and Guides
Stencils
COOKIE CUTTER TEMPLATES
COOKIE DECORATING TEMPLATES AND GUIDES
STENCILS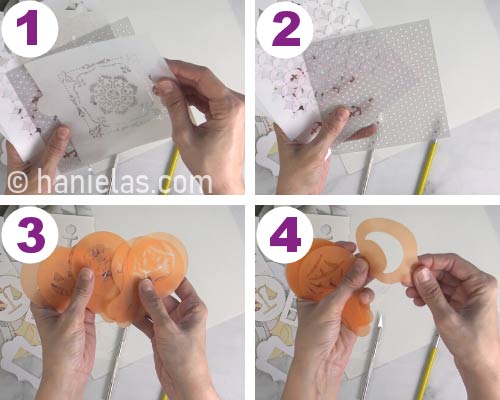 20. STENCIL HOLDERS
There are several stencil holders on the market (Stencil Genie, Sweet Stencil Holder). And the one below is Sugarbelle Stencil Holder.
If you don't have a stencil holder you can also utilize magnets to hold the stencil in place.
TIP : Thickness of bottom magnets should be about the same as the thickness of the cookie you are airbrushing.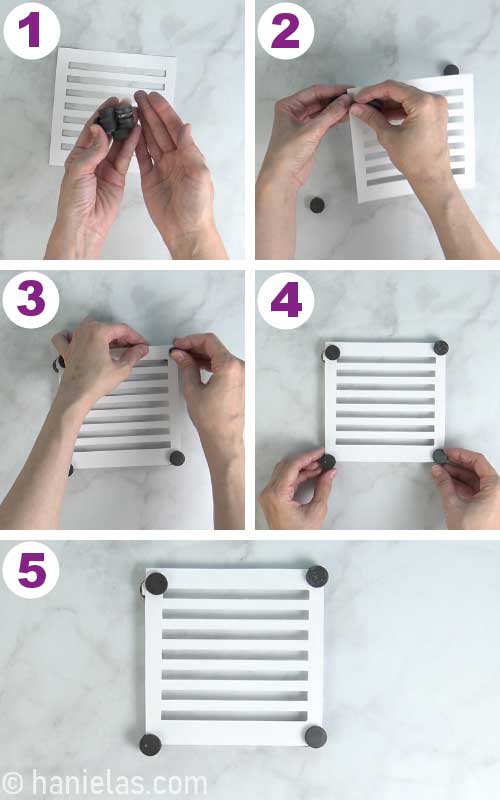 21. AIRBRUSHING
Airbrushing in an effecting way to create designs on cookies without excessive amount of work. If you don't own an airbrush you can also use color mists. These are sprays that can used in place on an airbrush. However airbrush gun is more precise than a mist spray.
To airbrush cookies you can use :
Airbrush- with airbrush colors
Mist Spray
Use specialty airbrush colors with your airbrush.
Metallic airbrush colors contain metallic particles that can often clog up airbrush gun. Also, these particles, over period of time settle at the bottom of the bottle. Use a skewer to stir the metallic color to ensure color is homogeneous.
It also helps to add several drops of Everclear alcohol. Shake well to mix before feeding color to the airbrush gun. This helps to prevent clogging of the airbrush gun.
HOW TO TAKE APART AND CLEAN AN AIRBRUSH ?
22. COOKIE TURNTABLE SWIVEL FOR COOKIE DECORATING
Instead of turning a cookie with your hand you can use a piece of parchment/wax paper underneath of the cookie. Or use more sophisticated swivel turntable to turn the cookie while decorating.
23. PETAL DUST, LUSTER DUST, JEWEL DUST
Petal Dust, Luster Dust, Jewel Dust and other edible powders can be used to add shimmer, shading and subtle color to royal icing applications.
To apply dry dust onto royal icing food only brushes or specialty dust pumps can be used.
Petal Dust – use it for example, as blush on checks, shading on royal icing, fondant, modeling chocolate decorations
Luster Dust – can be used in dry from or mixed with alcohol to pain royal icing, add shine and metallic look to royal icing
Jewel Dust – adds lustrous shimmer to royal icing
24. SPRINKLES
Sprinkles are great way to add some flare to cookie designs.
To decorate use :
Store bought sprinkles
Homemade Sprinkles
Don't have a certain color of sprinkles? Make your own sprinkles at home.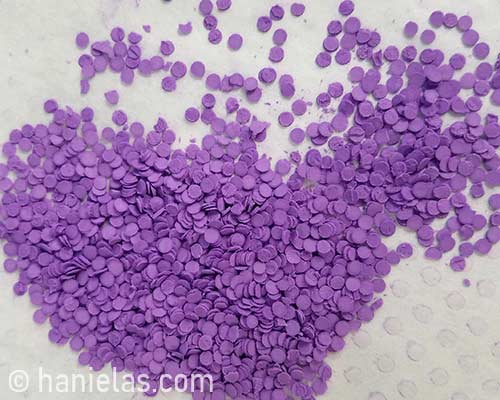 25. ROYAL ICING TRANSFERS
These are sugar decorations made from royal icing.
ULTIMATE GUIDE TO ROYAL ICING TRANSFERS.
26. COOKIE SAND, MOSS, DIRT
Sand – use tea cookies, graham crackers or other pale colored cookies
Moss – How to make Cookie Moss
Dirt – use chocolate cookies
27. WAFER PAPER/FROSTING SHEETS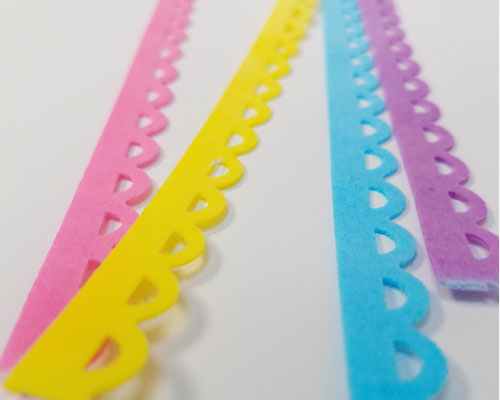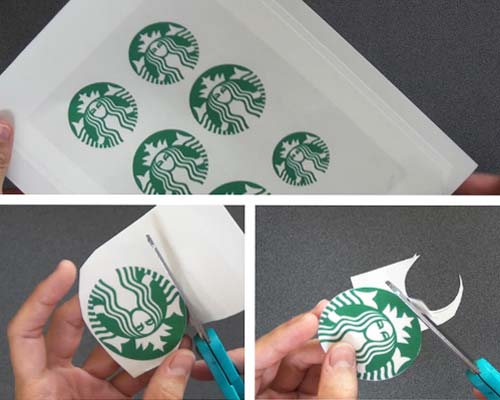 28. ISOMALT
Isomalt is a sugar substitute. Melt the nibs and use melted isomalt to create window panes, sugar waves, pinata cookies and even Sugar Diamonds.
29. PROJECTOR
Projector is a small hardware device. It projects designs directly onto your cookies. I personally don't use a projector. If you are interested in getting and using a Projector check out how to use a PICO projector.
BASIC COOKIE DECORATING TOOLS
Rolling Guides
Disposable Piping Bags
Scribe Needle Tool / Boo Boo Stick
Cookie Cutters or Templates
Food Colors
Spatulas & Bowls
Spray Bottle or a Dropper
Paint Brushes
Edible Markers
Piping Tips & Couplers
Wax paper, Parchment, Food Wrap
WHERE TO GET COOKIE DECORATING TOOLS AND SUPPLIES
This post was originally published on December 5th, 2013. On April 22nd, 2020 I updated this post with new photos and written text.
This post contains Amazon affiliate links that earn me a small commission, at no cost to you. I only recommend products that I use and love. Learn more about my affiliate policy here.