Coral, Green and Ivory Birthday Cookies
These cookies were made for an amazing Christine from
GiggleBees
. You can find Christine also on FaceBook, so don't hesitate to stop by and say hello.
Christine asked me to make cookies for her mother's Birthday Party this weekend.Colors are coral, green and I added ivory.
I did several designs and today I'm going to show you the first one I did.
Birthday Cookies
Template I used to make Royal Icing Transfers
Technique of applying dry royal icing onto a freshly flooded cookies was first introduced to me by amazing Marlyn from
Montreal Confections
and since then I have used it many times. I find this technique most effective when applying darker color royal icing transfer onto a lighter base of freshly flooded cookie.It also works with delicate lace patterns.
When using royal icing transfers on cookies I have I tried different techniques and I find that you can also successfully apply "almost" dry royal icing transfer (this is a royal icing transfer that has fully developed crust but when you are trying to lift it off the parchment/acetate sheet it is still wet on the bottom, this doesn't work with delicate lace designs)onto a completely dry cookie. I tried applying "almost" dry Royal Icing transfer onto a dry flooded cookies in my
Andy Warhol Dessert Collection
Andy Warhol Inspired Cookies
For the 65th Birthday Cookies I decided to use fully cured royal icing transfers and apply them onto a freshly flooded cookies. It is quite simple, you just have to be extra careful not to break your dry transfers, so for this reason I always make more than I need as I always seems to break some in the process.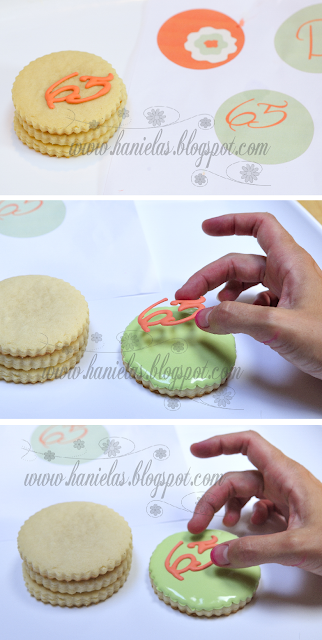 As you can see I decided to position 65 off center. You see this type of a cookie with 65 in the center all the time and I wanted to create a different look, something more modern and not so traditional.
I finished these cookies with a very simple design of a tree with dotted lines for leaves.