Today I'm going show how I make homemade Mini Tart Shells.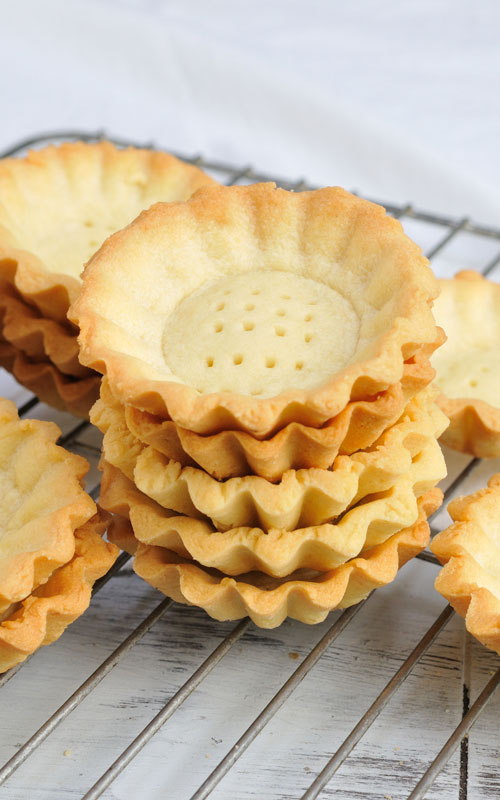 HOW TO MAKE MINI TART SHELLS
I honestly love working with this cookie dough. Not only I use it to make my homemade mini tart shells but I also use it as a base for my my Linzer Cookies. And it is also a perfect recipe for cute Rose icebox cookies or stamping technique.
MINI TART COOKIE DOUGH RECIPE
INGREDIENTS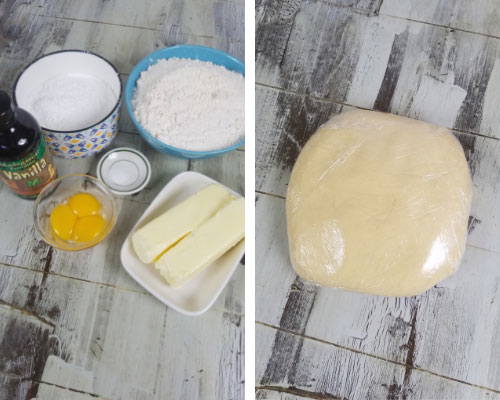 I use unsalted butter at room temperature, powdered sugar, egg yolks and lot so vanilla extract and all purpose flour.
Most tart shell recipes use cold butter I don't.
MIXING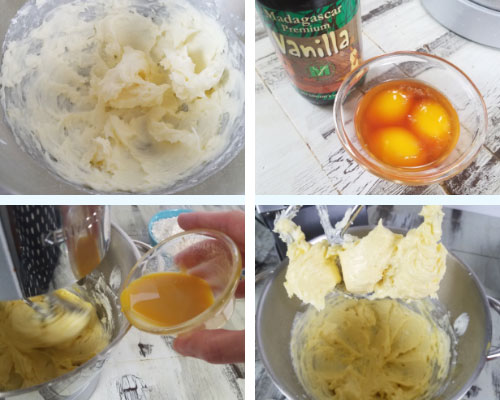 I start by creaming butter and powdered sugar. Then in a small dish I whisk together egg yolks and vanilla. Gradually beat it into the butter.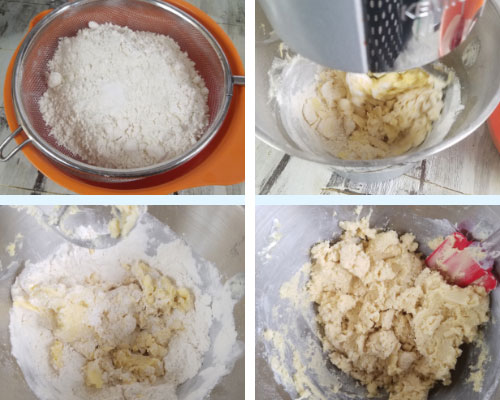 Sift flour and salt and gradually, with the mixer set to low speed mix in the flour. Scrape down the bowl and dump the dough onto a work surface.
Gather dough into a ball. Flatten it into a disk. Wrap the disk into a plastic wrap and chill for 1 to 2 hours.
SHAPING MINI TART SHELLS
I use small metal tart shell molds. Place them on a baking sheet and spray the molds with a nonstick spray. Set aside.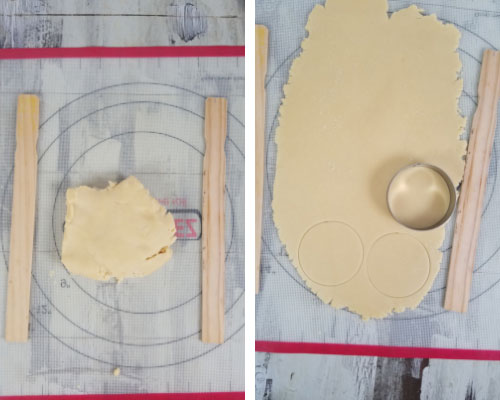 Start by rolling out slightly softened dough to about 1/8 inch thick. My molds are about 2.8-3 inch inch across at the widest opening. I used 3 inch cutter to cut out cookie rounds and an oval shape cutter to cut out oval shapes.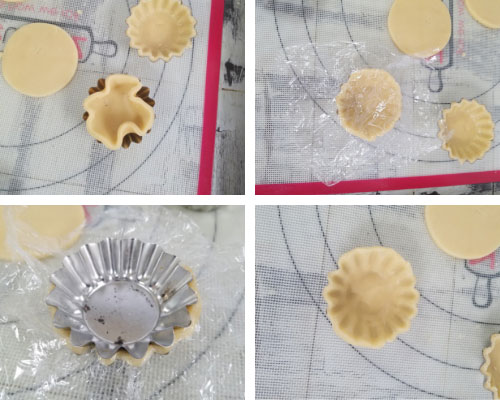 Press each round into the metal mold. First shape it with your fingers and then using a spare tart mold, gently shape the inside.
I like to put a piece of food safe plastic wrap over the bottom mold first. Then gently press in the spare tart mold, aligning the fluted edge with the bottom tart mold edge. Clean up the edges.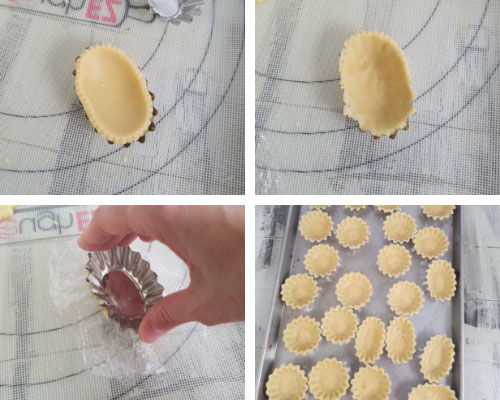 BAKING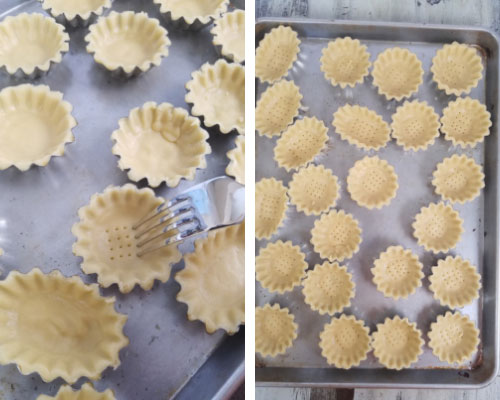 It is important to prick the unbaked shell so it doesn't puff up in the oven. I use 4 prong fork.
Bake the shells in the preheated oven at 350F for 12-14 minutes, until edges are lightly golden brown.
UNMOLDING
Let the baked tart shells cool for 10-15 minutes or little longer before removing them from the molds.
Tap the edge of the mold on your work surface to release the mini tart shell.
STORAGE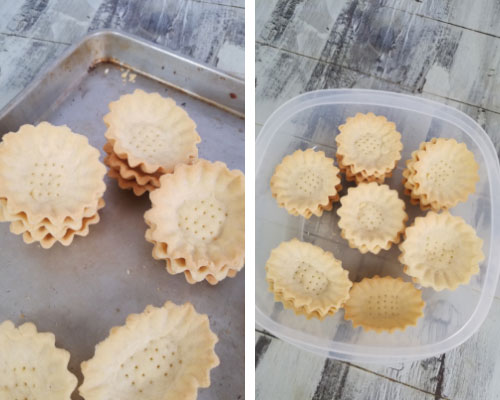 Baked shells can be stored in the fridge for up to a week. You can also freeze them for up to 3 months.
TO MAKE MINI TART SHELLS YOU NEED
RECIPE (below)
TOOLS
Mini Tart Shells Molds
Rolling Guides 1/8 inch – you can pick up paint stick at local hardware store or look at the lumber section for wood rods
Fork
NonStick Spray
HOW TO USE MINI TART SHELLS
Make Mini Lemon Curd or Raspberry Curd Meringue Tarts
Fill the shells with Chocolate Mousse, top it with Whipped Cream
Spoon a Thick Caramel into the shell and pipe Ganache Swirl on the top
Fill them with Pastry Cream or Whipped Cream and top them with fresh fruit.
DELICIOUS TART RECIPE IDEAS :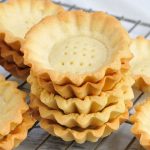 Mini Tart Shells Recipe
Makes about 20-22 mini shells.
Keyword:
homemade tarts, mini tart shells, tart shells
Ingredients
TART SHELLS DOUGH
3

cups

all purpose flour (430 grams)

1/8

tsp

salt

1 1/4

cup

powdered sugar (160 grams)

3

egg yolks

(or use 1 large egg and 1 to 2 tsp milk)

2

tsp

vanilla bean paste or vanilla extract

2

sticks unsalted butter, at room temperature

(226 grams)room temperature butter
Instructions
TART SHELLS COOKIE DOUGH
Sift flour(3 cups/430 grams) and salt(1 /8tsp). Set aside.

In the mixer fitted with a petal attachment beat unsalted, room temperature butter (2 sticks, 226 grams) and powdered sugar (1 cup and 1/4 cup) until smooth. In a small dish whisk together egg yolks (3 egg yolks) and vanilla bean paste or vanilla extract (2 tsp). Gradually beat egg yolk mixture into the creamed butter. Scrape the bowl few times as needed.

On the low speed, gradually add flour mixture to butter mixture. Mix until it starts to come together. If the dough is too crumbly, add 1tsp milk. Do not overwork the dough. Invert the dough onto a clean work surface or into a large bowl and gather dough together with your hands into a ball. Then form the dough into a disk, wrap it in the foil and chill for 1 to 2 hours
SHAPE AND BAKE MINI TART SHELLS
Preheat oven to 350F.

Place mini tart shell molds onto a baking sheet. Spray with a no-stick spray, set aside.

Take out the chilled dough, cut it in half. Let if soften for 5 minutes. Roll it out between 2 sheets of parchment or use Dough EZ Mat. Roll it out using 1/8 inch rolling guides.

Cut out as many rounds as you can. Gather scraps and re-roll. Shape the tarts as shown in the picture tutorial/video. Use a fork to prick the bottom of the shells. Bake at 350F for 12-14 minutes until golden around the edges.

TIP: My mini tart molds are about 3 inches across at the opening. And so I used 3.5 inch cutter to cut out my rounds.

Let cool for 10-15 minutes before removing tarts from the molds. Turn the mold upside down and tap it firmly onto your work surface to release the shell.

Let the tarts cool before adding a filling.
Recipe Notes
CAN I FREEZE MINI TART SHELLS DOUGH?
Wrap dough well in a food wrap and freeze in a ziploc bag for up to 3 months.
CAN BAKED TARTS BE FROZEN FOR LATER?
Absolutely. Freeze baked tarts in a container, not in a ziploc bag. As a matter of fact I always have some in the freezer. They saved many dinner parties. They defrost really quickly and can be filled fast with whipped cream, fruit, custard, ganache etc. 
DO I HAVE TO USE 3 EGG YOLKS ?
I like using 3 egg yolks as it produces really tender dough. However you can get away using just 1 egg and 1 to 2 tsp milk.
PIN IT for later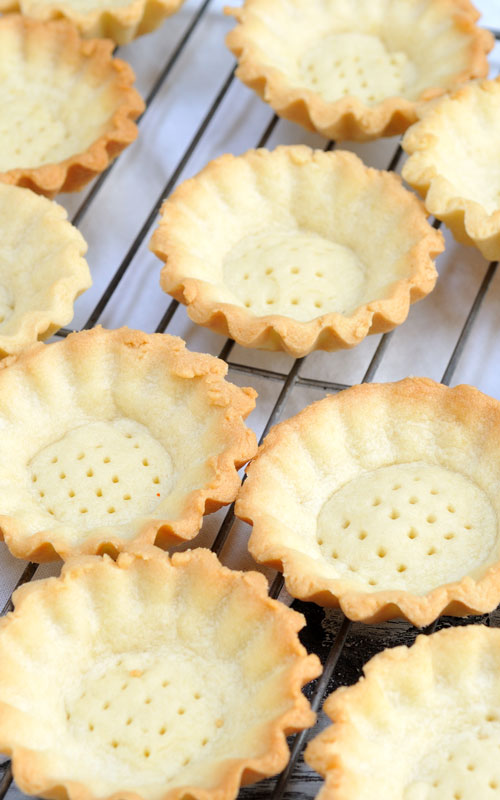 This post contains affiliate links that earn me a small commission, at no cost to you. I only recommend products that I use and love. Learn more about my affiliate policy here.