Have you heard of Royal Icing Transfers but have no idea what they are? Let me show you how to make these candy decorations and how to use them in cookie and cake decorating.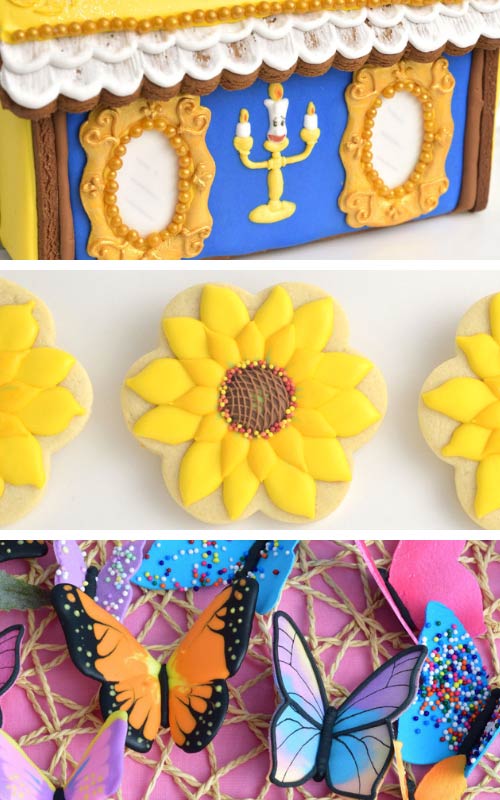 PIN IT for later
HOW TO MAKE ROYAL ICING TRANSFERS
Royal icing transfers are popular among cookie decorators all around the world. In this DIY tutorial I'm going share with you what types of transfers are there. How to make them and use them in variety of real cookies decorating projects. Let's get started.
WHAT ARE ROYAL ICING TRANSFERS (RIT)?
Royal Icing Transfers are edible sugar decorations prepared from royal icing. To put it simply Royal Icing Transfer is basically royal icing that was piped or spread on a piece of wax paper, parchment paper or an acetate sheet, and it was left to dry.
Once royal icing decoration dries it can then be removed from the backing material. Then these sugar decorations can used be used to adorn cookies, cakes, cupcakes and gingerbread houses. They can prepared ahead of time.
WHAT DO YOU NEED TO MAKE ROYAL ICING TRANSFERS
Royal Icing Recipe – avoid using corn syrup as it may cause drying issues
Backing Materials: wax paper, parchment paper, food grade acetate sheet
Templates – these can be printed or hand drawn on a piece of paper
Masking Tape – to secure template and backing sheet in place while you pipe your designs
Flat Drying Surface – you can use a flat tray, flat cardboard, foam board, flat cake cardboard
Sharp blade, spatula – to help release transfer
WAX PAPER, PARCHMENT AND ACETATE
Wax Paper – widely available. This is your cheapest option. From my experience I find that transfers stick to the wax paper slightly more than they do to the parchment. It's also easier to keep it flat. I usually prefer wax paper over parchment.
Parchment Paper – widely available. Not all parchment is the same. When using coated parchment in my experience transfers tend to slide off really easily from the parchment. In some cases this may not be ideal. For example I used a brown parchment to make my butterflies and as soon as I lifted the parchment butterfly wings were sliding off the parchment without me even trying. So be extra careful when using coated parchment. It may also depends on the brand of parchment. I used parchment with light coating on it. Also, parchment on a roll can be difficult to keep completely flat, even with a masking tape.
Food Grade Acetate Sheets – specialty stores. It's more expensive than wax paper or parchment paper. Make sure to use flat sheet as roll is pretty impossible to keep flat. Tip: If you use frosting sheets or sugar sheets (for meringues) backing material is usually an acetate. If possible I always save the frosting sheet backing material. It also works great with chocolate.
SHOULD I USE WAX PAPER, PARCHMENT OR ACETATE SHEET?
When it comes to a backing material you can use wax paper, parchment or acetate sheet. There are few things I've learned over the years that I wanted to share with you first.
Wax Paper/Parchment versus Acetate Sheet
Both wax paper and parchment paper warp when exposed to moisture. Why is this important? When you trace a design with royal icing onto wax/parchment paper moisture from royal icing will cause the paper to buckle slightly.
And as royal icing is drying it conforms to the shape of the backing material used. While there is nothing to worry about when you are making small to medium size decorations. Uneven underside of royal icing transfer can cause some issues when using larger transfers. Especially when they are to lay on top of a flat cookie.
When surface of a transfer is not even when applied on a dry royal icing there will most likely be a gap between the transfer and the surface it is applied on.
Acetate on other hand doesn't absorb moisture from royal icing. And so transfers made with it have a more even underside. Disadvantage of acetate is that it takes longer for transfers to dry. Sometimes a lot longer, over 12 hours and often even more. Drying times can vary, depending on the thickness of the icing and size of the transfer. Acetate is also a bit more expensive and not widely available.
WHAT SHOULD THE CONSISTENCY OF ROYAL ICING BE?
It depends on a royal icing transfer type. It's important to remember that icing that is too fluid spreads fast and icing that is stiff holds its shape. Thin icing also appears to be a bit more fragile when dry. You can learn in detail about Royal Icing Consistency and how to use different consistencies in real decorating projects.
When you are making piped flowers you'll need to use stiff royal icing.
And if you are making eyes you'll need icing with a little bit more fluidity – about 25 second consistency. You can then use wet on wet technique to add black pupil and white reflection dots. Also icing that is fluid dries with a smooth finish.
Avoid using icing that is too runny. It's spread fast and it's difficult to keep it a desired shape. Which is important when making royal icing transfers.
I generally use 20 + consistency for small royal icing transfers. On occasion when making flat transfers I'll use 15 second consistency.
PIPING SUGAR DECORATIONS
If you plan on making lots of small transfers it is best to pipe them in bulk. Place a template on a flat surface that is a bit larger than your template. You can use a flat cardboard (I used a cake board), cut up flat foam board, or a baking sheet. Secure template onto the cardboard with a piece of masking tape. Place a wax paper over the template and secure it on the board with masking tape. Make sure wax paper is flat without creases.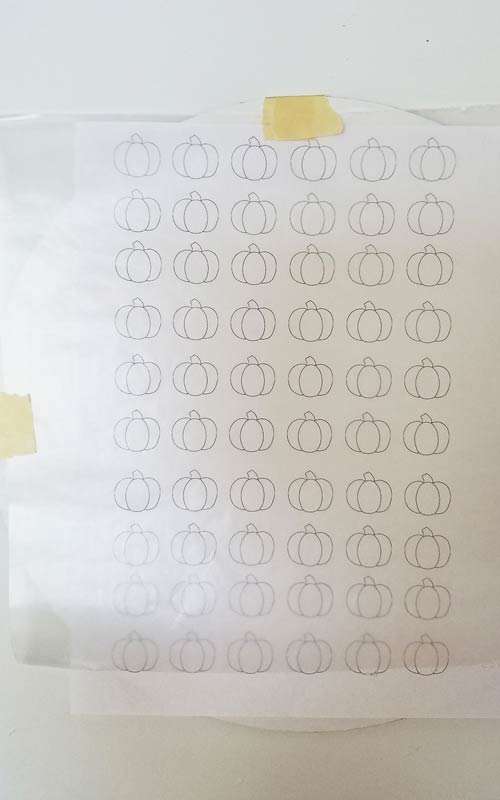 These small pumpkins are piped in steps. 1st. I piped 2 sides with orange icing(25sec). Let them crust. Then I piped the stem with brown icing (25sec). I let it crust again. And lastly I filled in the center section. 25 second consistency will leave you with few pointy spikes. Smooth those out with a needle tool. Transfer cardboard with freshly piped transfers onto a flat surface and let them dry.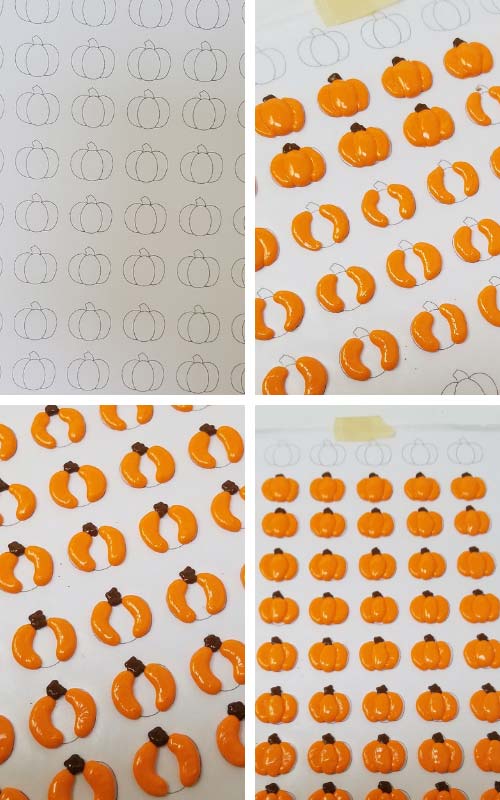 Often I make individual transfers using small pieces of wax paper or acetate. Great example are royal icing butterflies. Allow them to dry before moving them.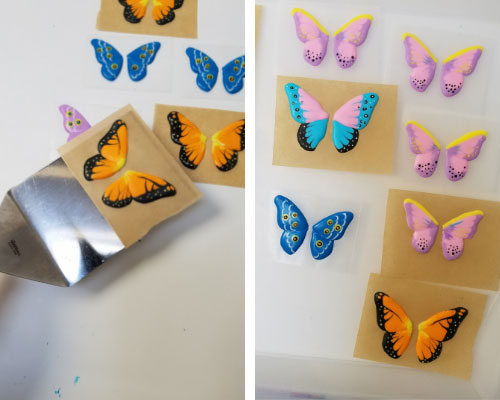 TYPES OF ROYAL ICING TRANSFERS
Royal icing is such a great decorating medium. Depending on the royal icing consistency you can use it to create variety of transfers.
Piped Flowers, Roses, Succulents, Sunflowers Poppies, Daisies, Daffodils, Mums, Leaves, Holy Leaves, Snowflakes, Eyes, Spider body, Flower center, Butterflies, Sprinkles
Piped Transfers made using a flower nail, or pressure piping – flowers, plants, animals etc.
Sunflowers, Poppy Flowers, Roses, Succulents
Roses – to make most of the piped flowers you'll need a flower nail, wax paper squares, piping tips and royal icing.
2D Transfers / Flood Transfers – eyes, butterflies, snowflakes, flat characters, ladybugs, apples, baskets, snowman, pumpkins, bunny, corals, spiders, bugs, tears, leaves etc.
Apple Baskets, Decorative Window Frame
Eyes and Flower Centers
Ladybugs
Halloween Spider Cupcake Cookies
Egg and Sushi Cookies
Egg – Egg yolk is a transfer, yellow round is airbrushed to give it more realistic appearance
Sushi Cookies – Salmon, Tuna, Caviar and Salmon with Avocado are transfers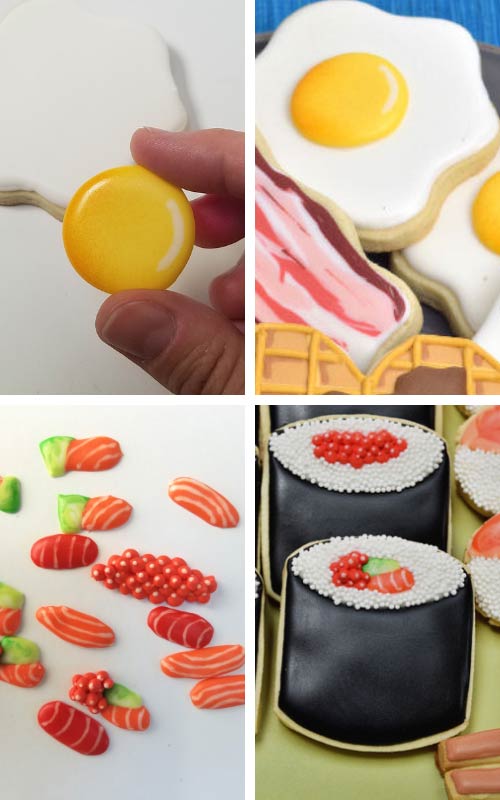 Textured Transfers – use a decorating combs, toothpicks, fork to create textured royal icing.
Roof shingles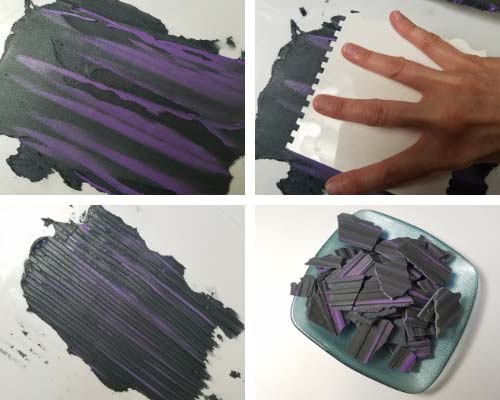 Stenciled RIT – this is the easiest and the most effective method of creating royal icing transfers. Use stencils to make leaves, gold coins, buttons, hearts, stars, butterflies.
Stars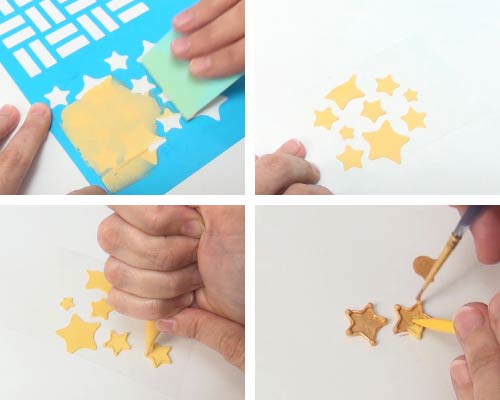 I used a star transfer to make Sheriff Star on my Woody Toy Story Cookies.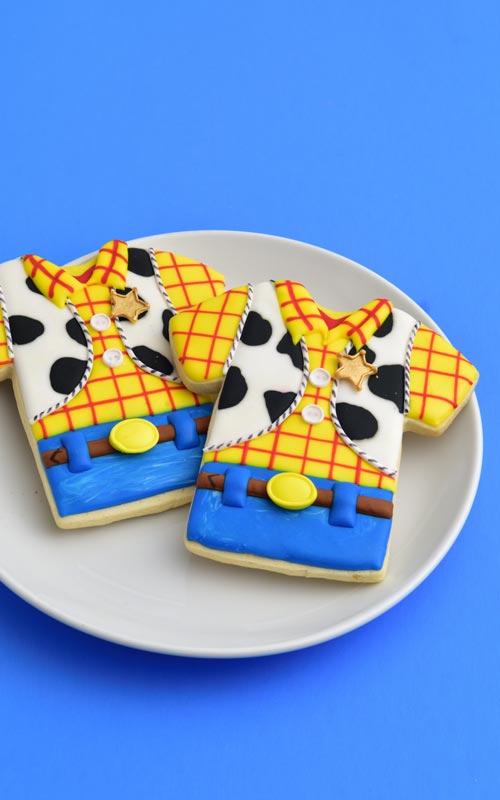 Gold Coins
Use tweezers to handle small decorations.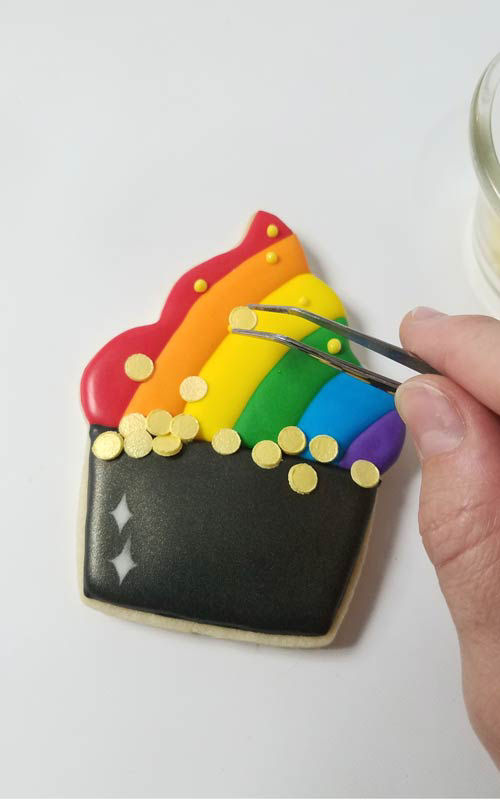 Marbled Hearts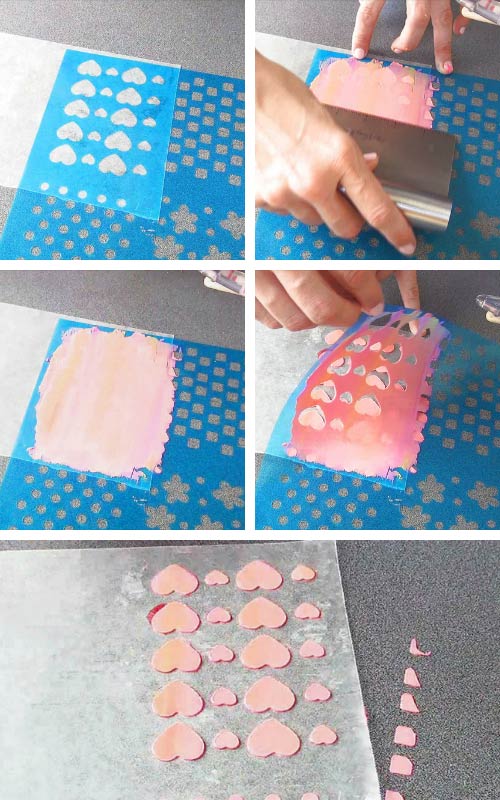 Place heart transfers onto wet icing and let dry.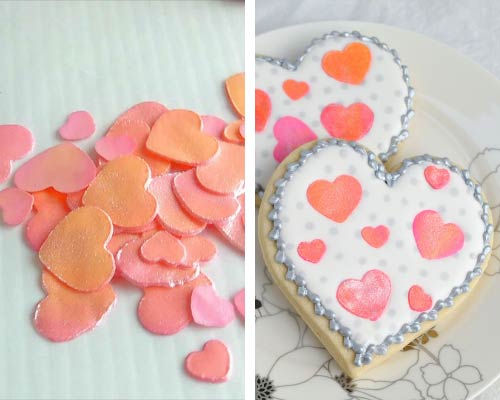 Stenciled Butterflies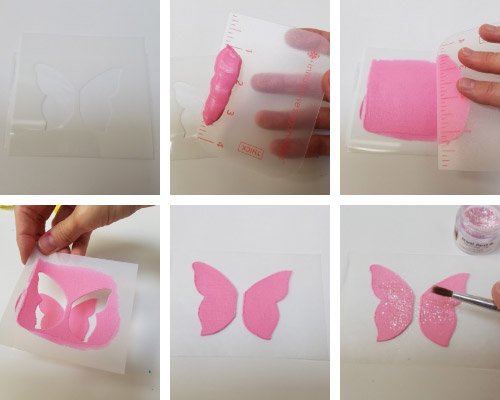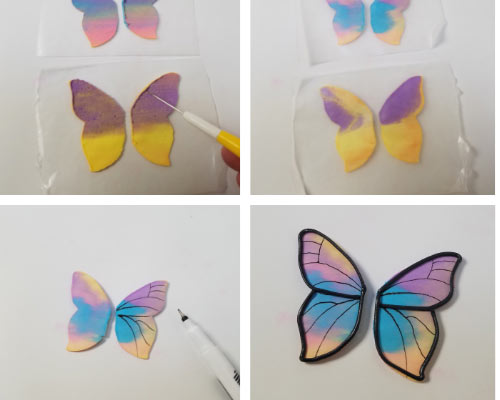 Shape transfers using a V shape drying tray to give butterflies life like appearance.
CAN I SHAPE ROYAL ICING TRANSFERS ?
Coral
To shape thick royal icing you can use piping tips and corn starch. Dip a fondant tool or a toothpick into corn starch. Starch works as a barrier between sticky icing. It allows you shape stiff royal icing. Let icing dry. Brush off corn starch residue if needed.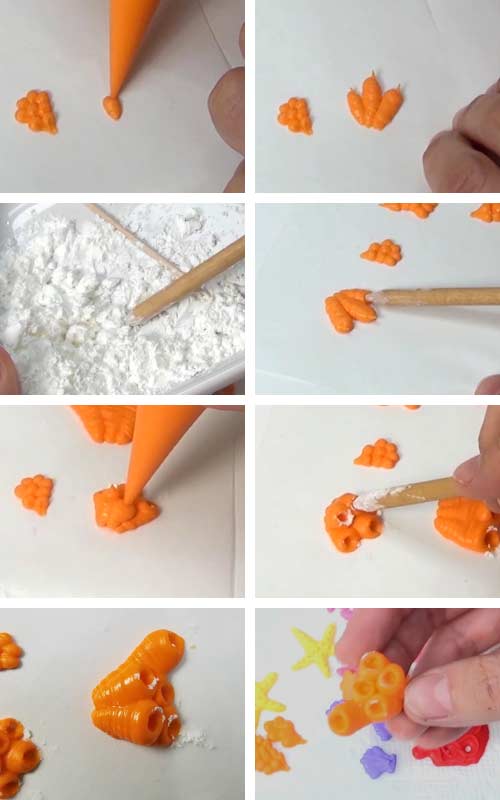 Black Ballerina Silhouettes
I needed to shape royal icing transfers on a curve so I could then use them to decorate side of a 6 inch cake. First, I piped one silhouette at a time with black royal icing onto a parchment. I placed freshly piped black ballerina silhouette transfer onto a slightly curved surface. I determined most of the coffee mugs have the same curvature as 6 inch cake pan so I used several mugs to dry my transfers. Once icing dried I peeled the parchment. And then I attached black ballerina silhouettes onto the cake.
I used the same technique to make Armenian saying in silver letters and glued them onto the fondant Christening Cake.
HOW TO USE ROYAL ICING TRANSFERS IN COOKIE DECORATING?
DRY APPLICATION – DRY ROYAL ICING TRANSFER ONTO DRY SURFACE
This mean that sugar transfer is applied on a dry surface. This maybe a cookie that is iced with a base layer, fondant or bare cookie.
To glue the transfer onto a surface use little bit of royal icing on the back of a transfer. Then gently place transfer onto a cookie.
Succulent Cookies – flower pots, royal icing succulents
Not only I used piped royal icing succulents to decorate these cookies. But I also made concrete flower pots as royal icing transfers.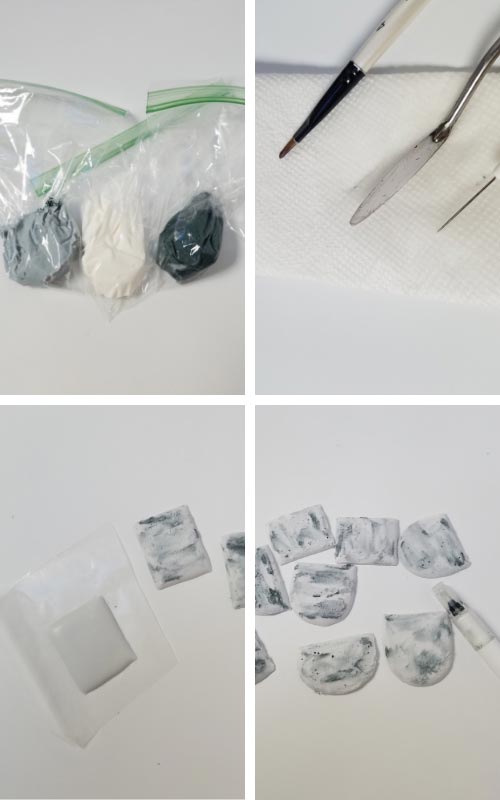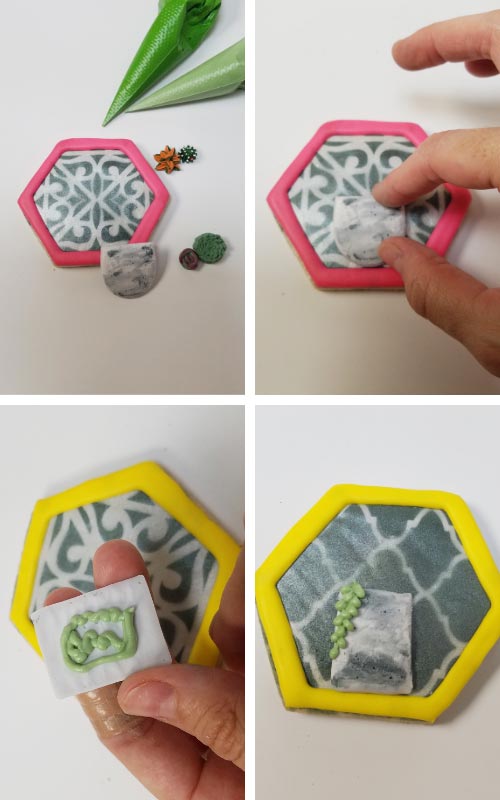 I prepared eye as royal icing transfer. I piped each eye on separate piece of acetate.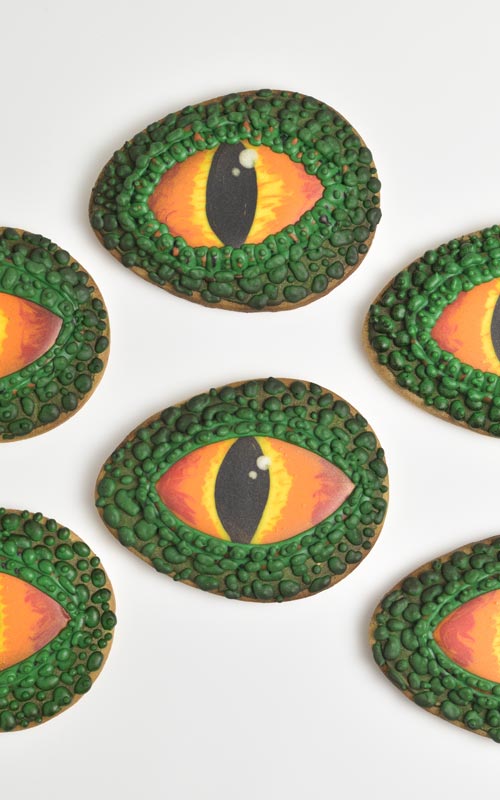 To make Unicorn Cookies I used 3 RIT. I made eyes, ears and bangs as transfers.
Attach dry eyes onto a cookie.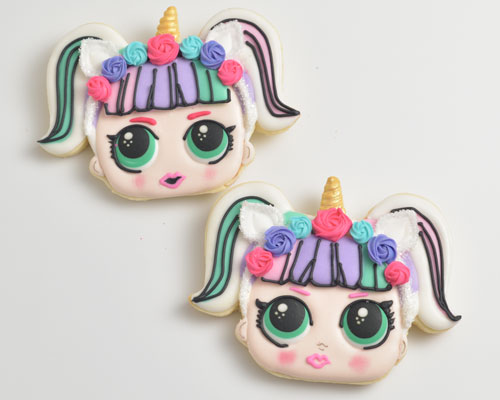 My unique underwater and mermaid inspired gingerbread is decorated with lots of pre-made sugar decorations. I made corals, starfish, seashells, rocks, underwater bubbles. To glue them onto the cookie I used little bit of royal icing.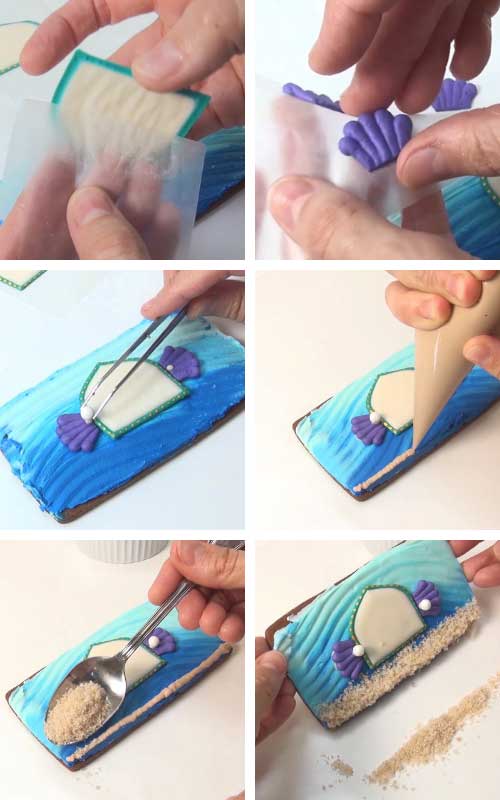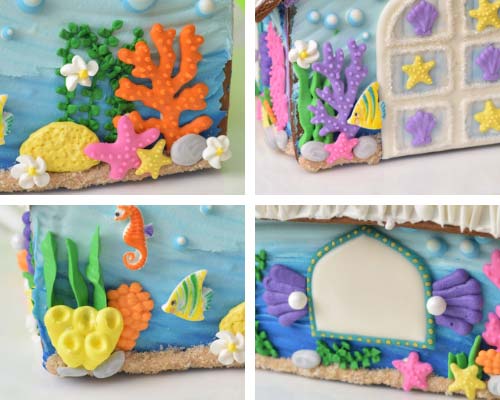 I prepared tiny ice cream cone transfer and used it to make a Snowman's nose.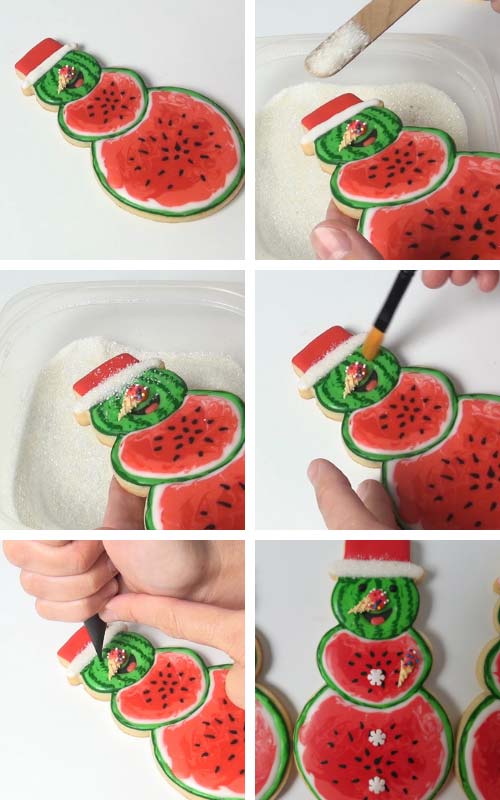 I decided to glue transfer onto a cookie and then ice the area around it. It worked. I rarely use this technique with this kind of a transfer. But I wanted to throw it out there.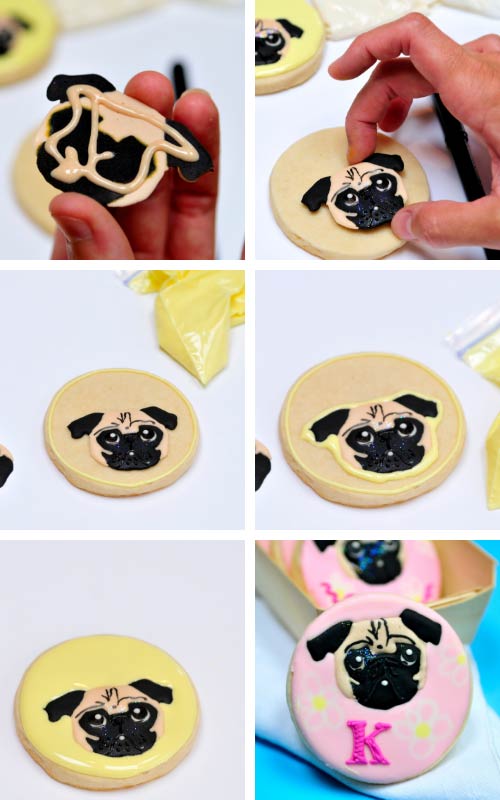 WET APPLICATION – DRY ROYAL ICING TRANSFER ONTO WET SURFACE
This means that dry sugar decoration is applied onto a wet surface. Whenever possible I like to use this method.
Transfer sinks into the icing and in most cases gap between the base layer of icing and the transfer is minimal and with smaller decorations such as avocado are non-existent.
Making these Panda Cookies I've learned a valuable lesson. I attempted to add my panda transfers onto a dark background using dry on wet application. Several hours in I noticed dark color seeping through the white panda transfers. It's was time to start over.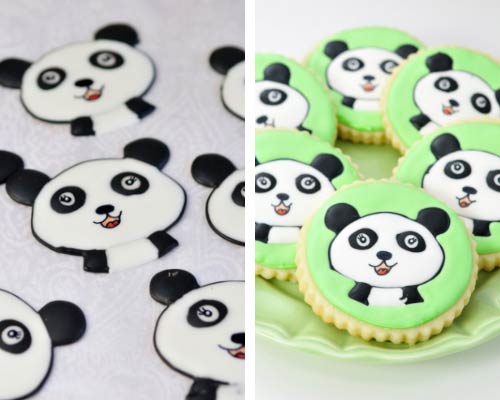 Make the eyes and let them dry. Then pipe a star with purple (stiff icing) and gently press black eye transfer into purple icing.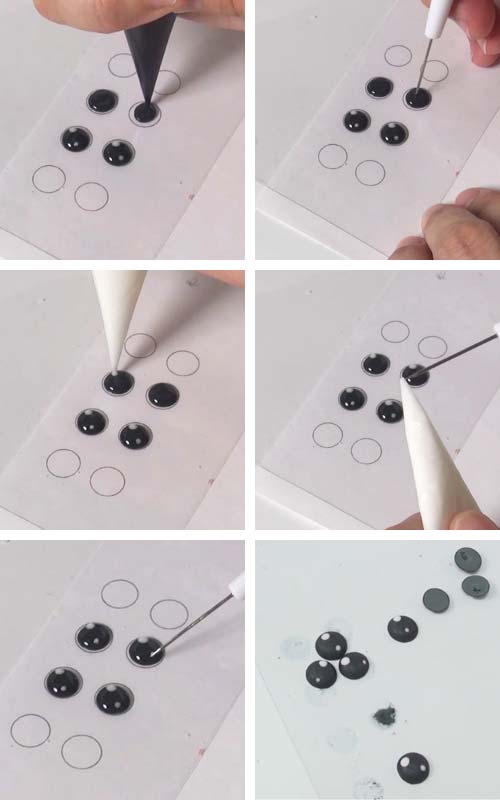 First I piped belt onto a wax paper and let it dry. Then with a grass tip and brown stiff royal icing I piped icing onto the cookie. And immediately after and while icing was still wet I gently pushed belt into the brown icing.
I used wax paper to make avocado stone royal icing transfers. Then I shaded them with brown petal dust. I placed dry pit onto wet icing.
Birthday Cookies – number 65
Spider-Man Cookies – spider
To make the spider I used acetate sheet. Notice how spider is covering a good portion of a cookie. Larger the transfer more important it is that decoration is flat. Remember that talk I had about acetate sheet versus wax/parchment paper (at the top of the post).
USING SUGAR DECORATIONS IN CAKE DECORATING
Japanese Pagoda Cake – roof panels, fence
I made this cake 10 years ago for our friend's son birthday. I first attempted to make roof from fondant. Unfortunately it wasn't drying fast enough and so I made RIT instead. They saved the day.
Ballerina Cake – black silhouettes
To make black ballerina silhouettes I used black royal icing and sparkling dust. To make royal icing decoration slightly curved I dried transfers on a curved surface. Then I glued them onto a cake with additional royal icing.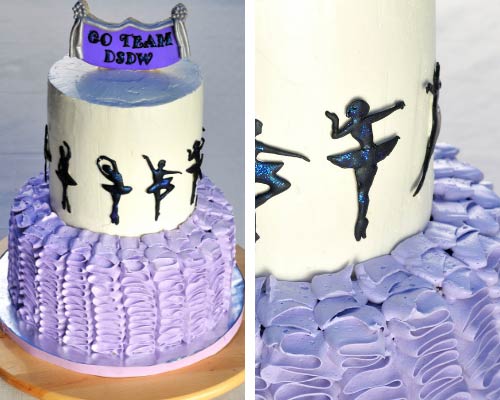 CAN I MAKE ROYAL ICING DRY FASTER?
Let transfers crust first. Then place them in front or under a fan. Don't have the fan running at full speed.
HOW LONG DO ROYAL ICING DECORATIONS TAKE TO DRY?
Allow 4-5 hours for small piped flower such roses.
Some pieces may require 8-12 hours drying time. Plan your project accordingly.
HOW LONG DO ROYAL ICING TRANSFERS LAST?
Royal Icing Decorations can be prepared ahead of time. They can last for years. My in laws gifted me a adorable royal icing decorations 10 years and I still have them. I'm not sure I'd eat them after such long time but it's just shows that transfers can last for a very long time.
STORING ROYAL ICING TRANSFERS
Store sugar decorations in a dry place, away from the moisture. I store them layered between paper towel sheet in an airtight container. If you live in a humid area it is best to invest into food grade silica gel packets and include a packet with royal icing transfers. Or alternatively you can use rice. You can shape a small pouch from a food wrap and spoon a tablespoon or 2 of rice into a pouch and place it into a container. Replace it every 3-4 months.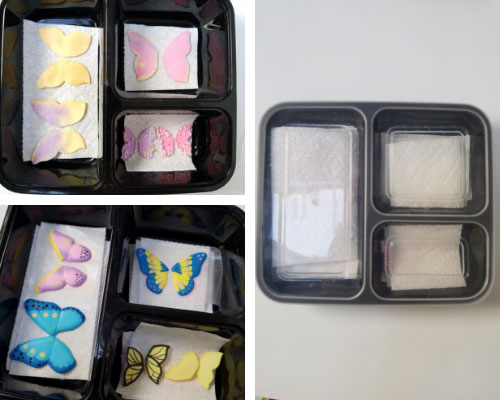 TO MAKE ROYAL ICING TRANSFERS YOU NEED
Wax Paper, Parchment
Masking Tape
Piping bags
Needle Tool
PIN IT for later
This post contains Amazon affiliate links that earn me a small commission, at no cost to you. I only recommend products that I use and love. Learn more about my affiliate policy here.