Today, I will layer pretzels, buttery, caramel toffee, and chocolate onto a rimmed baking sheet. Once chilled, this fusion of crunchy salty pretzels, sweet toffee, and smooth dark chocolate makes the mouthwatering pretzel toffee bars. Confection that is hard to resist. Let me show you how I make it.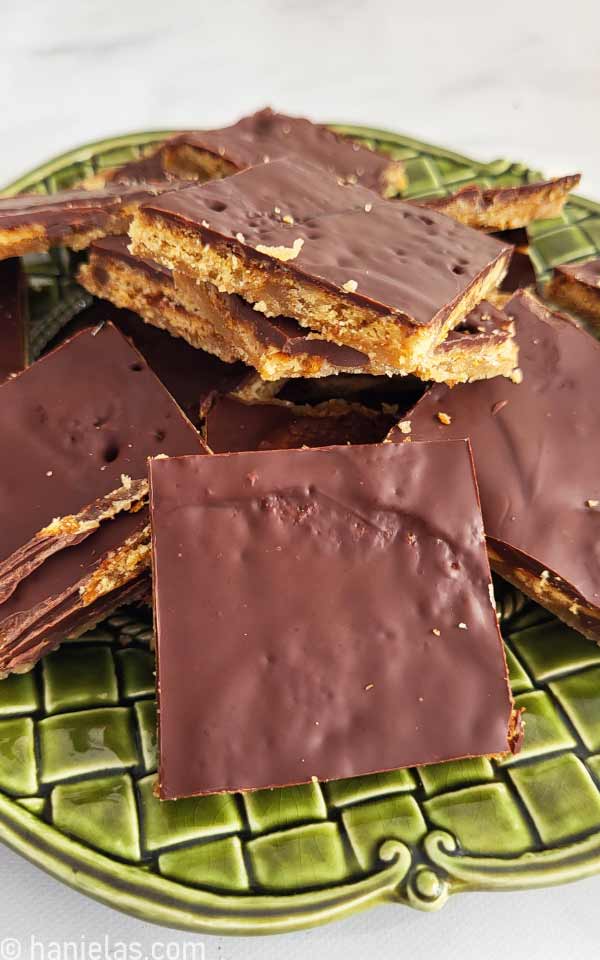 HOW TO MAKE EASY PRETZEL TOFFEE BARS
My first encounter with one-of-a-kind salted toffee bars happened in 2011. It was Christmas, and a friend had given me a box of saltine toffee bars. A few days later, I phoned her to tell her I had eaten them all and wanted the recipe. She made me another batch and gave me the printed recipe. The recipe is super simple to prepare, and pretzel toffee bars keep for several weeks and can be frozen later.
THINGS YOU NEED
Rimmed baking sheet
Aluminum Foil
Small offset spatula
Stainless steel saucepan
Knife and cutting board (optional)
Good quality dark chocolate
PRETZEL TOFFEE BARS INGREDIENTS
Pretzel Thins
Unsalted Butter
Brown Sugar (light, dark or use granulated sugar)
Vanilla Extract
Dark Chocolate Disks
PREPARE BAKING SHEET
Start by lining the baking sheet with aluminum foil. Spray the foil with nonstick spray or brush the foil with a light coat of butter.
WHAT KIND OF PRETZELS OR COOKIES SHOULD I USE?
I love pretzel thins, but you can use any flat crackers. Saltines are probably the most popular, but others will also work. Layer pretzels in one even layer, salted side down, onto the baking sheet.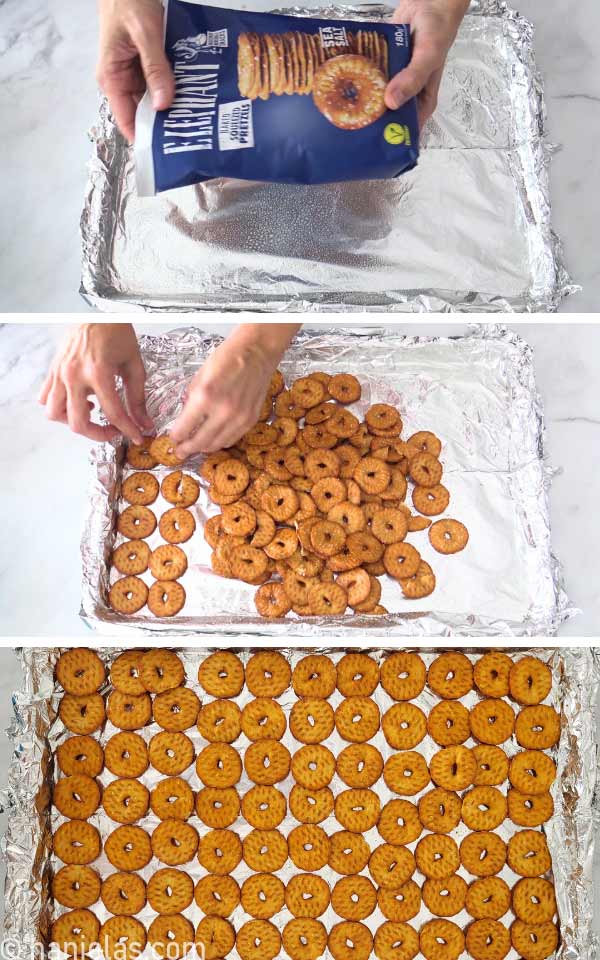 MAKE TOFFEE SAUCE
Toffee sauce is super simple to make. I want you to remember to refrain from tasting it as it cooks. It gets very hot and you really don't want to mess with hot toffee and your mouth.
In a stainless steel pot, over medium-high heat, melt unsalted butter, once melted, add brown sugar and stir until sugar is completely dissolved. Bring the mixture to boil and boil for 4-5 minutes, keep stirring the sauce (steps 1-6).
PREPARE PRETZEL TOFFEE BAR
Immediately pour the toffee sauce over the pretzel layer. Please don't put it all in one spot. Instead, do a zic zac across the whole baking sheet. Use an offset spatula to spread the sauce. (steps 1-2). Take the baking sheet and bake the pretzels with toffee sauce in the preheated oven at 395F/200C, for 5 minutes. Notice how bubbly is the surface, immediately after you take it out of the oven (step 3). Let baked toffee and pretzel layer sit for a minute for the bubbles to subside. Then take the dark chocolate and evenly distribute the chocolate across the whole baking sheet (step 4). Allow chocolate to melt. To facilitate the melting, you might need to place baking sheet into the oven for 30-60 seconds. After this time remove baking sheet from the oven and carefully smooth melted chocolate with a small offset spatula. Take care to spread chocolate on all of the pretzels (steps 5-6.) Allow pretzel toffee bar to cool and then chill in the fridge until firm, about 2-3 hours (step 7-8).
SLICE TOFFEE BARS
To serve pretzel toffee bars, you can break the toffee confection sheet into small pieces by hand or place the toffee bar onto a cutting board and use a sharp knife to cut the sheet into small bars (steps 1-8).
Pretzel toffee crack can be personalized with addition of different toppings like chopped nuts, candies, or dried fruits.
TOFFEE BARS SUCCESS TIPS AND SUBSTITUTIONS
Please don't use flat cookie baking sheet. Use rimmed baking sheet. Melted sugar butter mixture is very hot and it's easier to handle using rimmed baking sheet.
I don't use additional salt in this recipe as pretzel thins already have salt on them.
Don't have pretzel thins? Use saltine or graham crackers, or other flat crackers.
If using graham crackers, I recommend to sprinkle melted chocolate layer with sea salt.
You can use granulated sugar instead of brown sugar for a lighter flavor.
Do you want to experiment with other flavors? Try adding other flavorings (rum, almond, to name a few) to butter sugar mixture, before you pour it over pretzel layer.
Get creative! You can also use other toppings like chopped nuts (peanuts, pecans, pistachios, chopped candied orange, or crystallized ginger. Add them after you spread the chocolate onto the pretzels. Allow to set before slicing or breaking toffee bark into pieces.
Store pretzel toffee bars in an airtight container in a refrigerator, for up to 3 weeks.
Pretzel toffee bars also freeze well for up to 3 months.
SIMPLE DESSERT RECIPES
Pretzel Toffee Bars
A super delicious recipe for pretzel toffee bars. The recipe makes about 48 medium size bars.
Don't have pretzels? Substitute for other flat crackers or saltines.
Serving size: 2 bars
Ingredients
1

bag

Salted Pretzel Thins (7.2 oz., 204 grams), depending on the size, approximately 70-88 crackers

1

cup

unsalted butter (2 sticks, 226 grams)

1

cup

dark brown sugar (215 grams)

2

cups

dark chocolate disks (360 grams)

1

tsp

Vanilla Extract
Instructions
Preheat the oven to 395°F. Line a rimmed baking sheet with heavy-duty aluminum foil and spray with nonstick spray or brush with butter.

Take pretzel thins, and lay them, salt side down, next to each other, in a single layer, until the baking sheet is covered.

In a medium size pot, melt the unsalted butter (1 cup, 226 grams) over medium-high heat.

Add dark brown sugar (1 cup, 215 grams). Stirring, bring the mixture to a boil. Boil the mixture for 4-5 minutes, continue stirring. The mixture is very hot! Don't taste it. Allow to sit for minute to reduce bubbles, stir in Vanilla Extract (1 teaspoon).

Pour the brown sugar-butter mixture carefully over the pretzel thins. Carefully spread the mixture evenly over the pretzels with a spoon or a spatula.

Bake the toffee in a preheated oven (395F/200C) for 5 minutes.

Carefully take the baking sheet out of the oven. Evenly distribute dark chocolate disks onto hot pretzel and caramel mixture. Return the baking sheet to the oven for 30 seconds to a minute to help melt the chocolate disks. Disks usually don't appear melted until you touch them. Don't burn the chocolate.

Carefully, with a small metal spatula, spread melted chocolate over the pretzels. Make sure to spread chocolate over each pretzel.

Let cool to room temperature, then cool in the refrigerator until set, several hours.

Lift the toffee onto a cutting board, slice the pretzel toffee into squares, or break it with your hands into rough pieces.