Day of the Dead Cupcake Cookies
Today I'm going to show you how you can make simple decorated Day of the Dead Cupcake Cookies. Don't have a skull cookie cutter? Use a cupcake shape instead.
JUMP TO VIDEO | JUMP TO TEMPLATE | PIN IT for later
HOW TO MAKE DAY OF THE DEAD CUPCAKE COOKIES
COOKIE CUTTER
If you can't find a day of the dead skull cookie cutter you can use a cupcake shape instead. Cupcake shapes makes these iced skull cookies cute and kid friendly, too.
ROYAL ICING COLORS AND CONSISTENCY :
White – 15 second consistency
DECORATING STEPS :
Outline and flood the whole cupcake cookie with white royal icing (15sec). Use a needle tool to distribute the icing evenly over the surface of the cookies. Let the icing dry before moving onto the next step. Drying can take up to 6 – 7 hours.
AIRBRUSHING
To make decorating with royal icing a breeze first I used a simple airbrushing technique.
I hand cut a card stock stencil with an exacto knife. Then I covered my magnetic baking sheet with a paper towel. I anchored my stencil onto a magnetic baking sheet with several magnets. I find that width of the 2 magnets equals the thickness of the cookie. Place the stencil directly over the cookie. You want the stencil to sit snugly on the cookie.
I used red and blue airbrush color to airbrush my cookies. Get creative and use other colors if you wish. Let the airbrushed color dry for 10-15 minutes.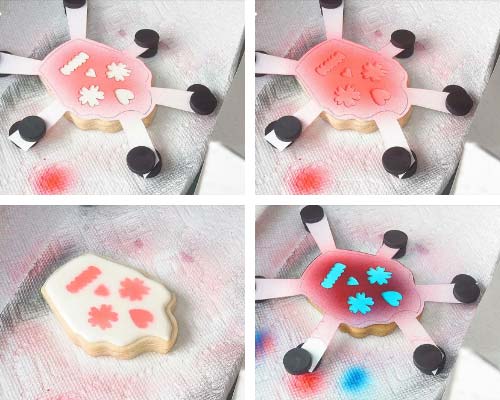 EDIBLE MARKER
Here comes the fun part. Take a black edible marker and draw the outlines on the airbrushed shapes. This will give your design more dramatic look once it's all finished.
COLORFUL PIPING WITH ROYAL ICING
ROYAL ICING COLORS AND CONSISTENCY :
Orange, Yellow, Purple, Electric Green – piping consistency
White – 20 second consistency – to make the teeth
DECORATING STEPS :
With colored royal icing (piping consistency) pipe the flower outlines, hearts, outline the mouth. Pipe swirls and dots. Have fun with it. To make the teeth use white icing (20sec). Let the icing dry.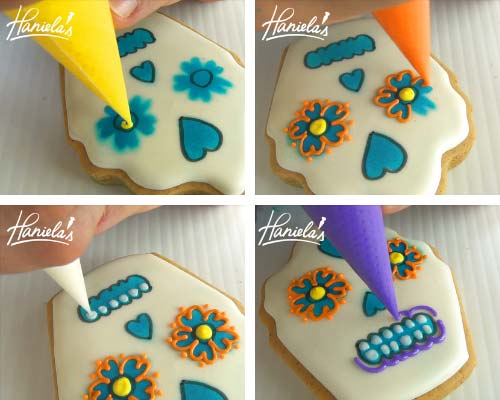 STORAGE
Store decorated cookies in an airtight container layered between pieces of parchment paper. Or package cookies in poly bags. If possible use a heat sealer to seal them. Or tie them with a ribbon.
TO MADE DAY OF THE DEAD CUPCAKE COOKIES YOU NEED
MORE DAY OF THE DAY BAKING IDEAS :
PIN IT for later
This post contains Amazon affiliate links that earn me a small commission, at no cost to you. I only recommend products that I use and love. Learn more about my affiliate policy here.