Back in January 2010 I made a cake for our friends' son's 10th Birthday, and since Tyler likes Japanese culture I made him a Blue – White Japanese Pagoda Cake. I researched online and put together a design; originally I wanted to make a 3 tier cake but you know how it is, things always don't pan out how we'd planned.
Cake is madeira cake filled with strawberry jam and Swiss buttercream.
I used Marshmallow fondant to cover the cake.
I carved the top tier to form a roof platform for the blue roof shingles. Originally I made the roof from fondant, but I met with some terrible drying issues so I ended up making royal icing transfers, that at the end worked out pretty good.
For the door I used an existing design that I found online. Total I made 4 doors. It took me forever to make them.:-)
Here you can see the roof shingles I made from royal icing, they were super brittle, but dried hard enough to hold in place without bending. I think roof is my favorite part of this cake, and added dimension created a
nice authentic look.
I let the roof parts to dry for about 12 hours,
Royal Icing Recipe Step by Step Tutorial
Other thing that I wanted to add to the cake was the balcony, and so once again I made the railing using royal icing transfers, these were even more delicate than the roof, I made some spare ones just in case the accident would occur. Surprisingly nothing broke.
I also made curly cues, using royal icing, once dried I painted them with gold luster dust.
You may have noticed that I used zig zag motive on most of the cake decorations.
In this case zig zag represents dragon's tail. I wanted to incorporated dragon's motive into the cake ;
some of the details were enhanced by painting them with gold luster dust.
At the end I decided to add a personal touch using Kanji Symbols for number 10 and name Tyler. I researched online for the correct symbols, I have to admit I'm still not sure if these are correct or not, but they added an extra charm to the whole design.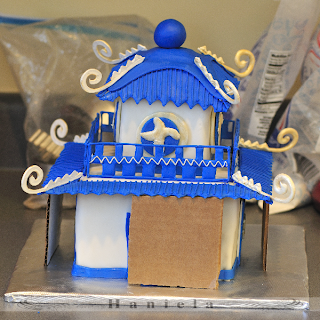 Roof drying set up.
I used royal icing to "glue" all the decorations to the cake.Bottom tier roof required about 30 minutes to set so I used some card boards to hold each roof piece in place during the drying process.
JAPANESE PAGODA CAKE
Of course the best part was to see Tyler's face when he first saw his cake.