When I was asked to make a cake for a prestigious Dance Competition Team DSDW I knew I wanted to make something really special for them.
Debra Sparks Dance Works is renowned for teaching children and youth the art of ballet and dance, giving them tools to grow into confident and successful adults. Competition Team DSDW has won many awards and will be competing at a 2 day competition later this month.
When deciding on the design of the cake, I knew instantly I had a great chance to finally try ruffle cake, it would give the cake look of TUTU( I thought) and I wanted to place ballerina silhouettes around somewhere, and I also wanted to incorporate ballet terms somewhere. Lots of things to include in one cake! Originally I wanted to make both tiers ruffle cake, but then I changed my mind to make the bottom ruffle and top smooth. Also ballerinas where to be placed around the bottom tier, realizing that ballerinas could interfere with the ruffle design of the cake I decided to place them around the top tier, plus keeping the top tier white, really helped black ballerina silhouettes to stand out.
Main color was to be light purple so I came up with design that looked something like this :
I made a lot of ballerina silhouettes- royal icing templates, they break so easily it is almost heartbreaking. I broke about 3 of them just moving them off the parchment paper. The hardest part was to attach them onto the cake itself. Once attached they looked very beautiful and I was really happy that I made them though they took a bit of time, well worth it.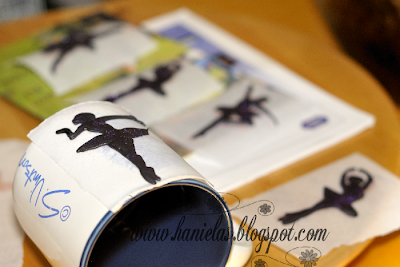 I was very excited to make the ruffle cake.
Another favorite feature of the cake is the topper. The idea was to create a stage curtain, meaning dancers perform on the stage.
Topper, I made from a sugar cookie, and it was designed based on this image.
All Edible Cookie Topper
I really enjoyed making this cake, it was fun to put it all together.
I was still in the studio when girls arrived and saw it for the first time.
So sweet and it made me happy that they liked it.
Ms. Debra with the cake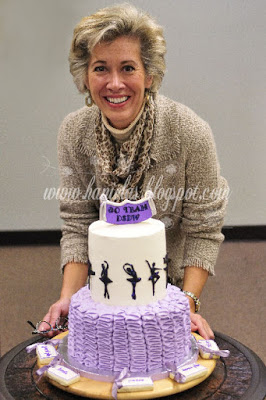 Members of the Competition Team DSDW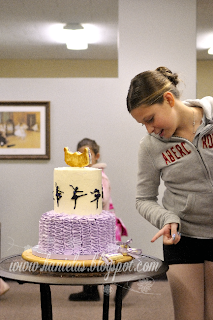 As I mentioned before I wanted to included Ballet Terms somewhere in the cake, but because I wanted to keep the cake elegant and meaningful without overcrowding it, instead of putting the ballet terms directly onto the cake I made several cookies and piped the ballet terms on the cookies, I added a pretty ribbon to make them stand out and they also were a big hit.