Make a pretty Mason Jar Cake.
You can never go wrong with flowers. Real or piped with a silky smooth Swiss Buttercream. Flowers never disappoint. Today I'm going to share with your how to make beautiful buttercream hydrangea and ranunculus flowers and how to decorate a cake with them.
BUTTERCREAM MASON JAR CAKE FLOWER BOUQUET CAKE
This beautiful Mason Jar Cake with buttercream hydrangea and ranunculus flowers is perfect for birthdays, parties, bridal showers, wedding, Mother's Day or Spring celebrations.
CARVE THE CAKES
I used a 9×13 cake pan to bake the Velvet Pound cake. Then I cut the cake to size of my templates.
To keep the cake moist I used a sugar syrup on all cake layers. Fill the cake with Swiss Buttercream and chill till firm. Carve the cake with a serrated knife. Crumb coat and chill again.
Frost the cake with a light blue buttercream and white buttercream. I also added pearl sprinkles to the sides of the bouquet portion of the cake, as seen in the video below.
If you haven't worked with Swiss Buttercream be sure check my tips on How To Color Swiss Buttercream.
MAKE BUTTERCREAM FLOWERS : RANUNCULUS and HYDRANGEA
To make both of the flowers you need to use a flower nail and parchment squares.
RANUNCULUS
Ranunculus flowers grow in a wide range of colors. I decided to use peach and bright green.
You can use readily available peach food coloring or make your own shade by mixing together pink and little bit of orange.
Make sure to mix 2 shades of peach. One lighter than the other.
As far the green goes you can use leaf green and add a touch of yellow to it.
Today I'm going to use petal tips to pipe Ranunculus flowers.
Center is piped with green buttercream (tip #103). Notice piped green center looks like a hashtag symbol.
And inner petals are dark peach and outer petals I made with the lighter shade of peach (tip #104).
Be sure to watch the tutorial below on how to pipe these.
HYDRANGEA
I absolutely love Hydrangea flowers. We have a hydrangea bush outside, by the side door. In early June it turns into a giant blooming ball. Bush is covered with pink bluish flowers with just the right amount of purple tint. I made my Hydrangea Meringue Cookies in these exact colors. They are gorgeous.
To compliment my showy ranunculus flowers I decided to make hydrangea with cream and bright green buttercream.
I used tip #103 to make the petals and tip#2 to make the center dot.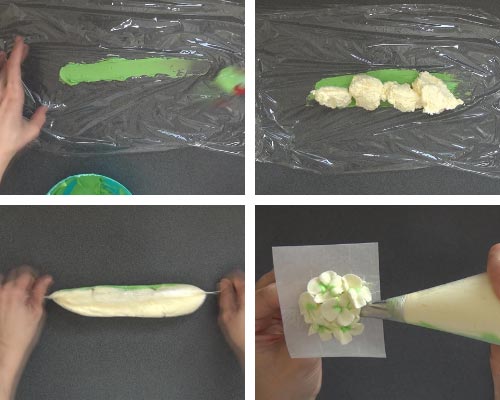 Spread a little bit of green buttercream onto a plastic wrap.
Then add more cream colored buttercream on the top.
Form a pouch and insert it into a piping bag fitted with a petal tip#103.
Make sure green buttercream layer in the pouch is aligned with the wide part of the petal piping tip.
Follow a video tutorial on how to pipe the flowers.
FREEZE BUTTERCREAM FLOWERS
Before you can adorn your cake with pretty buttercream flowers you need to freeze them for an hour.
Once frozen solid you can remove the parchment squares and use them to decorate the cake.
Attach them onto your cake using little bit of soft buttercream.
DECORATE THE CAKE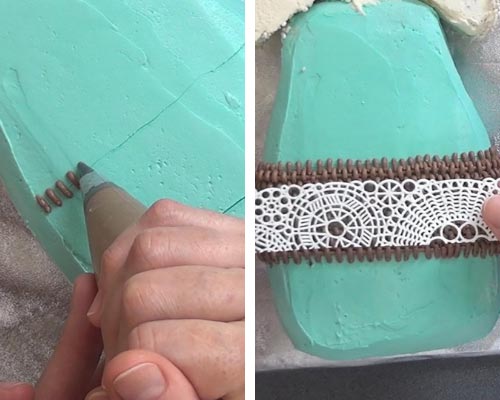 With a piping tip #3 pipe the burlap pattern onto a cake, with brown buttercream. Pretty white lace is made from Sugar Veil icing, using Sugar Veil silicone mold. Cut the SugarVeil to size.
You can learn more about Sugar Veil and how to prepare it in my detailed video tutorial How to make SugarVeil Lace. Attach SugarVeil lace onto a buttercream with a little bit of water.
When working with frozen buttercream flowers, try to work fast. If you notice that flowers are becoming softer place them into a freezer for 10 minutes to firm up.
Use a green buttercream with a leaf piping tip to pipe the leaves. To fill the blank areas pipe the flower buds. Pipe green dots in different sizes. Then with a peach buttercream pipe peach into the center of the green dot.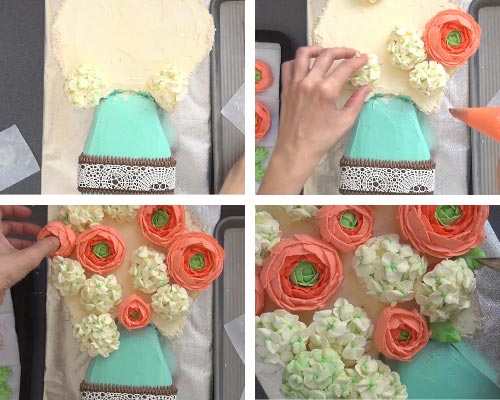 TO MAKE A MASON JAR CAKE FLOWER BOUQUET YOU NEED
RECIPES
Velvet Vanilla Pound Cake (use 1 1/2 cake recipe to amke 1 9x13inch cake) – you needs 2 9×13 inch cakes.
Simple Syrup (recipe below) :
1part granulated sugar to 2 parts water Boil together, after it has cooled add extract of your choice, I like to add vanilla, almond and lemon.
TOOLS
Food Colorings : Americolor electric green, peach, sky blue, brown
To make Hydrangea I used : Petal tips #103 Round Tip #2
To make Ranunculus I used : Petal tips #103(green center) Petal Tip #104 – peach colored flower petals
To make Burlap I used Round Piping Tip #3
To make Leaves I used Piping Tip #366
Flower nail
Parchment squares
USEFUL TUTORIALS
PIN IT for later
This post contains Amazon affiliate links that earn me a small commission, at no cost to you. I only recommend products that I use and love. Learn more about my affiliate policy here.