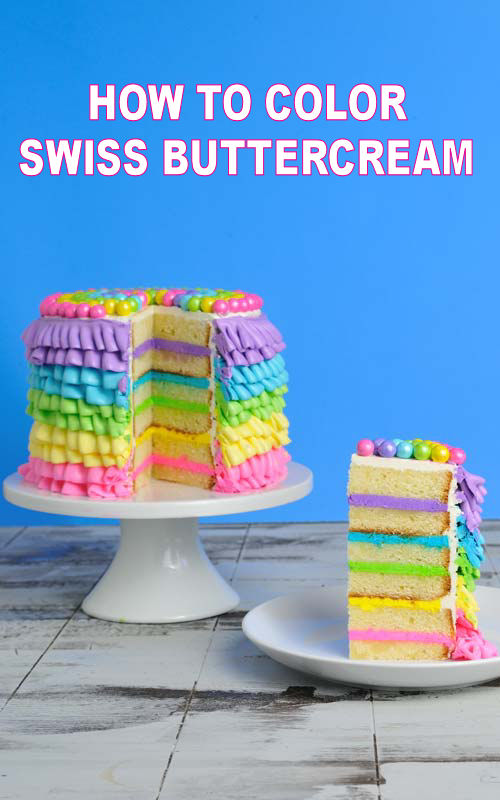 Swiss Buttercream is known for being notoriously difficult to color. Especially if you want to achieve beautiful bright and rich tones. I think it's important to share a story behind my How To Color Swiss Buttercream tutorial.
7 years ago I entered a local baking competition.
I was making cupcakes with piped buttercream flowers. Little did I know about Swiss buttercream and its color resistance. I remember I was trying to color Swiss Buttercream with leaf green coloring and though I was getting green it wasn't bright green. My first instinct was to add more coloring. That didn't work and no matter how much gel color I added buttercream was turning into a dull dark green mess with tiny little dark beads. I didn't understand why it was happening.
I turned to internet. Usually full of answers, it was a dead end. I remember someone on a cake decorating forum suggested I check out old Wilton Decorating books. I didn't have any and I was really pressed for time.
My next step was to try and make pink, yellow and orange Swiss Buttercream
I washed all the spatulas in hot water and proceeded to color buttercream with pink gel coloring. As I was mixing the Swiss buttercream I noticed that spatula was leaving traces of brighter colored buttercream behind. It hit me that heat is activating the color, making it blend nicely with the Swiss buttercream.
In addition to a picture tutorial you can watch a short tutorial how I color Swiss Buttercream using gel food coloring and simple microwaving method.

How to color Swiss Buttercream with Gel Food Colorings
I always start with a room temperature Swiss Buttercream. If you haven't made meringue based buttercream before here is the recipe for Swiss Buttercream that I use.

With a 1/4 cup measure Swiss Buttercream into a small dish and add gel food coloring. I use Americolor brand food colorings.

Mix well with a spatula. Notice how color is dull and not bright.

To remedy the color dullness I microwave small portion of buttercream on high for 5-8 seconds. At this stage buttercream becomes very fluid, it's ok.
You'll also notice that color is richer. Quickly and thoroughly mix it, don't let it cool too much. After that pour it into the uncolored buttercream and mix well.

Repeat until desired color is achieved.

PURPLE BUTTERCREAM

I use Electric Pink and Sky Blue Americolor Gels to make purple icing.

I recommend that you let the freshly colored Swiss Buttercream rest for couple of hours. This helps to develop the color further. If it appears too soft you can refrigerate buttercream for 30 minutes.
This post contains affiliate links. Learn more about my affiliate policy here.