This seedless Raspberry Cake Filling is super easy to make. It spreads wonderfully onto the cake layers. It's sweet and tart. Combination that pairs nicely with vanilla cakes and chocolate cakes alike. It keeps well in the fridge and can be frozen, too.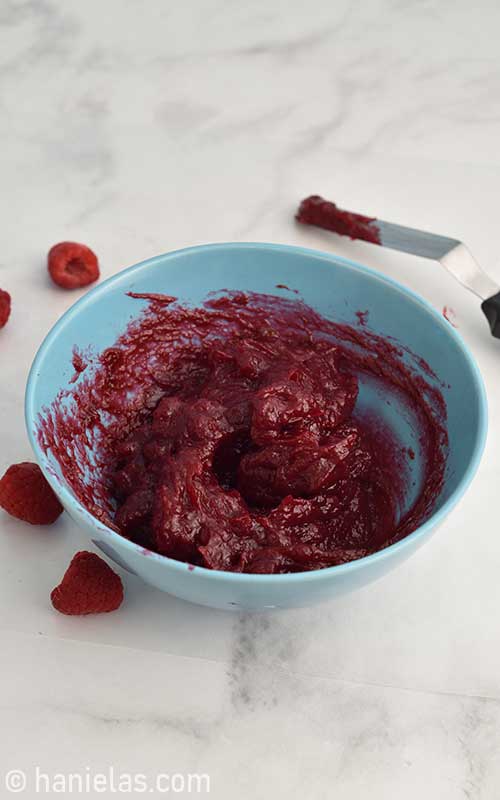 HOW TO MAKE RASPBERRY CAKE FILLING FROM SCRATCH
To make raspberry cake filling from scratch you can start with fresh or frozen raspberries. However, I'm partial to using frozen ones. Fresh ones I save for garnish or eating. They are just so precious to me. I can't help it.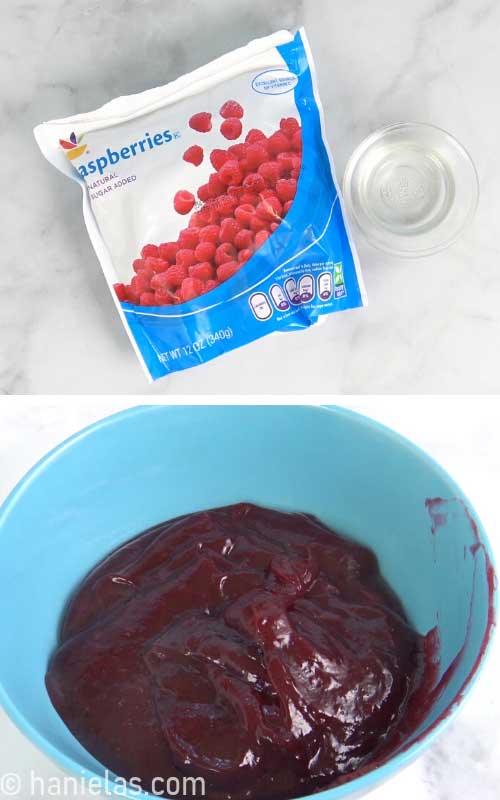 RASPBERRY PUREE
First I make fruit puree and then I add thickening agent and sugar or otehr sweetener to make the cake filling.
Pour frozen raspberries into a pot. Pour in water. Cook, stirring frequently on a medium heat until mixture turns to mush. This can take about 10 minutes. Just keep an eye on it so it doesn't boil over,( step 1-5).
I like to remove seeds but first I break up the raspberry mush even more using immersion blender, (step 6).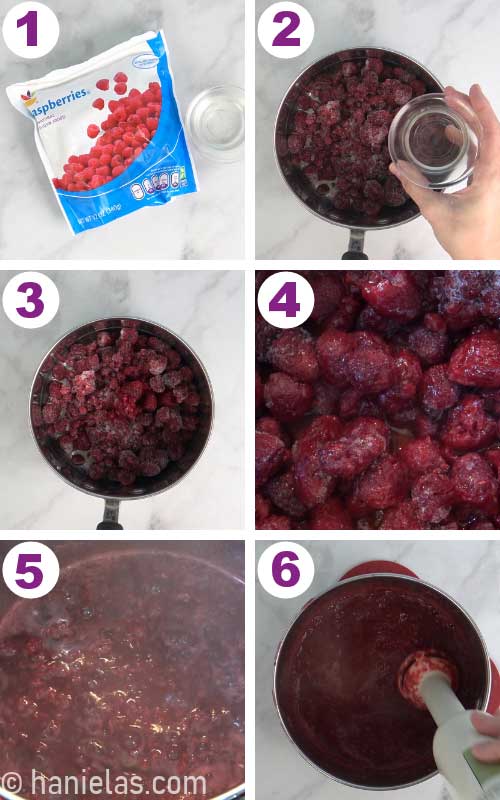 REMOVE SEEDS FROM FRUIT PUREE
To remove seeds I strain the mixture through a fine mesh sieve, (step 1-3). Then because raspberry puree is so precious and I don't want to waste a drop I also press the seeds through an ultra-fine cheese cloth.
Spoon seeds onto the cheese cloth. Make a small pouch and then twist it over the bowl with puree and let it drip, keep twisting until no more juice is coming out. Then discard the seeds and wash the cheesecloth. Let it air dry and store away for next time.
TIP : Use a cheese cloth with tight texture. If you notice cheese cloth has large holes then double up or even triple the cloth. Otherwise seeds can slip through the holes into the puree.
HOW TO USE RASPBERRY PUREE
Raspberry puree can be used for so many things.
Here are some of my favorites :
Cheesecake
Cake Filling
TIP : Fruit purees can be stored in the fridge for at least a week and frozen for up to 3 months and they are great in desserts, smoothies or yogurt.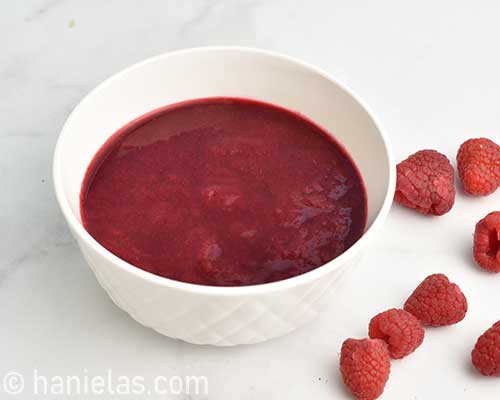 MAKE RASPBERRY CAKE FILLING
Plain raspberry puree on its own is a little too thin and tart to be used as cake filling. To flavor and thicken it I use lemon, sugar and starch.
Measure 1 generous cup of raspberry puree. Pour it into a small dish. Add lemon zest, lemon juice, sugar, and corn starch. Whisk well.
TIP : To avoid dealing with corn starch lumps mix corn starch into small portion of fruit puree first and then add it to the remaining puree.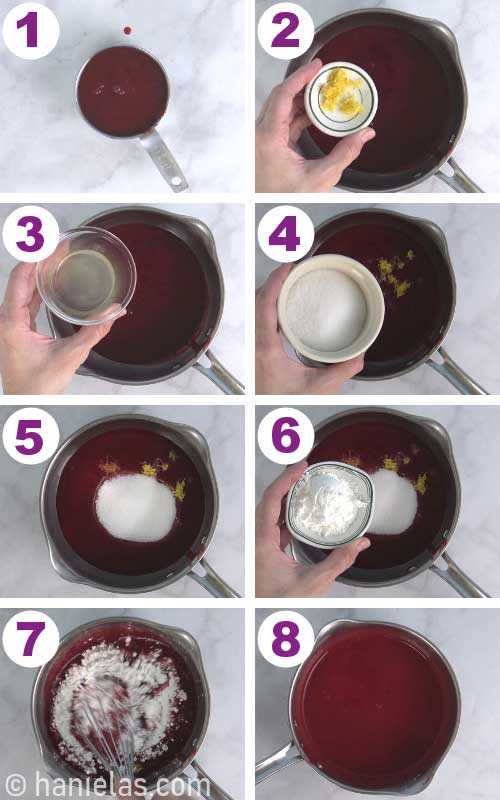 Heat the mixture over medium heat, stirring. Mixture as it thickens it will also deepen in color. Bring the mixture to slow boil and cook for about 2 minutes, stirring.
Cake filling will be thick and hot. Pour it into a bowl and cover filling with a food wrap to prevent crust from forming. Allow to cool to room temperature before using.
TIP : Speed up the cooling! Submerge bowl with the filling into a cold water, taking care not to let water over flow into the filling. Replace water as it warms up with a cool one. It will take about 30 minutes to cool the filling using cold water.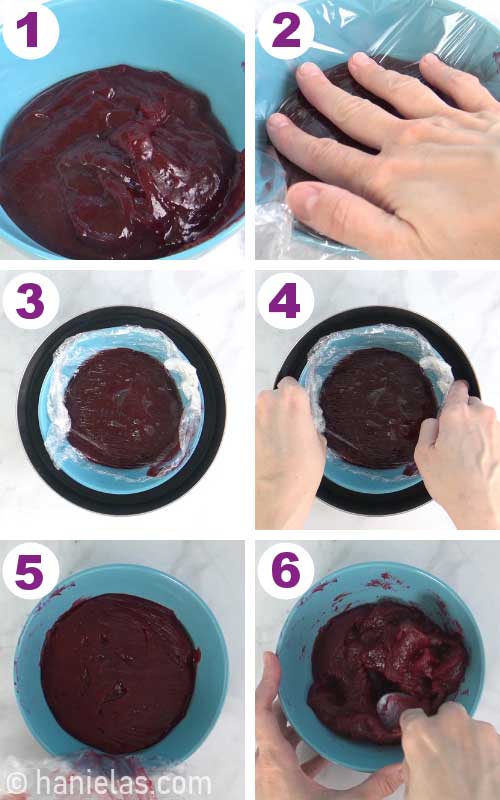 HOW TO USE RASPBERRY CAKE FILLING ?
Raspberry cake filling pairs nicely with vanilla and chocolate cakes
Use it as a filling for mini tart shells
Or as cupcakes filling
And it's delicious with meringue Cakes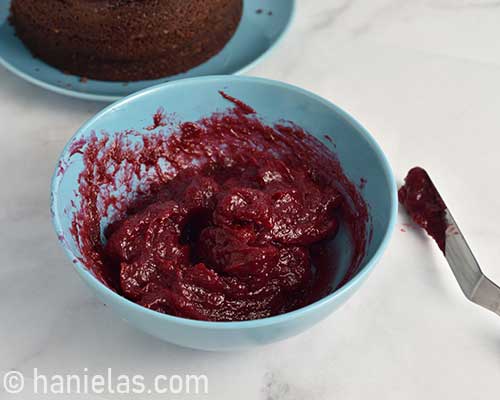 CAN I USE OTHER FRUITS TO MAKE FRUIT CAKE FILLINGS?
Absolutely. I often make strawberry, blueberry, cranberry and peach cake fillings. I personally prefer fillings that are sweet and tart, those are my favorite.
TIP : When making Cranberry Cake Filling use less corn starch. Cranberry puree thickens up naturally on it's own. Use 1 1/2 to 2 tbsp of starch.
Alternatively you make the filling from the whole fruit, like this blueberry filling. I processed cooked blueberries and cooked the filling with seeds and skins.
HOW LONG DOES RASPBERRY CAKE FILLING LAST?
Filling lasts well over 7 days and it can also be frozen for 2-3 weeks. Let it defrost in the fridge before using.
TO MAKE RASPBERRY CAKE FILLING YOU NEED
TOOLS
Find all the tools you need in my Amazon Shop
Fine Mesh Sieve
Ultra-Fine Cheese Cloth
Immersion Blender or Small Chopper
MORE FRUIT RECIPES :
Raspberry Cake Filling
Make delicious and easy fruit filling for your cakes and tarts.
Yields 1 1/4 cup of filling.
Ingredients
Raspberry Puree
12

oz

frozen or fresh raspberry or other berries

1/4

cup

water
Cake Filling
1

cup

fruit raspberry puree or other fruit puree

1/4-1/3

cup

granulated sugar

1

tbsp

lemon zest

juice of one lemon, trained

2 1/2

tbsp

corn starch
Instructions
Raspberry Puree
Into a pot pour frozen or fresh raspberries (12 oz.) and water (1/4 cup). Heat on medium heat until very soft, about 10 minutes.

Remove from the heat and break up the mixture with an immersion blender.

To remove seeds strain mixture through a fine mesh sieve. To further extract juice you can scrape out seeds onto a clean cheese cloth. Form a pouch and twist it over a bowl with strained juice. Let it drip and keep twisting the pouch, then discard the seeds. Hand wash the cheese cloth and allow it to dry before putting it away.

You should have about 1 cup of fruit puree.
Cake Filling
Measure fruit puree (1cup). Pour fruit puree it into a small pot. Pour in granulated sugar (1/4 to 1/3 cup), freshly squeezed lemon juice( juice from one medium to large size lemon, strained), lemon zest (1tsbp) and corn starch ( 2 and 1/2 tbsp). Whisk well to combine and till no longer white streaks remain. Taste and if needed add more sugar.

TIP : Ff you are few tablespoons shy of 1 cup of fruit puree you can top it off with water or other juice (apple juice, strawberry for example.)

Cook mixture on medium heat. Mixture as it cooks will thicken and deepens in color. Bring it to boil and then reduce to slow boil. Stirring constantly cook for about 2 minutes.

Remove from the heat and pour into a bowl. Cover with a food wrap to prevent crust from forming. Allow to cool to room temperature before using.

TIP : To speed up the cooling you can cool raspberry filling in a cold water. Pour cold water into a large bowl and carefully submerge small bowl with raspberry filling into the water. Taking care not to let the water overflow into the filling.

Cooled fruit filling can be stored in the fridge at least a week an frozen for 2-3 weeks.
Notes
CAN I USED OTHER FRUIT?
Absolutely. I frequently make strawberry and blueberry filling. Blueberry filling is excellent in my Blueberry Babka.
HOW TO USE RASPBERRY CAKE FILLING ?
You can use raspberry filling to 
Fill cakes
Tarts
Cookies
Stir some into a yogurt
Make Blueberry Babka 
Fill Kolache
WHAT CAN I USE IN PLACE OF CORN STARCH?
I know potato starch is not recommended for pudding and such but I have used it successfully to make fruit filling.
This post contains Amazon affiliate links that earn me a small commission, at no cost to you. I only recommend products that I use and love. Learn more about my affiliate policy here.