Butterfly Cake [Template]
Making a beautiful Butterfly Cake doesn't have to be complicated. Use my easy decorating technique and create a stunning birthday butterfly cake in a jiff.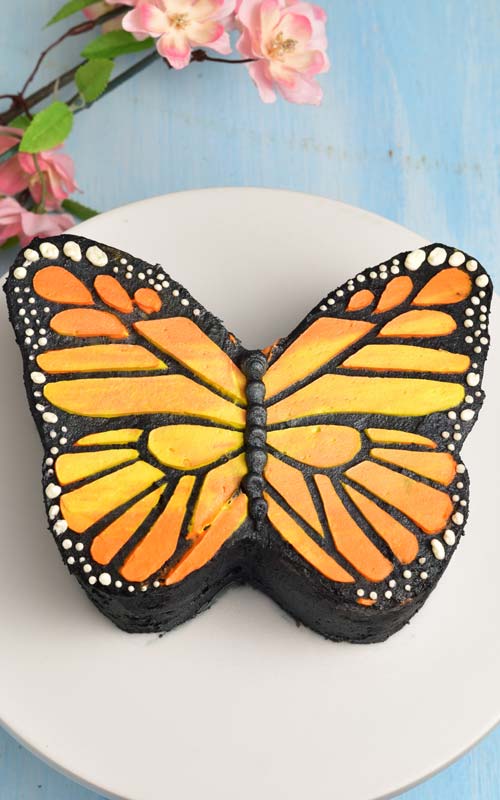 BUTTERCREAM BUTTERFLY CAKE
First I baked 2 – 6 inch cakes. If you need to make a larger cake you definitely can. To make a larger butterfly cake you'll need to bake larger rounds. And also remember to adjust the size of the template accordingly.
I used Velvet Vanilla Pound Cake but you can pretty much bake any cake you'd like. If using a sponge cake I would recommend that you freeze the cake before you carve it.
PREPARE THE CAKE
Start by torting 2 cakes. Then cut them in half. You should have 2 cake layers on each side.
To keep cake moist I also used Simple Sugar Syrup. Brush it or squirt the syrup onto the cake layers using a small bottle.
Fill the cake with Swiss Buttercream. Right after you fill the cake you can crumb coat it. Then chill the cake until firm, about an hour or so.
With a serrated knife carve the cake, using a template.
Place each wing onto a cake board or a plate, use some buttercream to glue the cakes in the middle.
Ice the cake with black buttercream or ganache, chill until firm, for an hour. Make sure the top is smooth, use a long spatula to smooth the top.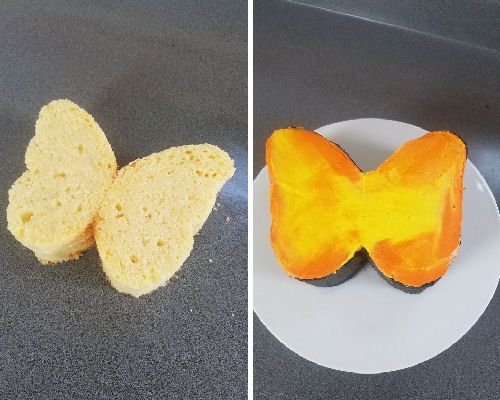 STENCIL THE CAKE
Color Swiss buttercream with orange and yellow food coloring.
How do I color Swiss Buttercream, my gel food colors are not working? – learn a quick tip on how to effectively color Swiss Buttercream with gel food colors.
Have a butterfly wing stencil ready. I used a card stock paper to make the stencil. But if you plan on using it again I'd suggest using stencil blanks to make the stencil. Stencil material is more durable and will last you many uses. Use an exacto knife to cut it out.
When stenciling, work on one side of the cake at a time.
Place a stencil on a well chilled cake and pipe yellow and orange buttercream onto the stencil, just as you see me doing in the video.
Use a spatula and spread the buttercream over the stencil. In one direction. Start from the center and move the spatula towards the outer edge.
Carefully lift up the stencil. Wipe it clean and repeat on the other side.
With black buttercream or dark chocolate ganache pipe the the butterfly body with a round piping tip #12.
Use white buttercream to add spots onto the wings.
Chill until ready to serve.
Bring to room temperature before serving.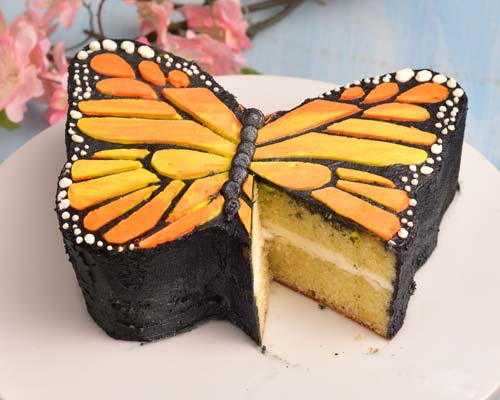 TO MAKE BUTTERCREAM BUTTERFLY CAKE YOU NEED
RECIPES
Velvet Vanilla Pound Cake – bake 2 – 6 inch cakes, cut in half and torted
Ganache (optional) – you can also use ganache to ice the cake. This way you can avoid or minimize the use of black food coloring
Sugar Syrup : bring equal amount of sugar and water to boil, simmer for 5 minutes. Remove from the heat. Let cool. Flavor with vanilla extract or other extract. Use to keep the cake layers moist.
TOOLS
Spatula
Template – this is a half wing template, you can adjust the size based on the size of your cake.
Exacto Knife
Food Colors : orange, yellow, black
Piping Tips : round #12 and #2
Piping Bags
USEFUL TUTORIAL
PIN IT for later
This post contains affiliate links. Learn more about my affiliate policy here.