I love homemade Lemon Curd so much. My recipe is super simple and it produces silky smooth lemon curd that layers perfectly between cake layers, spoons into tender tart shells and it swirls beautifully into cheesecakes. And let's not forget pairing of sweet baked meringue with lemon curd. There are so many sweet possibilities.
HOMEMADE LEMON CURD
Lemon curd is probably one of the most popular fruit curds out there. But you'd be surprised you can make delicious curds from orange, rhubarb and even berries, such as Raspberry Curd.
INGREDIENTS
Okay. Let's jump right in. Here are the ingredients you need :
Freshly squeezed and strained lemon juice
Lemon Zest
Sugar
Whole Eggs
Egg Yolks
Butter
Salt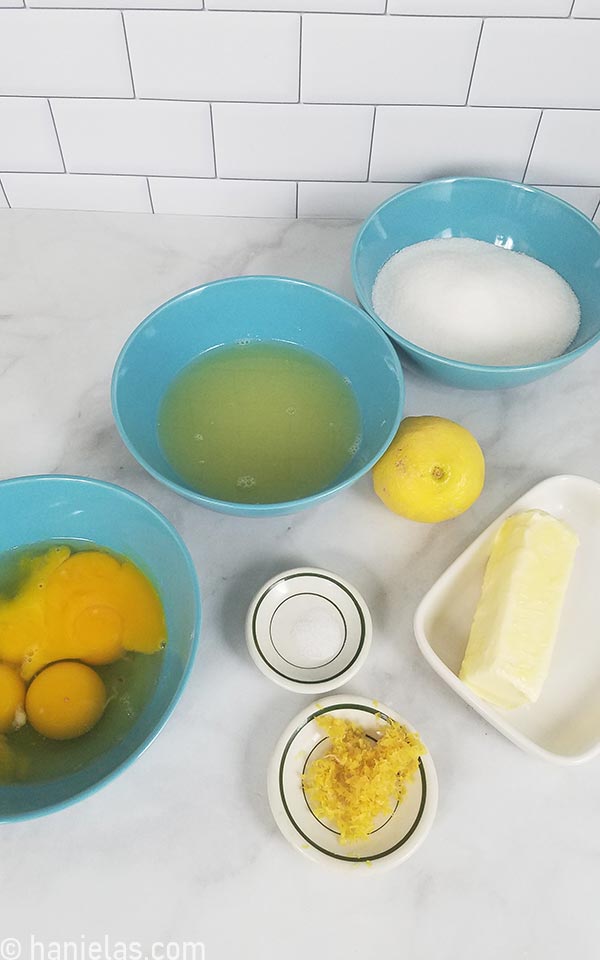 LEMON JUICE
Use fresh lemons. I can't stress this enough. Fresh is fresh and none of the lemon substitutes will produce the true lemon flavor of lemon curd.
Personally, I absolutely love lemons. I use lemon juice in my Fresh Lemon Royal Icing, I also like to drink lemon water, and I make lemon salad dressing. It's delicious. Lemon juice is also a great substitute for cream of tartar when making meringue cookies.
I go thru so many lemons in my house! To keep them fresh it's best to store them in the fridge. They usually keep for up to 2 weeks when refrigerated.
TIP : To maximize a lemon juice yield, before you juice a lemon try microwaving a cold lemon for 20 seconds.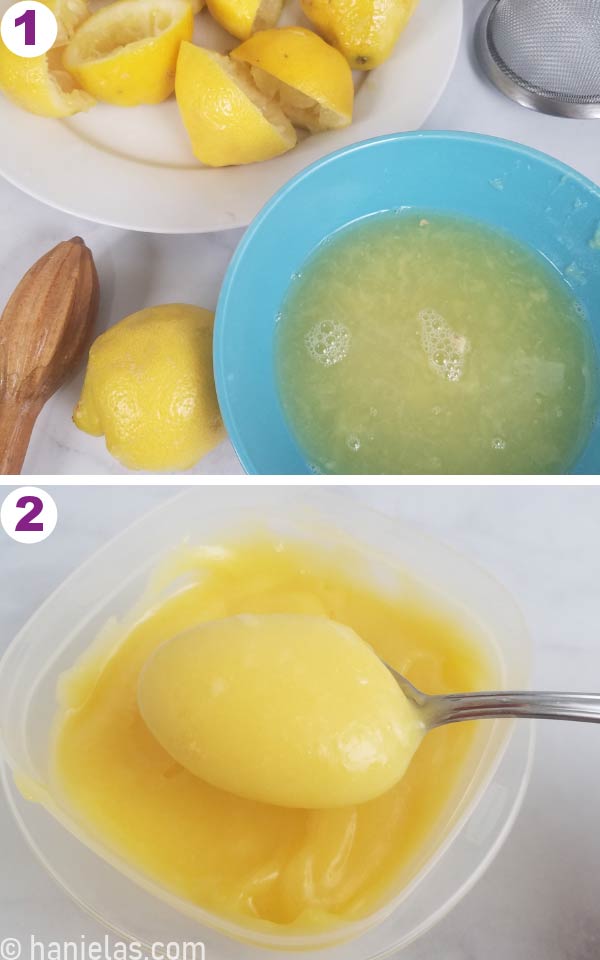 Juice lemons with a manual juicer or use an electric one. I love the wooden lemon juicer. Juicing is fast, clean up is minimal and it works.
TIP : Don't put wooden juicer/kitchen tools in the dishwasher.
It's important to strain freshly squeezed lemon juice to get rid of stones and the pulp, (steps 1-4).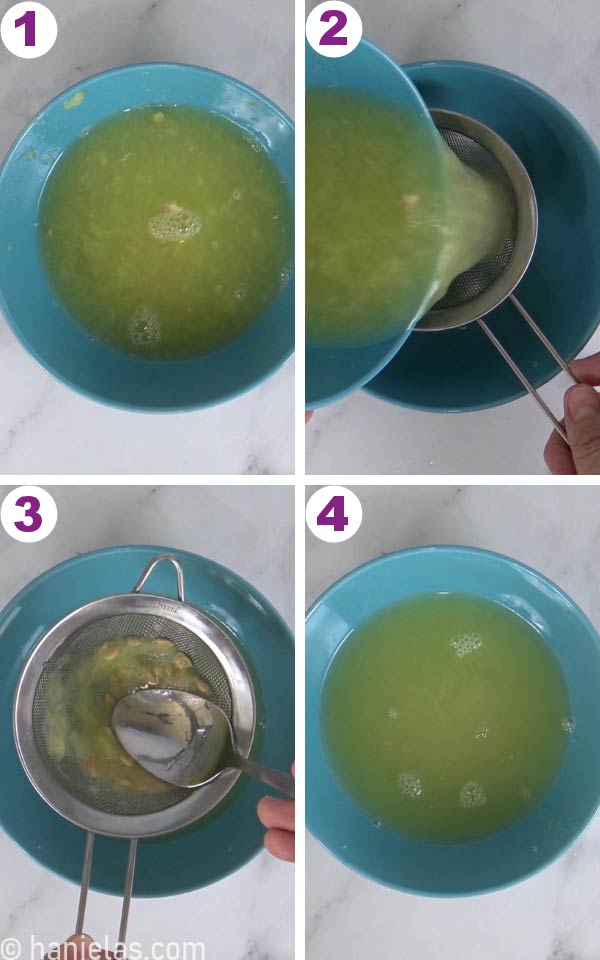 CREAM BUTTER AND SUGAR
Have you ever made lemon curd and had cooked egg bits in it? Well, let me tell you a little secret. Creaming butter with sugar and eggs helps rid of this problem entirely. I've never had an issue with cooked egg bits in my curd using this simple creaming method.
Beat room temperature butter with sugar until creamy, about 5 minutes, (step 1-3). Then gradually beat in room temperature eggs and egg yolks. Add a pinch of table salt, (steps 4-8).
Lastly gradually pour in strained lemon juice and lemon zest, (steps 1-3). Mixture will start to curdle immediately, this is normal, no need to worry, (steps 4-6).
COOK LEMON CURD
Pour mixture into a stainless steel pot and heat it on a medium-low heat until mixture become homogeneous. Stirring constantly, (steps 1-5). Attach a candy thermometer on the inner side of the pot, (step 6).
TIP : To cook lemon curd use a non-reactive cookware such as ceramics (earthenware, stoneware, and glass) and stainless steel. What is the difference between non-reactive and reactive cookware ?
Continue cooking on medium-low heat, stirring constantly until mixture thickens and reaches 170F/76C. During the process you'll notice how color is changing and mixture will slowly start to thicken at the bottom, that's why it's super important to keep an eye on the lemon curd and keep stirring it. Once it reached 170F remove the pot from the heat.
I DON'T HAVE A CANDY THERMOMETER, HOW CAN I TELL LEMON CURD IS COOKED?
It's quite simple to cook curd without a candy thermometer. When it's cooked mixture should coat the back of the spoon well. And when you run a finger thru it, separation line shouldn't blend together.
TIP : Don't allow mixture to boil.
COOL LEMON CURD
Now that you have successfully cooked delicious citrus curd you can strain it, (steps 1-6). However, with this easy creaming method it's not really necessary. Straining is mainly done to catch any cooked egg bits and/or lemon zest. With this method I have been very successful keeping the egg bits at bay.
However, if you wish to remove lemon zest you'll need to strain the curd thru a fine mesh sieve.
At this point curd is still warm. Pour it into a bowl. Cover it tightly with a food wrap and refrigerate overnight. It will thicken as it cools, (steps 7-8).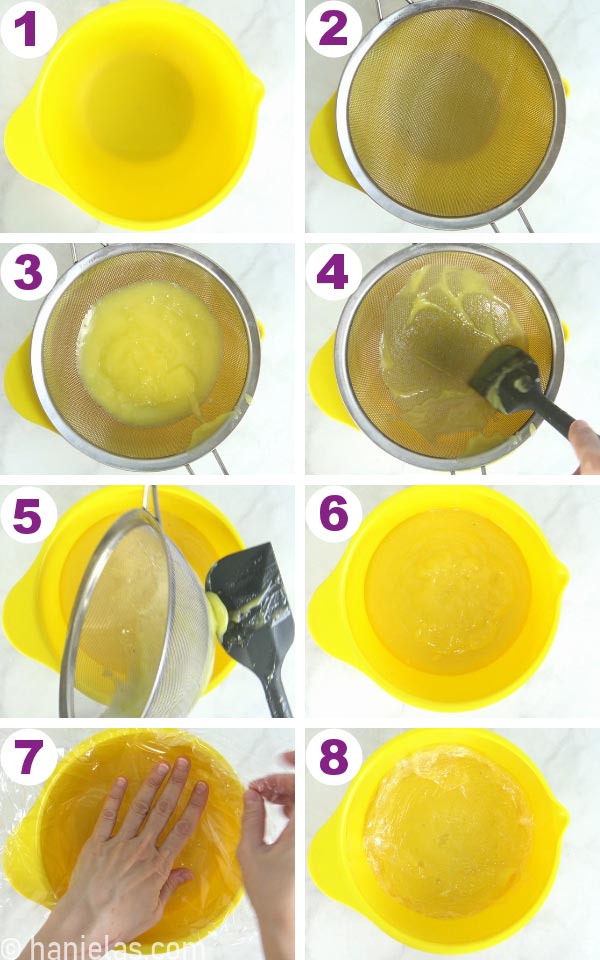 FILLING
Once curd has cooled it should thicken. And it will of a consistency of a thick pudding.
Simply peel of the food wrap and spoon curd into a container with a lid and store it in the fridge until ready to use.
HOW LONG DOES LEMON CURD LAST, CAN IT BE FROZEN?
Store it in the fridge in an airtight container, it will last up to 3-4 weeks. It can also be frozen, for up to 12 months. Let it thaw in the fridge before using.
HOW DOES IT TASTE?
It's sour sweet, silky smooth and lemony. I think you just have to try it.
WHAT IS LEMON CURD USED FOR?
Cake Fillings
Tart Fillings
Cheesecakes
Meringue Pies
Spreads
Sandwich Cookies
Topping (think scones, pancakes, crepes)
Fruit with whipped cream
Swirl it into yogurt
WHERE TO FIND LEMON CURD IN GROCERY STORE?
Homemade version is the best but I think we've all been there. You can get lemon curd at the grocery store, too. I think this can vary from store to store. My grocery store keeps it in the baking aisle, alongside of marzipan/almond paste.
CAN YOU MAKE VEGAN LEMON CURD, WITHOUT EGGS AND DAIRY BUTTER?
Yes, you can make an alternative to real lemon curd without the use of eggs and dairy butter. You'll need to use a thickening agent such as corn starch and vegan milk.
MORE DELICIOUS LEMON RECIPES
This post contains Amazon affiliate links that earn me a small commission, at no cost to you. I only recommend products that I use and love. Learn more about my affiliate policy here.
TO MAKE HOMEMADE LEMON CURD YOU NEED
TOOLS
FIND ALL THE TOOLS IN MY AMAZON SHOP
Citrus Juicer
Candy Thermometer
Stainless Steel Pot
Mesh Sieve
Zester
Food Wrap
Hand Held Mixer
Spatula
Lemon Curd
This recipe makes delicious, silky smooth Lemon Curd. I use a creaming method which facilitates cooking process, completely eliminating cooked egg bits in the cooked curd.
Makes about 2 cups.
Serving size 2 tablespoons
Course:
Appetizer, Dessert, Frosting, icing
Cuisine:
American, French
Keyword:
easy lemon curd, homemde lemon curd, lemon curd
Ingredients
LEMON CURD
2/3

cup

freshly squeezed, strained lemon juice (160ml),

6-7 medium lemons

2

tbsp

lemon zest

1 1/4

cup

granulated sugar (250 grams)

4

egg

yolks

2

eggs

whole eggs

6

tbsp

butter (85 grams)

pinch of salt
Instructions
LEMON CURD
Juice lemons (6-7 medium lemons). Then strain the juice thru a fine mesh sieve to remove all the stones and pulp.

TIP : Microwave lemons for 20 seconds to get the most juice out of of them. Cut each lemon in half and then juice it with a manual juicer or us an electric one.
Creaming Process
In a large bowl cream butter (6 tablespoons, 85grams) with granulated sugar (1cup and 1/4 cup, 250grams) until fluffy, about 3 minutes. Then gradually add eggs (2 whole eggs and 4 egg yolks). Beat until well combined, about 2 minutes. Then beat in a pinch of salt.

Lastly, gradually beat in freshly squeezed and strained lemon juice ( 2/3 cup, 160ml) and lemon zest (2 tablespoons). Mixture will curdle and that's normal. No need to worry.
Cooking Process
Pour prepared uncooked lemon curd mixture into a non-reactive pot, such as stainless steel.

TIP: Non-reactive cookware is ceramics, stainless steel, glass and metal cookware with enamel coating. Aluminum, cast iron, and copper are all reactive.

Cook mixture on medium-low heat, stirring until butter melts and mixture will be homogeneous. If you have a candy thermometer attach it on the inside of the pan. If you don't have a candy thermometer you'll do a visual test to determine when curd is done.

VISUAL TEST : If you don't have a candy thermometer you can do a simple test. Coat back of the wooden spoon with curd. Run your finger thru the middle of the coated side of the spoon. When the separation line you created with your finger doesn't blend together curd is done.

Continue cooking curd and stirring, You'll notice how the color is gradually changing and how mixture will start to thicken, first at the bottom, so be sure to stir it slowly and continuously. Cook lemon curd until it reaches 170F/77C. Mixture should be thick and coat the back of the spoon.

TIP : Don't allow curd to boil.
Cooling Process
Cooling process is an important step. Poured lemon curd into a bowl. Cover it with a food wrap. You want to cover it so food wrap is touching the curd. Refrigerate overnight.

Next day peel off the food wrap and use curd right away or spoon into a smaller container with a lid. Store in the fridge in an airtight container for up to a month.
Recipe Notes
CAN I FREEZE LEMON CURD? Yes, you can freeze it for up to a year. Let it thaw in the fridge before using.
HOW TO MAKE A THICKER CURD? It's quite simple, add one extra egg.
LEMON JUICE. Use only freshly squeezed lemon juice, don't use lemon juice concentrate.
I ONLY HAVE SALTED BUTTER, CAN I USE IT ? You can use salted butter, simply omit salt in the recipe.
DO I HAVE TO STRAIN LEMON CURD? No, you don't. This recipe is really great. U

se of creaming method facilitates cooking process and eliminates cooked egg bits in the cooked curd. However if you wish to remove lemon zest bits from the curd then yes you'll need to strain it thru a fine mesh sieve.

BEST USES FOR LEMON CURD : cake, tart, cookie, crepes fillings, cheesecakes, topping for scones, ice cream, meringue cakes, parfaits and so much more.
DID YOU MAKE THIS RECIPE?
Tag @hanielas on Instagram and hashtag it