Here is a recipe for classic Gingerbread Cookies you are going to love. Enjoy them plain or decorate them with unique designs using colorful royal icing.
updated post from 2010
HOW TO MAKE GINGERBREAD MEN COOKIES
This classic gingerbread cookie recipe can be used to make cut out cookies and even small edible structures. This recipe makes soft cookies but if you prefer your cookies crunchy all you need to do is bake the cookies for a little longer. More on that in the recipe card.
INGREDIENTS
All Purpose Flour
Spices : ground cinnamon, ginger cloves
I also like to add ground star anise (1/4 teaspoon) and for spicier cookies you can add white pepper (1/8 teaspoon) – these spices are optional
Baking Powder
Salt
Unsalted Butter
Granulated Sugar
Brown Sugar
Egg
Molasses (unsulphured, not blackstrap)
Vanilla Extract
Lemon Zest
TIP: If if you prefer a milder taste, use a 1:1 ratio of molasses to honey in the recipe. It produces milder and very tasty gingerbread. I used it to make my 3D Colosseum Cookies and Stamped Cookies (see Q&A section, scroll down). I also have a recipe for traditional Slovak Honey Cookies that are popular with children.
GINGERBREAD COOKIE DOUGH
What makes gingerbread the gingerbread? Gingerbread refers to a wide range of baked goods flavored with spices like ginger, cinnamon, cloves, nutmeg, white pepper, and star anise and sweetened with sugar, honey, and molasses.
MOLASSES
In this recipe, I used medium molasses. You don't want to use blackstrap molasses in this recipe. I like using Grandma's Original Molasses, Unsulphured.
If you've never worked with molasses you'll notice it's of the consistency of thin honey and it is also very sticky.
HOW TO MEASURE MOLASSES?
Spray with a nonstick spray or lightly oil the measuring cup and pour in the molasses. A light coating of oil makes pouring molasses an easy task.
SPICES
This recipe uses ground cinnamon, ginger, and cloves. In addition to these spices I often add ground star anise and for spicier cookies, you can add white pepper. Please look at the recipe card for details.
WHAT CINNAMON DO YOU USE?
I personally love Saigon Cinnamon/Vietnamese cinnamon. It has a stronger flavor, it is more fragrant and sweeter than any other cinnamon I've tried.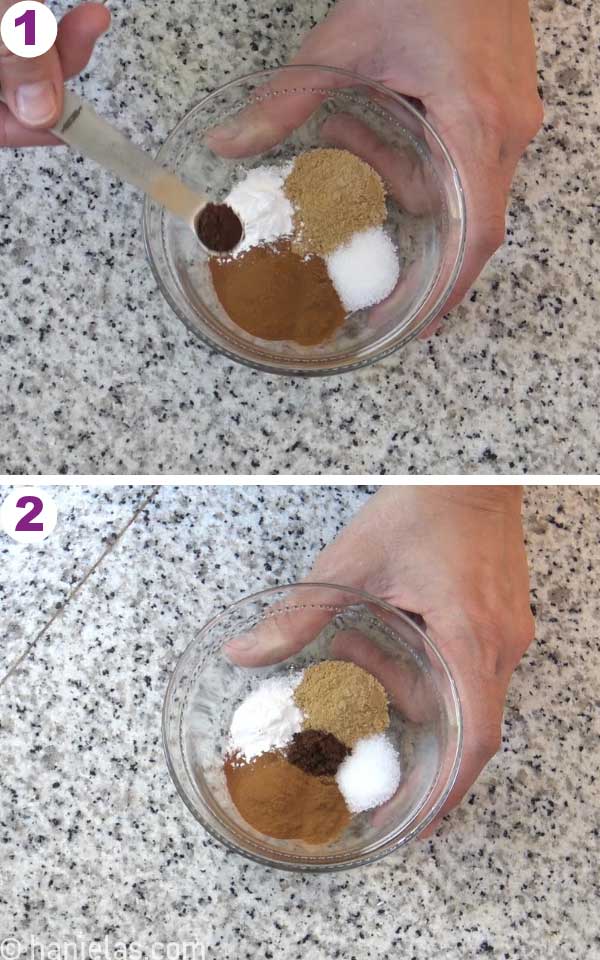 Now you can prepare dry ingredients. Into a bowl add all-purpose flour, spices, baking powder, and salt.
TIP: If you plan on using this dough to make a gingerbread house omit all of the baking powder in the recipe and bake the cookie for longer, until they are crunchy, golden brown around the edges.
COOKIE DOUGH
To prepare the dough first cream room temperature butter for about 3-5 minutes, (steps 1-3). Then beat in Vanilla Extract, lemon zest, and cream until well blended together, (steps 4-7). The mixture will be pale in color.
TIP: It's best to use room-temperature ingredients.
Gradually beat molasses into the butter and sugar mixture. Try not to pour molasses onto the beaters. Beat until well combined about a minute or so, (steps 1-2). Then gradually, in 2-3 additions beat in flour mixture, (steps 3-5). Gather cookie dough into a ball and flatten it into a disk. This cookie dough is soft. It will firm up once it's refrigerated, (steps 5-8).
ROLL OUT COOKIE DOUGH
Place freshly made cookie dough on lightly floured parchment paper. Place 2 rolling guides (1/4 inch thick) on each side. Rolling guides are great for achieving even thickness of cookie dough throughout, (steps 1-2). Lightly dust the cookie dough with flour and place another piece of parchment on the top. With a rolling pin push onto the cookie dough and start rolling it out. Making sure the rolling pin sits on top of the rolling guides. Slide rolled-out cookie dough onto a flat tray or a baking sheet and chill it for at least an hour and up to 8 hours/overnight.
TIP: Learn more tips and tricks about Cut Out Cookies, for example where to get rolling guides, which rolling pins I like using, creative ways to decorate cookies without icing, how to apply sprinkles, and much more.
CUT OUT GINGERBREAD MEN COOKIES
Cut out gingerbread men cookies and transfer cookies onto a baking sheet lined with parchment, (steps 1-8).
TIP: If the cookie dough is slightly sticky, dip the cutting edge of your cookie cutter into the flour, shake off excess and cut out shapes.
BAKE COOKIES
For soft gingerbread cookies bake at 350F(180C) for 10-12 minutes.
If you prefer crunchy cookies with a snap bake them for a little longer until golden around the edges, 13-15 minutes or even longer depending on the oven.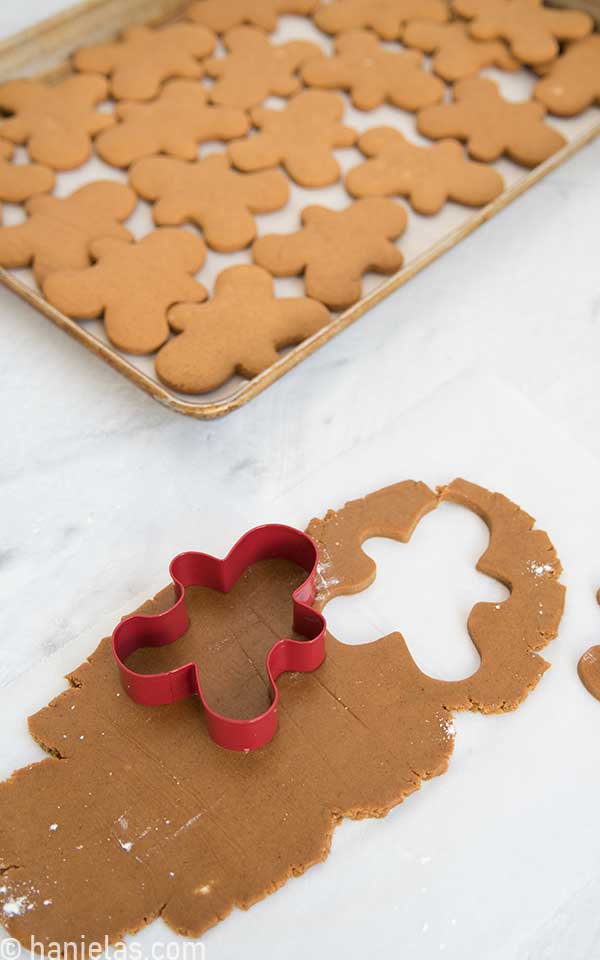 HOW LONG DO GINGERBREAD COOKIES LAST?
Gingerbread cookies will last for 4 weeks, no problem.
CAN I DECORATE THESE WITH ROYAL ICING?
Yes, you can decorate gingerbread cookies with royal icing.
HOW CAN I MAKE COOKIES SPICIER?
Use ground white pepper (1/8tsp), and increase ginger by 1/2 teaspoon.
CAN I MAKE STAMPED COOKIES?
Yes, you can. To ensure your designs are visible in baked cookies, don't use leavening agents such as baking powder or baking soda in the cookie dough. Before you start stamping or using impression tools make sure the dough is well chilled. Dust your impression tools with flour and shake off excess. I used this cookie dough to make these pretty stamped cookies.
IS THIS RECIPE SUITABLE FOR GINGERBREAD HOUSES?
I used this recipe to make my 3D Roman Colosseum Cookie and Small Holiday Centerpieces. Be sure to omit baking powder in the recipe if you plan on using it for a gingerbread house. Also, bake the cookies for longer, you need a firm cookie, soft cookies will not work for house and centerpieces.
CAN I ADD MINI CHOCOLATE CHIPS TO THE COOKIE DOUGH?
I'm glad you asked. Yes, you can. I've done so with these star gingerbread cookies and they were amazing. Gingerbread and chocolate go together well like cheese and wine. So delicious. Add 1/2 cup mini chocolate chips.
TIP: To cut thru cookie dough made with chocolate chips it's best to use a metal cookie cutter with a sharp cutting edge that will cut thru chocolate bits with ease.
MORE DELICIOUS COOKIE RECIPES
Gingerbread Men Cookies
Make about 24-30 gingerbread man cookies, 3 inches in size, 1/4 inch thick.
Oven Temperature 350F (150C)
For Soft Cookies bake for 10-12 minutes
For Crunchy Cookies with golden brown edges bake for 13-15 minutes.
1 serving = 1 cookie
Cuisine:
American, German
Keyword:
gingerbread cookie recipe, gingerbread cookies, gingerbread men cookies
Ingredients
GINGERBREAD MEN COOKIES
3

cup

all purpose flour (430grams)

1/2

tsp

baking powder

1/2

tsp

salt

1 3/4

tsp

ground cinnamon

1 3/4

tsp

ground ginger

1/4

tsp

cloves

1/2

cup

unsalted butter at room temperature (1 stick, 113grams)

1/4

cup

brown sugar, packed

1/4

cup

granulated sugar (50 grams)

1

large egg

1/2

tsp

Vanilla Extract

1/2

cup

molasses

zest of one lemon, about 1 tablespoon
Instructions
Make Gingerbread Cookie Dough
Into a bowl sift all purpose flour (3 cups, 430grams), baking powder (1/2 teaspoon), ground cinnamon (1 teaspoon and 3/4 teaspoon), ground ginger (1 teaspoon and 3/4 teaspoon), cloves (1/4 teaspoon) and salt (1/2 teaspoon). Set aside.

On a medium high speed in a bowl cream room temperature unsalted butter (1 stick,113 grams) and brown sugar (1/4 cups), granulated sugar (1/4 cup). Beat until creamy, about 3 minutes.

TIP : When using a stand mixer use a paddle attachment and with hand held mixer use wire beaters.

Into the butter mixture add large egg (1 whole egg), beat until well combined. Then beat in Vanilla Extract (1/2 teaspoon) and lemon zest (about 1 tablespoon).

Switch the mixer to low speed setting and gradually beat in molasses (1/2 cup, 120ml). Beat until mixture is homogenous, about 1 minute. Scrape down the bowl, once or twice, as needed.

TIP : Try not to pour molasses directly onto the beaters, it can be messy.

Also on low speed, gradually in 2-3 additions, beat flour mixture into the wet butter-molasses mixture. Gather cookie dough into a ball and flatten it into a disk.

TIP : If mixture is unmanageably wet add up to 1/4 cup more flour. Try not to add to much flour as it can lead to tough cookies. Slight stickiness is okay.
Roll Cookie Dough
Roll out freshly made cookie dough between 2 pieces of parchment or 2 silicone mats. Dust parchment and top of the cookie dough with a little flour. Roll it out to about 1/4 inch thick. Slide a flat tray or a baking sheet underneath and transfer rolled out cookie dough into a fridge. Chill at least for 1-2 hours and up to overnight.

TIP: Use rolling guides for even thickness.
Cut Out Cookies
Preheat oven to 350F (180C). Peel off top parchment, place it back on the rolled out cookie dough. Holding both parchment paper ends turn the rolled out cookie dough upside down and then peel off the other parchment. Now you can cut out cookies. Transfer cookies onto a baking sheet lined with parchment.
Bake Cookies
Bake cookies in the preheated oven at 350F (180C) for 10-12 minutes for soft cookies and 13-15 minutes for slightly crunchy cookies, or even longer depending on the oven. Allow to cool before eating, decorating and packaging.
Recipe Notes
CAN I FREEZE THE COOKIE DOUGH? – yes, you can freeze it for up to 3 months. Wrap it well before freezing to prevent dough from frost bite and drying out.

HOW LONG DO THE COOKIES LAST? – up to 4 weeks.
CAN I DECORATE THESE COOKIES? – yes, these cookies can be decorated with icing. I'd recommend baking them for a little longer if you plan on decorating. Only because they will soften up a little as they sit when icing on them is drying.
WHAT KIND OF MOLASSES DO YOU USE? – I like Grandma's Molasses, unsulphured. Don't use blackstrap molasses in this recipe, it can overpowder the flavors; it tends to be  bitter, too.
HOW TO MAKE COOKIE DOUGH SPICIER? -Use more ginger up to 1/2 tsp and 1/8 tsp white pepper.
WHAT OTHER SPICES DO YOU RECOMMEND TO USE? – I like using star anise. Ground star anise looses its potency fairly quickly. I buy it whole and I ground my own using a coffee grinder. in this recipe I'd use 1/4 teaspoon of star anise in addition to the rest of the spices.
Did you make this recipe? Tag @hanielas on Instagram and hashtag it #hanielas
This post was originally published on December 8th, 2010. On January 5th, 2020 I updated this recipe with new photos, step-by-step photos, and written instructions.