Delicious Honey Cookies or Medovniky as we call them in Slovakia are popular all year round. Honey Cookies are gingerbread style cookies, flavored with sweet honey and delicious spices.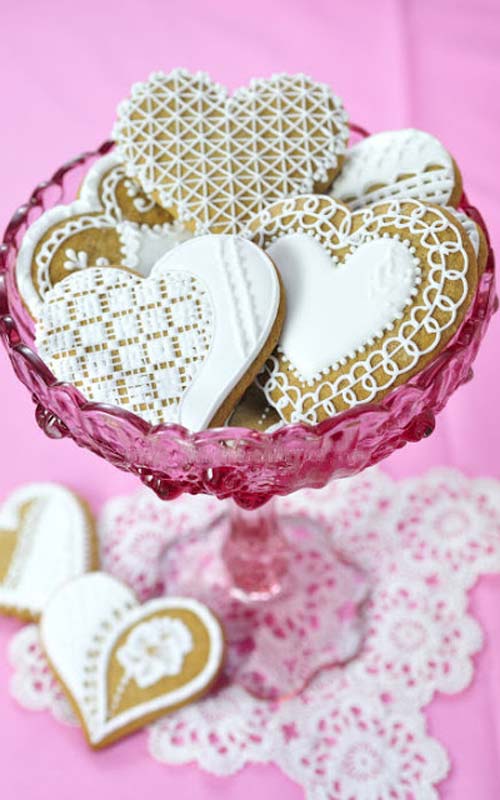 Updated post from 2011.
HOW TO MAKE HONEY COOKIES|MEDOVNICKY
This recipe produces mellow and smooth flavor. Cookies are wonderful to eat plain or iced with royal icing. Enjoy them with tea, coffee or hot chocolate.
INGREDIENTS
All Purpose Flour
Baking Soda
Spices : cinnamon (I prefer Saigon), star anise, cloves, ginger
Salt
Eggs
Honey
Vanilla
Lemon Zest (optional)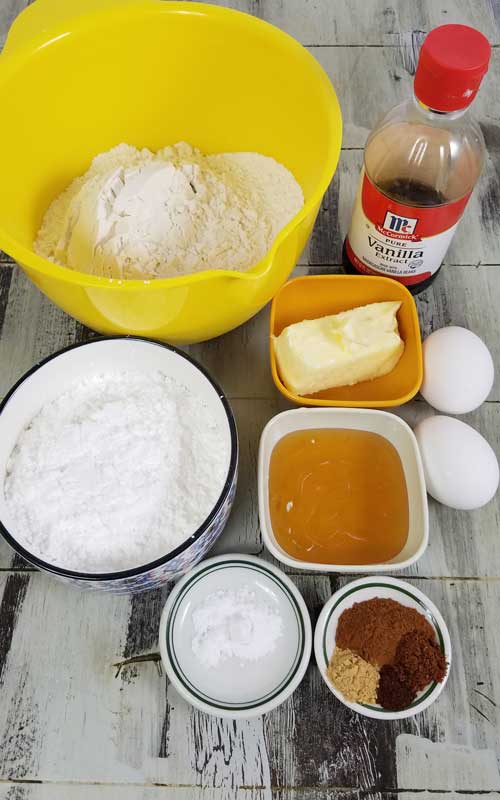 SPICES
Honey Cookies are spiced cookies. I carefully selected 4 spices that I like and fine tuned their ratios to my liking.
In my recipe I use ground cinnamon, star anise, cloves and ginger. You can also use white pepper and allspice if you'd like.
CINNAMON
I like using ground Saigon cinnamon in both sweet and savory dishes. It's sweet and lends such a nice flavor and aroma to baked treats. And I also use it in my Cinnamon Rolls with Vanilla Bean Glaze and my favorite Gingersnap Cookies.
STAR ANISE
Star Anise is a wonderfully aromatic spice with licorice like aroma. Its star shaped pods are so beautiful and can also be used as decoration. Not all grocery store carry this spice. Look for it at Chinese, Russian, Polish markets. Or order it online.
I always buy it whole or broken up but never ground. I prefer ground it myself as ground star anise loosed much of its pungent, characteristic flavor fairly quickly. And since it's not something I used daily I always ground it fresh.
CLOVES
Use only listed amount of cloves in this recipe. Cloves can overpower other flavors.
GINGER
In this recipe I only use 1/8 to 1/4 tsp ground ginger. You can use more if you prefer spicier cookies.
HONEY COOKIE DOUGH
Sift together flour, spices, baking soda and salt.
Cream room temperature butter and powdered sugar for about 2 minutes. Then add eggs. One egg at at a time. Beating well and scrapping the bowl as needed. Pour and beat in honey.
Lastly, turn the mixer to low speed and gradually in about 3 additions beat in flour mix.
Scrape out the dough into a bowl you had the flour in and gather it together with your hands. Knead it for 30 seconds to shape a ball. If it it's too sticky dust 1 tablespoon over it and knead it it.
Flat the dough into a disk. Wrap it into a plastic wrap and refrigerate overnight.
BAKE COOKIES
Roll out cookie dough on a lightly floured surface to 2/16 (3mm) inch to 3/16 (5mm) inches thick. Use rolling guides for even thickness.
HOW TO EVENLY ROLL OUT COOKIE DOUGH
Use rolling guides on each side of the cookie dough. Place rolling pin on top of the guides and roll out the dough. I used bamboo skewers (2/16 inch/3mm) thick to roll the cookie dough with even thickness throughout.
Cut out cookies with a cookie cutter and transfer them onto a baking sheet lined with parchment. Bake cookies in the preheated oven at 360F for 6-8 minutes, until tan in color, puffy and no longer shiny in the center. Longer cookies will take longer to bake. Let them cool for 5 minutes on a baking sheet. Transfer cookies onto a cooling rack. Let cool completely before storing or decorating.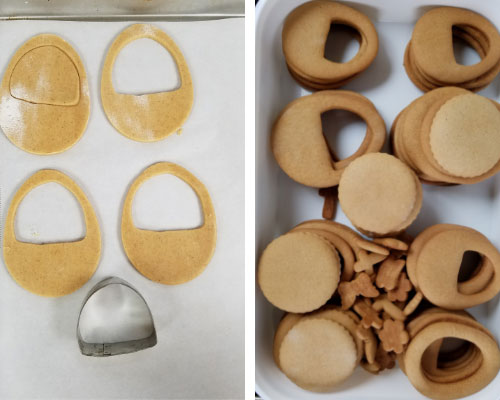 HOW LONG DO HONEY COOKIES LAST?
Cookies stored in an airtight container last for up to 4 weeks.
HOW TO APPLY EGG WASH
Notice a difference between the image above and below. Shiny cookies were brushed with egg wash right after baked. Some baked brush them before they bakes cookies some do right after. Brushing honey cookies with an egg wash or glaze is an optional step. It's not necessary. I often skip this step.
Prepare egg wash before hand. Whisk one egg well with a fork or small whisk. Strain it through a fine mess sieve and set aside. You can also color egg wash with food coloring if desired. Usually red color is adding or brown.
Right after you take cookies out of the oven and while they are still hot brush them with egg wash. Avoid brushing too much egg wash on hot cookies. This can cause egg wash to drip and puddle at the base of the cookies. At this point baking sheet is still hot. Too much egg on a hot baking sheet and you've got yourself scrambled eggs.
Cookies brushed with an egg wash stay shiny. If you plan on decorating a whole cookie with royal icing there really is no need to brush them with egg wash.
HONEY COOKIES DECORATED WITH ROYAL ICING
Honey Gingerbread Cookies are traditionally decorated with Royal Icing.
USEFUL TUTORIALS ON HOW TO DECORATE COOKIES WITH ROYAL ICING :
Gingerbread People Table Setting Cookies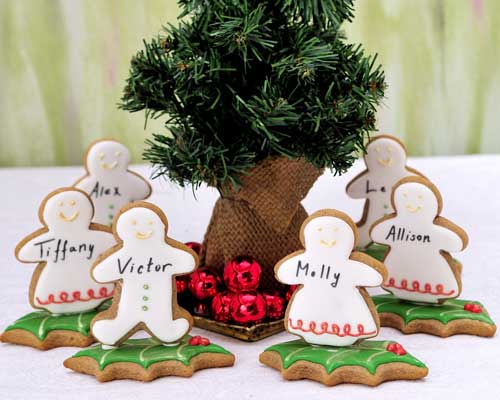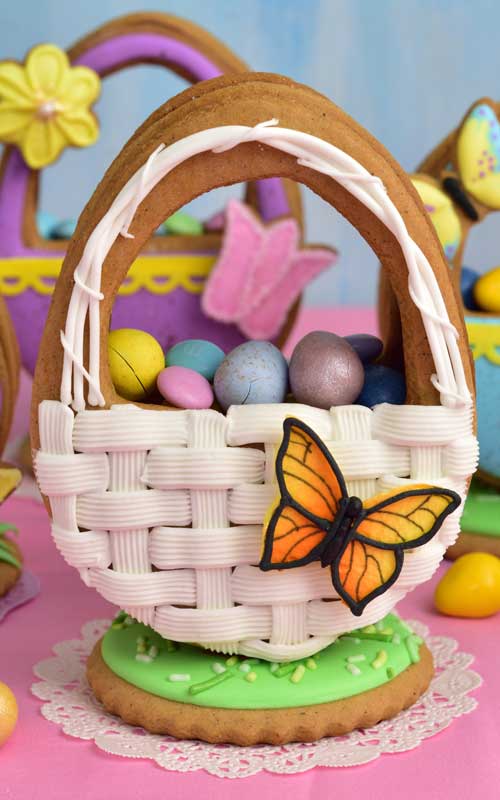 Honey cookies are especially beautiful decorated with white royal icing.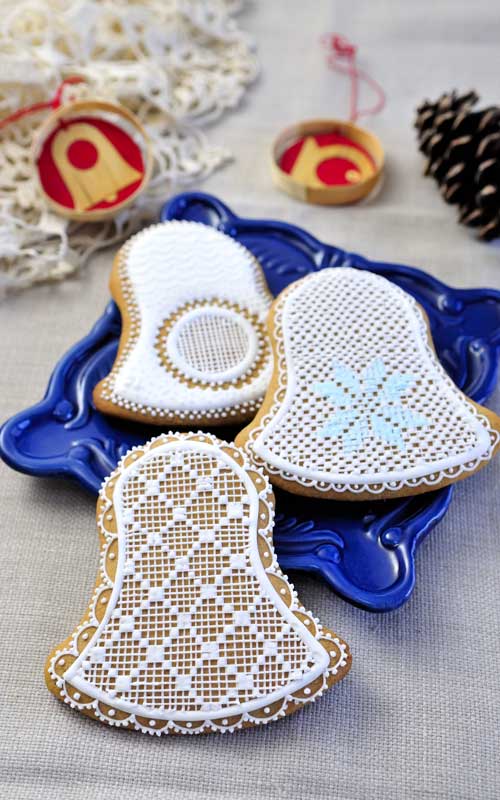 Cookie dough can also be used to create variety of 3D designs like these 3D Cookie Rings and Gingerbread House and other seasonal centerpieces.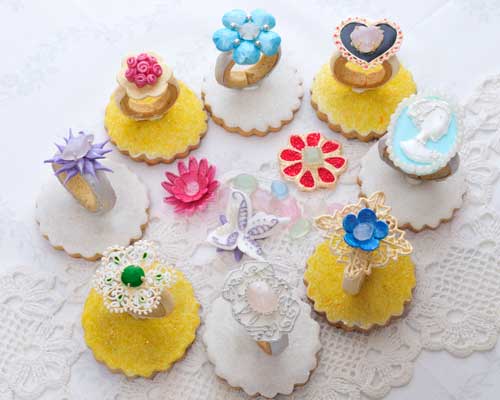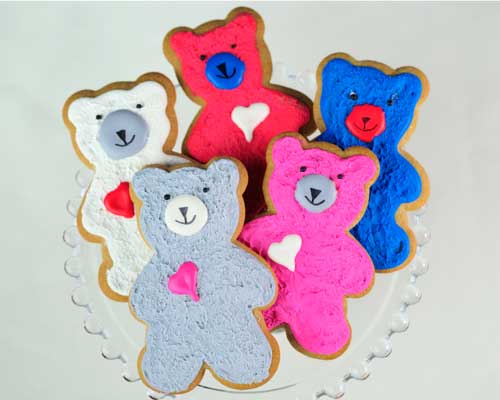 Marie Antoinette Dress Cookies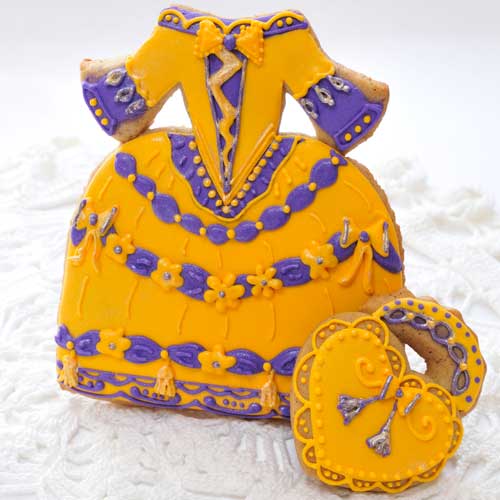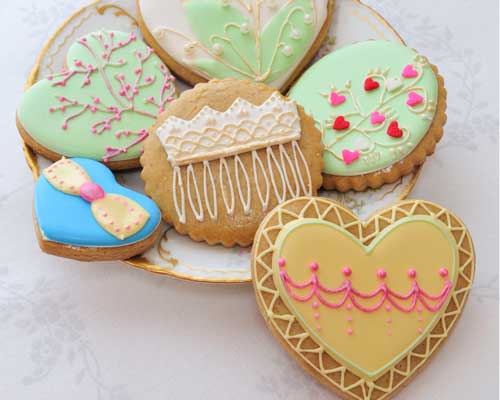 TO MAKE HONEY COOKIES YOU NEED
TOOLS
Find all tools in my amazon shop
Baking Sheet
Hand Held or Stand Mixer
Star Anise
Parchment Paper
Pastry Brush – if using egg wash
Cookie Cutters
MORE COOKIE RECIPES :
PIN IT for later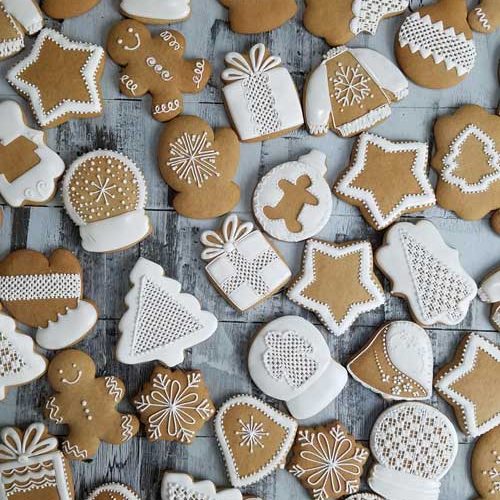 Honey Cookies
Makes about 24 medium size cookies. Popular for holidays and year round. 
Makes 1 large gingerbread house.
This recipe can be also used to make delicious edible gingerbread houses. Check notes.
Keyword:
edible dough for gingerbread houses, gingerbread, honey cookies, medovnicky
Ingredients
70

grams

room temperature butter / 5tbsp butter

160

grams

powdered sugar / 1 cup and 1/2 cup sifted powdered sugar

400

grams

all purpose flour /2 cups and 3/4 cup to 3 cups

1

tsp

baking soda

(use only 1/8 to 1/4tsp when using for gingerbread house)

1 1/2

tsp

ground cinnamon

Saigon

1/2

tsp

ground star anise

1/4

tsp

ginger

1/4

tsp

cloves

pinch

salt

3

tbsp

honey

2

whole eggs at room temperature

1

tsp

vanilla extract

2

tsp

lemon zest

(optional, recommended to use for gingerbread houses)
Instructions
Honey Cookie Dough
In a medium bowl, sift flour (2 cups and 3/4cup to 3 cups), baking soda (1tsp), ground cinnamon (1tsp and 1/2tsp), ground star anise (1/2tsp), ginger (1/4tsp), cloves (1/4tsp), salt (pinch).

Use 1/8tsp to 1/4tsp baking soda when making an edible gingerbread house.

TIP : My 1 cup of flour is 140-143grams flour

Cream room temperature butter (5tbsp) and powdered sugar (1cup and 1/2cup). Beat till fluffy. Then beat in eggs (2 whole eggs), one at a time. Scrapping bowl few times. Then gradually pour it honey (3 tbsp), vanilla extract (1tsp) and lemon zest (optional). Scrape the bowl with a spatula and beat for a minute or so.

Then on low speed and gradually add flour sifted with spices and baking soda. Beat till combined. Invert dough onto a lightly floured surface and knead for a minute. If dough appears too sticky add little more flour. Wrap in a plastic wrap and refrigerate for 4 hours or overnight.

Preheat oven to 350F – 360F

Line your cookie sheets with parchment paper.

Roll the dough between 2 pieces of parchment paper to 2/16 (3mm). If needed very lightly flour your bottom parchment paper. Roll the dough into approximately 3-4 mm thick. Cookies puff up in the oven. For even thickness use rolling guides.

Cut out cookies and transfer onto a baking sheet lined with parchment paper.

Bake cookies of 6-8 minutes until puffy and golden.

Larger cookies may take little longer to bake

Try to bake smaller shapes and larger shapes separately, smaller shapes will be baked before larger ones.
Remove from the oven, let cool for couple minuter on the baking sheet and then transfer to a cooling rack
Egg Wash (optional, use for shiny cookies)
Whisk the the egg well, and then strain the egg wash to remove any egg bits.
Applying Egg Wash
To create shiny finish on cookies, brush the cookie right after you take them of the oven while they are still hot. Be sure not to add too much egg wash as it can drip down the sides and under the cookies.
Gingerbread House
This recipe can be use to make tasty gingerbread houses. When using to make gingerbread house use only 1/8 tsp to 1/4 tsp baking powder.
Bake Gingerbread House Panels
Roll the cookie dough for gingerbread houses to 1/8 inch (3mm) to 4mm. Bake large gingerbread house panels for 10-14 minutes, or until golden and light brown. Smaller cookies take shorter time to bake. Let panels cool on a baking sheet for 10 minutes then transfer them onto a cooling rack to cool completely.
Recipe Notes
DO I HAVE TO USE STAR ANISE, I DON'T HAVE IT?
I love using star anise but if you don't have it or can't find it's okay to skip it. Flavor of finished cookies will be slightly different but still very tasty because of other spices used.
HOW DO YOU GROUND SPICE?
I use a small coffee grinder. Then I sift them thru a fine mesh sieve. 
HOW LONG DO HONEY GINGERBREAD COOKIES LAST?
Stored in an airtight container they last for up to 4 weeks.
HOW WOULD YOU DECORATE THESE WITHOUT ICING?
Decorate cookies before baking with walnuts, pecans, almond or dried fruit. Brush either little bit of egg wash on the cookies before they are baked and then attach nuts or fruit. Or brush cookies with little bit of water instead.
I WANT TO DECORATE THESE COOKIES BUT THEY ARE SLIGHTLY DOMED, WHAT'S THE BEST WAY TO DECORATE THESE WITH ROYAL ICING?
Yes, cookies bake slightly domed. They are known for its rounded edges. If you plan to decorate these with simple piped designs having the dough still exposed decorate the rounded top. Especially if you brushed it with an egg wash it looks very pretty. However when decorating a whole cookie with icing you have to careful not to add too much icing onto the cookie or it overflow. Best course of action is to decorate the underside as it's flat. I used this method to make my Easter Gingerbread House. Or use slightly thicker icing to outline and then flood with thinner icing.
WHAT ICING FLAVORS DO YOU RECOMMEND?
Lemon, Vanilla, Almond, Chocolate 
CAN I USE THIS RECIPE TO MAKE A GINGERBREAD HOUSE ?
You you can use this recipe to make a gingerbread house. Use 1/8 tsp to 1/4 tsp baking soda instead of 1tsp. Here is Step by Step tutorial on how to build a Simple Edible Gingerbread House using this recipe. 
This post was originally published on January 12th, 2011. On October 20th I updated this post with new photos and written text.
This post contains Amazon affiliate links that earn me a small commission, at no cost to you. I only recommend products that I use and love. Learn more about my affiliate policy here.