Delicious Honey Cookies or Medovniky as we call them in Slovakia are popular all year round. Honey Cookies are gingerbread style cookies, flavored with honey and seasoned with spices.
HONEY COOKIES|MEDOVNICKY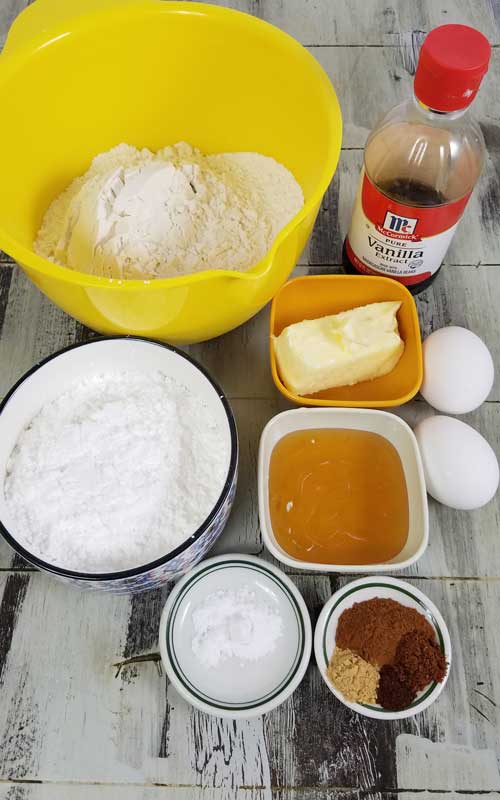 SPICES
MIXING COOKIE DOUGH
Honey Cookies
Makes about 24 medium size cookies. Popular for holidays and year round.
Ingredients
400

grams

flour 3 1/3 cups flour

160

grams

powdered sugar / 1 1/2 cup +1tbl sifted powdered sugar

70

grams

room temperature butter / 5tbl butter

1

tsp

baking soda

3

tbl honey

2

eggs

1 1/2

tsp

ground cinnamon

Saigon

1/2

tsp

ground star anise

1/8

tsp

to 1/4tsp cloves

1/8

tsp

to 1/4tspginger

pinch

of salt
Instructions
Honey Cookie Dough
In a medium bowl, sift flour, baking soda, spices, salt

Cream room temperature butter and powdered sugar. Beat till fluffy, add eggs, one at a time. Then Gradually pour it honey and vanilla extract. Beat well.

On low speed and gradually add flour mix. Beat till combined. Invert dough onto a lightly floured surface and knead for a minute. If dough appears too sticky add little more flour. Wrap in a plastic wrap and refrigerate overnight.

Preheat oven to 195-200C (390F)

Line your cookie sheets with parchment paper.

Roll the dough between 2 pieces of parchment paper or use Doug EZ system. if needed very lightly flour your bottom parchment paper, roll the dough into approximately 3-5 mm thick (3/16 inch). For even thickness use rolling guides.

Cut out cookies and transfer onto a baking sheet lined with parchment paper.

Bake cookies of 1-3 inches for 6-8 minutes

Larger cookies may take little longer to bake

Try to bake smaller shapes and larger shapes separately, smaller shapes will be baked before larger ones.


Remove from the oven, let cool for couple minuter on the baking sheet and then transfer to a cooling rack
Egg Wash
Whisk the the egg well, and then strain the egg wash to remove any egg bits.
Applying Egg Wash
To create shiny finish on cookies, brush the cookie right after you take them of the oven while they are still hot. Be sure not to add too much egg wash as it can drip down the sides and under the cookies.
Gingerbread House
If using this recipe to make a gingerbread house use 1/4 tsp baking powder.