Do you want to make cute and Simple Shark Cookies? You are in the right place. These easy decorated shark cookies are perfect for last minute cookie decorating projects. Use my delicious Sugar Cookie Recipe and Royal Icing. You don't need any special cutters. And they are sure to make your Shark Week celebrations a lot sweeter.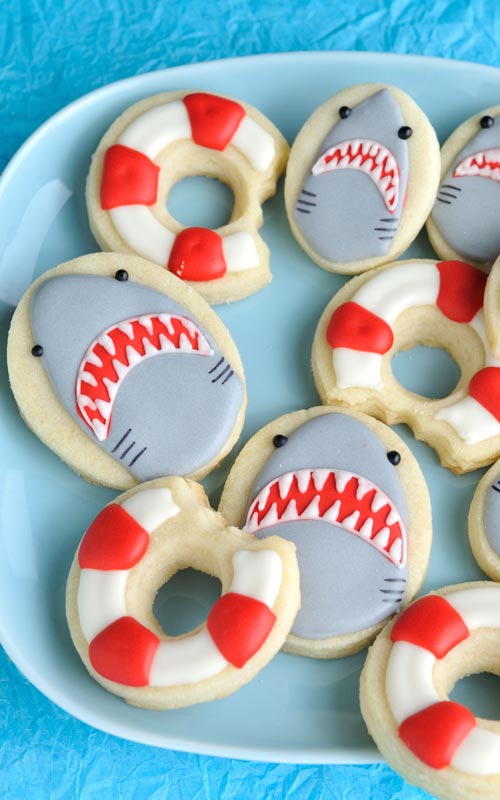 JUMP TO VIDEO | JUMP TO RECIPE AND TOOLS | PIN IT for later
EASY SHARK COOKIES
Shark Week first aired in 1988. That's a whole lot of sharks! Today I'm going to show how to make super easy shark cookies using a round or oval shape cookie cutter.
ROYAL ICING COLORS AND CONSISTENCY :
Gray, Red – 15 second consistency
White – 20 second consistency
Black – 20 second consistency
DECORATING STEPS:
Start with making the mouth with red royal icing. Pipe a crescent shape and flood it with red icing. Then immediately with gray icing pipe the triangle shape with a round tip. Pipe the outlines so it's touching the sides of the red mouth. Flood with gray icing and let dry.
Then make the teeth. With white royal icing pipe outline the mouth. Next, pipe the teeth,triangle shapes on the bottom. And repeat on the top of the mouth. Pipe the eye with black royal icing.
Lastly, make the the gills. Draw the gills line with a black edible marker. Let dry.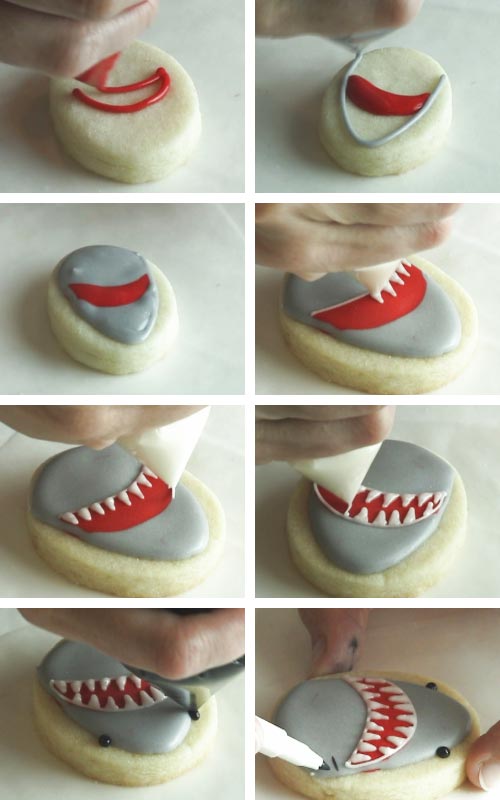 LIFE RING BUOY COOKIES
Cut-out donut shape cookies. If you don't have a donut cutter use a round cutter (round glass is great, too) and then use a small round cutter (round shot glass works, too) to cut out center.
To make shark bites trim one side of the donut shaped cookie with a scalloped edge cookie cutter. Alternatively use a round cutter or a glass to make the bite marks. Or use a fork to break off a small piece of an unbaked cookie. It doesn't have to be perfect. Bake cookies as directed in the recipe.
COLORS AND CONSISTENCY :
White – 15 second consistency
Red – 20 second consistency
DECORATING STEPS :
Ice cookie with white icing, smooth the icing with a needle tool. Let the icing crust. Then with red royal icing pipe red sections. Smooth the icing with a needle tool. Let dry.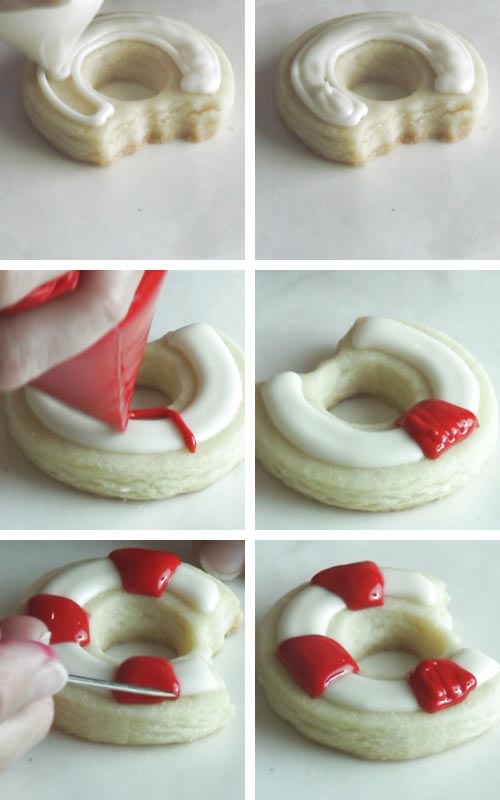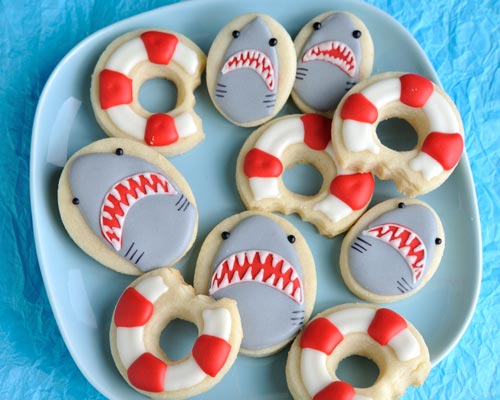 TO MAKE DECORATED SHARK AND LIFE RING BUOY COOKIES YOU NEED
FUN SUMMER COOKIES :
PIN IT for later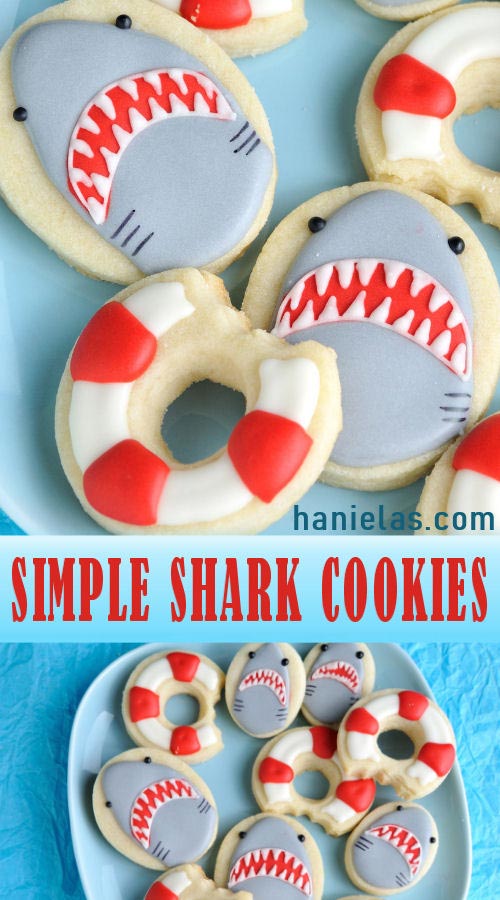 I updated this post from 2014 with step by step photos, written text and a video tutorial.
This post contains Amazon affiliate links that earn me a small commission, at no cost to you. I only recommend products that I use and love. Learn more about my affiliate policy here.