Chocolate Cut Out Cookies
These Chocolate Cut Out Sugar Cookies are packed with delicious chocolate flavor, slightly chewy centers and crispy edges. If you are looking for brownie like sugar cookie look no further. They are perfect plain, decorated with icing, chocolate or sandwiched with your favorite filling.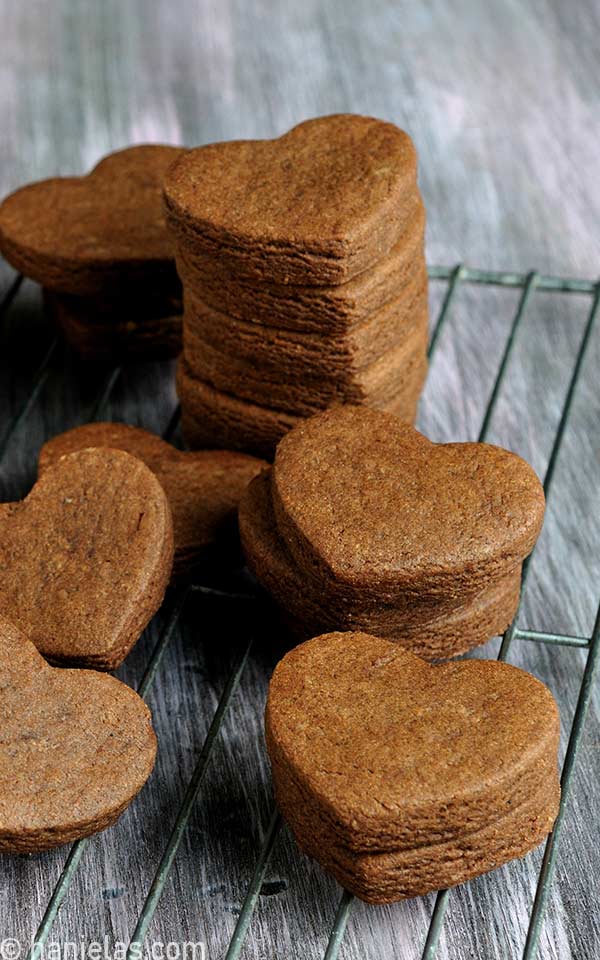 updated from 2014
HOW TO MAKE CHOCOLATE CUT OUT COOKIES
COOKIE DOUGH USES
This cut out cookie recipe is really fantastic. Cookie dough is easy to make and it is also very versatile. Baked cookies can be decorated with icing, fondant or chocolate. When you omit baking powder you can make molded cookies. Or use textured mats to transfer beautiful designs onto the cookies.
You can roll out cookies thinly to make them crispy and fill them with jam, ganache, peanut butter or coconut filling. And guess what? You can also use these chocolate brownie cut out cookies to make ice cream sandwiches. So good!
Let's make some chocolate cookies. But be aware, they are extremely addictive.
INGREDIENTS
Just like with most of the baking recipes be sure to use room temperature ingredients.
Unsalted Butter
Brown Sugar
Granulated Sugar
Eggs
Vanilla Extract
Almond Extract
Instant Espresso Powder or Strong Granulated Coffee
Cocoa Powder – preferably use Dutch Processed
Flour
Salt
Baking Powder – if you don't have dutch processed cocoa powder use natural and omit baking powder
TIP : Are you looking for a vegan variation of this recipe, try my Vegan Cookies instead.
CREAM BUTTER AND SUGAR
Cream room temperature butter with granulated sugar and brown sugar until pale in color and fluffy, about 5 minutes. Scrape down the bowl few times to ensure all of the ingredients are well blended together, (steps 1-8).
TIP : Butter that is too soft can cause your cookies to spread.
WET INGREDIENTS AND FLAVORINGS
In this recipe I use 2 whole large eggs at room temperature.
To enhance chocolate flavor I also use coffee in this cookie recipe. Using coffee is totally optional. Along with coffee I use Vanilla and Almond Extracts. Almond extract is also optional. I like to add it to deepen the flavor slightly. If you prefer you can also use chocolate extract to double down on chocolate flavor.
Into the room temperature eggs add Vanilla Extract, Almond Extract and instant coffee granules or espresso powder. Whisk well to combine, (steps 1-8).
TIP : Bring cold eggs to room temperature by submerging them in warm water for 5-10 minutes.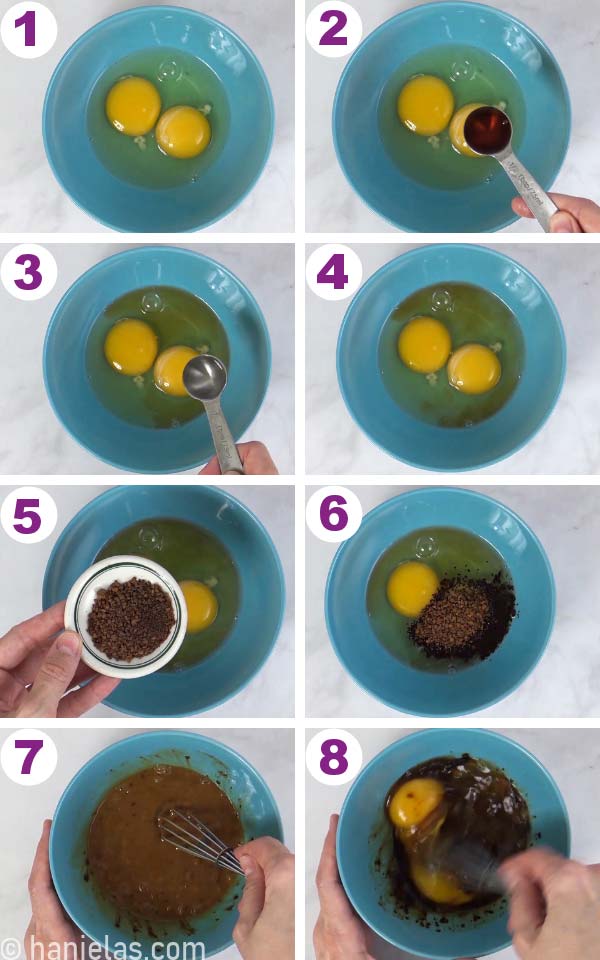 Into the creamed butter and sugars gradually beat in egg mixture. Scrape down the bowl to ensure all is well combined.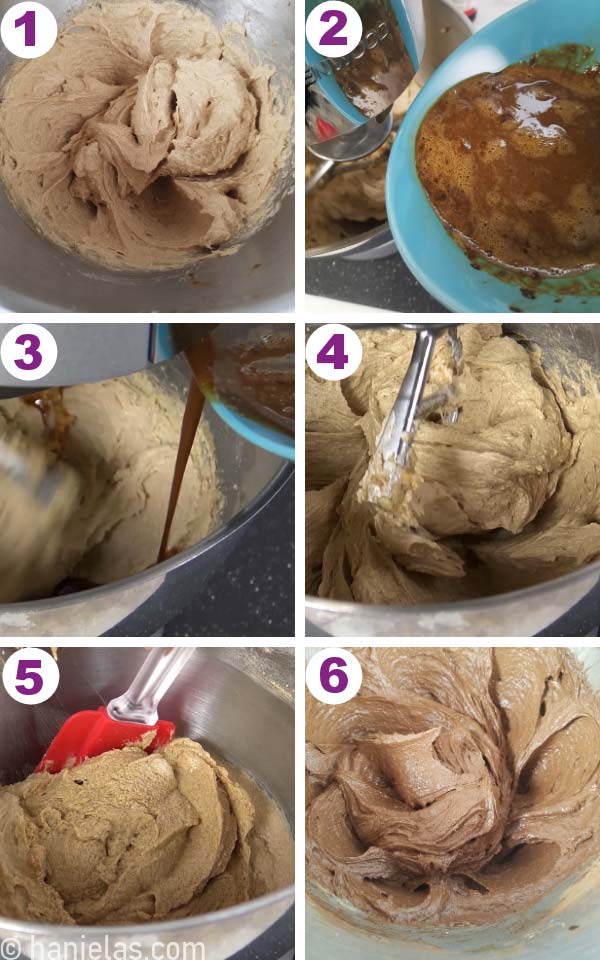 COCOA POWDER
When it comes to cocoa powder I'd recommend that you use Dutch processed cocoa powder in this recipe. If you can't find any it's okay to use natural cocoa powder but omit the baking powder in the recipe.
Sift a cocoa powder thru a fine mesh sieve into a butter mixture. Beat well until combined and mixture is homogeneous, (steps 1-3).
TIP : It's important to sift cocoa powder. Don't skip this step or you might be unpleasantly surprised with cocoa powder lumps in the cookie dough.
DRY INGREDIENTS
I'm using all purpose flour along with salt and baking powder.
Sift flour, baking powder and salt into a mixing bowl, (steps 1-5).
TIP : If you are using natural cocoa powder for the best results omit baking powder.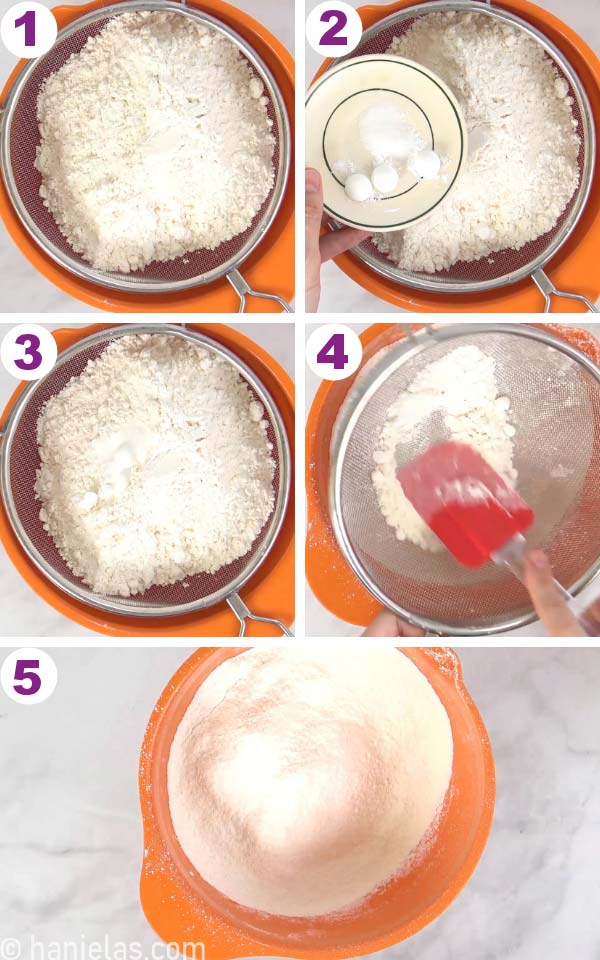 CHOCOLATE COOKIE DOUGH
Now you can gradually add flour mixture into the butter mixture. On low speed add flour in 3 additions, scrapping down the bowl few times to make sure all the flour is well blended in, (steps 1-6).
Dump cookie dough onto a work surface and gather it into a disk. I personally like to give it a quick 5-10 second kneading by hand to bring it all together, (steps 7-8).
ROLL OUT COOKIE DOUGH
At this point you have 3 options:
You can roll out freshly made cookie dough between 2 parchment sheets, slide it onto a tray and stick it into the fridge for an hour and up to 6 hours and then cut out and bake cookies. If you let rolled out cookie dough in the fridge for longer then 8 hours, edges start to dry out a bit.
Wrap cookie dough disk into a food wrap and refrigerate for 4 hours and up to 3 days. Then roll out cookie dough.
Wrap well in food wrap and place wrapped disk into a freezer safe ziploc bag/container and freeze for up to 3 months.
When I work with a chilled or previously frozen cookie disk, before I start rolling out cookie dough I like to quarter the disk and then I take one quarter and set it aside. Rest of the cookie dough I slice into about 1 inch thick pieces, (steps 1-3).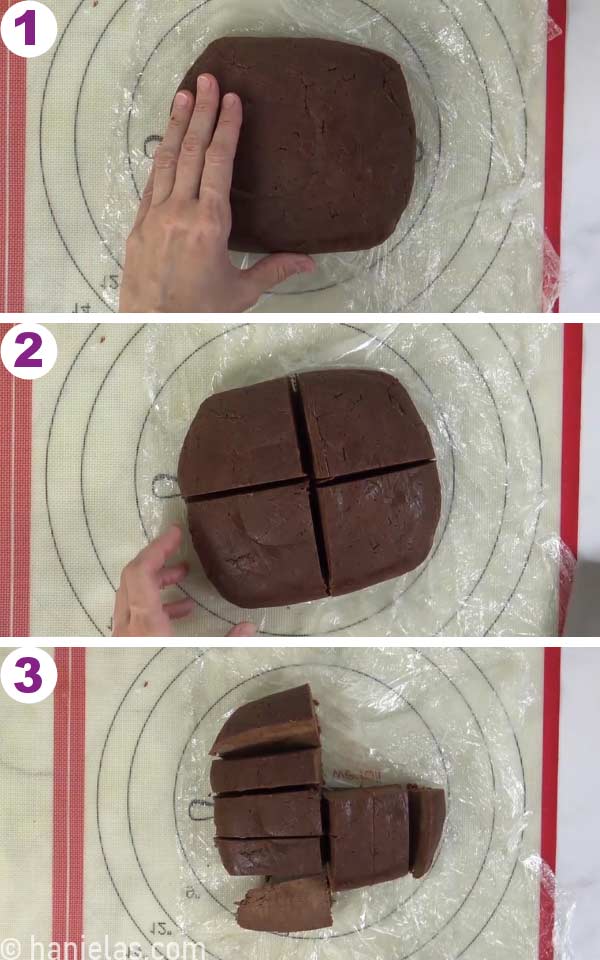 Roll out quarter of the cookie dough you set aside. If it's too hard to roll out microwave it on high for 5 seconds. Roll out cookie dough to about ¼ inch between silicone mats or use 2 parchment sheets, (steps 1-4).
TIP : If you plan on decorating cookies with icing I'd recommend that you roll out cookie dough to about ¼ inch or thicker. However, you can roll the cookie dough thinner if you are not decorating them or, for example if you're making sandwich cookies.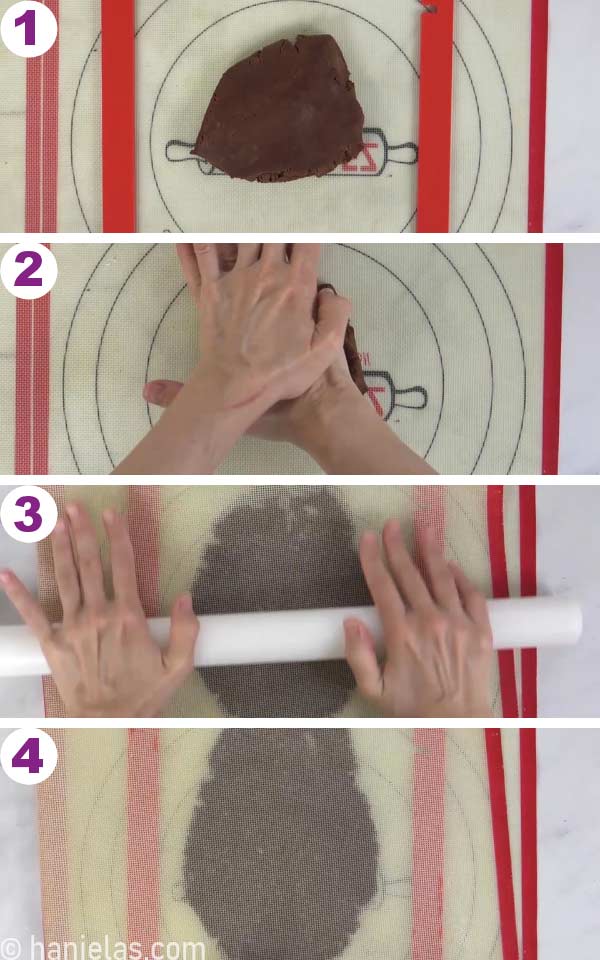 CUT OUT COOKIES
Cut out cookies with cookie cutter or hand cut unique shapes and transfer cookies onto a baking sheet lined with parchment paper, (steps 1-3).
You can bake cookies right away. Chill the the remaining cut out cookies until your first batch bakes.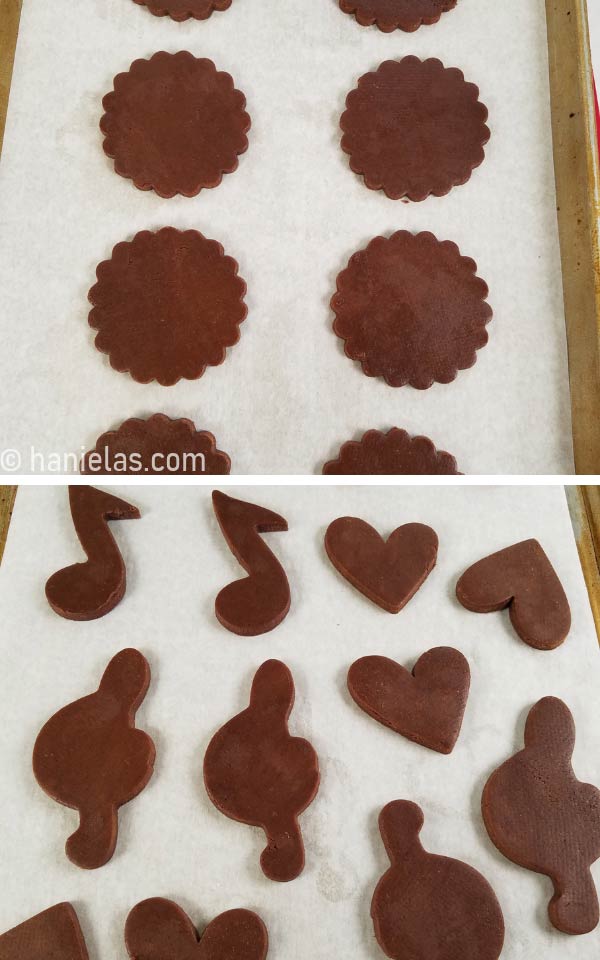 Gather scraps, take one or 2 pieces of sliced chilled cookie dough. With your hands press it together and roll it out and repeat the process.
BAKE CHOCOLATE CUT OUT COOKIES
I bake chocolate cut out cookies at 375F (190C). Medium size cookies (3 inch) take about 7-10 minutes. Small (1 inch size) cookies will be done a little faster, about 6-7 minutes. Also, remember thinner cookies will be baked faster.
HOW TO MAKE COOKIES CHEWIER?
Use more brown sugar (1 cup brown sugar and ½ cup granulated sugar).
HOW LONG DO CHOCOLATE CUT OUT COOKIE LAST?
Cookies keep at room temperature in an airtight container last for up to 2 weeks.
CAN I FREEZE COOKIES?
Yes, you can freeze cookies.
Freeze unbaked cookies on a tray, then layer frozen unbaked cutouts into a freezer safe container, between pieces of parchment. Freeze up to 3 months. When ready to bake, transfer frozen unbaked cookies onto a baking sheet lined with parchment. Allow to sit at room temperature for 15 minutes then bake the cookies as usual.
Freeze baked and cooled cookies in a freezer safe container layered between sheets of parchment. Refer to my step by step tutorial on How to Freeze Cut Out Cookies. Cookies can be frozen up to 3 months. To decorate frozen cookies allow them to thaw completely before decorating. I recommend letting them sit on a counter for 3-5 hours or overnight.
WHAT ICING PAIRS NICELY WITH CHOCOLATE COOKIES?
If you plan on decorating cookies these chocolate brownie cut out cookies pair nicely with vanilla, orange, chocolate, coffee, caramel and even lemon royal icing.
I used orange royal icing to decorate these Monarch Butterfly Cookies.
This best ever chocolate cookie dough can be also used to make sandwich cookies, filled with jam, Nutella, peanut butter filling or you can make chocolate s'mores.
MORE CUT OUT COOKIE RECIPES
Chocolate Cookie Cut Out Cookie Recipe
Ingredients
CHOCOLATE CUT OUT COOKIES
2

sticks

room temperature butter

1cup butter =226grams

1/2

cup

packed brown sugar

140grams

1

cup

200grams granulated sugar

1/2

tbl

vanilla extract

1/2

tbl

almond extract

2

eggs

room temperature

1

tbl

espresso powder

2/3

cup

dark baking cocoa powder

70grams

3

cups

all purpose flour

430grams

1/2

tsp

salt

3/4

tsp

baking powder
Instructions
Beat butter and sugars, for about 2 minutes, until fluffy, scrape down the bowl.

In a small dish bread the eggs, add extract and whisk until egg are broken up.

Gradually add egg mixture into the butter mixture, beating well after each addition.

Sift together cocoa powder and coffee powder.

On low speed add cocoa powder mix, on low speed mix well until combined.

In a large bowl sift together flour salt and baking powder.

Gradually add flour mix to the butter mix, on low speed in 3 additions.

Scrape out all of the cookie dough into a bowl. Knead for 30 seconds until no flour streaks are present. Dough will be soft.
Wrap into a plastic wrap and chill for 4 hours or up to overnight.
Preheat oven to 375F(190C). Roll the dough between 2 pieces of parchment paper, roll it out to 1/4 thick. Cut out cookies.
Place cookies on a baking sheet lined with parchment paper. Small cookies bake in 6-7 minutes. Larger cookies take little longer.
Recipe Notes
Also I use electric oven, gas oven may act little differently and baking time may vary. Cool cookies completely. Decorate as desired.
Store in the airtight container for up to 2 weeks or freeze undecorated cookies between pieces of wax paper in a large freeze safe container, for up to 2 months. Decorate cookies as desired with royal icing or other medium that you use.
Did you make this recipe? Tag @hanielas on Instagram and hashtag it #hanielas
This recipe was originally published on February 14th, 2014. On February 12th, 2021 I updated this post with new step by step photos, text and a video.1