If you are curious how to make Cookies on a Stick aka Cookie Pops you are in the right place.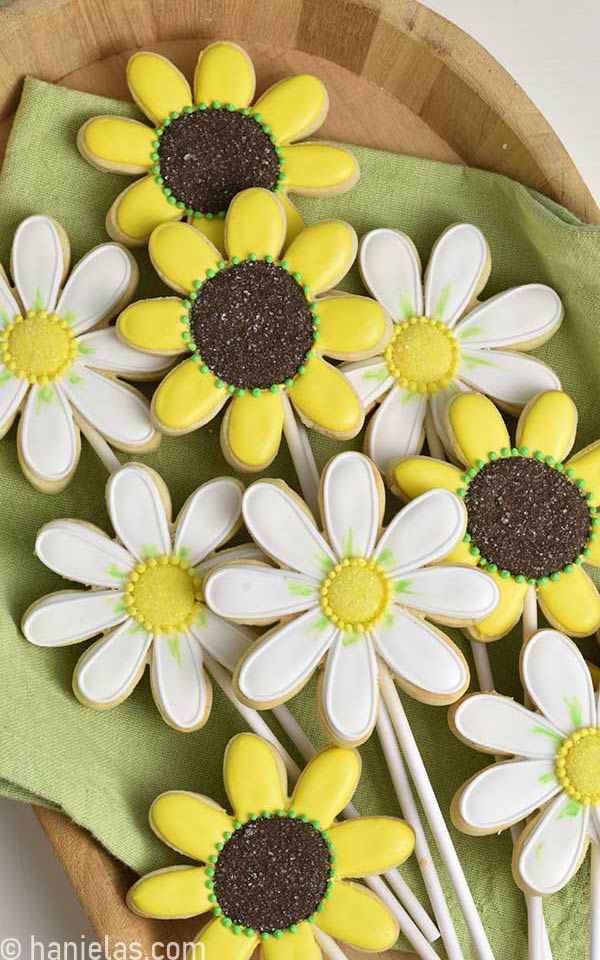 updated post from 2010
HOW TO MAKE COOKIES ON A STICK AKA COOKIE POPS
Today I'll show you several ways how you can easily make cookie pops at home.
The whole idea is to put a cookie on a stick, like a lollipop. You can make cookies on a stick using number of different shapes. Flowers look great but think outside the box, too : animals, characters, birthdays, holidays, decorations and more.
COOKIE RECIPES
ROLLING GUIDES
If you plan on placing the lollipop stick on the outside of the cookies you can roll out your cookie dough as thin as ¼ thick. I wouldn't really go thinner than that.
And if you plan on inserting a lollipop stick into the cookie then make sure to roll out your cookie dough thicker, about 3/16 inch to 3/8 inch / 7.9mm to 9.5mm thick. To achieve different thickness it's best to use rolling guides. (steps 1-3).
Roll out cookie dough between 2 silicone mats or parchment paper sheets.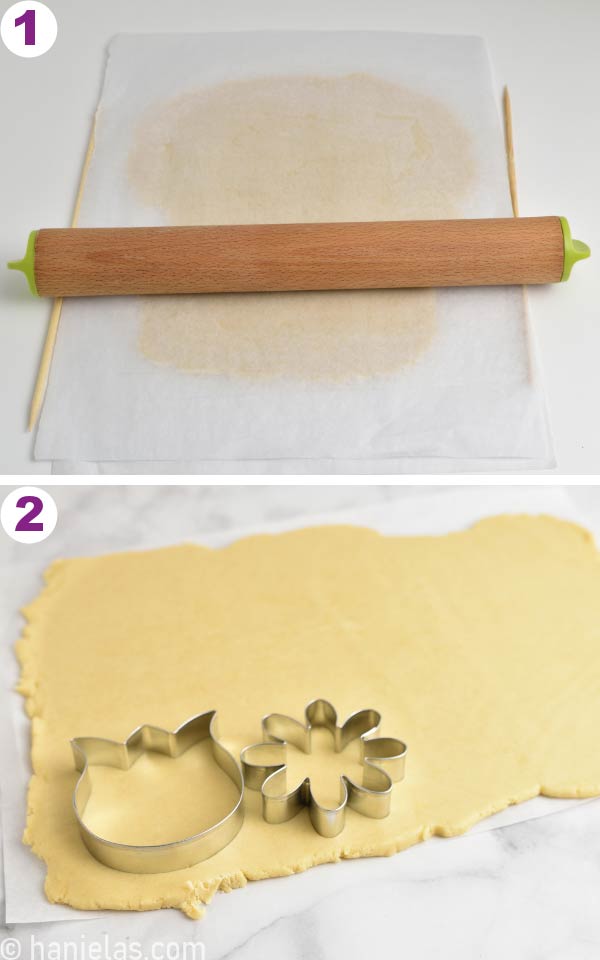 HOW TO INSERT THE LOLLIPOP STICK INTO THE COOKIES
There are several ways to make cookie pops.
OPTION 1
Press slightly chilled cookie onto a lollipop stick and press is down gently. Bake cookies as usual.
Underside of the cookie has a lollipop stick exposed and this is the side you should be decorating. Additional layer of icing not only hides the stick but it also provides additional support so the lollipop stick is not going to fall out.
Alternative way is to push the stick onto the cut out cookie as shown below. Working with a ring shaped cut out can be tricky and placing the stick directly on top of the cookie and gently pushing it in works great. If you do it the other way around cookie is most likely going to get mishaped. This technique however can sometimes be hit or miss. If your cookie dough rises too much, it also makes the lollipop stick rise as there is nothing on top of it that can keep it from rising.
TIP : If it happens that the lollipop stick is not flush with the cookie, gently press onto the stick as soon you take your cookies out of the oven, while they are hot, until it's flush with the cookies' top layer.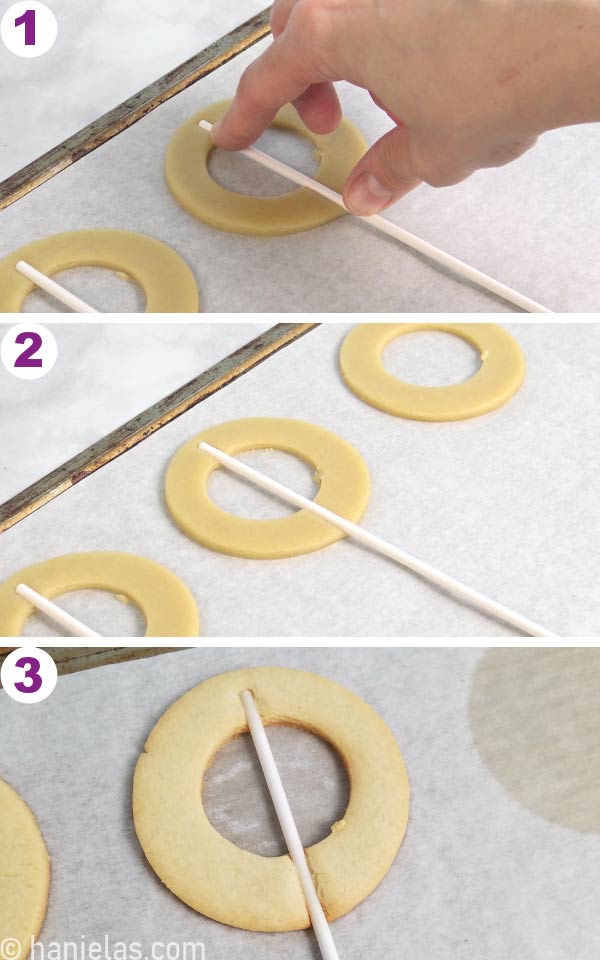 OPTION 2
Option 2 makes cookie pops without lollipop sticks exposed. Lollipop stick is inserted into a cookie (3/16 inch to 3/8 inch / 7.9mm to 9.5mm thick) using a gentle back and worth twisting motion. It's best to work with cookies that are not too soft.
I like to place my fingers flat onto the cookie to stabilize it a little bit an then insert the lollipop stick. It's best to insert the lollipop stick about 1/2 way up the cookie. Lollipop stick is hidden inside of the cookies.
TIP : When using this method thickness of the cookies you need depends on the thickness of lollipop stick/bamboo stick you are using.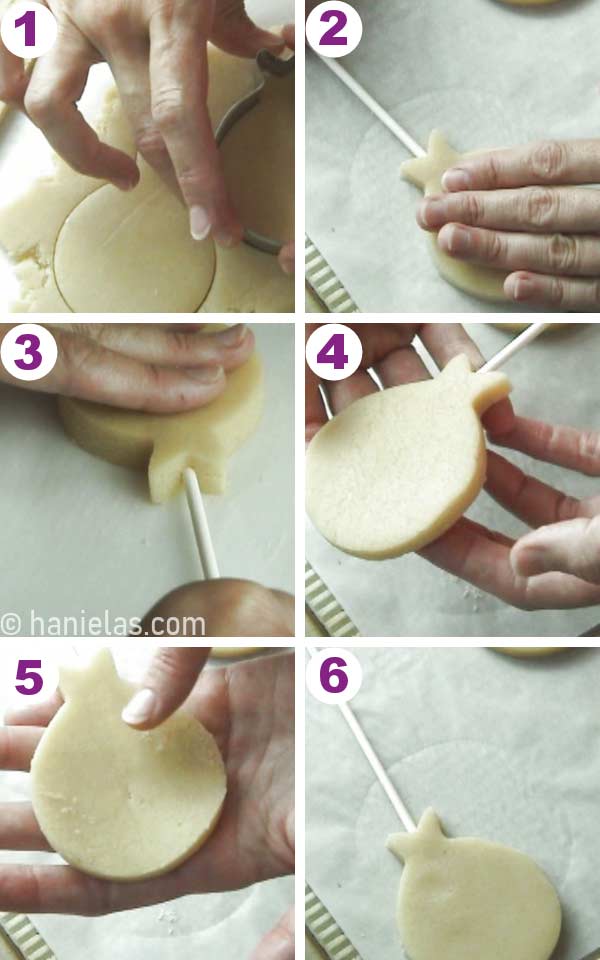 LOLLIPOP STICKS
You can use lollipop sticks made out of a sturdy paper or you can also use bamboo sticks.
Advantage of bamboo sticks is that they usually come with a sharpened end. This makes inserting sticks into the cookies easier. And you can get them thinner than paper lollipop sticks, which means your cookies can be thinner if you are inserting bamboo sticks into the cookies (option 2).
TIP : In case lollipop or a bamboo stick becomes loose after cookies are cooled you can glue it with a little bit of royal icing.
Here are cookies on bamboo sticks that I turned into a beautiful flower cookie bouquet.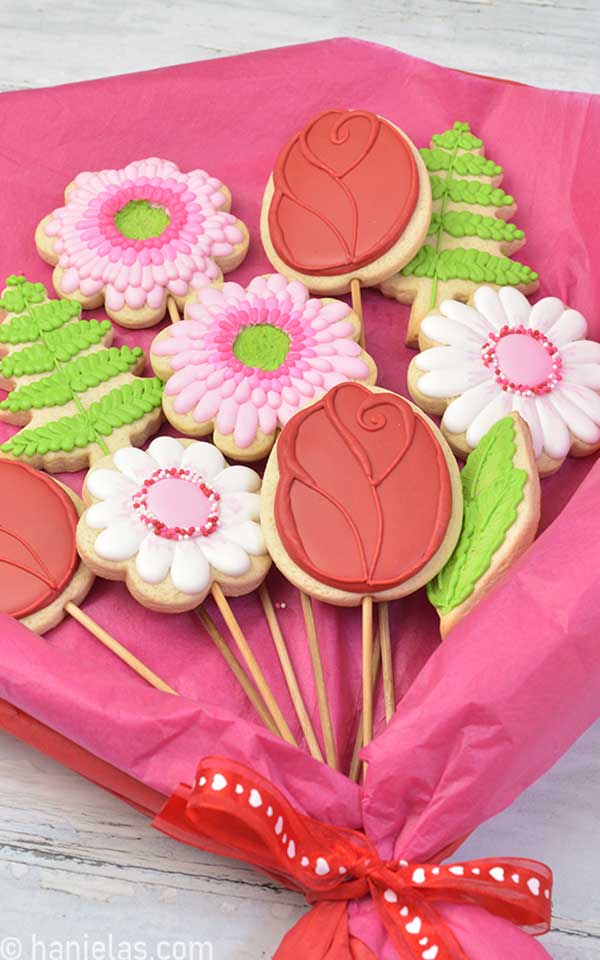 HOW TO DECORATE COOKIES ON A STICK
To decorate you can use royal icing, glaze or fondant. I usually work with royal icing so that's what I used to decorated these flower cookies.
When lollipop stick is exposed it is best to decorated the side of the cookies with the lollipop stick exposed. Additional layer of icing not only hides the stick but it also provides additional support so the lollipop stick is not going to fall out.
When lollipop stick is not exposed on either side you can decorate top or the bottom side. To decorate these cute Valentine's Day Balloon Cookies I decorated the top side.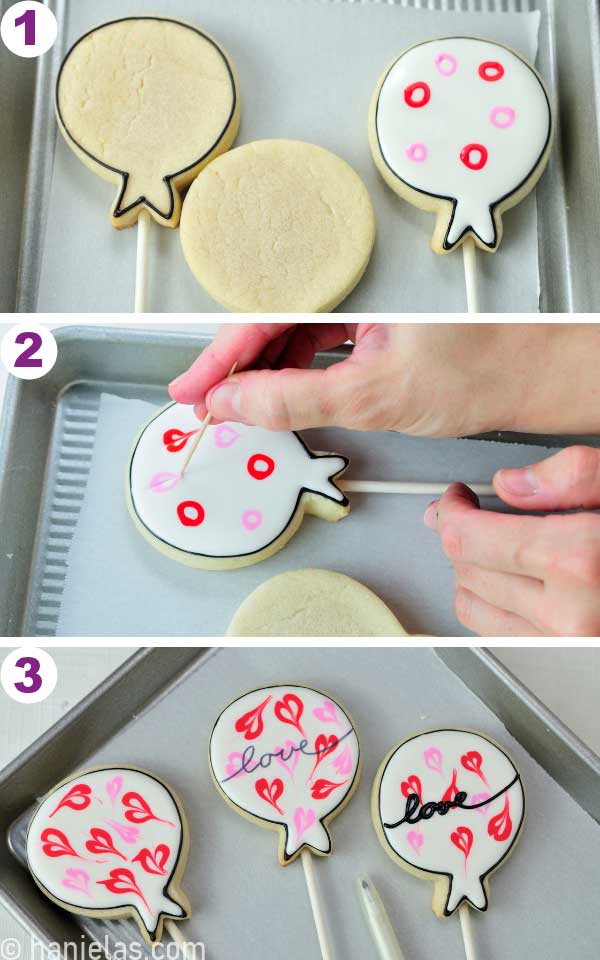 HOW TO PACKAGE AND DISPLAY COOKIE POPS
Flower Cookies on a stick are really great for making flower cookie bouquets. These can be put together easily with some florist foam, vase, crinkle paper, solid fabric or tulle fabric, tissue or other decorative paper, tape, stapler and a ribbon.
Crinkle paper is really great for filling the spaces between the cookies.
Here I used a plain green napkin.
Another way of packing cookie pops is in individual poly bags. Use clear poly bags and tie the bag with a pretty ribbon.
Or you can make pretty flower cookie bouquets.
DECORATE WITH COOKIE POPS
Cookie pops can be creatively used to decorate cakes, cupcakes and even gingerbread houses.
CAKES DECORATED WITH COOKIES ON A STICK
I used Anna and frosty tree cookies to decorate this Frozen inspired cake.
I decorated this Ballerina Ruffle Cake with a personalized cookie topper decorated with marshmallow fondant and royal icing.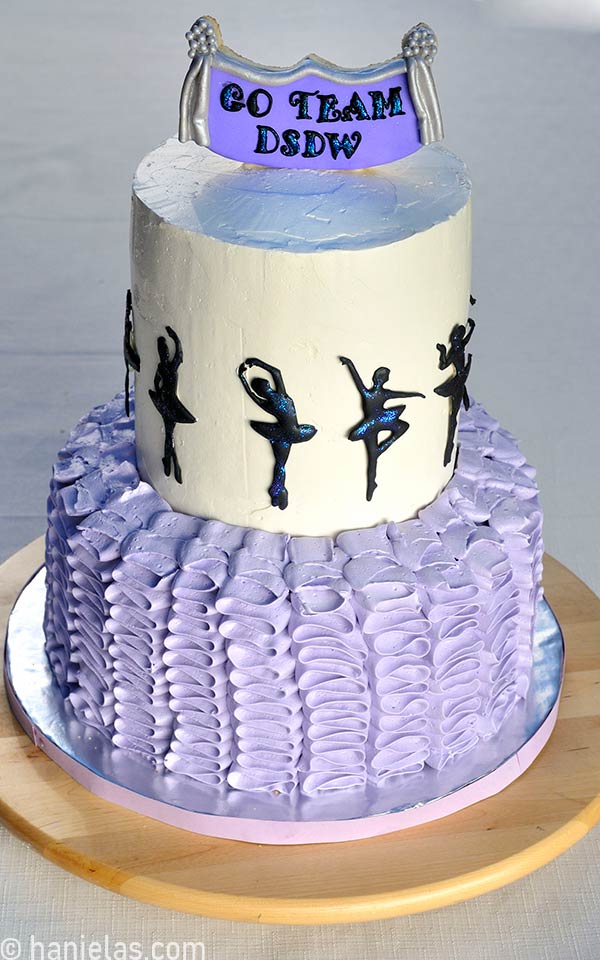 Or on this Mickey Mouse cake I used my Chocolate Sugar Cookie to make Mickey's ears on a stick and I decorated the cookie with fondant letters.
And on this Lil' Quarterback 1st Birthday Cake I creatively used a football cookie pop to decorate.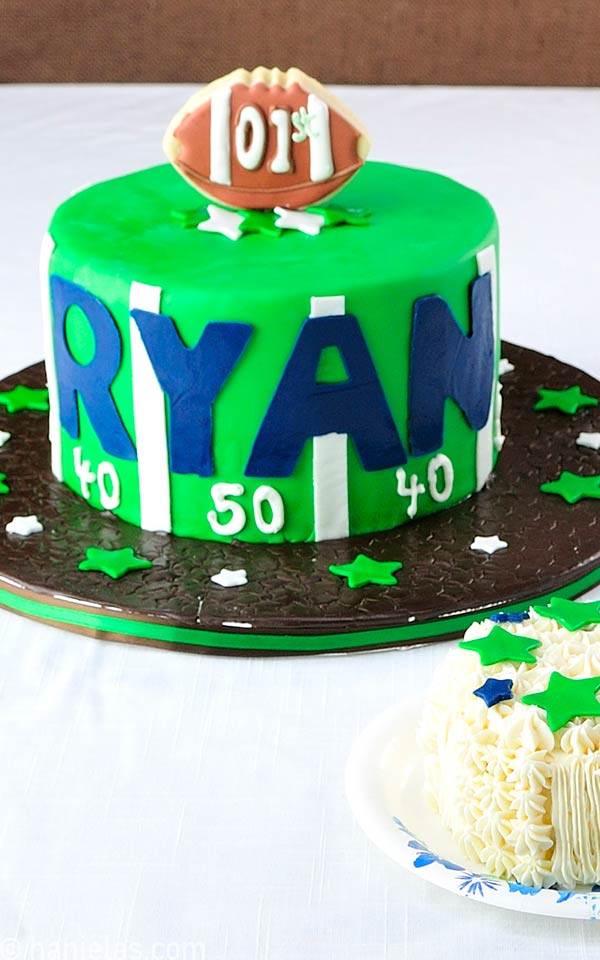 To decorate small desserts such as cupcakes and petit fours with cookies the easiest way is to use toothpicks. And also, when working with certain shapes or very small cookies it's rather impossible to use regular lollipop sticks. If that's the case you also utilize toothpicks.
I inserted the toothpick into the cookies after they were baked and decorated. And then I placed the cookies on top of the cakes.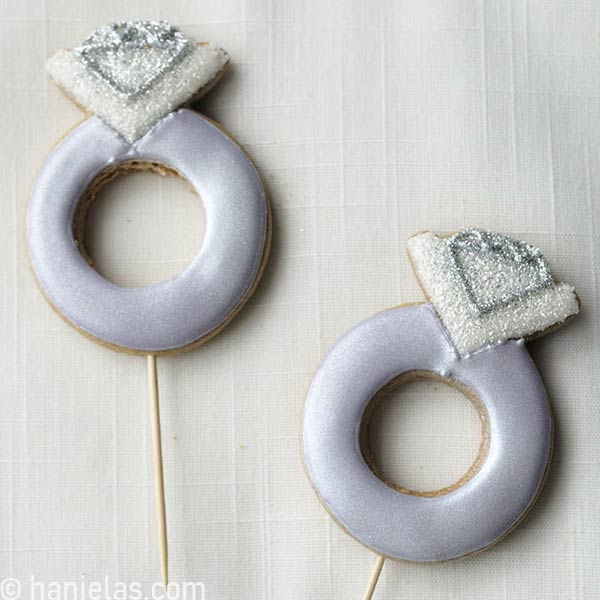 CUPCAKES DECORATED WITH COOKIES ON A STICK
TIP : If you decide to decorate cupcakes with cookies on stick be sure to only use small cookies. And if you are transporting the cupcakes, insert cookie decorations after you step up your dessert table.
These Basketball Hoop Cupcakes were really fun to make. I used cookies and Mini Reese's Peanut Butter Cups. Aren't they cute!
I also used cookies on sticks to decorate my New Year's Eve Ball Drop Cupcakes.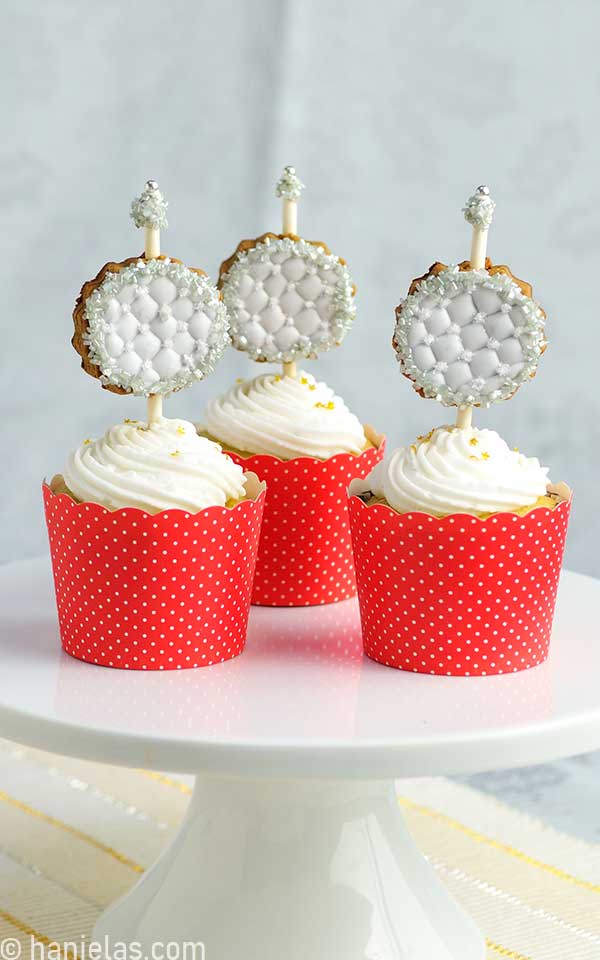 GINGERBREAD HOUSE DECORATED WITH COOKIES ON STICK
To attach spiral hill with the moon on my Nightmare Before Christmas Gingerbread House I used a cookie with a stick.
In my Wizard of Oz Gingerbread House I made a tornado cookie pop with a toothpick. It helped to make it stand upright in the chimney.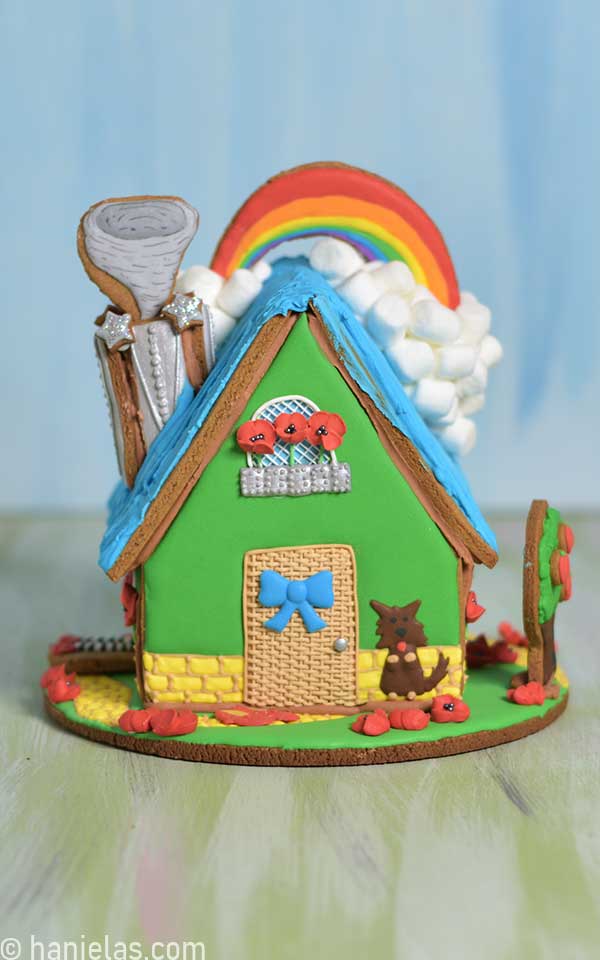 MORE COOKIE DECORATING IDEAS :
This post containsThis post contains Amazon affiliate links that earn me a small commission, at no cost to you. I only recommend products that I use and love. Learn more about my affiliate policy here.
TO MAKE COOKIES ON STICK YOU NEED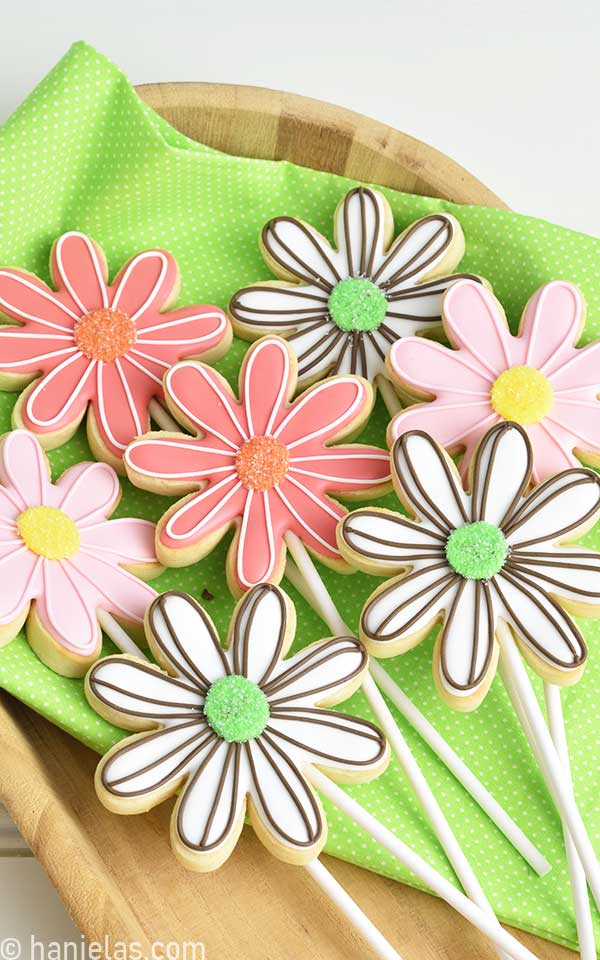 This post was originally published on March 31st, 2010. On January 15th I updated this post with new step by step pictures and written text.