Buttercream Turkey Cookies
These soft-bite buttercream turkey cookies are delicious, easy to make, and cute, to boot.
HOW TO MAKE SOFT BUTTERCREAM TURKEY COOKIES
You know me, I'm an avid royal icing decorator, but sometimes there are times that call for buttercream. And today is one of those times! Yes, I dodged royal icing for an easy-to-make buttercream.
SOFT COOKIES AND BUTTERCREAM
To make these adorable turkey cookies, I used my recipe for bakery-style soft Lofthouse Cookies with fluffy vanilla buttercream. If you don't feel like baking the cookies, you can get soft round cookies at the grocery store, scrape off the buttercream and decorate cookies with a batch of homemade vanilla buttercream instead.
I baked cookies using my easy soft bakery-style Lofthouse cookies recipe and let them cool completely before decorating.
VANILLA BUTTERCREAM
To decorate, I used easy-to-make American Vanilla Buttercream. If you want to add fall flavors, try adding maple flavoring, maple syrup, pumpkin pie spice, or cinnamon.
COLOR BUTTERCREAM
Take about ¾ of buttercream and divide it into 3 bowls, color buttercream orange, ivory, and blue (step 1).
Spoon about ¾ of the remaining buttercream into a small bowl and color it brown. And remaining buttercream color with red. (steps 2-3).
DECORATE BUTTERCREAM TURKEY COOKIES
If you don't have piping bags to decorate, you can use sandwich bags with the tip cut off. But for a more polished look, I fitted my piping bags with a round piping tip #2.
Pipe the turkey tail, starting from the outer edge, pipe a wide zic zac border with orange buttercream (steps 1-2). Continue with blue and ivory buttercream. It's important to slightly overlap the previous buttercream layer (steps 3-8).
In this next step I used a star piping tip #18 to pipe the turkey head with brown buttercream.
First, pipe one star and then pipe stars around it to make the head, and then pipe the body below the head (steps 1-3). To make the eyes, use candy eyes. You can source them online, and they are also available at craft stores (steps 4-5). And to make the beak you can use orange buttercream or a small orange M&M's candy (step 6). Lastly, pipe the wattle with red buttercream and piping tip #3. How cute are these turkey cookies?! Take a bite. So good, right?!
In this second design I decorated tail with feather like shapes. Pipe teardrop feather shapes and fill each with buttercream. Sprinkle buttercream with white nonpareils sprinkles (steps 1-8).
Next, pipe brown turkey head and body and decorate with candy eyes, and orange mini M&M's candy (steps 1-8).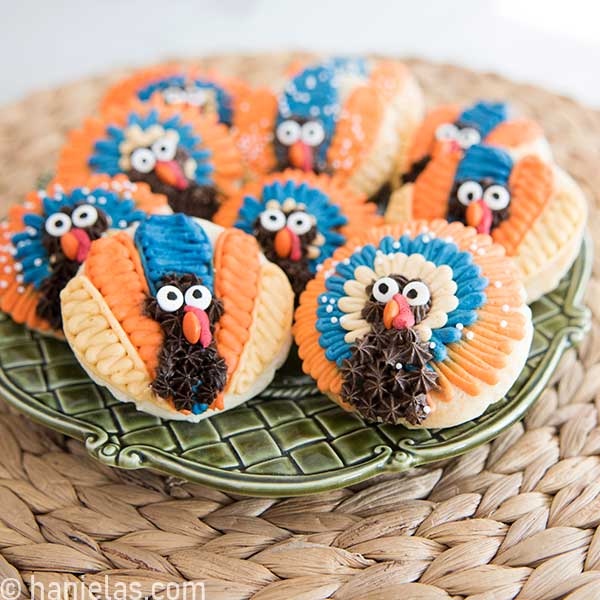 HOW FAR IN ADVANCE CAN PREPARE THESE COOKIES?
You can bake and decorate soft buttercream turkey cookies up to 5 days in advance. Store cookies in the fridge.
STORAGE
Store decorated buttercream cookies well covered in the fridge for up to 5 days. Let cookies come to room temperature before serving.
TO MAKE BUTTERCREAM TURKEY COOKIES YOU NEED
RECIPES
TOOLS
Find all the tools in my Amazon Shop
Gel Food Colors: orange, red, brown, blue ivory(optional)
Candy Eyes
Orange mini M&M's or similar candies
Piping Tips: round piping tip#2, star piping tip #18
MAKE FALL DESSERTS