Melt in your mouth Linzer Cookies have been around for years. Popular around Christmas, they've become one of my favorites long before I started my blog. Today I'm going to share with you my classic linzer cookie recipe along with few fun recipe variations that can be used anytime of the year.
Updated post from 2012
PIN IT for later
HOW TO MAKE LINZER COOKIES
Classic Linzer Cookies are favorite cousins of Linzer Torte. Delicious, nutty cookie dough is made with flour, unsalted butter, sugar, ground nuts, egg yolks and flavorings. Usually made with hazelnuts but you can substitute them for almonds, walnuts, pecans or pistachios.
2 cookies are sandwiched together with a tart fruit filling. Traditionally a currant jam is used but I've also used red currant, raspberry, cherry and apricot jam or preserves, too. And let's not forget a characteristic small cutout in the center of the top cookie that exposes the filling.
LINZER COOKIE DOUGH
INGREDIENTS
All Purpose Flour
Ground Nuts ( I like to ground nuts in a food processor with some granulated sugar, processing nuts with sugar makes for finer texture)
Unsalted Butter
Egg yolks
Vanilla Extract
Milk
Cream butter and powdered sugar until smooth and creamy, about 2-3 minutes. Then beat in egg yolks whisked with vanilla and milk. Scrape the bowl few times. Beat for about 2 minutes.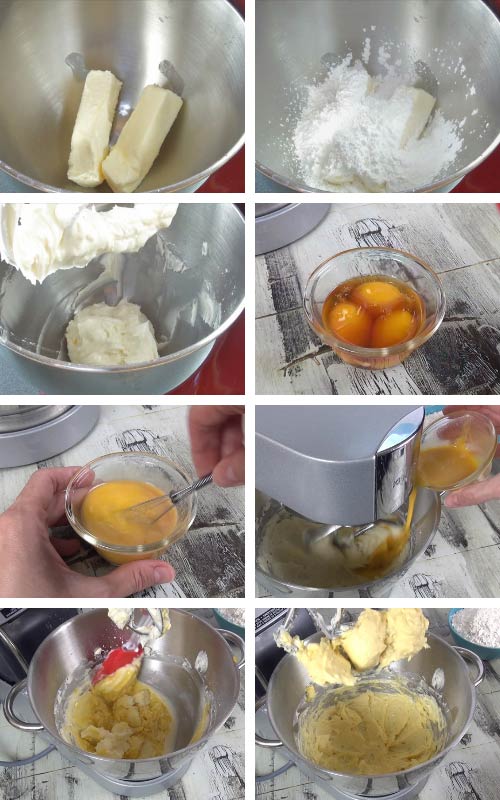 Toast all walnuts in the oven. At 350F for 8-10 minutes. Tossing halway through. Toast until fragrant, don't burn the walnuts. Let toasted nuts cool. Next, take 1 cup toasted walnuts and process them with 1/3 cup granulated sugar in the food processor until fine. Sift flour and salt.
Gradually, in 3 additions with mixer set to low speed, add flour and ground walnuts mixture to butter.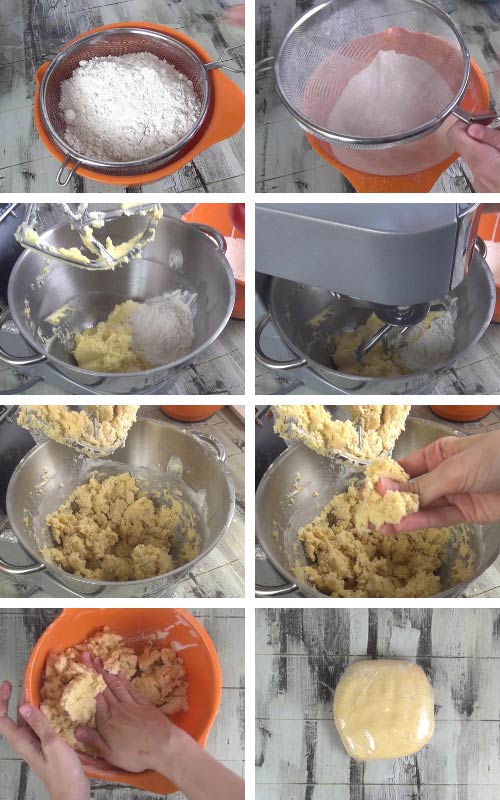 Dump what will look like crumbled cookie dough into a large bowl and gather cookie dough it into a ball. Flatten it into a disk and wrap in a food wrap. Chill for 4 hours of overnight.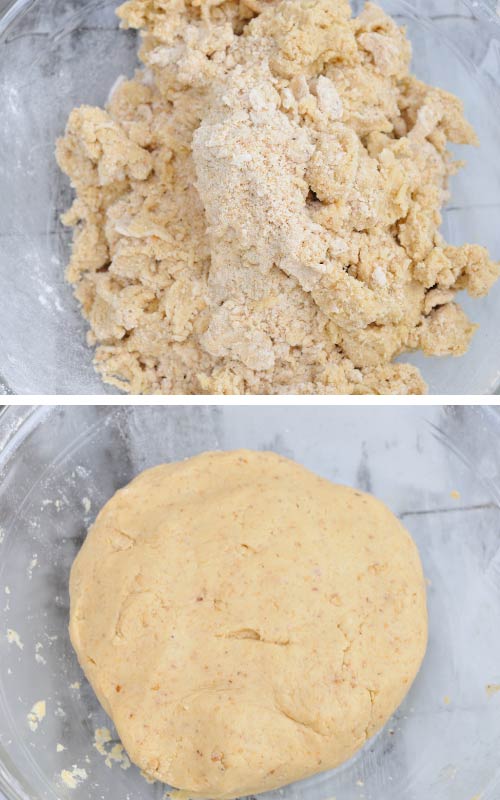 HOW THICK SHOULD I ROLL OUT LINZER COOKIES?
Roll out cookie dough between 2 pieces of parchment, into about 1/8 inch thick. Use rolling guides on each side. Run a long spatula under rolled out cookie dough to make sure it is not sticking to the parchment.
Cut out 2.5 to 3 inch rounds with a cookie cutter. Transfer rounds onto a baking sheet lined with parchment paper.
Next, cut out more rounds and also with a small cutter cut out center. Small cutter can be a heart shape, start, round, or other small cutter you have. Make it festive with seasonal cutters if you have them. Use toothpick or a tip of a knife to pick up the small center cut out.
Transfer cookies with cut outs on a baking sheet lined with a parchment. Chill for 10 minutes. Chilling is not necessary if you are not dipping cookies into chopped walnuts. See the next step.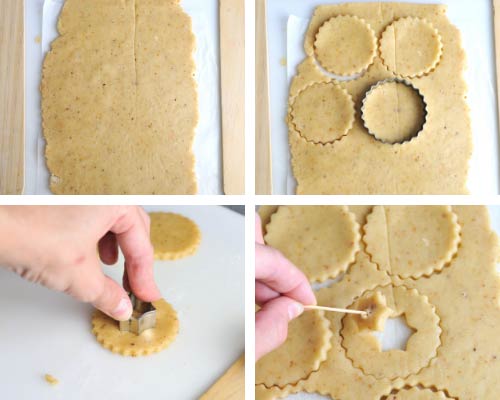 TOPPINGS
My mom always dipped linzer cookie tops in toasted and chopped walnuts. And so I'm going to show you how to do it, in case you'd like to try it too.
Chop remaining 1/2 cup toasted walnuts, stir in 1tbl granulated sugar. Whisk one egg white until broken up and frothy. Brush each top of chilled cookie with an egg white and then either dust or dip the cookie into the chopped nuts. Transfer onto a baking sheet.
Bake cookies in the preheated oven at 350F for 7-9 minutes. Remove from the oven and let cool on the baking sheet for 5 minuter. With a wide cookie spatula transfer cookies onto a cooling rack to cool completely.
LINZER COOKIES FILLINGS
I'm a big fan of tender cookie and tart jam. However why limit yourself with just one flavor. Get creative and use other filling if you wish. Today I'm going to use chocolate ganache and raspberry jam. Ganache dam layer keeps raspberry jam from oozing out through the sides.
Fruit Jams or Preserves : Apricot, Cherry, Raspberry, Currant, Cranberry
Fruit Curds : Lemon, Raspberry Curd, Cranberry
Chocolate Ganache : Dark, Milk or White Chocolate Ganache, Spiked Ganache
Peanut Butter Ganache
CHOCOLATE GANACHE
Heat heavy cream until bubbly around the edges. Pout hot cream over chocolate. Let sit for 3-5 minutes. Then whisk until smooth. Cover and refrigerate overnight, or until set. Ganache will thicken as it cools.
FILL THE COOKIES
Fill the piping bags with cooled ganache and raspberry jam. Pine thick ganache dam about 1/4 from the edge of the cookie. Fill the middle with raspberry jam.
Gently push the top cookie onto the filling. As you push down ganache filling will expand all the way to the edge.
Store sandwiched linzer cookies in an airtight container, in a cool place for up to a 2 weeks. They taste their best when rested for a day or two.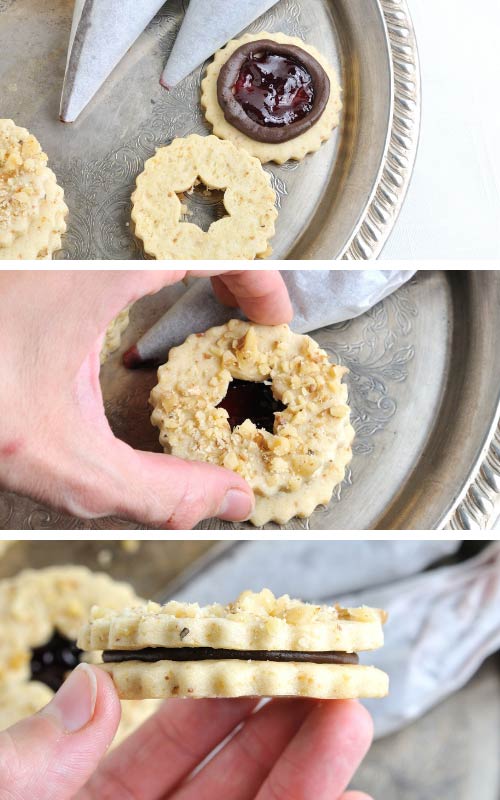 LINZER COOKIE VARIATIONS
CAN I MAKE THIS COOKIE DOUGH WITHOUT NUTS ?
This cookie dough is really easy to work with. As a matter of fact I use this cookie dough to make Mini Tart Shells. Lack of ground nuts doesn't make it any less delicious. So yes, you can make this cookie dough without ground nuts. Here are small adjustments you need to make :
For a basic vanilla cookie dough : in the recipe omit ground nuts, milk, granulated sugar. Instead of 3/4 cup powdered sugar use 1 1/3 cup.
CAN I ADD LEMON OR ORANGE ZEST AND HOW MUCH?
Add 1 tbsp lemon or orange zest. Whisk zest into the egg yolk/vanilla mixture. For extra citrus flavor add 1 tsp vanilla and 1tsp lemon/orange extract.
HOW MUCH CINNAMON CAN I ADD?
For mild results add 1/2tsp cinnamon into the flour, salt mixture.
CAN I USE THIS RECIPE TO MAKE ICEBOX COOKIES?
Yes, it works great for ice box cookies.
HOW ABOUT DRY FRUIT, CAN I ADD SOME TO THE COOKIE DOUGH?
I've done this many times. Add 1/2 cup chopped rum soaked raisins, dry apricots. Mix them in with dry ingredients.
DECORATE WITH CHOCOLATE AND SPRINKLES
It's fun to dip cookies in chocolate and decorate with sprinkles.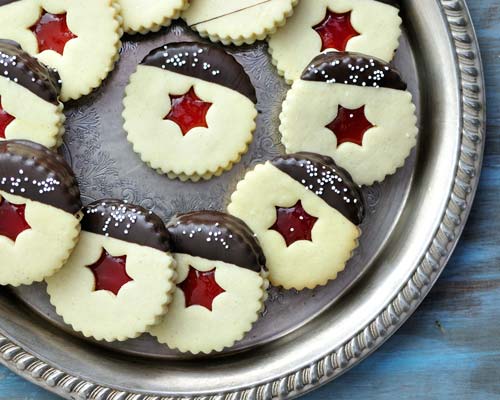 I recommend that you leave sandwiched cookies rest overnight before dipping in chocolate. They are easier to work with when rested.
Melt about 1 cup chocolate. Next, dip ends of the cookie sandwich into the chocolate. Lightly tap the cookie to remove excess chocolate. Then layer cookies onto a wax paper. While chocolate is still wet sprinkle with white non-pareils.
Transfer freshly dipped cookies into the fridge and let the chocolate harden. Once chocolate has harden, peel the wax paper from the cookies. Layer cookies into an airtight container. Store in a cool place for up to 2 weeks.
These cookies melt in your mouth with a perfect blend of flavors. They are sweet with a little tartness from the jam; and that little touch of chocolate makes them divine.
TO MAKE LINZER COOKIES YOU NEED
MORE DELICIOUS COOKIES :
Roasted Walnut Linzer Cookies
makes 20 – 25 2.5 inch sandwiched cookies
Equipment
2.5 to 3 inch round cookie cutter and a small accent cookie cutter such as small star, heart, round.

Pastry Brush

Rolling Pin

Baking Sheets

Parchment paper

Cookie Spatula

Piping bags
Ingredients
Cookie Dough
1

cup

room temperature unsalted butter

(2sticks,226grams)

3

egg yolks

1

tbsp

milk

1

tbsp

vanilla extract

3

cups

all purpose flour

1/8

tsp

salt

3/4

cup

powdered sugar

1 1/2

cup

walnuts, toasted, divided into 1 cup and 1/2 cup

(1 cup is used in the cookies dough and remaining 1/2 cup is used for the topping)

1/3

cup

granulated sugar
Chocolate Ganache
1

cup

dark chocolate

chopped

1/2

cup

heavy cream
TOPPINGS
1

egg whites

1/2

cup

toasted walnuts, chopped

1

tbsp

granulated sugar
Instructions
Sift flour and salt into a bowl, set aside.
Toast Walnuts
Spread walnuts ( 1 1/2 cup) on a baking sheet and toast them in the oven at 350F for 8-10 minutes. Stir walnut halfway through.

Remove from the oven and let cool to room temperature.
Make Cookie Dough
Process toasted walnuts (1cup) in the food processor. Pulse toasted walnuts (1cup) with granulated sugar (1/3 cup) in the food processor, until fine.

In a small dish whisk together : egg yolks (2), vanilla extract 1tbsp) and milk (1tbsp).

Cream room temperature unsalted butter (1cup, 2sticks) with powdered sugar (3/4cup) for 2-3 minutes then gradually add egg yolk mixture. Beat until combined and fluffy. Scrape down the bowl few times to ensure everything is blended together.

Into the butter stir in ground walnut/sugar mixture and sifted flour. Scrape the dough onto a clean work surface and gather into a ball. Wrap in a plastic wrap and chill for 4 hours or overnight.
Baking
Line baking sheets with parchment paper.

Whisk one egg white until broken up. Chop remaining toasted walnuts (1/2cup), set aside.

Roll the dough between 2 pieces of parchment paper into about 0.15" thick. Once rolled out run a spatula underneath of the dough, this helps prevent your cut out cookies sticking to the parchment. If dough is sticking too much, very lightly dust parchment paper with little bit of flour before rolling the dough out.

Using a 2 .5 inch round cutter cut out full rounds. Transfer rounds onto the baking sheet. Space cookies 1/2 to 1 inch apart. Cut out more rounds, this time use a small accent cutter to cut out center. Brush each round with a cut out center with little bit of egg white, then dip into the chopped walnuts. Transfer to a baking sheet.

Bake cookies for 8 – 9 minutes. Remove from the oven. Transfer onto a cooling rack and let cool completely.
Make Ganache Filling
Put chopped chocolate (1cup) into a bowl, I like to use tempered glass bowl. Make sure chocolate is chopped into even small pieces, or you can use chocolate chips if that is more convenient for you.

Heat heavy cream (1/2cup )until small bubbles form on the top.

Pour hot heavy cream (1/2cup) over chocolate (1cup, chopped) Cover with paper towel and a plate. Paper towel is not touching chocolate nor heavy cream. Reason I do this is to prevent liquid/water from condensation on the plate dripping into the ganache. Let sit for 5 minutes, then remove the plate and paper towel, whisk until chocolate until smooth. If any small bits of chocolate are still present, microwave for 5 seconds, stir again until smooth. Chill overnight or till set. Spoon set and thickened ganache into a piping bag.
Fill Cookies
Fill a piping bag or a small ziploc bag with ganache and one more bag with raspberry jam. Cut a small opening on a bag.

Pipe a circle with ganache onto the full round cookies Then pipe raspberry jam in the center. Sandwich cookies together. Store in the airtight container, in a cool room or fridge. Best to let cookies sit for a day before sharing them with your friends. Let come to room temperature before serving. Cookies keep up to 2 weeks.
Notes
LINZER COOKIE DOUGH VARIATIONS
This cookie dough is really easy to work with. You can use number of flavoring, nuts, dry fruit, chocolate, citrus zest, coffee to make it suit your taste buds.
Can I use other nuts in this recipe?
Sure you can use ground hazelnuts, pecans, pistachios.
I'd like to add cinnamon, how much should I add?
1/2 tsp to 1 tsp.
How to make coffee flavored cookie dough?
Add instant espresso to egg mixture and whisk well until dissolved.
How can I make lemon or orange flavored cookie dough?
Add 1 tbsp lemon or orange zest, 1tsp vanilla extract and 1 tsp lemon or orange extract.
I'm allergic to nut, can I make this cookie dough without nuts? 
yes, you can. Adjust cookie dough recipe : omit walnuts (1cup and 1/2cup), milk (1tbsp) and granulated sugar (1/3cup). Instead of  3/4 cup powdered sugar use 1 cup and 1/3 cup of powdered sugar.
Can I add dry fruit?
Add up to 1/2 cup of dry fruit. Finely chop dry fruit such are cranberries, apricots etc.  Add it with all dry ingredients.
My dough is too dry, what to do?
If your cookie dough is too dry, add 1tsp milk. 
What do you suggest I do with 3 egg whites?
This recipe used 3 egg yolks and it leaves you with 3 egg whites. If you are adding a walnut topping you'll use one egg white for the topping. Rest you can use to make meringue cookies, egg omelette, or make a fruit mousse.
Can I use this recipe to make icebox cookie?
Definitely. This cookie dough works great for icebox cookies.
PIN IT for later
This post was originally published on December 13th, 2012. On November 23rd I updated this post with new photos and written text.
This post containsThis post contains Amazon affiliate links that earn me a small commission, at no cost to you. I only recommend products that I use and love. Learn more about my affiliate policy here.