Simple Birthday Watermelon Cookies
We can all agree watermelon colors and flavor evoke the spirit of summertime joy. And whether you're hosting a summer party or celebrating a special day, these decorated birthday watermelon cookies are sure to make people smiles.
updated from 2012
HOW TO MAKE SIMPLE DECORATED BIRTHDAY WATERMELON COOKIES
In this tutorial I guide you thru the process of making 4 different cookie designs. Let's dive in.
Subscribe to Haniela's Cookie Club on Patreon and get access to exclusive and ad-free tutorials, templates, sneaks peeks, and more.
THINGS YOU NEED
Cookie Cutters: I used party hat, present, candle, cupcake and a round
Tipless Piping Bag
Airbrush
Food Colors for Airbrushing: bright green, or use leaf green and yellow
Edible Gold Luster Dust or Edible Gold Paint
Paintbrush
Scribe
Stencil Holder or Magnets
Stripe Stencil – how to make your own at home
Gel Food Colors: red or pink, green, black
Gold Sanding Sugar
Funnel Tray
Foodoodlers Edible Marker-brown
Rainbow Dust Black Edible Marker- use fine tip end
Food Wrap
Piping tip #150 (narrow petal tip) to pipe ruffled edge, or use petal tip #103 or #104
This post containsThis post contains Amazon affiliate links that earn me a small commission, at no cost to you. I only recommend products that I use and love. Learn more about my affiliate policy here.
COOKIE CUTTERS
In this cookie decorating tutorial I used a present, party hat, candle, cupcake and round cookie cutter (not shown in the image below). Plastic cutters are from a set by Sweet Sugarbelle. If you can't find it use similar cutters instead.
ROYAL ICING AND CUT OUT COOKIES
Next step is to bake the cut-out cookies and prepare royal icing.
ROYAL ICING COLORS AND CONSISTENCIES
Red or Pinkish Red – 15 second consistency
White – 15 second consistency, and stiff
Light Green – 20 second consistency, piping consistency, and stiff
Dark Green – 20 second consistency
Mustard yellow, golden yellow or light brown – 25 second consistency
Black – 20 second consistency
WATERMELON CUPCAKE COOKIES
Make a cardstock scalloped edge template and trace it onto a cookie with an edible marker. Draw the decorated guides on the cookie (steps 1-3).
Outline and flood the liner sections with 15-second consistency white royal icing. Use a scribe to smooth the icing and let it dry for 6-8 hours (steps 1-6).
AIRBRUSHING GINGHAM PATTERN
I wanted to airbrush cookies with bright green color, so I used a drop of leaf green and 3-4 dots of lemon airbrush food coloring. Cover the needle opening and hold the trigger for 3-4 seconds to mix the colors (steps 1-3).
You can use a stripe stencil and airbrush to create gingham pattern on a cupcake liner. If you don't own an airbrush you can either paint the design with an edible paint (gel paint mixed with little bit of clear alcohol) or use a color mist spray instead.
Secure the stencil into a stencil holder or use magnets to keep the stencil from shifting. With the airbrush gun perpendicular to the cookie, airbrush across each open line. It's feasible to avoid under spray by doing several light coats instead of one heavy coat. If you see stripes moving up and down use a scribe tool to hold them down gently. Lift the stencil (steps 1-4). Place the stencil perpendicular to the first set of lines and airbrush across it again, remove the stencil to reveal beautiful gingham pattern (steps 5-6).
Now, let's move on and decorate the cupcake swirl. Ice the section just above the liner with white icing. And right after, outline and flood the middle of the swirl with 15-second consistency red icing. Let the icing crust for 20 minutes and then continue with two remaining sections, at the top and the bottom (steps 6-8). Let the icing crust well (about 1-2 hours) and continue with the last step.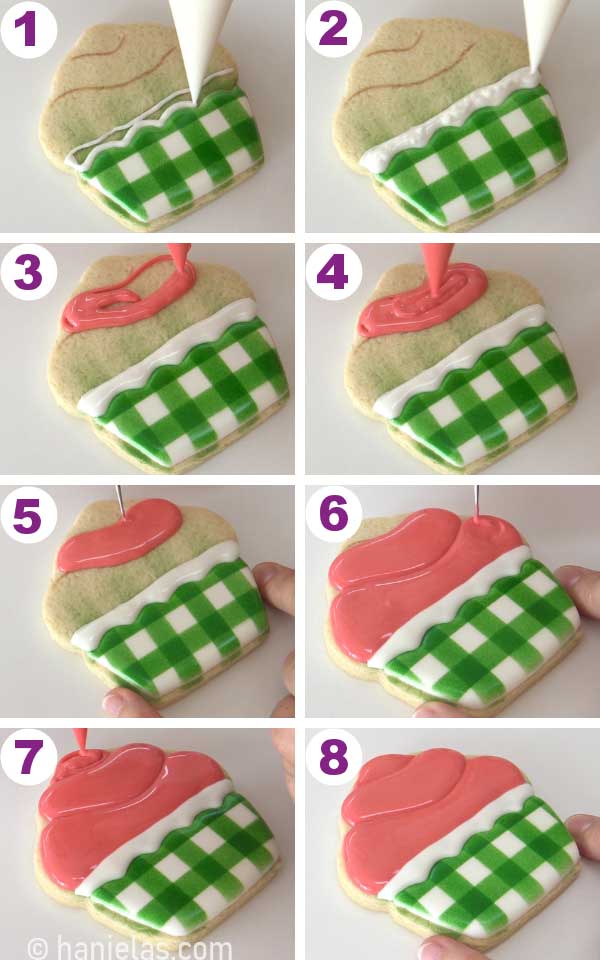 Finish watermelon cupcake cookie with a green outline (piping consistency) and pipe short black (20 second) lines onto the swirl to make black seeds.
WATERMELON PARTY HAT COOKIES
Decorated birthday watermelon cookies wouldn't be complete without party hat cookies. Outline and flood the triangular part of the cookie with 15-second consistency red icing. Let the icing crust well for 2-3 hours (steps 1-5).
PIPE TWO TONE RUFFLE
First, you need to prepare royal icing pouch. Pipe stiff green icing onto a sheet of food wrap. Next to it pipe stiff white icing, about 1/4 less than green icing. Close the pouch, tie one end (steps 1-3). Trim the other end (step 4). Fit a piping bag with a petal tip #150. Place the pouch, cut side down into a piping bag (steps 5-6). Then squeeze the piping bag until both of the colors come out of the piping tip (steps 7-8).
Hold the piping bag so the green icing when it comes out is facing the outer bottom edge of the party hat cookie. Hold the piping bag at about 45 degree, squeeze the piping bag, and move the piping tip up and down as you move across the bottom of the cookie (steps 1-3).
Pipe black seeds onto the red section with 20 second black icing. First pipe a large dot and then slowly move the piping bag to form a tear drop (steps 1-3). Immediately, pipe white icing on the edge on every seed to create a highlight (steps 4-6).
Lastly, decorate the star at the top. Outline and flood the star shape with golden yellow, mustard-colored or light brown icing and dust it with gold sanding sugar (steps 1-8).
PRESENT COOKIES WITH WATERMELON PRINT DESIGN
Inspired by watermelon print wrapping paper I designed watermelon present cookies. To create watermelon pattern, I use wet-on-wet royal icing decorating technique, using 15-second consistency icing. To avoid icing overflowing the cookie, I piped large watermelon outlines and I flooded the cookie with white icing (steps 1-3). Then I filled each section with red icing (steps 4-5), and after I piped a green line leaving a small white gap between the red and green (step 6). Lastly, pipe black seeds with black icing – 20 second consistency (steps 7-8). Let the icing dry.
To enhance the watermelon slices you can use a fine-tip edible marker and draw the outline around each watermelon slice (steps 1-2).
SIMPLE ROYAL ICING BOW
Using 25 – second consistency golden yellow, brown or mustard colored icing outline and fill the loop. Use a scribe to smooth the icing. Repeat on the other side and let icing crust for 10 minutes (steps 1-4). Make the ribbon bow tails, wait for the first tail to crust for 5 minutes before piping the second one, next to it (steps 5-8).
Finish the bow with a knot in the middle (steps 1-3), let icing dry.
Prepare an edible gold paint: into a paint palette pour edible gold luster dust, pour in a small amount of grain alcohol (Everclear), mix it with a small paintbrush (steps 1-3). Paint the dry bow with gold paint (steps 4-8).
BIRTHDAY WATERMELON CANDLE COOKIES
First, I created watermelon skin design using two shades of green. Pipe narrow strips of dark green and light green. Don't wait for the icing to crust, use a scribe tool to lightly blend the edges (steps 1-8). Let icing crust for an hour.
Make the wick – pipe a black line with 20-second icing. Pipe a flame with 25 second consistency golden yellow icing (steps 1-4). And lastly, pipe the drips with 20-second consistency green icing (steps 5-8). Let the icing dry.
Paint the flame with edible gold luster dust (steps 1-3).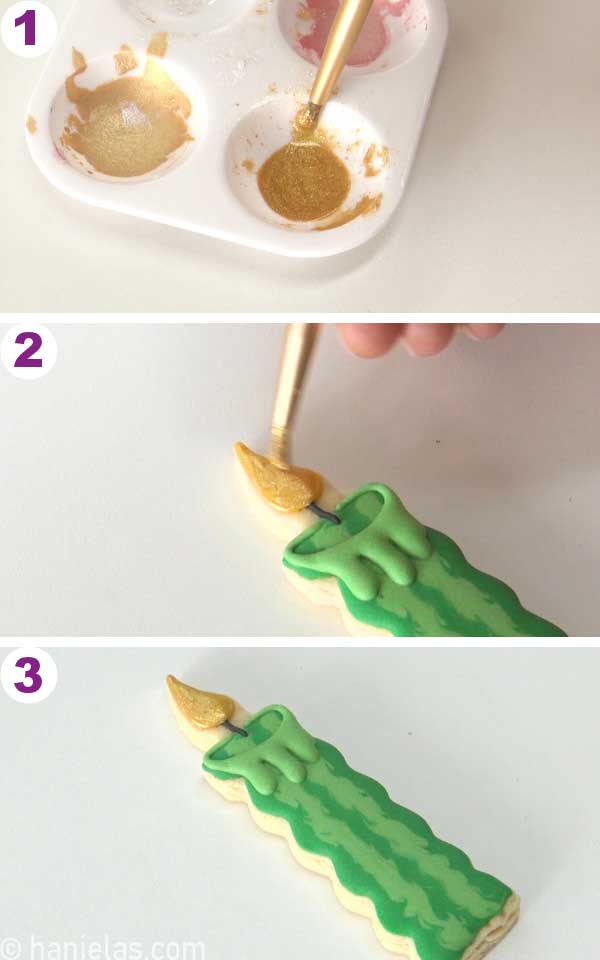 BIRTHDAY WATERMELON COOKIES VIDEO
Did you make these Decorated Cookies? Tag @hanielas on Instagram and hashtag it #hanielas
MORE DECORATED COOKIES
This decorating tutorial was published on June 29, 2012. On July 26, 2023 I updated this tutorial with new step by step instructions, and step by step photos.