Easy Zucchini Potato Gratin Recipe
Delicious and easy to make, no cream zucchini potato gratin is a perfect vegetable bake to use up fresh garden vegetables in the summer. Serve it warm or lukewarm.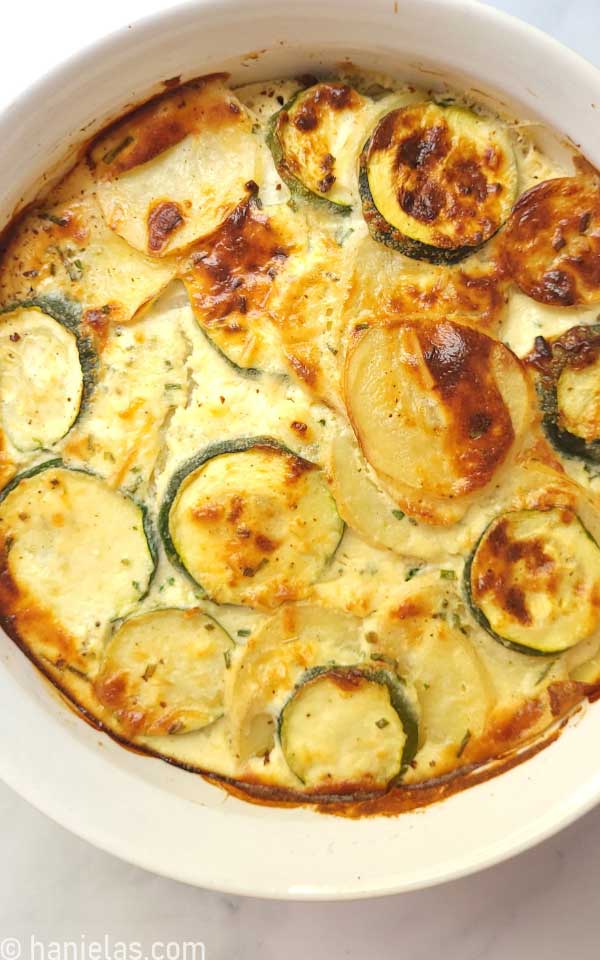 updated from 2012
ZUCCHINI POTATO GRATIN RECIPE
WHAT YOU NEED TO MAKE VEGETABLE GRATIN
Zucchini
Potatoes
Ricotta Cheese
Sour Cream or Greek Yogurt
Eggs
Parmesan
Mozzarella
Salt
Pepper
Chives
Garlic
ZUCCHINI AND POTATOES
Scrub the zucchini and potatoes. The fastest way to slice the veggies thinly is with a mandoline slicer. Yes, you can use a knife, but a mandoline slicer gives consistent results fast.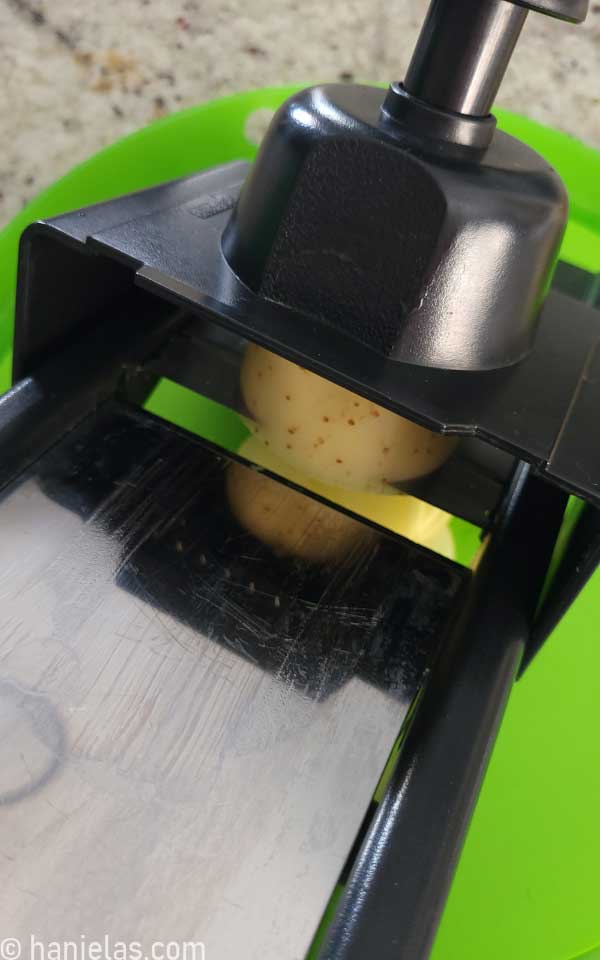 Be sure to use the protector sleeve to slice zucchini to 2/16 inch or little less than 1/4 inch and slice potatoes to about 1/16 inch thick.
To avoid having watery baked zucchini potato gratin, it is essential that you don't skip this next step. Generously salt zucchini and potatoes with salt. I used about two teaspoons of pink salt. Toss vegetables and put them into a large colander to drain while you prepare the cheese filling and preheat the oven, about 15-20 minutes.
CHEESY GRATIN FILLING
Combine ricotta, sour cream or Greek Yogurt, chopped chives, pressed garlic, parmesan and mozzarella cheese, ground black pepper, and eggs in another bowl.
LAYER ZUCCHINI POTATO GRATIN
If you have a 9×13 inch casserole dish, you can vertically layer sliced zucchini and potatoes. If you have a 9-inch round casserole baking dish, layer about 1/3 of drained zucchini and potato slices, then spread 1/3 of the cheese filling over the vegetable layer (steps 1-2). Repeat until you finish all the vegetables and cheese filling (steps 3-6).
BAKE ZUCCHINI POTATO GRATIN
Bake 375F (190C), uncovered for 60 minutes, or until potatoes are cooked.
MORE DELICIOUS RECIPES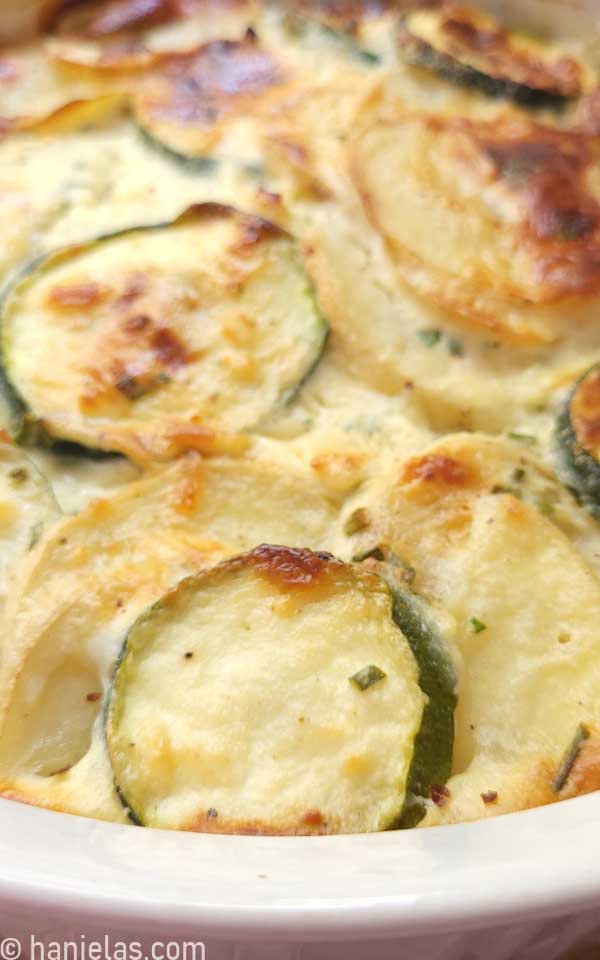 BAKING SUCCESS TIPS
Make sure to salt zucchini and potatoes to avoid watery baked casserole. Generously season sliced vegetables with salt, place them into a large colander and let stand for 15 minutes to drain.
I don't use salt in the filling. Remember, parmesan in the filling is salty, and vegetables retain some of the salt even after draining. You don't need to add more salt at this point.
It's perfectly fine to bake this vegetable gratin a day ahead. Store it in the fridge and reheat before serving.
In the heat of the summer, I love eating it lukewarm.
What to serve with the gratin? You can enjoy it plain, with tomatoes, green salad, chicken or other meats.
If you don't have mozzarella cheese, you can up the parmesan cheese, or use a different shredded cheese.
Zucchini Potato Gratin
Delicious vegetable gratin with zucchini and potatoes. Great for lunch, dinner, or snack. Enjoy it warm or lukewarm with or without a salad.
Makes 8 servings.
Ingredients
Zucchini-Potato
2

medium size zucchini (about 650 grams)

3

large potatoes (about 650 grams)

2

tsp

salt
Cheese Filling
1

cup

low-fat ricotta cheese

3/4

cup

low-fat sour cream or yogurt

2

garlic cloves (pressed)

1/4

cup

chives, chopped

1/3

cup

shredded mozzarella cheese

1/2

cup

grated parmesan

1/4

tsp

ground pepper

2

large eggs

1

tsp

olive oil
Instructions
Zucchini and Potatoes
Scrub the zucchini and potatoes. Slice potatoes 1/16-inch thick and zucchini about 1/4-inch thick. Rinse potato slices. In a large colander toss potato and zucchini slices with 1½ teaspoon of salt. Let slices drain while you work on the dressing, about 10 minutes.
Cheese Filling
Into a medium-sized bowl, add low-fat ricotta cheese (1 cup), low-fat sour cream, or yogurt ( 3/4 cup), 2 pressed garlic cloves, 1/4 cup chopped chives, 1/3 cup shredded mozzarella cheese, 1/2 cup grated parmesan cheese, 1/4 teaspoon ground black pepper, 2 large eggs. Whisk to combine.

Grease the casserole dish with 1 teaspoon of olive oil. Layer about 1/3 of zucchini and potato slices, spread 1/3 of cheese filling over slices, and continue layering zucchini and potatoes until you finish with all the vegetables and cheese filling.
Bake
Bake 375F (190C), uncovered for 60 minutes, or until potatoes are cooked.
This recipe was first published on July 24, 2012. On July 27, 2023 I updated this recipe with new photos, step by step instructions and a recipe card.