Simple Honey Glazed Roasted Carrots
Smothered in glossy honey butter balsamic glaze, these oven-roasted sweet and savory honey-glazed carrots never disappoint. Every time I make them, they get praise for being scrumptiously refreshing.
updated from 2013
OVEN HONEY ROASTED CARROTS
This recipe is as easy as they get. First, you need to get the carrots. I've made this recipe with garden fresh, young carrots and also with slightly older pre-packaged supermarket carrots. The later I like to slice on bias and garden fresh I keep whole to roast. Aren't they gorgeous!?
INGREDIENTS YOU NEED TO MAKE ROASTED CARROTS
Carrots – garden fresh young carrots, or pre-packaged supermarket carrots
Butter
Honey or Brown Sugar
Balsamic Vinegar
Marjoram
Pepper
Salt
Growing carrots takes some time and so if don't have your own garden fresh carrots, you'll just need to buy some at a local market. I'm going to roast the whole carrots but you can roast these halved, or sliced on bias.
Wash carrots in water and scrub them with a vegetable brush to remove dirt. Young carrots don't have to be peeled, but if you get older ones, it might be easier to peel them instead.
HONEY BALSAMIC GLAZE
Glaze is easy to put together. Heat butter, honey, balsamic vinegar, pepper and salt, simmer for couple of minutes. Then pour glaze over prepared carrots and sprinkle with marjoram and chopped parsley and toss carrots to coat.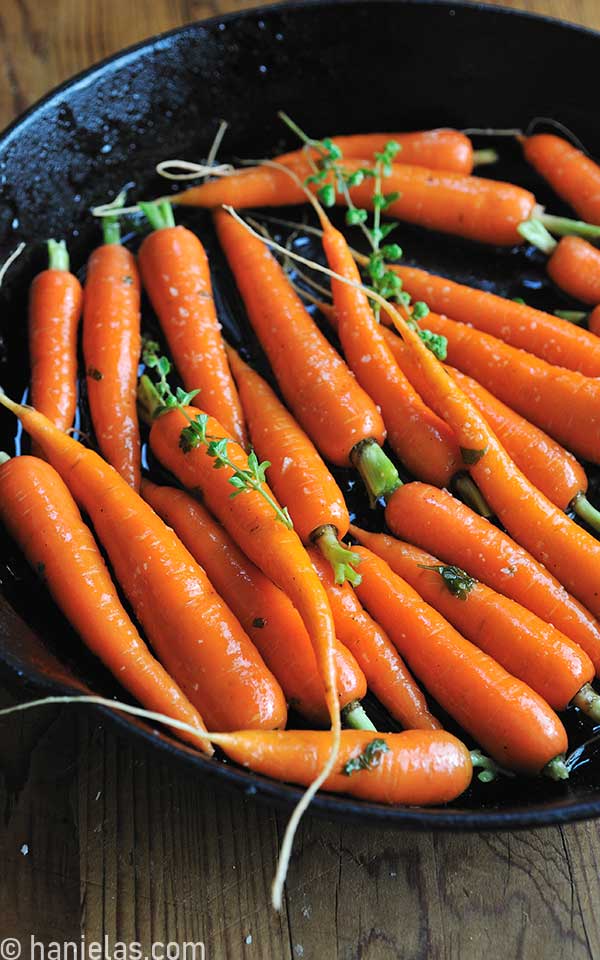 ROAST CARROTS IN THE OVEN
Cast-iron is an good old classic roasting vessel. I use it to roast vegetables or bake pizza. You can use a good quality baking sheet lined with parchment if you don't have a cast-iron pan.
Roast carrots in the preheated oven at 425F (220C) until fork tender. Toss carrots halfway thru the baking. And if your oven bakes unevenly rotate the baking sheet halfway thru to ensure honey glazed carrots are evenly roasted. How do you know if roasted carrots are done? Take a fork
ROASTED CARROTS SUCCESS TIPS
How do you know if roasted carrots are done? Carrots should be fork tender.
Can you overcook carrots? If you roast carrots and vegetables for too long; as a result they shrink and become severely wrinkled and become dry, and lose their tenderness. Roast carrots until fork tender.
Carrots are not caramelized? Don't over crowd your baking dish. If your pan is too full, carrots will steam instead roast. Give them some room.
High cooking temperature ensure proper caramelization.
Use carrots of similar size, if slicing carrots, slice them into even slices so they can cook evenly.
Use parchment on a baking sheet for an easy clean up.
Don't use too much oil.
If using a cast-iron pan, remember that cast iron retains heat long after cooking. In the cast iron pan, vegetables will continue to cook even after you remove them from the heat source.
Vegetables are charring too quickly – oven temperature needs a minor adjustment, lower temperature by 10 degrees. Then increase the temperature for the last 5 minutes of baking.
WHAT GOES WITH HONEY BALSAMIC ROASTED CARROTS
Appetizer with a dip: creamy dips are my favorite. Try Sour Cream Tartar Sauce.
Side dish to roasted chicken or turkey, pork or beef.
Simple Warm salads: sliced roasted carrots can be used in earthy salads using whole grains like brown rice or quinoa and fresh vegetables.
Make medley: combine walnuts, sliced honey glazed carrots and feta cheese. Serve with bread.
Sandwich with pesto and sliced roasted carrots.
Honey Glazed Roasted Carrots
Recipe for out of this world sweet and savory honey glazed roasted carrots
Ingredients
2

tbsp

butter

2

tbsp

olive oil

2

tbsp

balsamic vinegar

2½

tbsp

honey or brown sugar

1/2

tsp

salt

1/8

tsp

fresh ground pepper

1

tsp

dry marjoram or 4 fresh springs

1

tbsp

fresh parsley chopped

20

medium size carrots, scrubbed or peeled

scrubbed/peeled
Instructions
Preheat oven to 425F.

Prepare baking sheet: line the baking sheet with aluminum foil or use a cast iron pan.

Scrub the carrots, peel if necessary. Layer carrots in one layer on the prepared baking sheet.

In a small pot, combine 2 tablespoons butter, 2 tablespoons olive oil, 2 tablespoons balsamic vinegar, 2½ tablespoons honey or brown sugar, 1/2 teaspoon salt, 1/8 teaspoon ground pepper. Stir to combine. Heat on medium heat until butter melts, bring to a simmer, and cook for one minute.

Pour marinade and sprinkle one teaspoon of dry marjoram and one tablespoon of chopped parsley over carrots. Toss carrots with kitchen tongs until carrots are well coated.

Roast for 25-30 minutes. Check the carrots at 15 minute mark and gently toss them around. Once done they should be fork tender.

Enjoy warm or at room temperature.

They can be refrigerated and reheated next day.
This recipe was published on July 14th, 2013. On May 18th, 2023 I updated this recipe with new photos, written text and a recipe card.