Today we are celebrating colors of Fall with this beautiful buttercream cake. And, like that wasn't enough it's  also all about the falling leaves season inside as well. I made a pumpkin pound cake.
It really is a delicious cake.
I used Swiss buttercream to fill and ice the cake. It's one of my favorites to use. It's silky and just delicious.
I also used to make these pretty Fall flowers.
I divided pound cake batter into 3 -6 inch cake pan, to one of which I also added some mini chocolate chips. Doesn't look pretty?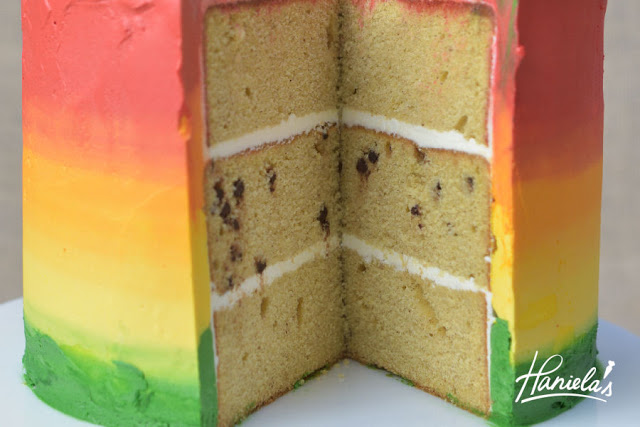 To make Buttercream Mums Burlap Wreath Cake you need:
STEP BY STEP VIDEO TUTORIAL
Pumpkin Pound Cake
Swiss Buttercream
Icing Smoother 
Bench Scraper – used in the video
Piping Tip #81
Round piping tips – medium and #3-#4
Parchment or wax paper squaers
Flower Nail
Disposable Piping Bags
Burlap buttercream wreath – cut out a Round Template from a cardstock paper, size depends on the size of your cake. Then make the buttercream transfer(you can see how it's done in my video below).
Food Colors – Yellow, Orange, Leaf green, Red,Brown
To color Swiss buttercream I used a warming technique.
Take little amount of buttercream, add food color and microwave for a few seconda. Stir well. Buttercream will become little thin, that is okay. Add it to the rest of the buttercream and stir well, repeat until desired color is reaches.