Bear Cookies, How to create a textured finish on cookies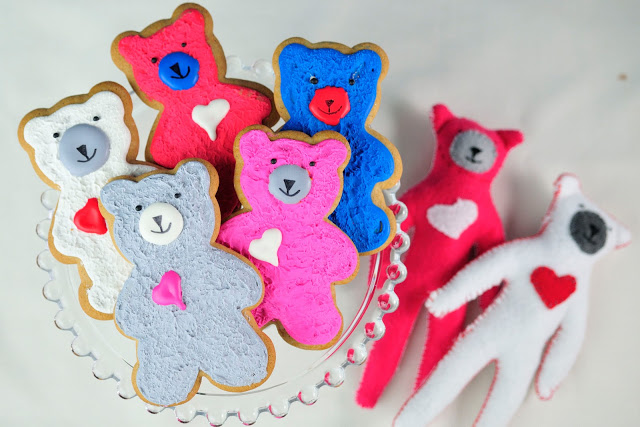 It all started with my niece loving all things bears.
Skype is great. I love skype, without it frankly I'd be lost in the world of inadequate phone cards, with a growing frustration of something constantly eating up my minutes every time I dial a number. I know I've been there.
Below is a photo of my little niece in Europe. We phone via skype often, almost every morning. She never saw me in real life yet she knows me, plays with me, she feeds me, she even has a name for me, she calls me Haha, or these days she just says: Ha. Cuter than ever is this photo below my SIL sent me last week.
Since Jo loves bears earlier this month I decided to make her a whole family of bears. I found a really easy tutorial with a template at
Canadian Living
. That is how these cookie bears came to life. I was playing with an idea to create cookie that would look like a toy with a felt like finish.
To make Bear Cookie with textured finish you need:
Baked cookies
Large flat paint brush
Pieces of plastic wrap
Damp paper towel
Bake the bear shape cookie, any bear cutter will work.
Color icing with different colorings.
Color a little bit with black food coloring as well for the eyes, I use dark cocoa powder and black food coloring to color my black icing.
Reserve thicker icing from each color, and then thin rest of royal icing to about 10 second consistency.
Pipe an outline onto a cookie with a 10 second icing
Then pipe or spoon some of the 10 second icing onto the cookie and using a brush spread it around into a thin layer.Let dry. If needed wipe the brush in paper towel.
Using a crumbled piece of plastic wrap, dip it in a thicker consistency icing you reserved earlier, using the same color you used for initial coat of icing and dab it all over the cookie.
Let dry.
Make a piping guide using a food pen for the muzzle. Fill it with icing, let dry.
At the same time you make the muzzle you can pipe little heart on the cookie.
Once the muzzle is dry, using a black food pen, draw mouth.
Using black royal icing add small eyes.
Let dry and enjoy.
To see in action how these cookie are made, you can also visit my video tutorial : Teddy Bear Cookies , How to make textured finish using a crumbled plastic wrap.
Outline and pipe some icing onto the cookie then using a brush spread into a thin layer
Let the icing dry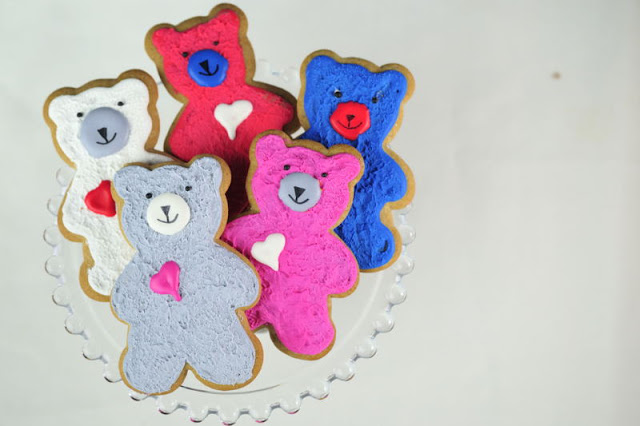 Here is the the whole family together : Felt Bears Toys that inspired me to make these Felt like Bear Cookies.