This delicious spiced Edible Gingerbread House Cookie Recipe is perfect for building gingerbread houses for eating. I often get asked about easy recipe for edible gingerbread houses for children. And this one is perfect. It's tasty and super easy to work with. It also keeps for several weeks and kids love it. Let me show you how to make it.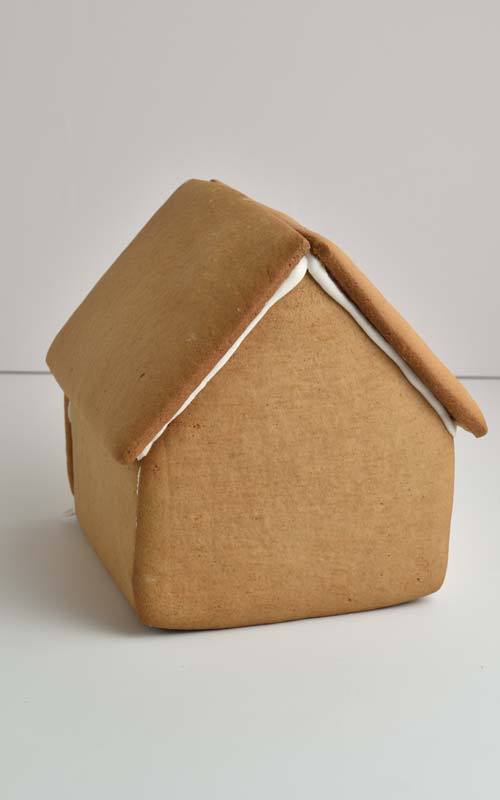 HOW TO MAKE EDIBLE GINGERBREAD HOUSE FROM SCRATCH
I like to use my honey cookie recipe to make edible gingerbread houses. For house cookie recipe I decrease the amount of baking soda to 1/8 tsp to 1/4 tsp.
This is a delicious recipe to munch on, and from my experience, it's a favorite with children and adults alike.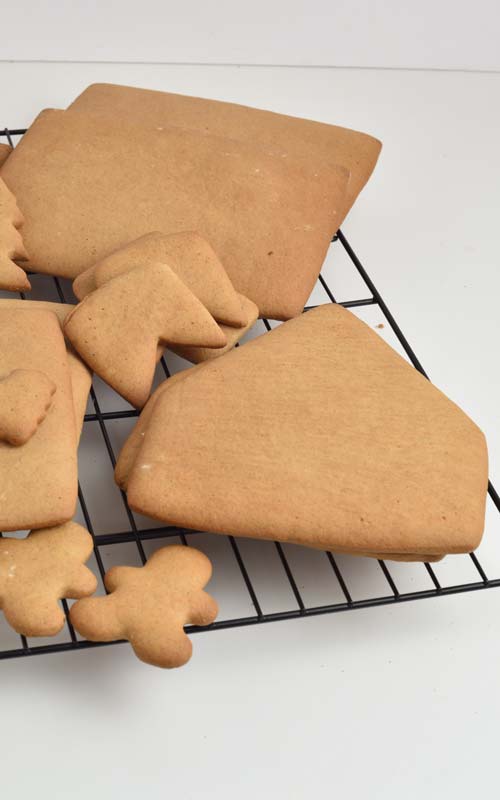 HONEY GINGERBREAD COOKIE DOUGH
To make delicious edible gingerbread house I use my Honey Cookie Dough. Make sure to use only 1/8 tsp to 1/4 tsp baking soda if using this cookie dough to make a 3D gingerbread house.
GINGERBREAD HOUSE PANELS
Prepare honey cookie dough. Shape the dough into a disk and wrap it in a plastic wrap.
TO MAKE EDIBLE GINGERBREAD HOUSE I USED METAL CUTTERS :
Finished House Size 7.5 inch x 6.5 inch x 5. 5 inch (length x height x width)
Cookie Cutter Sizes
Front and Back Panel 5.5 inch x 6 inch (width x height, cut on an angle, starting point on each side at 2 7/8 inch from the bottom)
Side Panel 5.5 inch x 2 7/8 inch (length x width)
Roof 7 inch x 4 3/4 inch (length x width in inches)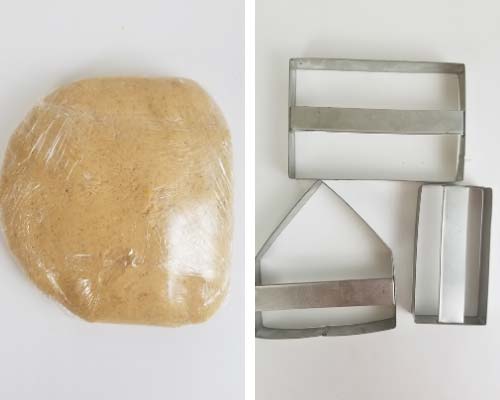 ROLL OUT COOKIE DOUGH
Cut the cookie dough disk in half and work with half of the dough at a time.
Roll the cookie dough between 2 sheets of parchment paper. Lightly dust the parchment with flour to prevent cookie dough from sticking. On each side of the parchment sheet, place one rolling guide. I used painter's sticks (1/8 inch/3mm thick) from a hardware store. If you roll it out thicker, your cookies will be thicker.
When rolling out cookie dough for gingerbread house panels I like to use a large rolling pin (20 inch long). This way I can roll out wide and long piece of cookie dough at once. It allows me to cut out more house panels from one piece of cookie dough.
Remove the top layer of parchment, leaving the bottom parchment. Use a pastry brush to dust off flour residue from the cookie dough. Cut out large house panels first: front and back, roof and sides.
Remove scraps and slide parchment with house cut-outs onto a baking sheet. After you gather scraps, don't handle large cut outs, shapes can easily get mishaped.
GINGERBREAD HOUSE COOKIE CUTTERS AND TEMPLATES
To cut out gingerbread house panels use cookie cutters or templates.
Cutting out cookies with cookie cutters is self-explanatory. If the cookie dough appears too sticky, dip edges of your cutter in flour to prevent sticking.
HOW TO CUT HOUSE PANELS WITH TEMPLATES
If you don't have gingerbread house cookie cutters, use templates instead. Cut them out with scissors from plastic sheets or use card stock paper.
Cut large house panels with straight edges using a bench scraper or a small ruler. Dust the edge with little bit of flour.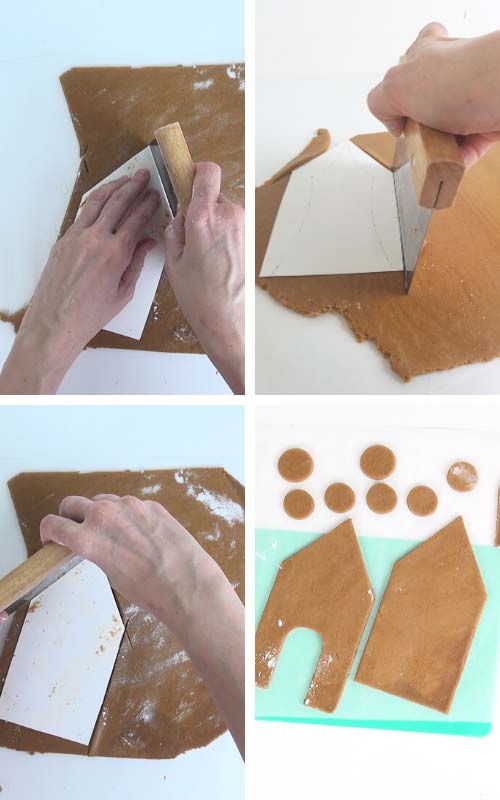 You can use an exacto knife or a pen blade knife to cut out unusual shapes. When using knives, I like to slide a plastic sheet underneath the parchment to protect my work surface/baking sheet.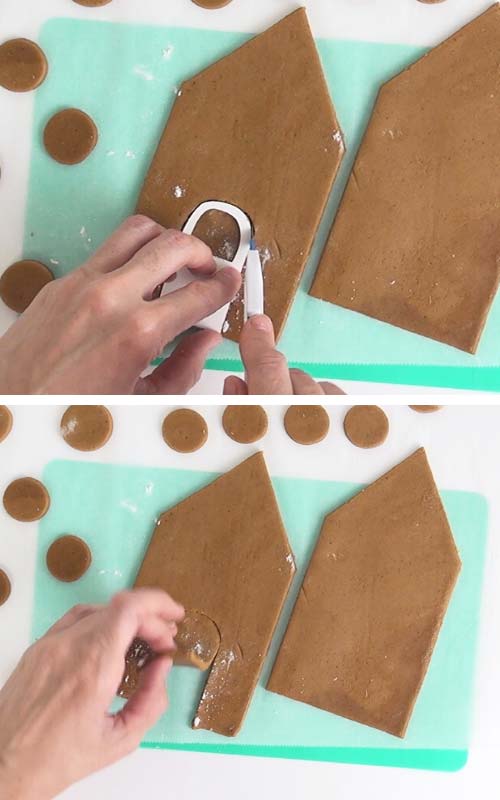 Utilize mini cutters to cut out window panels, doors, and other shapes as desired.
BAKE HOUSE PANELS
Bake the house panels in the preheated oven at 350F (175C) – 360F (180C). Large cookies for 10 -14 minutes and smaller cookies for 8-9 minutes. Cookies should be golden and light brown. If you see they are still shiny in the center, leave them in the oven for one more minute. Then check again.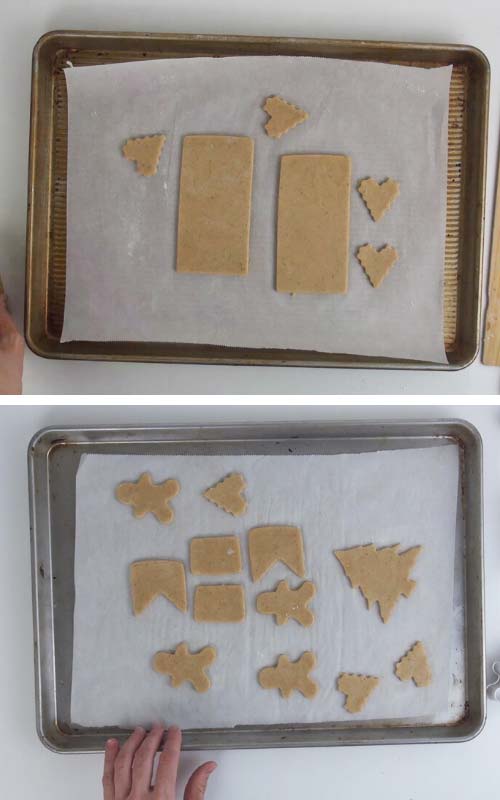 Let the cookies cool on a baking sheet for 10 minutes. Then transfer them onto a cooling rack to cool completely.
STORAGE
Baked honey gingerbread house panels can be stored in an airtight container for up to 4 weeks. Or until ready to assemble edible gingerbread house.
WHAT CAN I USE TO GLUE COOKIES TO BUILD A GINGERBREAD HOUSE?
To glue cookie panels you can use Royal Iciing or Melted Sugar. I mostly use royal icing to glue my houses. I've tried using melted sugar on several occasions. Melted sugar is very effective, bond is instant. However for a long term displayed projects I prefer royal icing. I find melted sugar slightly temperamental and I only use it for projects that don't require long term display.
Royal Icing – can be prepared using my Fresh Lemon Royal Icing Recipe. Be sure to use thick royal icing to glue gingerbread house panels. If you thin royal icing too much, you can add some sifted powdered sugar to make it thicker. Royal icing doesn't harden instantly as melted sugar does. This quality gives you a little more time to adjust positions, angles of house panels as needed. Royal icing takes 6-8 hours and up to 12 hours to fully dry. Thicker application of icing will take longer to dry. Allow this time for the icing to dry completely.
Melted Sugar – pour 3 – 4 cups granulated sugar to a heavy stainless steel pot. Heat on medium heat until sugar completely melted. Keep an eye on it as it will start to caramelize quickly. Dip the edge of the house panel into melted sugar. Immediately take connecting house panel and connect it onto the edge of house panel with melted sugar. Keep in mind to keep 90 degree angles between wall panels. Sugar hardens pretty much instantly so you need work fast. And with precision. When working with melted sugar it is important to be careful of burns. Melted sugar is hot. Adult supervision required.
BUILD GINGERBREAD HOUSE AFTER YOU DECORATE EACH PANEL
If you plan on decorating each panel with detailed piped royal icing designs then I'd definitely recommend decorating each house panel individually. Assemble gingerbread house after you have all house panels decorated. Here is an example :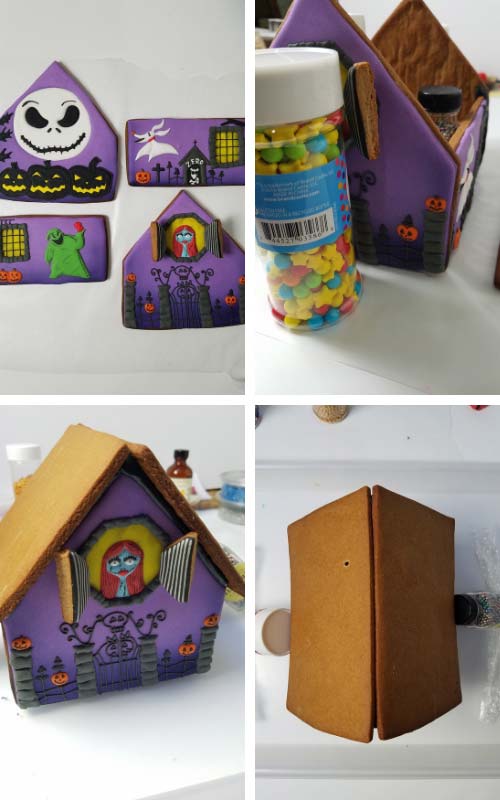 BUILD GINGERBREAD HOUSE BEFORE DECORATING
If you are planning on decorating house with candies, little chocolates, fruits, nuts and such I find it's best to assemble the house before hand. And then decorate the house standing up. This is especially useful for projects for kids. They can use stiff royal icing and glue little candies and edible decorations on already built house. It's fun and easy. And children can see the finished house right away, no need to build it after they decorate.
For both methods I use stiff royal icing to glue the house panels. First assemble the base consisting of front, back and sides. Let it dry for 4-5 hours. Then you can attach the roof.
Pipe stiff icing on the edge of front and back panel. Gently press both roof panels onto the icing. Hold it in place for about 30 second. Then support the roof panel from the bottom either using small bottle or skewers. Allow to dry for 5-6 hours or overnight.
Your edible gingerbread house is now ready to be decorated with candies, little chocolate and sprinkles, edible lace etc.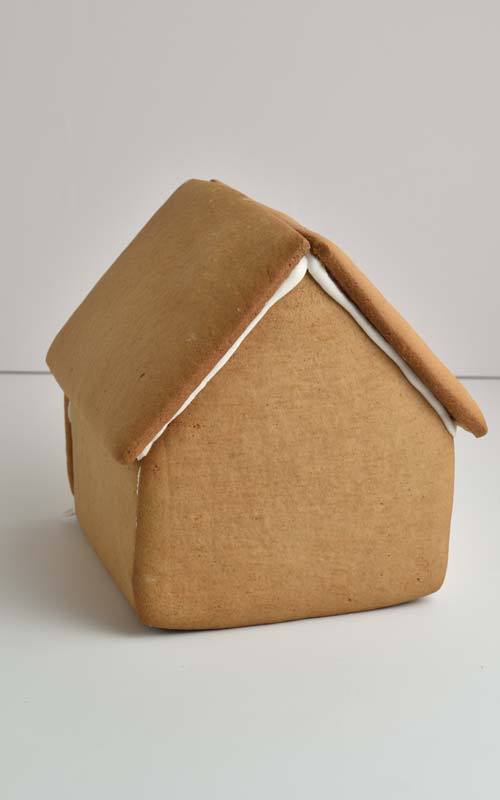 HOW SHOULD I DECORATE THIS HOUSE?
Check out my Simple Edible Gingerbread House tutorial to get inspired.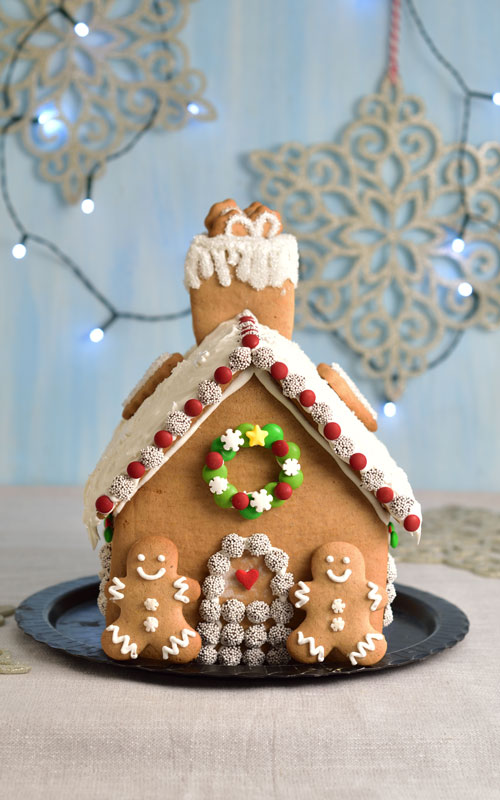 HOW LONG DOES ASSEMBLED EDIBLE GINGERBREAD HOUSE LAST?
Gingerbread house made using this delicious edible gingerbread recipe is delicious for eating for 2-3 weeks.
WHAT SHOULD I USE TO GLUE SMALL CANDIES, CHOCOLATES ON MY GINGERBREAD HOUSE?
Let's start with edible glue. My preferred edible glue medium for gingerbread houses is royal icing. However you can also use melted chocolate or candy melts to glue small decorations onto the house.
Use candies, small cookies, chocolates, dry fruit, royal icing, sprinkles. There is no limit, use your imagination. Use your favorite cereal, gummy bears, chocolate kisses. Look in the pantry. I'm sure you'll find something.
DO YOU HAVE A RECIPE FOR CONSTRUCTION GINGERBREAD?
Yes. Gingerbread Cookie Dough for Constructions and Centerpieces. This cookie dough doesn't spread and it bakes hard.
TO MAKE EDIBLE GINGERBREAD HOUSE YOU NEED
Honey Cookie Recipe (use only 1/8tsp to 1/4tsp baking soda instead of 1tsp)
Parchment sheet
Rolling Pin (20 inch)
Baking Sheets
Cookie Cutters or Templates
Bench Scrapper – to cut house panels
Small Cutters
Templates
Harry Potter House templates : front panel, side and roof panels
Honey Cookies
Makes about 24 medium size cookies. Popular for holidays and year-round. 
Makes 1 standard-size gingerbread house, ( about 6-inch tall, 5-inch long, 5.5-inch wide)
This recipe can also be used to make delicious edible gingerbread houses. Check notes.
Ingredients
Cookie Dough
5

tbsp

room temperature butter (70grams)

1⅓

grams

powdered sugar (160 grams)

3

tbsp

honey

2

whole eggs at room temperature

2¾ to 3

cups

all-purpose flour (400 grams)

1

tsp

vanilla extract

1

tsp

baking soda

(use only 1/8 to 1/4tsp when making an edible gingerbread house)

1 1/2

tsp

ground cinnamon

preferably Saigon

1/2

tsp

ground star anise (optional)

1/4

tsp

ginger

1/4

tsp

cloves

pinch

salt

2

tsp

lemon zest (optional)
Instructions
Honey Cookie Dough
In a medium bowl, sift flour (2 cups and 3/4cup to 3 cups, 400grams), baking soda (1tsp), ground cinnamon (1tsp and 1/2tsp), ground star anise (1/2tsp), ginger (1/4tsp), cloves (1/4tsp), salt (pinch).

Cream room temperature butter (5tbsp, 70grams) and powdered sugar (1cup and 1/3cup, 160 grams). Beat till fluffy. Then beat in eggs (2 whole eggs), one at a time. Scrapping bowl a few times. Then gradually pour in honey (3 tablespoons), vanilla extract (1tsp), and lemon zest (2 teaspoons), optional). Scrape the bowl with a spatula and beat for a minute or so.

Then on low speed and gradually add flour sifted with spices and baking soda. Beat till combined. Invert the dough onto a lightly floured surface and knead for a minute. If the dough appears too sticky add a little more flour. Wrap in plastic wrap and refrigerate for 4 hours or overnight.

Preheat oven to 350F – 360F (176C-182C).

Line your cookie sheets with parchment paper or perforated mat.

Roll the dough between 2 pieces of parchment paper to 2/16 (3mm). If needed very lightly flour your bottom parchment paper. Roll the dough into approximately 3-4 mm thick. Cookies puff up in the oven. For even thickness use rolling guides.

Cut out cookies and transfer onto a baking sheet lined with parchment paper.

Bake cookies for 6-8 minutes until puffy and golden.

Larger cookies may take a little longer to bake

Try to bake smaller shapes and larger shapes separately, smaller shapes will be baked before larger ones. Remove from the oven, let cool for a couple minutes on the baking sheet, and then transfer to a cooling rack
Egg Wash (optional, use for shiny cookies)
Whisk the egg well, and then strain the egg to remove any egg bits.
Applying Egg Wash
To create a shiny finish on cookies, brush the cookies right after you take them out of the oven while they are still hot. Be sure not to add too much egg wash as it can drip down the sides and under the cookies.
Gingerbread House
This recipe can be use to make tasty gingerbread houses. When using to make gingerbread house use only 1/8 tsp to 1/4 tsp baking powder.
Bake Gingerbread House Panels
Roll the cookie dough for gingerbread houses to 1/8 inch (3mm) to 4mm. Bake large gingerbread house panels for 10-14 minutes, or until golden and light brown. Smaller cookies take shorter time to bake. Let panels cool on a baking sheet for 10 minutes then transfer them onto a cooling rack to cool completely.
Notes
DO I HAVE TO USE STAR ANISE? I DON'T HAVE IT. – I love using star anise, but if you don't have it or can't find it's okay to skip it. The flavor of the finished cookies will still be delicious because of the other spices used.
HOW DO YOU GRIND SPICES? -I use a small coffee grinder. Then I sift ground spices thru a fine mesh sieve.
HOW LONG DO HONEY GINGERBREAD COOKIES LAST? – Stored in an airtight container, they last up to 4 weeks.
HOW WOULD YOU DECORATE THESE WITHOUT ICING? –Decorate cookies before baking with walnuts, pecans, almonds, pumpkin seeds, chocolate chips, coconut, or dried fruit. Brush a little egg wash on the cookies before they are baked, and then embellish them with toppings. Or brush cookies with a little bit of water instead.
I WANT TO DECORATE THESE COOKIES WITH ROYAL ICING, BUT THEY ARE SLIGHTLY DOMED, WHAT'S THE BEST WAY TO DECORATE THESE WITH ROYAL ICING? – Yes, cookies bake slightly domed. They are known for their rounded edges. If you plan to decorate these with simple piped designs, having the dough exposed, decorate the rounded top. Especially if you brushed it with an egg wash, it looks very pretty. However, when decorating a whole cookie with icing you have to be careful not to add too much icing onto the cookie, or it can overflow. The best course of action is to decorate the underside as it's flat. I used this method to make my Easter Gingerbread House

. Or use slightly thicker icing to outline and flood with the thinner icing.

WHAT ICING FLAVORS DO YOU RECOMMEND? -Lemon, Vanilla, Almond, Chocolate.
CAN I USE THIS RECIPE TO MAKE A GINGERBREAD HOUSE? – Yes, absolutely. You are going to love it. You can use this recipe to make a gingerbread house. Use 1/8 tsp to 1/4 tsp baking soda instead of 1 tsp. Here is Step by Step Tutorial on how to build a Simple Edible Gingerbread House

using this recipe. 

CAN I USE MOLASSES? – I'd recommend using honey and molasses (1:1 ratio).
This post contains Amazon affiliate links that earn me a small commission, at no cost to you. I only recommend products that I use and love. Learn more about my affiliate policy here.