Cinnamon Rolls with Vanilla Bean Glaze
Today I'm going to share with you a delicious recipe for Cinnamon rolls with Vanilla Bean Glaze
I love cinnamon. It's without a question my favorite baking spice. I love how it pairs with apples, walnuts or pecans. It's exceptional in peach crumble or my childhood favorite apricot bread with cinnamon streusel topping. Have you tried mixing a dash of cinnamon into a plain yogurt? It makes it sweeter without adding the sugar. These are just few of my favorites. Cinnamon is also my secret ingredient in Walnut Cranberry Biscotti.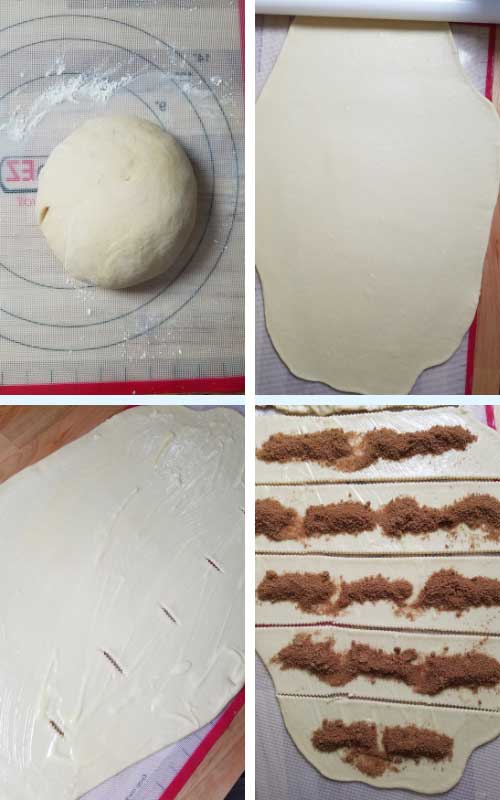 To shape the cinnamon rolls you can either use this method(pictures) or one in the video, which is pretty much the same but a bit simplified.
My sweet bread dough is really easy to make and is super easy to work with. I rolled my sweet yeast dough on a silicone mat DoughEZ rolling mat.
Then using a Ravioli pastry wheel I cut the dough into wide, about 3 inch strips. Spoon cinnamon filling onto the strips.
SAIGON CINNAMON
I use Saigon Cinnamon. It's is sweeter, vibrant it taste and smell than other cinnamon types I tried.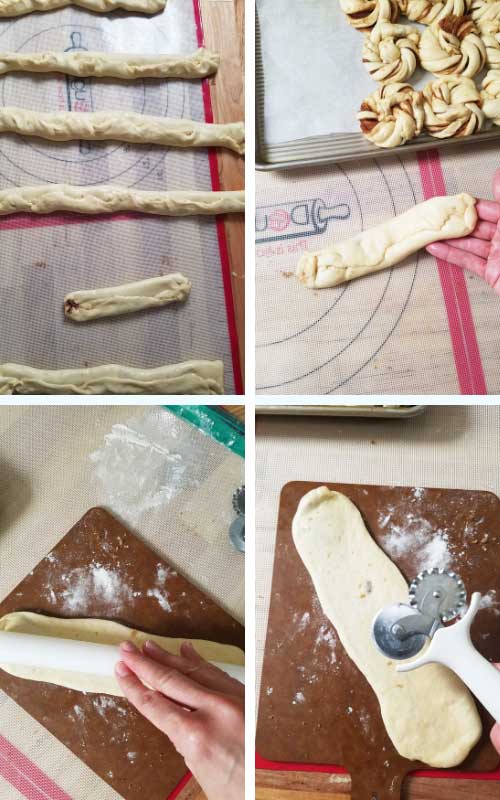 Fold one side over the filling and seal the strips. You should have several long snakes.Cut the snakes into approximately same length pouches. Seal the ends.
Then gently using a small rolling pin, or use your hands, flatten the pouch.Using a pastry wheel, cut the slits in the pouch.Roll it on an angle and then shape a snail.
Using a pastry wheel, cut the slits in the pouch. Roll it on an angle and then shape a snail.
Place each cinnamon roll onto a baking sheet/baking pan lined with a parchment, sides sprayed with a nonstick spray. Cover with a damp paper towel and let rise for about 40-60 minutes, in a draft free locations.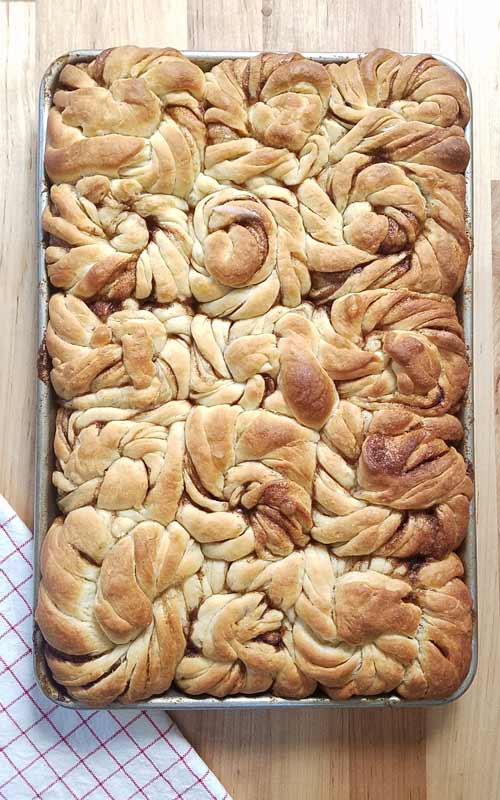 Bake at 350F for about 25-30 minutes. Let cool slightly.
While cinnamon rolls are still warm, brush them generously with vanilla bean glaze.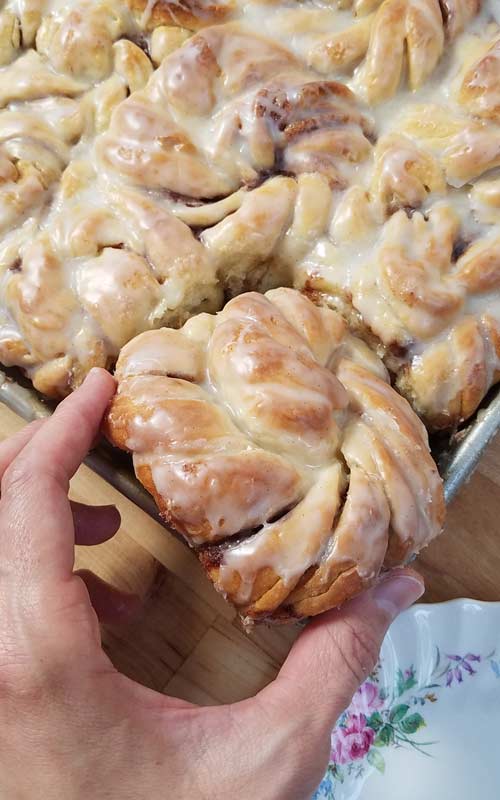 CINNAMON ROLLS WITH VANILLA BEAN GLAZE
Best thing about cinnamon rolls is that they are always fashionable.
Ingredients
Cinnamon Rolls
1

Sweet Bread Dough Recipe

1/4

cup

butter

melted and cooled to brush the rolled out dough

3

tbl butter

melted and cooled to brush on unbaked rolls before baking
Cinnamon Filling
1

cup

brown sugar

1 1/2

tbl cinnamon

Combine cinnamon and brown sugar in a bowl

set aside.
Glaze
3

tbl butter

2

tbl hot water

1 1/2

cup

powdered sugar

1/2

tsp

vanilla bean paste or vanilla extract
Instructions
Cinnamon Rolls, Filling and Shaping
Make the sweet bread dough(see notes), no need to let it rise, roll it out thin.

Brush 1/4 cup melted and cooled butter on the dough, cut the dough into about 3 inch strips.

Divide cinnamon filling among the strips of dough. Placing the cinnamon in the middle of each strip.

Seal the strips into a long snake like pouch.

Cut the strips into approximately same size, press the ends well to seal.

Roll out each pouch so it's about 2.5 inch wide, or little more.

Using pastry wheel cut the slits in the pouch, care not to cut through the ends.

Start at the end, slightly on an angle, roll the pouch until you have a log formed.

Shape it into a snail, and tack the ends so they stick together.

Line baking sheet or a baking pan, about 1/4 size sheet or a round pan will work as well with the parchment paper, spray with the nonstick spray. Layer rolls next to each other.

At this point you can let it rise for about 40 – 60 minutes. Cover the pan with unbaked buns with a damp paper towel. Bake in the preheated oven at 350F for 25-30 minutes, until golden brown. OR you can cover it with the plastic wrap and refrigerate till next day, make sure to allow for 2-3 hours for the rolls to come to room temperature and to allow for the rise/proofing.

Once baked, let cool slightly. Then brush on the glaze. Let cool completely and enjoy or freeze for later.
Vanilla Bean Glaze
In a small pot melt butter, remove from the heat and add hot water, powdered sugar and whisk vigorously, make sure you don't ave any lumps of sugar in the glaze. Flavor with vanilla bean paste or vanilla extract. Alternatively you can use hot coffee instead of water for extra layer of flavor.Preheat oven to 350F.
To make Cinnamon Rolls with Vanilla Bean Glaze you need
This post contains affiliate link. Learn more about my affiliate policy here.