Years ago, when I first made homemade Gingersnap Cookies I had no idea they would quickly become one of my favorites. Their perfectly balanced crispy and chewy texture with a spicy kick from spicy and crystallized ginger makes them a perfect cookie to make all year round.
Updated post from 2013
HOW TO MAKE GINGERSNAP COOKIES
Gingersnap cookies are super popular around holidays. I always make several batches at Christmas time to give to friends, too. Gingersnaps also ship well. And I just love them so much, I make them throughout the year and they never last too long, but a few days.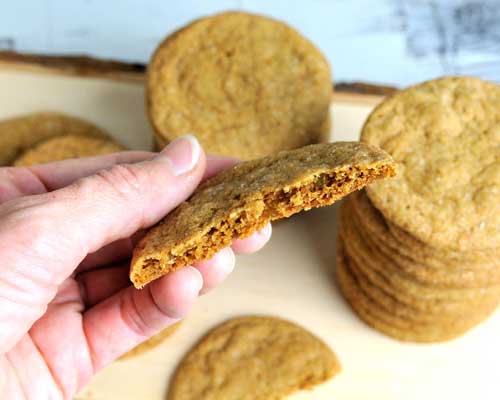 GINGERSNAP COOKIE DOUGH
In this recipe I doubled up on ginger. In addition to ground ginger I also use crystallized ginger. Why crystallized ginger? Crystallized ginger is what really makes these cookies pop. They are not the same without it.
All Purpose Flour
Spices : ground ginger, cinnamon ( I prefer Saigon Cinnamon), allspice
Baking Soda
Salt
Sugar
Butter
Molasses
Crystallized Ginger
Sugar (to roll the cookies in, I like to use combination of coarse sanding sugar and granulated sugar)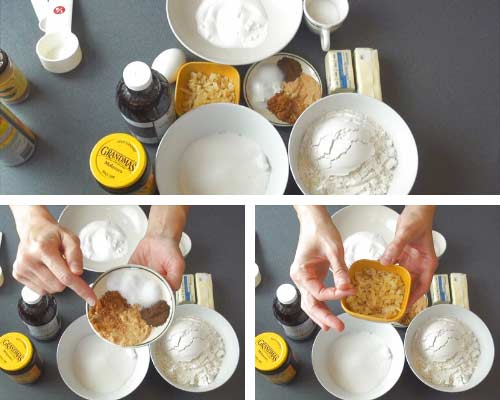 Into a large bowl sift flour, ground cinnamon, ginger, allspice, baking soda and salt. Set Aside.
CREAM BUTTER AND SUGAR
At medium high speed cream room temperature butter with sugar until creamy about 5 minutes.
In a small dish whisk together room temperature egg and Vanilla Extract. Then gradually pour egg mixture into the creamed butter-sugar mixture. Mix until well blended together, about 2 minutes.
MY EGG IS COLD, HOW CAN I BRING IT TO ROOM TEMPERATURE?
Pour warm water to a drinking glass. Submerge cold into warm water, let sit for 5 minutes.
HOW TO TELL IF BUTTER IS AT ROOM TEMPERATURE?
If you can bend the butter without it breaking in half and without your fingers sinking completely into the butter it's good to go. Or when pressed it should give slightly, but your fingers shouldn't sink completely into the butter. That would mean butter is too soft. How to bring butter to room temperature?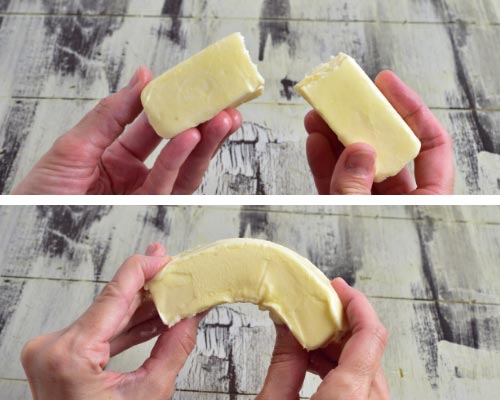 MOLASSES
In this Gingersnap Cookie Recipe I use light unsulphured molasses. Molasses contributes to the flavor and color of gingersnap cookies.
There are different kinds of molasses : light(Barbados), dark and blackstrap. I always use light unsulphured molasses. It is sweet and mildest of the molasses available.
Molasses, just like honey is very sticky. To prevent molasses from sticking to my measuring cup I spray measuring cup with a nonstick spray. And then I pour in molasses. Light coating helps to release all of the molasses out of the measuring cup without leaving excess residue.
Gradually with the mixer running at medium speed pour in molasses. Don't pour it onto the beaters or you'll end up with molasses everywhere. Beat till well combined.
Now, on low speed gradually beat in flour mix. Beat until well combined. Cookie dough is soft.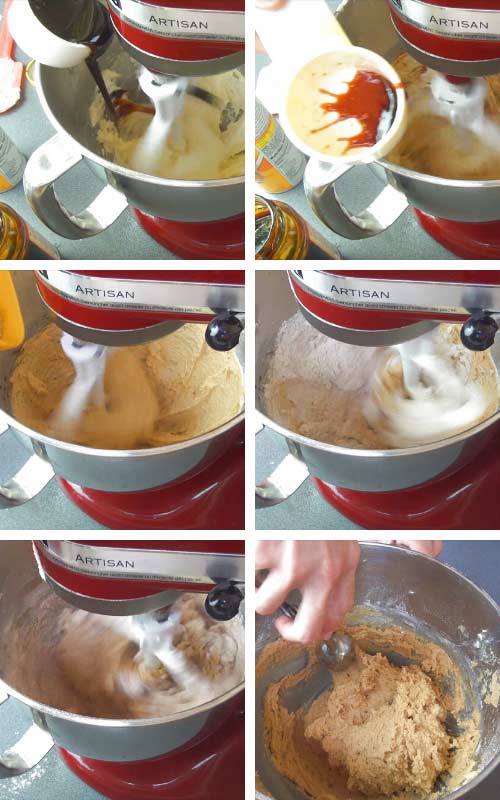 SHAPE GINGERSNAP COOKIES
To shape the cookies I always use a handy cookie scoop. I usually use 1 tbsp cookie scoop measure. It produces an average size cookie.
Scoop 1 tbsp of gingersnap cookie dough into a palm of your hand. Shape it into a ball. Then coat the shaped cookie ball into a mixture of coarse sanding sugar and granulated sugar.
If you don't have coarse sanding sugar you can use regular sanding sugar or even granulated sugar. I like to use white, red or orange coarse sanding sugar for different holidays. Coarse sugar doesn't melt and it makes cookies sparkle, making them festive.
BAKE GINGERSNAP COOKIES
Place sugar coated cookie balls onto a baking sheet lined with a silicone mat or parchment. Space out cookie balls about 2 inches apart.
Bake cookies in the preheated oven at 350 F for 10-12 minutes.
Can I make Gingersnap Cookie bigger?
Definitely. In the past I've used a ¼ cup to 1/3 cup measure to make giant gingersnap cookies. When making these giant cookies be sure to flatten the cookie balls slightly before baking. I like to use back of the measuring spoon to flatten giant cookie balls. And don't forget to space out cookies further apart on the baking sheet.
What to do with Gingersnap Cookies?
Well, you can eat them as they are. Dip them in milk, coffee, tea. You can also use them to make gingersnap pie crust.
How to make Gingersnap Cookies without molasses?
I you don't have molasses or can't use it you can still make Gingersnap Cookies.
In place of white sugar use 3/4 cup dark brown sugar, and in place of molasses use 1/4 cup honey, maple syrup. Remember molasses is slightly bitter and honey is sweeter so it may affect the final taste of the cookies slightly.
How to bake Gingersnap Cookies
Gingersnap cookie balls flatten and spread during baking. Be sure to space out the cookie balls on a baking sheet allowing enough space around each cookie for the spreading. When using 1tbsp Cookie Scoop measure leave about 2 inches between cookie balls.
Can I freeze Gingersnap Cookies?
Yes you can.
To freeze unbaked cookies shape the cookie dough into balls but don't roll them in sugar. Freeze cookies balls without sugar coating. Freeze them in a single layer until firm, about 1 hour. Then layer frozen cookie balls into a freezer safe container. To bake the cookies, distribute frozen cookies onto a baking sheet lined with parchment. Let them sit for 20 minutes. Then roll each cookie ball in sugar mix (I use a mix of coarse sanding sugar and granulated sugar. But you can also just use granulated sugar or sanding sugar ) Bake as directed in the recipe.
Can I make Gingersnap Cookies spicier?
Yes you can. Use up to ½ tsp of white pepper or cayenne pepper along with all the spices in the recipe.
How can I make dairy free Gingersnaps cookies?
Use vegetable shortening, or vegan butter (Earth Balance).
How I freeze unbaked cookies?
To freeze unbaked cookies, freeze balls of unbaked cookies on a flat tray or a baking sheets until firm, about an hour. Then pour them into a ziploc bag and freeze for up to 3 month. To bake frozen cookies let them sit on a baking sheet for 10-15 minutes before baking.
TO MAKE GINGERSNAP COOKIE YOU NEED:
This post contains Amazon affiliate links that earn me a small commission, at no cost to you. I only recommend products that I use and love. Learn more about my affiliate policy here.
TOOLS
Get all the tools at my Amazon Shop
Baking Sheets
Silicone Baking Mat or Parchment
Cookie Scoop – I mostly use 1 tbsp cookie scoop and for extra large cookies I use ¼ cup and 1/3 measure. Be sure to flatten giant cookie balls slightly before baking. To flatten giant cookie balls I like to use back of the measuring cup
Coarse Sanding Sugar for rolling
Stand Mixer
Hand Held Mixer
Gingersnap Cookies with Crystallized Ginger
Delicious crispy on the outside chewy inside double ginger Gingersnap Cookies.
Ingredients
2

cups

all purpose flour

1 1/2

tsp

baking soda

1 1/2

tsp

cinnamon

1

tsp

ground ginger

1/2

tsp

allspice

1/2

tsp

salt

1 1/2

sticks

room temperature butter (one stick of butter is 113 grams)

1

cup

granulated sugar

1

egg

1/4

cup

molasses

1/2

tsp

Vanilla Extract

1/2

cup

chopped crystallized ginger

(if you con't have enough use at least 1/4 cup)
Topping
1/4

cup

coarse sanding sugar

2

tbsp

granulated sugar
Instructions
Gingersnap Cookie Dough
Preheat oven to 350F. Line baking sheets with parchment paper or silicone baking mat.

Sift together flour(2 cups), baking soda(1 and 1/2 tsp), cinnamon(1 and 1/2 tsp), ginger(1 tsp), allspice(1/2 tsp) and salt(1/2 tsp). Set aside.

Beat room temperature unsalted butter(1 and 1/2 stick) with sugar(1 cup) until creamy and fluffy, about 5 minutes. Then add whole egg (1 room temperature egg), beat until combined and then beat in Vanilla Extract(1/2 tsp).

Spray the measuring cup with non stick spray or lightly oil it, then pour in molasses (1/4 cup). Oil will help molasses release better from the cup. On medium speed beat molasses it in into a butter mixture. Beat until well combined.

On low speed add crystallized ginger (1/2 cup, if you don't have enough use at least 1/4 cup).

On low speed add flour mixture. Scrape the bowl few times. Batter is soft.

Using a small ice cream scoop, make small balls, roll them in the palms of your hands.
Topping
In a small combine together coarse sanding sugar(1/4cup) and granulated sugar(2 tbsp)

Then roll each cookie ball in the sugar.
Bake
Place the cookies balls on the baking sheet, space them out about 2 inches apart, depends on the size of the ball.

Bake in the preheated oven at 350 F for 10-12 minutes. Remove from the oven. Allow cookies to cool on a baking sheet for about 5-10 minutes. Ten using a spatula carefully transfer cookies onto the cooling rack.
Notes
CAN I DOUBLE THIS RECIPE?
Yes, I usually double it.
HOW LONG DO GINGERSNAP COOKIES LAST?
I often ship these to a friend in Canada and they are good for 2 weeks.
WHAT CAN I USE IN PLACE OF MOLASSES ?
You can use 3/4 cup dark brown sugar(packed), and in place of molasses you can use honey or maple syrup. Keep in mind honey and maples syrup are sweeter and milder in flavor than molasses. Finished cookie will have slightly different flavor to them but nevertheless still delicious.
CAN I MAKE GINGERSNAP COOKIES SPICIER?
Use up to 1/2 tsp white pepper and cayenne pepper along with the rest of the spices in the recipe.
Did you make this recipe? Tag @hanielas on Instagram and hashtag it #hanielas
This post was originally published on December 11th, 2013. On December 13th, 2019 I updated this post with new step by step photos, written text and a video.